Is San Francisco dead? Sometimes, when I'm perched some 2,300 miles away and 7,300 feet higher up in my adopted home of Mexico City, it sure seems like it. The headlines … Happily, when I require signs of hometown life, I can come visit (as I did last month. Primary takeaway: tf with detractors of the Mission Street tianguis, who doesn't love cheap laundry detergent?)
Plus, I still work for this website's arts & culture section, and as such have the distinct privilege and honor of interviewing people who will never allow the City By The Bay to perish. Case in point, beloved drag lioness Per Sia, who returns for her third round of hosting SOMArts Cultural Center's Día de los Muertos drag show, this year entitled "Calaveritas de Amor," on Fri/20.
There is nothing like San Francisco's riotous-somber, indoors-outdoors commemoration of the Mexican holiday, from The Marigold Project's altars at Portrero Del Sol Park to the yearly SOMArts exhibition. While Día de Muertos (the "los" is a USA add-on) may have been Coco-fied in recent years thanks to the 2017 Disney film, SF's celebrations kicked into high gear way back in the early 1970s. That's when Galería de la Raza's artistic director René Yañez encouraged the gallery's artists to create altars commemorating those who have gone before us.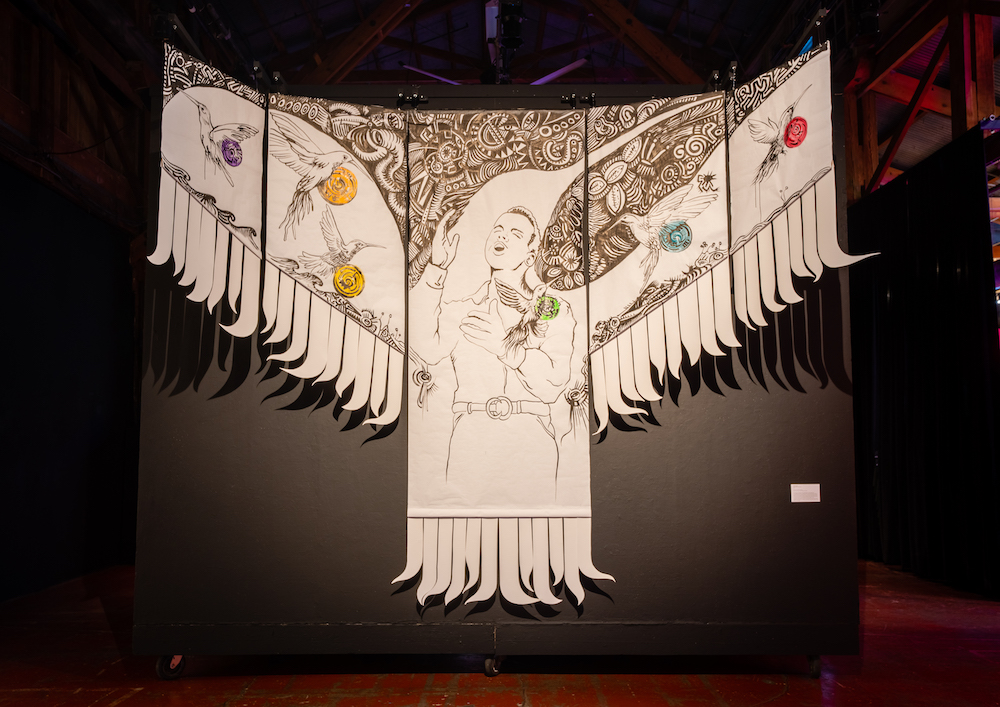 "We talked about creating a ritual, a ceremonial exhibit," Yañez told me in an interview for a 2010 SF Bay Guardian article.
He went on to curate another yearly altars exhibition at SOMArts, eventually enlisting his son Río, who has carried on the tradition after René's death in 2018 with a diverse slate of co-curators. The show continues to evolve—this year, Río joins with Mexican artist Bridgétt Rex to guide an edition named for hummingbirds, which the Aztecs see as the reincarnation of their dead quauhteca warriors. In 2021, Per Sia came aboard the SOMArts team, after having previously collaborated with Loco Bloco on their Muertos holiday programs.
Now, this is a beautiful and buoyant trans performer who began her career at the dearly departed 16th Street Latine drag stage Esta Noche, and who headlined the first edition of the now-iconic Drag Story Hour, which has faced its own share of safety threats. One can imagine few San Franciscans better suited than Per Sia to refract the celebratory, jocular, and above all loving spirit of Día de los Muertos onstage with a hand-picked crew of queer Bay Area butterflies. It was a joy to connect with her for a Zoom interview about life after death.
48HILLS It's so nice to be able to talk to you about these events. I don't know if you remember, but we did an interview about the SOMArts altars exhibition and drag show in 2021.
PER SIA Oh really?
48HILLS We're remixing, revamping, redux.
PER SIA You know what? I do not remember the first time I did this drag show. It seems like something that just happens every year, that I've been doing it since birth. I think that the reason why it just feels so much a part of my life is that I was asked to do it by René or Río, one of them. They are such magical, magical humans. Anything they would ask me to do, I would say, "Of course, yes." It didn't help that René would say that I was his favorite drag performer.
48HILLS You're everybody's favorite drag performer.
PER SIA Yeah right. Anyway, René, he holds a space in my heart. Because of him, we embrace and celebrate Día de los Muertos here in San Francisco, and that makes it even more special for me. Lately I've been marinating on that. I just went to see [artist and René's partner] Yolanda López's exhibit ["A Women's Work Is Never Done," which was curated by Río and López's archivist Angelica Rodriguez.] For my 40th birthday, right before she passed away, she gifted me these little earrings that I took with me and wore. Lots of emotions. [laughs]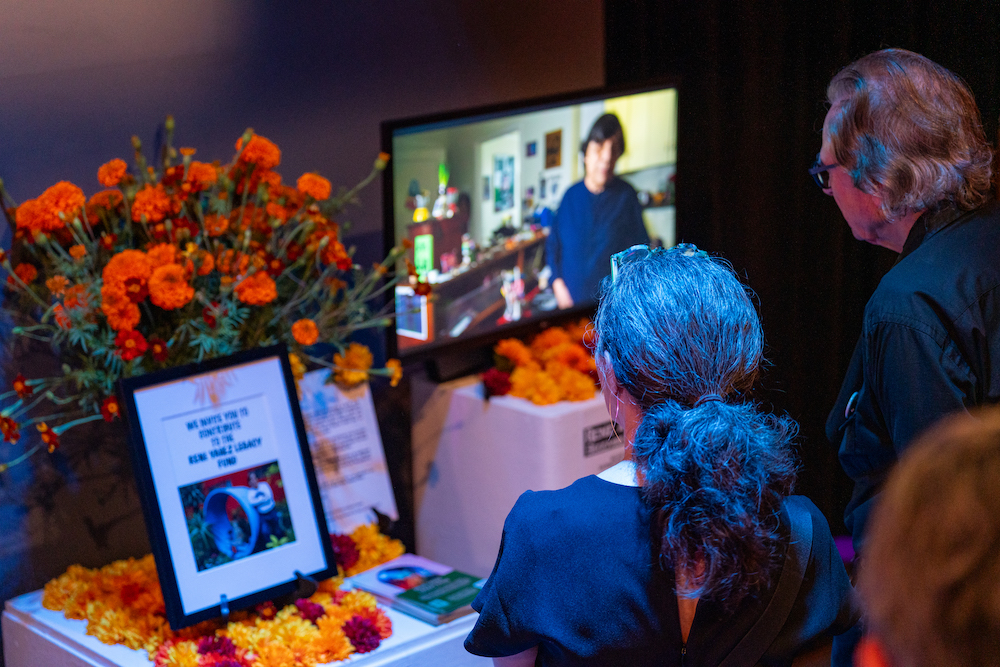 48HILLS That's such a sweet story. Do you remember the first time you celebrated Día de los Muertos in SF?
PER SIA I don't, actually. I've lived here for 20 years. The interesting thing for me is that my family does celebrate Día de los Muertos, but not to the extent that I now celebrate it, you know? My mom is from the coast of Nayarit and my dad's from a little town a few minutes away from Tequila, in Jalisco. And so of course, they celebrate Día de los Muertos. But growing up, it was very personal—which it still is. I'm sorry, I'm contradicting myself. But the way I grew up, it was just like, you kept it in the family. For my great-grandma, my dad would put a concha with a Coca Cola, because that's what she loved to drink. And then for my grandma, it was cigarettes and a bottle of alcohol.
Then when I moved here, I was like, "Holy smokes!" Everyone celebrates it—it's like, a thing. You know, there's a parade. I started really embracing that, and as I became a performer, I got asked to host Día de los Muertos events. I did it with Loco Bloco for a few years—one year it was at a school, another year it was in the little cabaret theater at Brava, another year was in the big theater. I was just like, "I wonder why my parents were so private about this?" But they worked every day, so it's not like they were party people.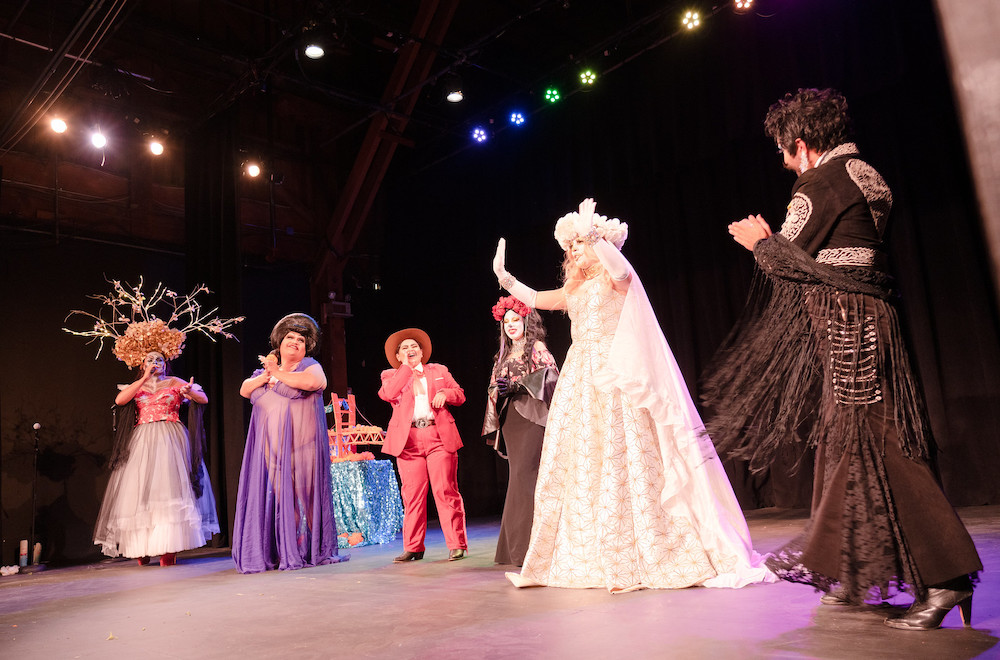 48HILLS In terms of the altar exhibition at SOMArts, have you noticed any kind of evolution in curation since Río, Bridgétt Rex, and other curators have made since René passed away in 2018?
PER SIA It feels like every year we go in deeper and deeper and deeper and deeper. And you know, I'm on my third year of transitioning, and I am the most aware of my body I've ever been in my life. It seems that every year, you're more in tune with your body and with those people that sort of make you, you. Every year, there's more digging of the self, and more exploration of those who have passed. It gets richer and richer.
I was just thinking about how as Mexicans, everything's like, laughter and sort of joy, even in the worst of times. I remember growing up, especially when someone would pass—of course there would be people crying and everything, but then there were those moments of like, that joy of the celebration of that person who is no longer with us. I was talking to my friend from Campeche and he was like, "When I was in elementary school, they used to make us write calveritas." And I was like, "Calaveritas? I've never heard of that, but it sounds so cute!" They're like, love poems to dead relatives or you know, lovers. I started researching that, it was everything. I was like, "I want to call [the SOMArts drag show] 'Calaveritas de Amor.'"
All the performers are queer performers, and you know, being a queer person is—is not easy, especially right now. And I know I've had a really rough year with all the controversy—well, I don't even know why I said "controversy," because it's not controversial. But Drag Story Hour, all the anti-trans bills, and you know, being targeted online. It's been a rollercoaster for me. All while, trying to transition. All while, experiencing micro aggressions on a daily basis, just going to work. But there's always something to grab onto. Our lovers, our friends, our family members have passed, but they leave with us that joy that they had. That joy that they shared with us.
So each performer's going to bring something. I let them do whatever. I just say, "Look, it's Día de los Muertos themed. Just bring it. It's all up to you, girl." There's some drag performers that are coming back, like Jota Mercury and Dulce de Leche. But we have some new ones who aren't quite drag artists, but they are artists in their own right. I have a really good friend, Memory, they do pole-dancing. They're going to incorporate a pole-dancing piece about, you know—I don't know yet! But they're working on it. The most special thing, for me at least, that I heard having our conversation, is that they have invited their mother to come. It's going to be the first time they see them perform, and see them as their true self.
I try to bring as many people as I can to perform and really showcase not just themselves, but what makes them, them. We're always so caught up in like, in whiteness. Even when we're doing anti-racist work, it's always centered around whiteness. This event is not. So yeah, I'm really, really excited about it.
48HILLS I was curious if this year's theme of the altars exhibition, "The Hummingbird's Visit," makes its way into the drag show?
PER SIA So, I was doing Drag Story Hour, and the day before, one of my former students gave me this little plastic butterfly. I put it into my hair that day for Drag Story Hour. I'm reading the first book, and this little toddler is like, wobbling over towards me. I'm like, "Hi!" And the little kid points, they're like, "Butterfly, butterfly!" And I was like, "Yeah, butterfly!" And I was going to explain, "One of my students gave it to me, that's why I have it in my hair." And then the little kid's like, "No, butterfly, butterfly!" And I turn, and there's these two butterflies behind me. I kid you not, ever since that moment in July, I come across butterflies almost on a daily basis. It's so beautiful.
And I Googled, what does this mean? And there's different meanings, but the one that stuck out and the one that I'm choosing to go with is that someone's looking after you and they're trying to say, "Hey, you're OK." I've also been seeing hummingbirds, and I've heard they mean good luck—and other things as well, of course. We're all connected with nature, and we sometimes forget. The hummingbird and the butterflies are so beautiful, and when you come across them, you tend to pause and think, "Oh my God." It's the reminder too that you are nature, I am nature, we're all part of nature. We have been so disconnected with nature. I think the hummingbird is such a beautiful symbol to remind us.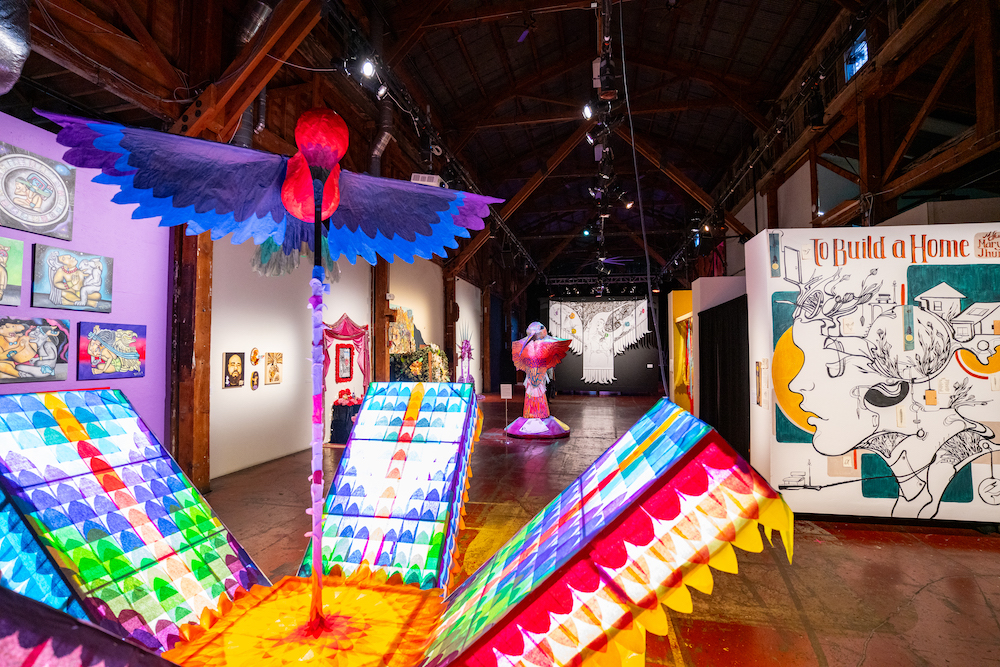 48HILLS Love it, thank you. Do you have any tips this year for non-Mexicans, non-Chicane people when it comes to respectfully commemorating this holiday?
PER SIA You know, we all take from other folks. I'm not here to represent my whole community, I am just representing myself. But you know, if you have to ask, then most likely you should not do it. This is where having a diverse group of friends comes in, because you can really have those conversations where you're like, "Hey, I'm thinking of doing this. What do you think?" You can appreciate and you can be in our space and celebrate us, but there's a line.
And as far as that line, it's different for everyone. I work at a school, as you know. We celebrate Día de los Muertos and kids bring all kinds of trinkets [for the altars] who are of different backgrounds. They bring pictures of their grandparents, their pets, relatives, etc. etc., and it's so beautiful because we're all sharing as a community. So I'm not saying that just because you're of a different background you shouldn't do certain things, but there is a line that can be crossed.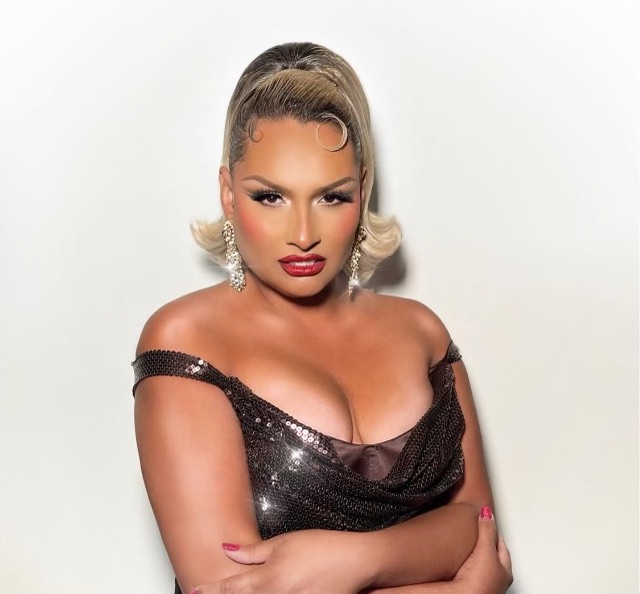 48HILLS Got it, thank you for that. My last question for you: I think we've talked about how in San Francisco, this holiday has really become a community celebration, and that it does take on this new context when we're celebrating in a big, mixed group. So I guess I'm curious: Who or what would you say that San Francisco is remembering this Día de los Muertos 2023?
PER SIA I know this is going to sound cheesy, but I think this year, we're remembering nature. At least, I like to believe that, because with the disappearance of Nordstrom and Old Navy and all of that, it's sort of like we're returning to what is important. We're realizing that these material things—while sometimes they're great [holds up tube of makeup], and they make me look cute—but the reality is that all of that is not as important as us going and being in nature again.
I've been watching videos that are like, "Oh! San Francisco this and San Francisco that!" And yes, we do have issues here, like every other city. Folks on the right wing believe that San Francisco is so left, which it's not. Well, at least in my opinion it's not very left. But I've been performing at the Castro Street Fair, I've been doing all these other events citywide. The energy I've been getting has been love and joy. I do feel that because of that exit of corporations, we're going back to the root.
What made this city so beautiful and vibrant was the culture, was nature, was the arts, was the queer folks. And the ones that are still here, we're still doing it! And that's the thing that's not being televised. You know? That would be my take, because I'm very optimistic. I love this city. I know I was born and raised in South Central LA, but really, San Francisco is what—who raised me as an adult. And who I've become is because of this city. And I don't ever want to live anywhere else. And so, I'm here to stay and try to make it as best I can. [laughs]
CALAVERITAS DE AMOR: DÍA DE LOS MUERTOS DRAG SHOW Fri/20 8pm, $10. SOMArts Cultural Center, SF. Tickets and more info here.