A great artist is a great storyteller, someone who can use their medium to reveal a truth that perhaps wasn't otherwise clear or reshape it in such a way that the witness expereinces a new feeling or comes to a deeper understanding of some kind. Because of the story and its telling, a shift occurs, and we are made different. 
In their work, co-directors of NAKA Dance Theater José Ome Mazatl and Debby Kajiyama focus on storytelling and its transformative power to uplift individuals and communities. Known in the Bay Area dance scene as an enduring creative partnership composed of opposites, Debby and José started dancing together in 1999. Over the years they have investigated various performance themes and styles, including their innovative work challenging the gender norms of tango. Each from different backgrounds—Debby was born in Stockton and José is from Mexico City—their creative bond seems unbreakable.
José explains, "We have the same sign, Virgo, but I love chaos and Debby loves order. We're opposite and it creates a complement."  
With a focus on the power of storytelling, NAKA will present Y Basta Ya! The Performance of the Performance (Thu/26—Sun/29, EastSide Arts Alliance, Oakland), a reflection on their seven-year partnership with Mujeres Unidas y Activas (MUA) and the multidisciplinary and multilingual performance projects they have created which highlight stories of Indigenous and Latine immigrant women and their intimate and personal exploration of issues of race, gender violence, invisibility, and individual and collective power.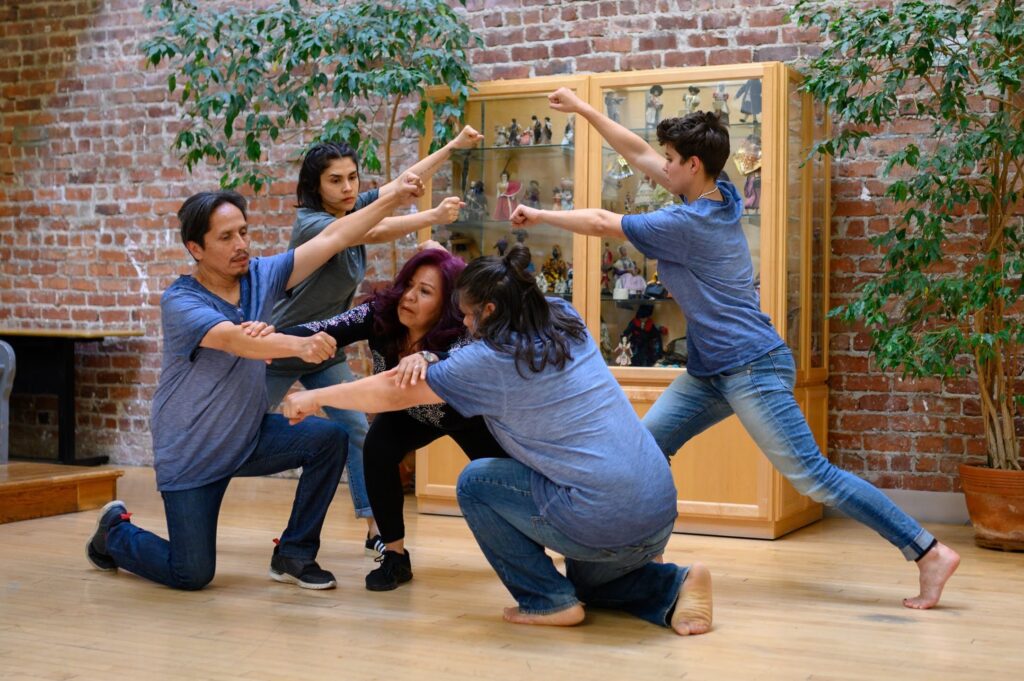 "Our intention is to cultivate a space where community members take ownership of the poetic representation of their own stories," explains Debby.
The creative process happens in what they refer to as Circulos de Aprendizaje (Collaborative Learning Circles), groups of women who gather regularly to creatively research and resolve problems that affect their own community. From there, they share what they have learned with their broader community and continue the learning and creative problem-solving process. Rather than presenting performances in traditional theater venues, NAKA activates spaces that belong to the community in question: cultural centers, street corners, bakeries, or neighborhood parks. 
Earlier in the pandemic, NAKA was to work with MUA—a grassroots organization of Latina immigrant women with a dual mission of promoting personal transformation and building community power for social and economic justice. "For this project, MUA asked us to come in to lead movement and healing workshops with women in their domestic violence and sexual abuse support group. We wanted to create an environment in which they could express their emotions and connect with others. Together, we decided let's write it down and see how it feels to imagine those stories in a poetic and visual way," says José.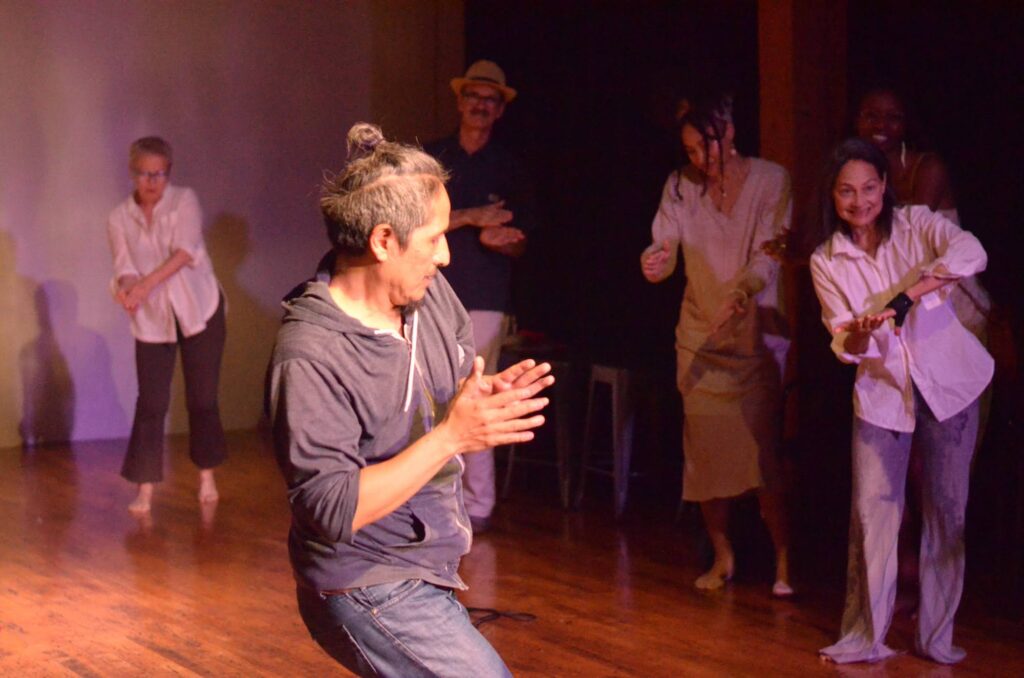 But, of course, the pandemic imposed changes.  José explains, "We were planning to have a big show in Oakland with all the MUA participants, but we couldn't do it. So, we shifted our focus away from the show to a mentoriship program. We wanted to have a little group for one year so they could become very strong. People applied, that's where we really got to know Leticia Garcia, who had participated in an earlier project with NAKA and knew the value of the work." 
Through the Circulos de Aprendizaje, Leticia was able to tell her story of being on the brink of sexual abuse by a member of her family when she was 30 years old. "I couldn't even expect that," she says. "I thought I'm a guerrera (a fighter) and nothing would happen to me. The experience blocked me for many years. Only two people in my family knew about it." Leticia says that once she joined the process with NAKA and started telling her story, she realized that other women had similar experiences. "I could talk about it and cry about it. I was free," she says. "It's easier to heal when you're able to talk, and you can maybe heal someone else."
Mujeres Unidas y Activas engages counselors and paraprofessionals to support the women during the process with NAKA. "We're not therapists, we're artists," explains Debby. Yet, the commitment to holding the circles in support of the women is firm, with any kind of public sharing secondary. "When we say the process is the most important thing, it really is true.  We're all bringing our strengths to the table and learning from each other," she says.
Leticia adds, "We learned that we have no limits that we can keep growing and developing. It became much easier. It felt natural. In the process, the moments of taking chances, they didn't really feel like pressure.  It was very gradual and then you look back and realize, 'Oh yeah, I've grown.'"
José adds, "I am really liking this idea of the investigatory or research aesthetic that allows us to be responsive to the pain of others, but also allows us to evoke the beauty of our human condition, and it allows us to have evidence of our struggling. It's multilayered and complex, which is beautiful and can sensitize us to feel the beauty and the pain of the other."
Beginning in 2014 with their work with East Oakland youth on state police terror in their communities, NAKA has learned that working for multiple years with a community is important for developing deep connections which can lead to beauty. "There is a moment when we are so invested that the work becomes transcendental," says JJosé. " We believe there is a great value in reflecting on what we've done. Our society doesn't typically allow reflection. To go back and see the beautiful and hard moments creates a tremendous base from which to navigate."
The meta event that is Y Basta Ya, The Performance of the Perfomance is NAKA's effort to be in reflection with witnesses, while also sort of ritualizing the transition the women undergo from being participants to facilitators and ultimately leaders. As part of The Performance of the Performance, each night a different pair of women will facilitate the evening, leading some kind of community participation and facilitating a question and answer period with the audience.  
"I'm hoping that by opening up the process in this way, we can make this work welcoming of more people," adds Debby. "For some, a theater can be inaccessible, while for others certain neighborhoods feel inaccessible, too." The hope is that Y Basta Ya! Performance of the Perfomance presents a middle ground of sorts, a performance still in the making, storytelling that unfolds to audiences in different ways with each show.
"I do feel that sophistication can happen in these community performances.  We want to challenge the standards people use to evaluate art. This work is really powerful and I know it creates tremendous value," explains José. "We are super invested in working with communities for a long time. We remain friends and family even after the project is over. Everything we do is under the umbrella of social justice. We're always asking, how does power define us."   
Leticia says that by participating in this process she has felt seen and learned that she was not alone in her trauma.  For audiences, she is hoping for a different take away. "That as immigrants the art we make counts and that we bring to the table this unique way of expressing ourselves as artists." 
Y BASTA YA! THE PERFORMANCE OF THE PERFORMANCE Thu/26—Sun/29, EastSide Arts Alliance, Oakland. Tickets and more info here.