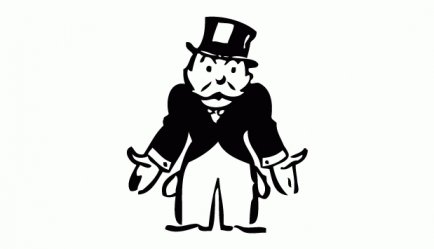 By Tim Redmond
JULY 7, 2014 – Finally, a local landlord (my neighbor, on my very same street, no less) has said what so desperately needed to be said about San Francisco landlords: They aren't poor, or oppressed, or suffering:
Speaking on behalf of 100 percent of small landlords, all the "mom and pop landlords" everyone is so worried about don't need so many rights. We didn't build anything. We didn't sacrifice and work hard to make our investment so crazily valuable. We didn't execute a visionary and shrewd business plan or invent the greatest app. We don't do the cool things that make San Francisco desirable. If we were good at being landlords, we would do it somewhere it takes skill to be a landlord, like Richmond or Detroit.

Being a landlord in San Francisco is like being a coke dealer in the 80s. People are basically throwing money at you for doing nothing. It's like finding a cauldron of gold doubloons buried in your backyard. It's pretty sweet.
That's right: Unless you bought your property ten minutes ago, the value of your San Francisco real estate has appreciated, and will continue to appreciate. And if you have tenants under rent control, you aren't losing money – you might not be making as much as you could if you evicted them, but not many landlords in this city actually lose money on their investments.
Here's why:
When Nato Green bought his place in Bernal Heights ten years ago, he had to show a bank that his income, and the income from his rental unit, would be adequate to pay the mortgage and the property taxes. If there was tenant in the unit, the existing (rent-controlled) rent went into that figure.
If you own a building and the rents are way below market, it's because either (a) you bought a long time ago, when the price you paid for the building was much lower or (b) you bought recently, and the rents were adequate to cover the mortgage. If they weren't, you wouldn't get a mortgage.
Unless (c) you have a lot of investment capital – that is, you're a speculator – and you bought a building where the rents don't cover the property taxes and mortgage because you intend to kick the tenants out and flip it.
Why would a business person – and landlords are business people – pay $1 million for a four-unit property, take on a $4,000 a month mortgage and $2,000 a month in property taxes and utilities, if the rent you get from each unit is only $1,000?
You wouldn't. The bank would turn you down. If we didn't have the Ellis Act, and you couldn't kick those tenants paying rent-controlled rents out, the building wouldn't be worth as much money. The owner would have to sell for less.
In other words, if speculators trying to get rid of long-term tenants were halted, the price of housing – that is, the price of buying a building with tenants in San Francisco — would come down. It would have to.
If you buy a building as a long-term investment – that is, if you want to be in what Green calls the world's easiest business, being a San Francisco landlord –then over time, the building will appreciate, and over time, it's likely that some of the tenants will move and you'll be able to charge higher rent. And all that happens while your costs are largely fixed: the mortgage is fixed. Thanks to Prop. 13, the property taxes can't go up.
So you have an asset that gets more and more valuable every year, with operating costs essentially flat, and revenues over time increasing … it's a great deal.
Which is why I have always wondered about the premise of the Ellis Act: Why would anyone who is in the business of being a landlord in San Francisco want to go out of that business? It's a gravy train.
And if you don't like it, you can sell to someone else who does – and again, unless you bought the place ten minutes ago, it's worth a lot more than what you paid for it.
There are plenty of good landlords in town, who have rented units at below-market rate to tenants in communities in the Mission, the Western Addition, Bayview … people who treat their renters more or less as family. They are wonderful, and they are part of the reason there are still low-income communities in San Francisco.
But they are not, by and large, losing money. To lose money you have to be paying more in mortgage, taxes, maintenance and utilities than you are taking in from rent. The law allows landlords to pass on maintenance costs to tenants. Most tenants pay their own PG&E bills, and water and garbage are not the much money for a small building.
Yes: Landlords, of all sorts, good and evil, could be making more profit if they were able to clear out longterm tenants. But there's a difference between losing money and not making as much profit as you could.
Economists talk about "opportunity cost," which relates to the difference between what an asset is worth and what you are earning from it, and on a theoretical level, if you could be making $4,000 a month from an apartment and you're only making $2,000, you're opportunity cost is $2,000. But that's not money out of your pocket; it's not even a paper loss.
It's said that the worst thing that can happen to an American is to see his or her neighbor get rich. Until the person next door had a fancy new car, we were fine with the one we had. And since some landlords are getting richer than others, a lot of small landlords are crying poor.
But I don't think that's the reality. If anyone knows a landlord who is actually losing money every month – not a speculator who overpaid for a property and is losing a little with the expectation of making more, but an actual long-term landlord who wants to stay in the business but can't make it in San Francisco – I'd love to talk to that person. I've been asking for years; nobody's ever contacted me.
Again: Not making as much as the guy down the street doesn't mean you are losing money. Under unregulated capitalism, it's necessary to maximize the value of every asset, but the San Francisco housing market never operated under the normal rules of capitalism. Since demand is unlimited, no matter what the supply, there's government regulation.
And under that regulation, with all of those rules, and all of the hassle that comes with them, landlords are doing just fine.
I like Green's basic idea:
There is no way to make San Francisco affordable again without making real estate less profitable. Every homeowner and landlord has a ballooning financial stake in the gentrification gravy train never stopping. If the city enacted a policy that brought housing costs down, all of our property would be less valuable and we'd profit less. I'm fine with that, but let's stop bullshitting ourselves about it. We want more and cheaper housing, which means the only part of the equation to cut is profit. However we get there, there is no other way.
And that's why we hear about "poor landlords."