Mommy horror, obsolescent humans, anti-trafficking activism, and the latest from Jenni Olsen and Guy Madden at the SF International Film Fest.
By Jesse Hawthorne Ficks
SCREEN GRABS Part one of our guide to the spectacular lineup at the 58th San Francisco International Film Festival, April 23-May 7.  Times and dates for films are listed below each preview.
Win tickets to the fest from 48Hills! View part 2 here. 
>>Severin Fiala and Veronika Franz, Goodnight Mommy (Austria)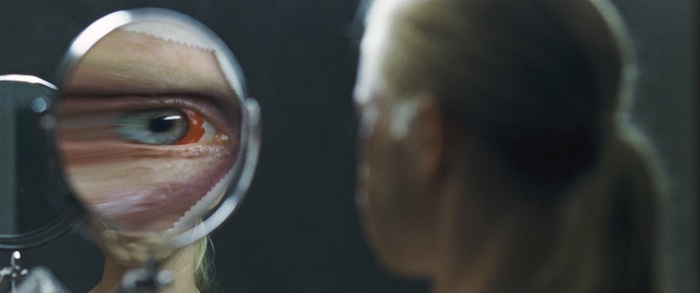 The first film not to miss at SFIFF58  is the instant horror classic Goodnight Mommy, which had Toronto International Film Festival critics tripping over one another as they frantically ran out of the theatre. I overheard one woman hailing the psychological terror film as the best movie at Toronto International Film Festival in five years. With art-porn filmmaker Ulrich Seidel as producer (Paradise Trilogy: Love, Faith, Hope), this immensely eerie film about a mother taking care of her troublemaking twins as she recovers from her plastic surgery, evokes such high levels of hypnotic and unspoken terror that you will be completely traumatized by the film's diabolical denouement. DO NOT READ ANY SPOILERS! This is the secret hit of the fest and plays in the Dark Wave program.  April 25, 11pm, Roxie Theater and May 1, 4pm, Clay Theater. Tickets and more info here. 
>>Jennifer Phang, Advantageous (US) 
The highly anticipated follow-up to Phang's debut, Half Life (2008) was well worth it, winning the "Special Jury Award for Collaborate Vision" at this year's Sundance Film Festival. This shrewdly low-budget, cerebral sci-fi flick digs into John Frankenheimer's Seconds (1966) territory, emerging with a prophetic look at the obsolescence of modern human beings. We as a species all know how limited we are compared to computers. We all know how irrelevant our choices are compared to corporations. And yet we keep forging ahead, in the hopes that perhaps the next generation won't have to make the same mistakes. Striking VFX (by Bay Area's very own Academy of Art University) help take this "little film that could" to new heights and could very well be this year's Beasts of the Southern Wild (2012). Jennifer Kim's nuanced performance as a mother who will do just about anything to support her daughter should be remembered next December at the Independent Spirit Awards, but more importantly, I keep thinking about the father sitting in front of me as he wiped his steady tears away throughout the film. Something's shifting in our world. Are we prepared? Plays in the Global Visions program. May 3, 6:45pm, Clay Theater, also May 5, 9:15pm and May 6, 1pm, Sundance Kabuki.Tickets and more info here.

Kim Longinotto, Dreamcatcher (UK)



Winning the World Cinema Documentary Directing Award at this year's Sundance Film Festival, this film follows a Brenda Myers-Powell, a survivor of 25 years of drug-addicted prostitution, who now "works the streets" day and night, in the attempt to help the women of today (from condoms to safe-houses) who are stuck in their own situations. Resisting a "talking head" convention, Longinotto places you among her protagonists and allow you to discover their day-to-day struggles as they reach toward something much larger. Whether the film proves or disproves the idea that one person can make a difference within our established systems, that is most definitely up to you and the long discussions that this film will bring. Presented as this year's POV Award, honoring the achievement of a filmmaker whose main body of work falls outside the realm of narrative feature filmmaking, join renowned documentarian Kim Longinotto for an in-depth onstage conversation, immediately following the film. May 2, 3pm, Sundance Kabuki. Tickets and more info here.
Jenni Olson, The Royal Road (US)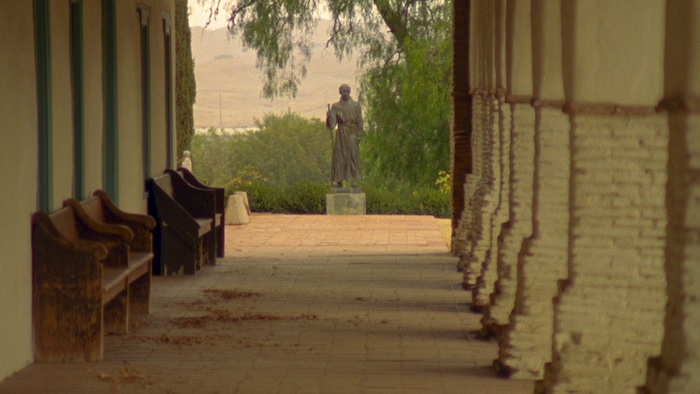 Gorgeously filmed with James Benning-esque static shots (16mm Kodak film—7245 50 Daylight stock) and geographically explored by way of Alfred Hitchcock and Billy Wilder, this slow-burning personal descent into Jenni Olson's latest autobiographical journey is not only an obsessive cinephiles' delight, but a romantic one as well. (And I now actually understand a little bit about the Mexican/American war of 1846-1848!) April 29, 6:15, Sundance Kabuki. Tickets and more info here.

Guy Maddin, The Forbidden Room (Canada)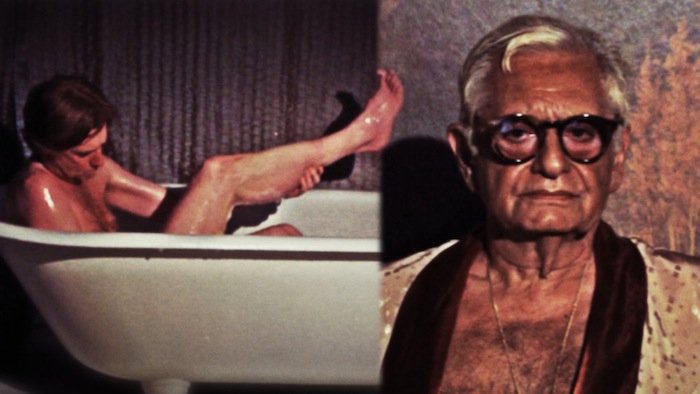 Fans know that this Manitoban is not just a filmmaker; he's also a religion. His latest, The Forbidden Room, is hilariously hyperactive and a relentless, mind-melting epic voyage. Submariners coping with dropping oxygen levels are baffled when a new passenger, a lost woodsman, suddenly appears aboard the doomed vessel. From that puzzling beginning erupts a riot of two-strip Technicolor and "lost" film fragments. The myriad subplots will leave viewers shocked one moment, baffled the next, laughing hysterically and then profoundly moved. In collaboration with co-director Evan Johnson, Maddin blends hallucinatory camerawork, florid production design and quicksilver editing to immerse actors and audience into an entirely "other" world. Psychotically designed into three acts, a methodical madness slowly reveals itself for those who dare to wander into this truly alternative experience. With a jaw-dropping cast that includes Udo Kier, Charlotte Rampling, Mathieu Amalric, Geraldine Chaplin and Maddin's longtime muse Louis Negin, The Forbidden Room is a genuine cinematic treasure trove, a nostalgic throwback to 1920s Expressionist Silent cinema married to a 1960s underground "camp" aesthetic. Plays in the Masters program. April 25, 9:15pm, Sundance Kabuki. Tickets and more info here.
Jesse Hawthorne Ficks is the Film History Coordinator at the Academy of Art University and curator/host of MiDNiTES FOR MANiACS, a film series at the Castro Movie Theatre which showcases underrated, overlooked and dismissed cinema in a neo-sincere manner.