The supporters of the Super Bowl want San Francisco to look like a nice, clean city where all is gold and diamonds and special "50" sculptures and rich people can spend freely without guilt or concern.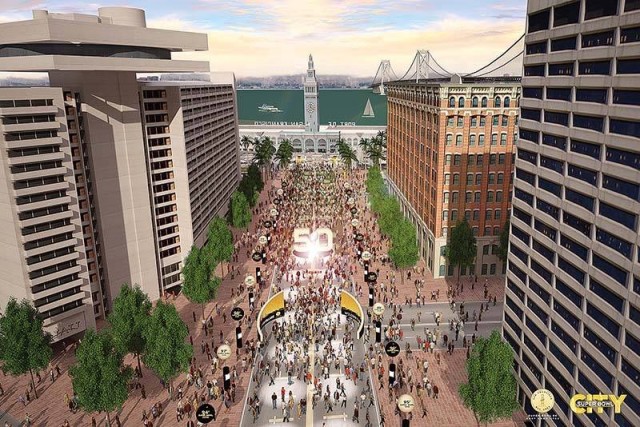 But it's not going to work out that way.
Starting February 3, advocates for the homeless are going to be holding what I think could turn out to be a massive demonstration right on the edge of Super Bowl City.
I like to think of it as Occupy the Super Bowl.
The Coalition on Homelessness and Broke-Ass Stuart are promoting the event, which will feature a tent city right next to the glitz. Already, 800 people have RSVPd on the Facebook page, and that's probably a fraction of the folks who will actually show up.
"We'll be making a homeless Super Bowl City," Stuart told me. "We're planning to be there a while."
This will happen right in the middle of the big week of events, and the national news media will be on hand, and if enough people show up it will be a glorious mess.
Are the SF cops going to forcibly remove protesters? Or will there be an alternative city right next to where the billionaires are holding their party?
Right now, homeless people are being driven out of the downtown area, which is one reason there's a huge tent city on Division. (The other reason: It's comparatively dry under the freeway, and El Nino is a public health issue.)
The SFPD has said it will not interfere with peaceful protests, and I have every reason to believe that the Homeless Super Bowl City will be peaceful, just as Occupy SF was peaceful.
But the mayor has insisted that homeless people will have to leave the downtown area. So what is he going to do?
Better to have the cops drag away thousands of protesters in front of the national TV cameras (and trust me, they are all looking for this story) or accept the fact that the failures of the city's housing policies will be right there for all to see?
Protesters are meeting at 4:30 pm in front of Sinbads on the Embarcadero, right next to the Ferry Building.
Among the demands the protesters are making: The $5 million that the city is spending to promote the Super Bowl would house 500 people. Why not put that money into housing?
Some facts from the Facebook page:
– There's one shelter bed for every six homeless people
– There's an 8,000-person long wait for housing
– 3,300 Children make up SF's homeless
– 61% have disabilities
– 11,000 citations were given to homeless for resting in SF last year
Superbowl-Related Statistics:
– 25% of the costs for Superbowl ads would be enough to end homelessness in SF (Each 30-second Superbowl ad costs 5 million.)
– The $5 million cost to SF to host the Superbowl would house 500 homeless people.
– SFPD is responsible for clearing out homeless people for the Super Bowl by giving them citations, which are already up 30% from last year.