Just days after Sups. David Campos and Aaron Peskin announced a measure to more tightly regulate short-term rentals, Airbnb, the biggest company in that business, dropped $245,000 into local political campaigns.
A new committee set up by Airbnb, called the Committee to Expand the Middle Class, gave $100,000 to Prop. B, the Rec-Park set-aside measure sponsored by Sup. Mark Farrell, $10,000 to Prop. D, the police-accountability measure backed by Sup. Malia Cohen, and $100,000 the Mayor Ed Lee's Prop. A, according to filings with the city's Ethics Commission.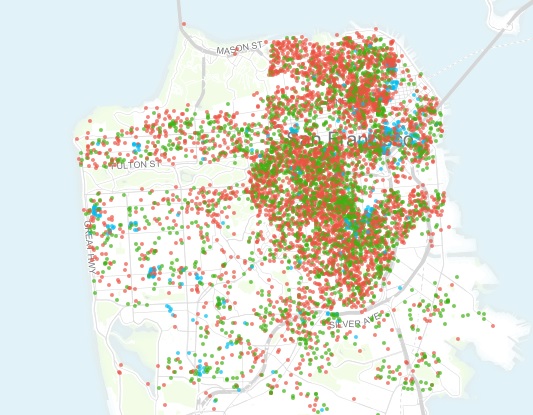 The committee also gave between $2,500 and $5,000 each to members of the pro-real-estate slate for the Democratic County Central Committee. The beneficiaries of that money:
Tom Hsieh, Zoe Dunning, Francis Tsang, Alix Rosenthal, Rebecca Prozan, Leah Pimentel, Trevor McNeil, Mary Jung, and Kat Anderson.
All of those contributions were made between April 25, the day the new bill was announced, and May 1.
The Committee itself has only filed the most basic paperwork with the California Secretary of State, so we don't know where all of its money comes from, but we know most of it is Airbnb, because by law the group had to file as "The Committee to Expand the Middle Class, Supported by Airbnb, Inc."
The phone number for the committee goes to the office of Kevin R. Henegan, who works for Airbnb.
Corporations put money into local politics all the time, but it's somewhat astonishing to see this much cash pour in this quickly just as the supervisors and the mayor are about to consider a bill that would impact Airbnb's profits.
"If there is any doubt that government is for sale, just look at this," Campos told me. "Just as we introduce a measure that would make this corporation be more accountable and responsible, they decide to throw their weight around."
Noted Peskin: "They are trying to buy votes at the Board of Supervisors."
Peskin, who ran successfully against big money from the likes of Airbnb last fall, said that "they were unable to fool the voters of District 3, and I hope they won't be able to fool the voters of San Francisco."
Calls to Henegan were not returned, nor was a call to Airbnb's lobbyist, David Owen.
UPDATE: I called Farrell to ask how a campaign he is pushing suddenly got $100,000 from a business that will soon be lobbying him on a piece of important legislation. Did Owen contact him and offer the money? Did he solicit it? He didn't call me back; instead, campaign consultant Maggie Muir, who is working on the Yes on B campaign, called.
I asked her the same questions. She said that "it's not at all unusual for a company to be concerned about parks, recreation, and open space in San Francisco." Yes, I said, but who offered the money to whom, and did anyone with the Yes on B campaign ask for it?
"That is the statement I'm giving you," she said.
I asked again: Can you please check around and see who asked for or offered the money? "No," she said.
So there you have it.