Performer Mika Lemoine didn't fully grasp the power of Destiny Arts Center and Embodiment Project's documentary play Seed Language until its opening night. (The play comes to A.C.T. for a grand closing performance, Sat/16).
Lemoine, who is an ensemble dancer in the production as well as an instructor for 15 of Seed Language's 48 youth actors, remembers seeing the young people, who she has been working with on the play since last September, watching a scene in the play for the first time called "Chains Off."
In the sequence, female dancers sob throughout their movements, expressing the grief that violence can bring upon black and brown women.
"All the emotions just came so strong that night," Lemoine remembers in an interview with 48 Hills. "All the young people in my company were on the side of the stage, just in tears, just really feeling the grief and emotion of the piece. I was holding them, they were holding each other."
A one-time youth participant at Destiny Arts Center who is now involved as an educator at that movement school and at Embodiment Project, a hip-hop troupe founded in 2008 by Nicole Klaymoon, Lemoine felt her role as a teacher strongly in that moment on the side of stage.
Seed Language, she could see, was going to make its youth performers process the effects of racial injustice on their lives. This went deep.
"It became clear to me that one of my major roles [in the production] was to hold space so that the young people could have the experience of the ideas and emotions we grieve for in the play," she said.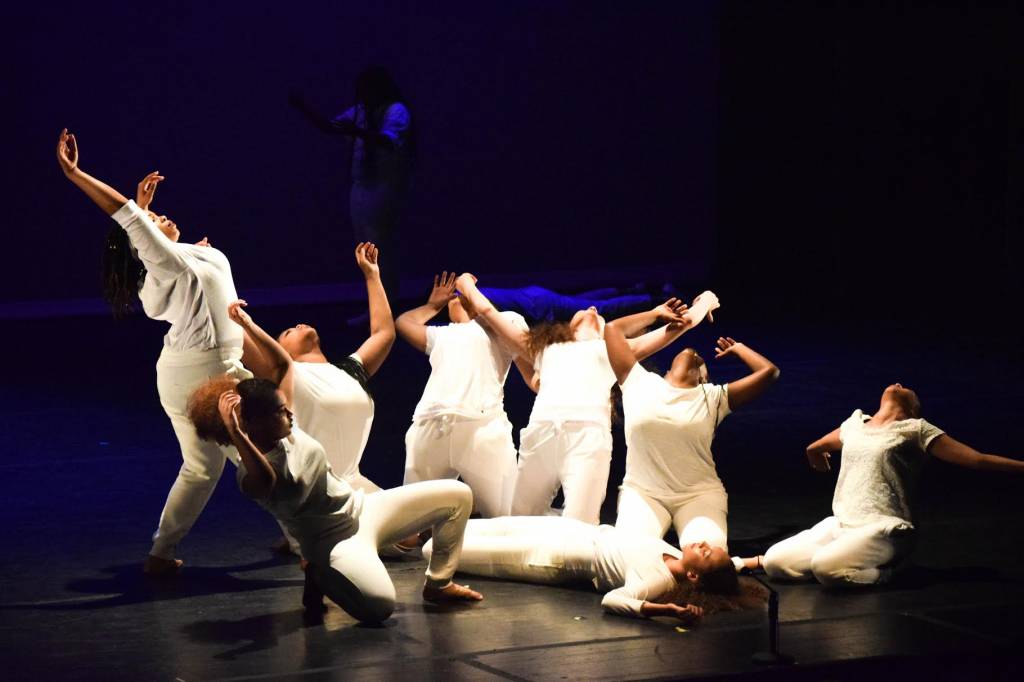 If Seed Language triggers real emotions, it is because it is based on real facts. To prepare for writing the script, Destiny Arts and Embodiment Project participants interviewed prominent activists, family members, fellow kids, and other community members to talk about the effects of police brutality and other racial violence on people of color.
Alicia Garza, co-founder of Black Lives Matter, was tapped along with former Black Panther leader Ericka Huggins, filmmaker Shakti Butler, anti-racist white activist Tim Wise, and Destiny Arts co-artistic director and Seed Language co-director Sarah Crowell (Destiny's other artistic director Rashidi Omari and Klaymoon also have directing credits.)
Performer Kyziah Shavers interviewed her mother, Brandi Mack, and wound up playing her in the finished play.
"Everybody was really honored and excited," Lemoine says of those asked to donate their words. Some participants gave of themselves on a literal level; Huggins generously bequeathed her own jacket to actress Camille Schmitt, who interprets her role in Seed Language.
The interviewees became the protagonists of the play and transcripts of their communications with the youth groups, the script. This documentary methodology was inspired by Anna Deavere Smith, the famed US character actress. The play's final cast totals 58 performers, not to mention aerial acrobatics Bandaloop.
The bridging of the generation gap between young, conscious people and older activists who have been living and thinking about the issues for many years is visible on stage, says Lemoine. She called the young actors, who were able to find themselves in the older roles, "brave."
She knows about the transformative power of performance. Lemoine came to Destiny when she was 11, a sixth grader who wanted to take martial arts classes with her friends. She eventually found her way to dance class.
"[Sixth grade] can be a very tumultuous time, identity-wise. To become empowered, to learn who I was and how to express it, that's a life altering experience. Dance became the thing that made me feel the most alive and connected."
She went away to college, started teaching dance, resolved not to teach dance, then moved back to the Bay Area and was surprised to find herself doing just that, right back at Destiny Arts Center.
But Destiny isn't just any dance school. Started a quarter century ago as a martial arts school that soon added dance to its curriculum, it teaches movement as a form of empowerment and protection. Conflict resolution is as much a part of its syllabus as footwork.
Seed Language is the school's 25th annual production, and closing night on Saturday marks the first time it will be held in San Francisco as opposed to the East Bay.
The play is ending its first run on one of town' best known stages at the American Conservatory Theater. It previously had six functions at Laney College, including a special performance with Q&A geared towards Bay Area school groups.
Lemoine expects that closing night audiences will feel the emotional power that her company felt while performing it — but also hopes that those who see Seed Language will later take the time to vocalize their own thoughts on the issue of racial violence.
"We're talking about things that haven't been talked about in this way, or need to be talked about more," she says. "We're accessing those deep, deep emotions of grief and grieving in community. We want to move the audience to really feel something when they're walking out of the door. But we also want to start conversations."
Because, Lemoine says, "we do no service to ourselves when we avoid talking about race and the hate it can breed. And it takes everyone's words to heal" — even if your conversations are not being conducted with an eventual showing at the ACT in mind.
"Let's talk about it," she said. "Let's dismantle it together, let's heal it in community."
"SEED LANGUAGE"
Grand Finale Performance
Closing Night: Sat/16, 7pm, $10-30
American Conservatory Theater, SF.
Tickets and more info here