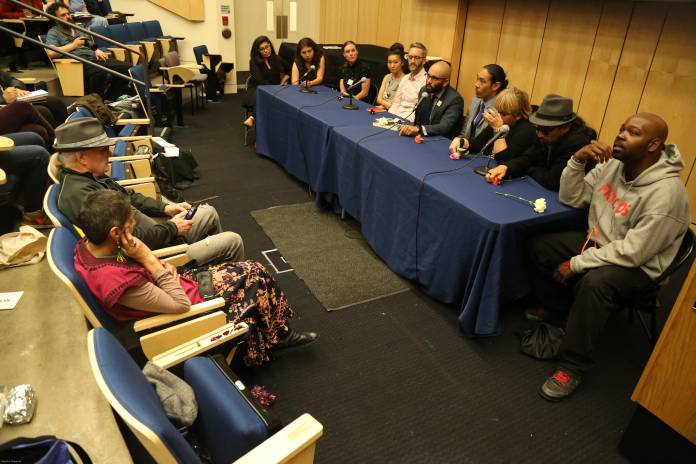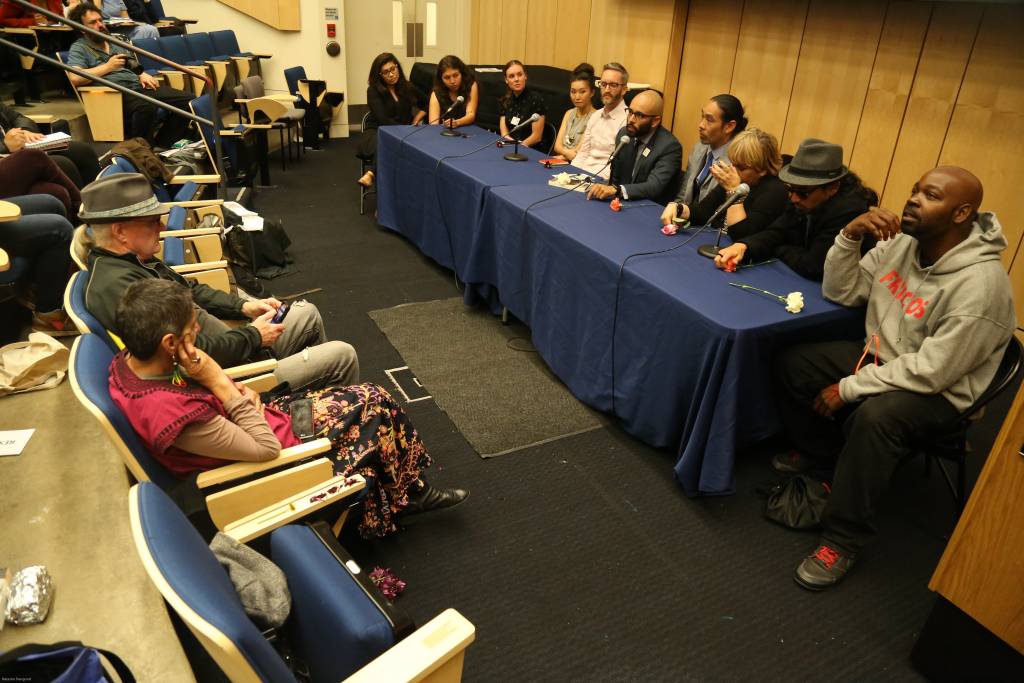 Students and healthcare professionals from the University of California, San Francisco and San Francisco State University argued yesterday that police brutality should be seen as a public health issue. The event was put together by the "Do No Harm Coalition" a coalition of healthcare workers and students that formed after the hunger strike to start working on addressing the issue of police violence in San Francisco.
The event featured four members of the Frisco 5 – the five San Francisco residents who went on a 17-day hunger strike to demand resignation of Chief Suhr – and SFPD Sergeant Yulanda Williams, president of the Black officers group Officers for Justice. The event was attended by around 300 people.
Medical students and healthcare professionals from UCSF have been at the forefront of the struggle to end police brutality. On May 3rd, as the Frisco 5 – Maria Cristina Gutierrez, Ilyich Sato, Edwin Lindo, Ike Pinkston and Sellassie Blackwell – marched to City Hall, doctors and medical students pushed their wheelchairs. Medical professionals helped provide health advice and support to the Frisco 5 during their hunger strike.
The iconic images plastered in every local, national and international media told a story about a community coming together to demand an end to police brutality and systemic racism. Monday's event saw healthcare professionals and students committing to demand answers and join community members in asking tough questions about police racism in San Francisco.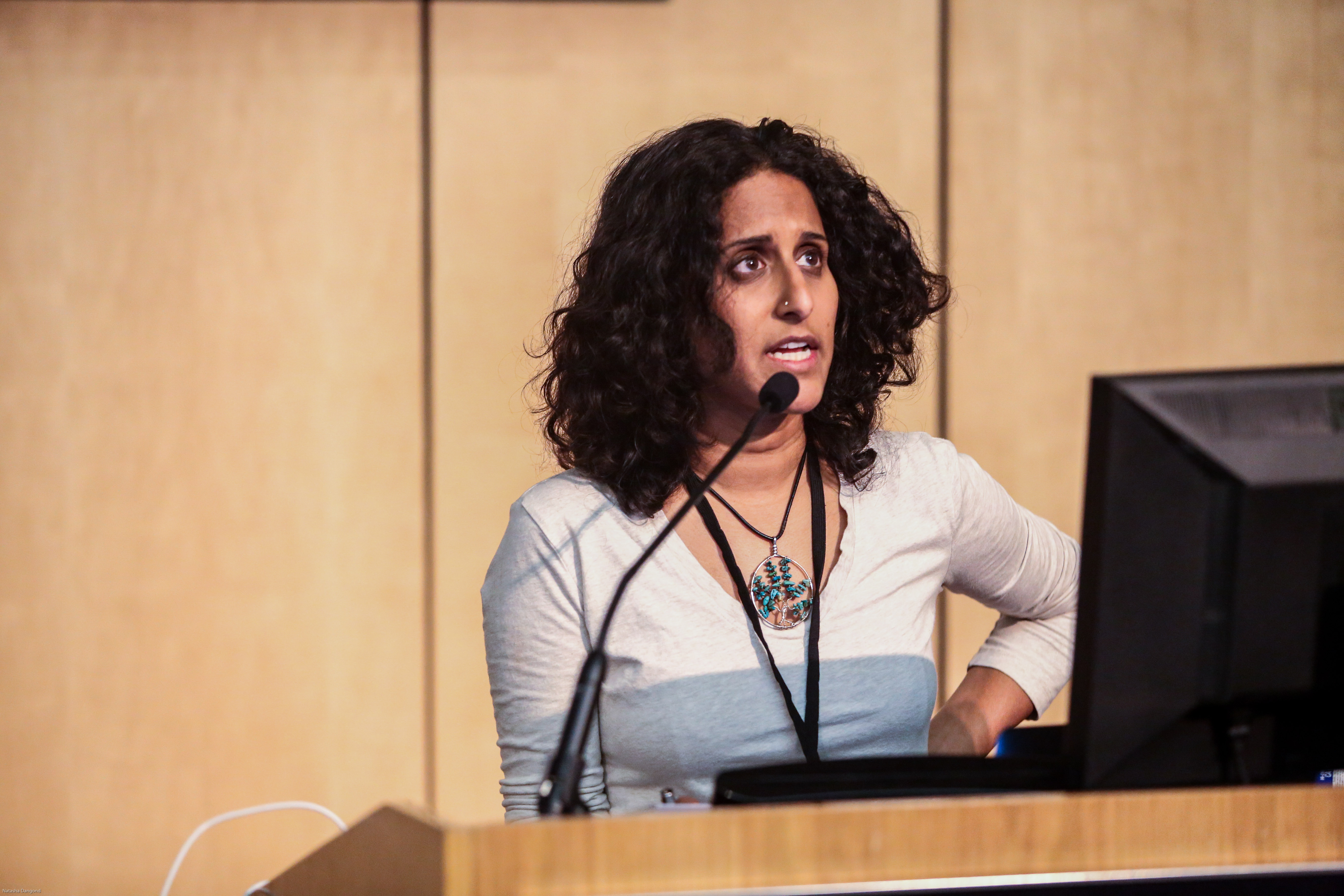 The indomitable Rupa Marya, MD, who works at the Division of Hospitalist Medicine at UCSF, spoke about the link between racism, police brutality, and public health. Marya's presentation was packed with facts and research showcasing police violence and racism with a special focus on communities of color.
As a healthcare professional, Marya said, there's often pressure not to get "political."
"Doctors aren't supposed to get political," she said. "Is this scientific or is this political? And I say to them that the study of racism, or any other social determinant of health, can be subject to rigorous scientific inquiry, and what's revealed might provoke a political dissonance or upheaval, but it doesn't mean that we should avoid studying it, especially when people are dying. I would say that the avoidance of studying this stuff is a political act when the data is rigorous and the correlations are strong." Marya got a standing ovation from the crowd.
Marya spoke about the recent police shooting that killed 29-year old Jessica Williams. "She was killed while I was making these slides just the other day. I was sitting and working on this presentation and got the message that she died," she said.
Marya also spoke about knowing Luis Gongora, the 45-year-old homeless man who was killed in an officer-involved shooting in March. "The number of people killed to date since 1985, including to the two recent ones that we know about, comes up to 103. None of the SFPD officers have ever been charged by the District Attorney's Office for police involved killings.
"Police violence and police impunity can create civil unrest, police killings lead to civil unrest," she said, mentioning the reaction in Baltimore to the Freddie Grey shooting.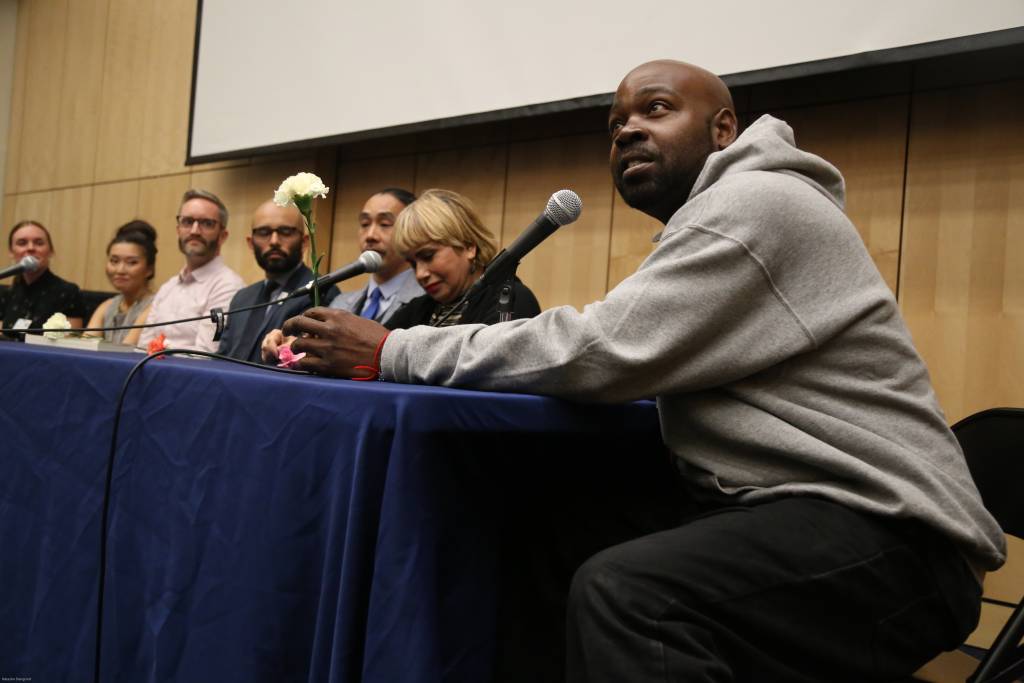 Sgt. Yulanda Williams, president of Officers for Justice, a group that has pushed for stronger diversity in the Police Department for four decades, spoke about the controversy around the Police Officers Association. Williams got into hot water with the association after her comments in support of the blue-ribbon task force reports that heavily scrutinized racism within the police department.
"We have a union that calls police officers that blow the whistle snitches," she said. "How can I expect you as a citizen that I am supposed to serve to tell me what happened if internally we can't get it right and we are calling each other snitches?"
Maria Cristina Gutierrez, 66, spoke about the experience she had dealing with health issues during the hunger strike "At one point I felt that I was going to die, then Dr. Rupa told me that she would not allow me to die" Gutierrez said as she broke down. "That was a beautiful moment, but the thing that I remember the most is that we were all part of something. It's not so much whether you did so much for me or I did it for you but that we were partners." since the hunger strike Gutierrez has been pushing for the black and brown community to unite. On calls for reform, Gutierrez said she couldn't be more determined: "We don't need reform, we need to transform" she said as the audience cheered on.
Anita Hargrave, a 4th-year medical student, and coordinator of Clinica Martin-Baró, which provides healthcare services in the Mission, spoke about her experience working with the hunger strikers and victims of police brutality. "This movement of seeing the Frisco 5 and also seeing students and activists come in after being incarcerated for committing civil disobedience was a moment when I thought that there's also liberation medicine. We have to see that there's a context in which our patients are living, we can't just document objectively their bruises or their scrapes. We can also step back and look at the systemic injustice that is influencing their health," Hargrave said.
Health professionals at UCSF also called for a centralized database where police violence cases can be accessed by health professionals to be able to better determine how this is impacting public health at large and mandatory real-time reporting of all police killings.
"It just happened in Tennessee. It needs to happen all over, nationally," Marya said.
Video of the event is available at the UCSF website