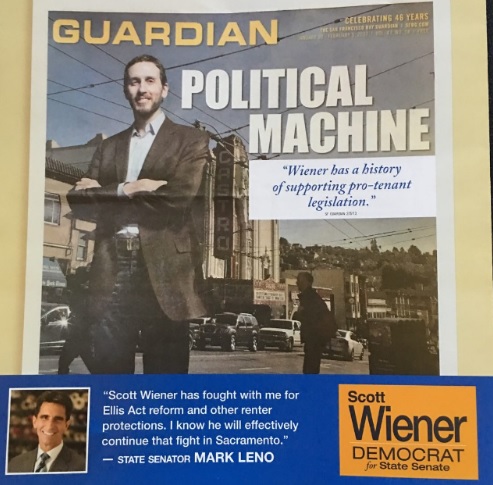 The campaign of Sup. Scott Wiener is taking the concept of misleading information to a new, and astonishing level: He's putting out a reproduction of a Bay Guardian cover from 2013 with the text changed to suggest that the paper supports him.
Politicians use quotes from newspapers all the time, sometimes out of context. But this is another whole level.
The Bay Guardian endorsements are here. The paper supports Jane Kim for state Senate.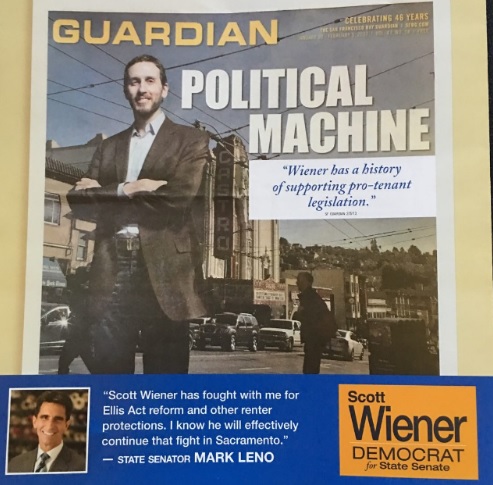 But that's not how this mailer looks. It's got a nice picture of Wiener next to the headline "POLITICAL MACHINE." In the original story, by then-editor Steven T. Jones, the subhed made clear the context:
Scctt Wiener is relentless, driven, prolific – and changing San Francisco in sometimes alarming ways
That's not what the version Wiener's campaign is putting out says. In his fake Guardian cover, the subhed reads
"Wiener has a history of supporting pro-tenant legislation."
There's also a quote from Sen. Mark Leno on the bottom, which is fair enough – Leno supports Wiener.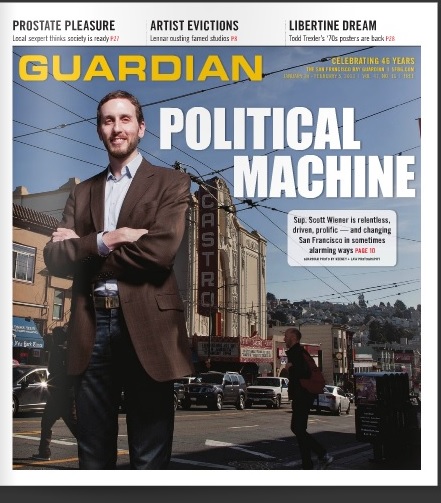 But the implication that the Guardian wrote a cover story saying he supports tenant issues is just wrong. Here's the actual quote from that story:
"Gullicksen [that's the late, wonderful Tenants Union leader Ted Gullicksen] acknowledged that Wiener has a history of supporting pro-tenant legislation, particularly during his time on the DCCC when tenants were at war with Wiener's predecessor, Bevan Duty, and then-Mayor Gavin Newsom. But he said that Wiener changed after the progressives took over the DCCC and prepared to run for supervisor in a district that has gentrified, largely because of apartments being turned into TICs and condos.

"He made the decision that he was not going to be with the progressives and to ally himself with the conservatives, moderates, and real estate people," Gullicksen said."
That's the actual honest quote. To say that Wiener took Gullicksen's words, and the Guardian's, out of context would be a stunning understatement.
I used to be the executive editor of the Bay Guardian, although I was gone by the time this story ran. (Another nonprofit I am involved with recently regained rights to the paper.) Over the years, I saw a lot of politicians try to take advantage of nice things we had said about them even when we were endorsing somebody else.
But I've never seen anything remotely as bad as this. It's just dishonest; there's no other way to describe it.
I texted Wiener today to ask for comment, but he hasn't given me a statement.
I'm also interested in the story that CW Nevius (hasn't he retired yet) did about Wiener this morning, quoting Rep. Barney Frank on the importance of LGBT representation in elective office. In this case, Frank is backing Wiener for state Senate.
I agree with that sentiment. But I find it a little hypocritical: When Sup. David Campos, a gay man, was running for state Assembly two years ago, Wiener endorsed his opponent, Sup. David Chiu, a straight man. If Wiener wins the state Senate race, the city could for the first time in years have no LGBT representation on the Board of Supes – unless Kimberly Alvarenga, a lesbian mom, wins D11. Who is Wiener backing? Her straight opponent, Ahsha Safai.
Tom Temprano, a former Milk Club president who is running for Community College Board, put it this way:
"If you are talking about the need for LGBT representation but you didn't back Campos and you aren't supporting Alvarenga, please take a seat.