ONSTAGE The piece Bay Area dancer and educator Amara Tabor-Smith will perform this weekend at the 2017 FRESH Festival explores how capitalism seeks control of black women's schedules. Tabor Smith tailored "BlackTIME"'s message to account for the fact that it will be performed in front of audiences that may not be majority POC, she told 48 Hills in a recent interview, with a goal of "investigating blackness, but inviting people in."
Exploring the ways that form and delivery affects art's message has long been a part of FRESH, an annual festival of experimental dance, performance and music that features three weeks of performances, practices and community exchanges through Jan. 22.
The festival was started in 2010 by ALTERNATIVA, a company led by dancer Kathleen Hermesdorf and musician Albert Mathias. This year it will take place through Jan. 22 in venues around the Mission and SoMa, including Red Poppy Art House, where communal potlucks will be held in which attendees examine the crux of art and activism.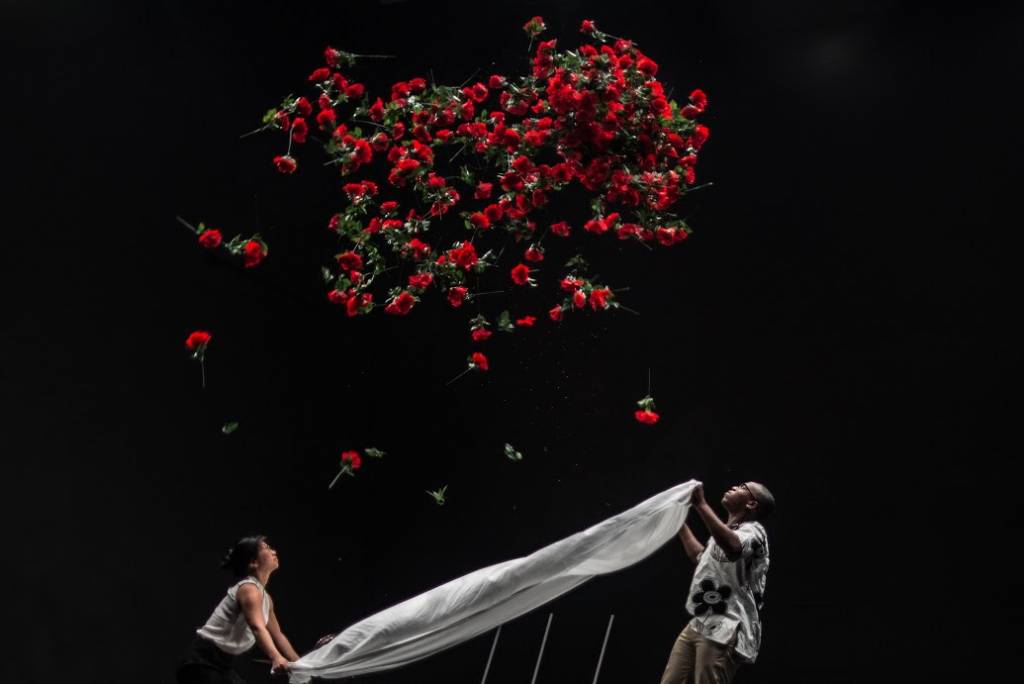 Tabor-Smith will take part in one of these potlucks on Jan. 11 with Cat Brooks and FRESH co-curator José Navarrete, but it will be far from the first time that her work has tackled social justice issues. She and co-conspirator Ellen Sebastian Chang's ongoing "House/Full of Black Women" project revolves around public action addressing issues that affect black women in the Bay Area, like sex trafficking and displacement.
"House/Full" has featured recurring public interventions during Oakland's First Fridays, in which Tabor-Smith and other black performers process past the town's new upscale restaurants and art fans wrapped in white lace, eliciting strong reactions. The walks feature the Afro-Futurist conjure-art inspired by the work of Ed Mock and Ana Mendieta for which Tabor-Smith has become known.
It would appear that not all audiences are ready to accept this kind of powerful black manifestation. "There was a range of folks who as we pass by say things that are derogatory — we were called niggers," Tabor Smith remembered, recalling the reactions of First Friday crowds.
As a San Francisco native, she said she's had to deal with this kind of bigotry all her life. Nonetheless, she sees the atmosphere as having gotten "heavier" since the Nov. 9 elections. "Yeah, welcome to the real Bay Area. People saying 'oh, that's black magic,' and saying that in a derogatory way. People ignoring us when we were in their midst."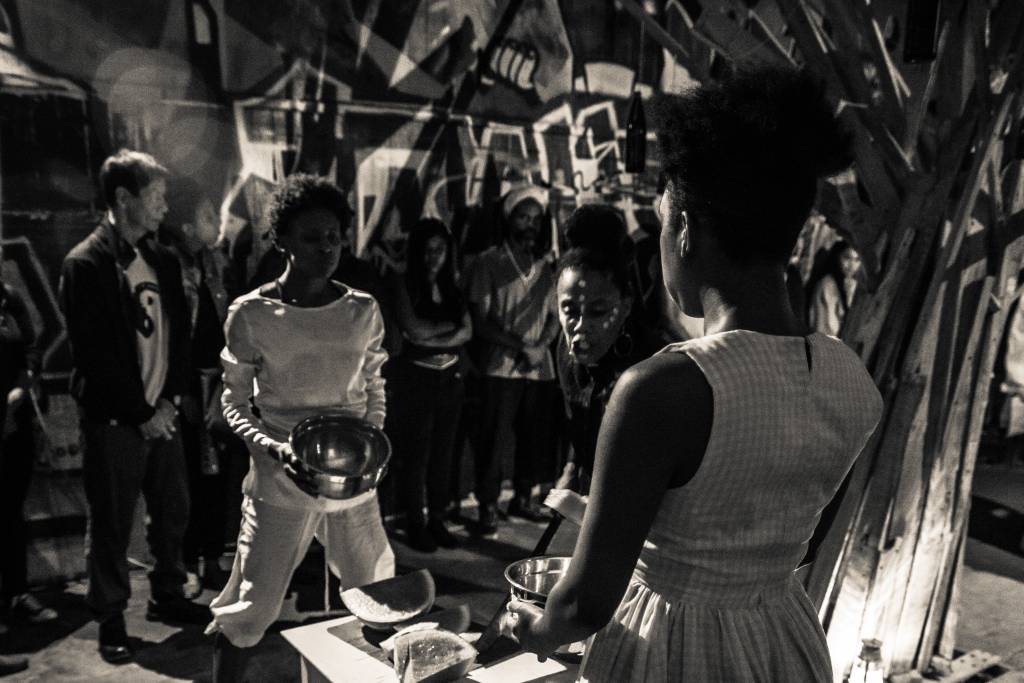 The FRESH team conceived of this year's "empathy and destruction" theme as an examination of variant methods of survival. "It's an instigation and investigation into how to transform relationships," said Hermesdorf.
She and co curators Abby Crain and Navarrete wanted to reflect the juxtaposition of getting loud and finding tenderness for fellow humans as ways of striking back at forces that would divide us. Their six month selection process for the festival — no applications are accepted — sought to pull in as much diversity as possible.
This focus on daily survival is a fitting backdrop for "BlackTIME," which will work along similar themes as "Black Women Dreaming," another upcoming "House/Full" performance that will feature 80 women sleeping on communal beds for seven days. 
"In an age when we have the technology to give us more time, we have less," Tabor Smith said. "There's a reason for that. Structures of oppression thrive on the illusion that we don't have enough, but that 'enough' is just ahead if we run faster. We're hamsters on a wheel, reaching for something we never get to. The deficit of time is one of the clearest manifestations."
"Anyone who has a consciousness or mindfulness cannot allow the fatigue of living in a hyper-capitalist society stop us from doing the work," she continued. "That's what this kind of social structure depends on, that you're tired and you have a level of privilege that makes it so that you can go 'hmm, maybe I can just not do this because I'm tired.'"
Attempts to navigate the mindfield that 2016 has left for us should figure prominently on this year's FRESH program. Over the course of three January weekends, artists like Xandra Ibarra, Sophia Wang, Keith Hennessy, and Hermesdorf will present multimedia performance pieces in the intimate Joe Goode Annex. 
"With what's going on in politics, it's given permission for so much racism and nationalism and xenophobia, especially against immigrants," said Hermesdorf. "It just seems like the perfect fit now, empathy and destruction being two ways to break us out of our comfort zone."
FRESH FESTIVAL
Mon/2-Jan. 22
Various SF locations
Tickets and more info here