SCREEN GRABS You may not have noticed it, but foreign films have grown increasingly scarce on American movie screens. In San Francisco this is partly a matter of logistics—we've lost several screens in recent years, notably arthouse-friendly ones in the Landmark Theaters chain. But there's a larger, even more culturally depressing trend at work:  foreign-language films are harder and harder to sell to U.S. audiences, who have become more and more resistant to reading subtitles.
That reduces the number of new foreign films released here. And while streaming services, YouTube, DVD and so forth theoretically make accessing older ones easier than ever, the truth is that a very narrow range of back-catalog cinema from around the world is readily available at any moment in time. You have a select assortment of designated award-winning "classics" on the one hand, then a few fun genre oldies (horror, cheesecake, martial arts etc.) on the other. That leaves largely abandoned the great middle ground of mainstream commercial cinema that probably didn't have much export value in the first place, because it fell between the poles of laureled festival-type fare that attracts upscale armchair adventurers, and exploitation fodder with a more universal kind of downscale cheap thrills/camp appeal.
The latest edition of Mid-Century Productions' retrospectives at the Roxie, "A Rare Noir Is Good To Find 2" (Fri/2-Mon/8) fills a few blanks in that massive gap. Offering twelve features from 11 countries (Italy is represented twice), the four-day series provides a few titles that are well-known (at least in their countries of origin), along with others that no doubt haven't been seen in the Bay Area for over half a century, if ever. A French word for an American genre, the term "noir" should be applied with a grain of salt here—stylistically as well as in thematically, the movies showcased here have just occasional, partial overlaps with the classic post-WW2 wave of U.S. crime mellers. They range from neo-realist-type exposes of social ills to arty experiments to lurid melodramas. But all have their own distinctive flavor, and "dark" aspects that will appeal to noir fans.
At least two of the films here were enormous international hits that remain well-known to cineastes. The quintessential Brit noir, 1947's Odd Man Out was a game-changer for its director Carol Reed and star James Mason, both of whom would have increasingly international careers. The ever-charismatic Mason plays a wounded IRA leader on the lam in Belfast, his increasingly desperate attempts to elude capture becoming a kind of fatalistic tone poem. It was one of the most acclaimed films of its era, something that cannot be said for Italian Giuseppe De Santis' Bitter Rice two years later.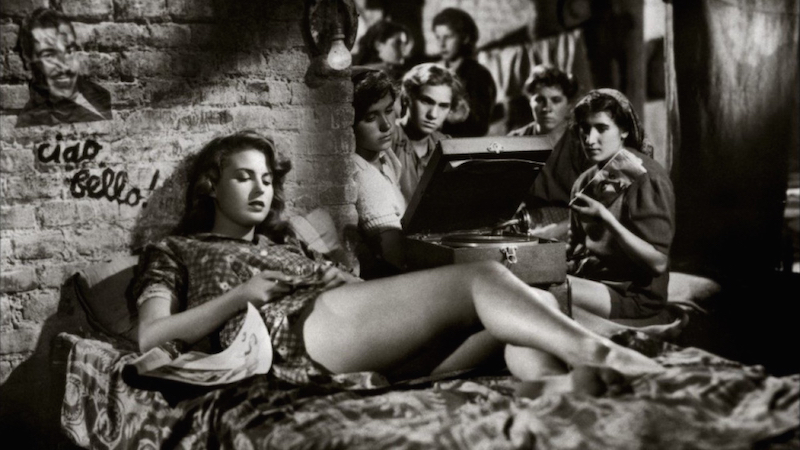 A more commercialized spin on the neorealist cinema that had flowered in Italy after the war, it's an enjoyable and well-crafted melodrama in which two criminal fugitives hide out amongst the seasonal workers of the Po Valley rice fields—notably Silvana Mangano as an earthy peasant goddess with hitched-up skirt. Though Mangano's part is actually smaller than that of her costars (who include Vittorio Gassman and Raf Vallone), it was her voluptuous allure that made the film a sensation, and singlehandedly kicked off a long line of European bombshells that would soon include Loren, Lollabrigida, Bardot and more. (She also married her Bitter Rice producer, the famed Dino De Laurentiis, who would go to produce everything from La Strada to Barbarella to Evil Dead II.)
Famous at least amongst Asian film aficionados is Kim Ki-young's original 1960 The Housemaid, the mother of all "Blank From Hell" movies—you know, those films in which a mistress (i.e. Fatal Attraction), nanny, boyfriend or whatever turns out to be a family-destroying psycho freak. Here the titular character (Lee Eun-shim) is hired to work at the home of a music professor and his wife, upon whose lives she proceeds to systematically wreak havoc. However, this is no simple tale of stranger-danger victimization: Her bourgeoise employers (even their young children) are so obnoxiously privileged and exploitative that the abuse they eventually suffer is well-earned. Taking a scalpel to Korean class conflicts that remain as relevant as ever day, The Housemaid was so popular its director made two follow-ups, and fifty years later Im Sang-soo remade the original as a cold-hearted black comedy.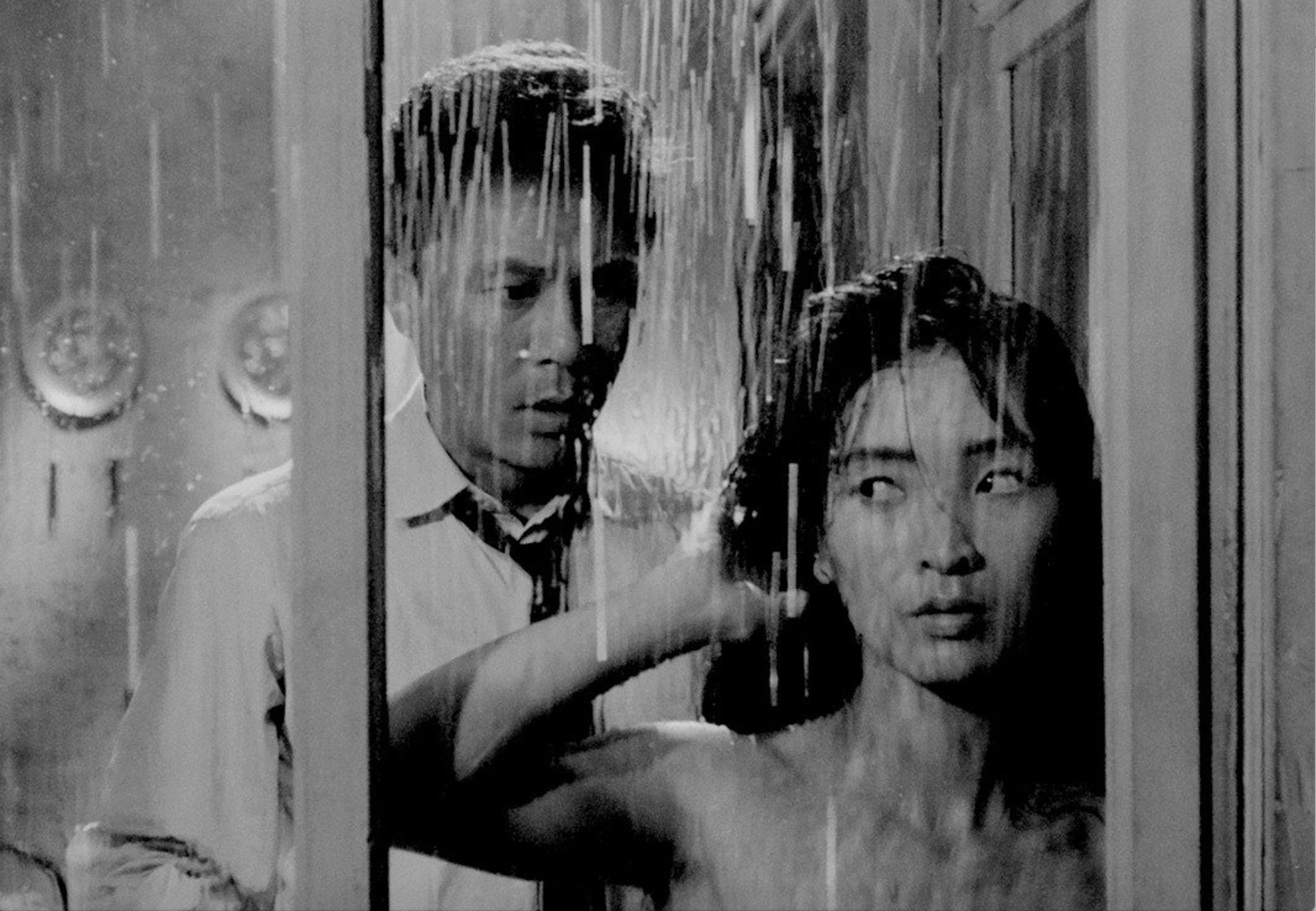 The remainder of "Rare Noir 2″'s program, however, consists of films that will likely be fresh discoveries to even the most dogged fans international film fans. The other Italian film, 1950's In the Name of the Law, is by Pietro Germi, who'd later direct some of the most popular Italian comedies of the '60s (Divorce Italian Style, Seduced and Abandoned). But at this point he was still very much a neorealist, in this case traveling to Sicily to shoot a fictive narrative about a crusading young judge (Massimo Girotti) appointed to a sun-baked town where he's expected to turn a blind eye towards all entrenched institutional corruption and organized crime. It's a story you've probably seen told in various forms before, but this is one of its finest screen incarnations.
More in the "long dark night of the soul" mode of Odd Man Out are two later films from countries to the north. Wojciech Has' Polish Petla aka The Noose, by the director of the subsequent, more overtly surreal cult favorites The Sargossa Manuscript (Jerry Garcia's favorite movie) and The Hourglass Sanitorium, finds Kuba's (Gustaw Holoubek) shaky sobriety collapsing when his girlfriend leaves him alone for a few hours. This somewhat turgid express-lane to alcoholic hell was based on an early story by Marek Hlasko, a famed Polish literary bad boy who himself would be dead from substance abuse by age 35. More rewarding is the team-directed 1955 Seagulls Are Dying in the Harbor, whose even more luckless hero (Julien Schoenaerts, considered "the Marlon Brando of Flanders") is broke, homeless and desperate in Antwerp. Its odd, sometimes clumsy yet poignant mix of melodrama and expressionism culminates in an arresting chase climax.
Different forms of social alienation is explored in several other films here. In the 1958 Cairo Station by Youseff Chahine, the director himself (a leading Egyptian industry figure who was still working up to his death at age 82 a decade ago) plays a simpleminded newspaper peddler whose extreme sexual frustration inevitably triggers disaster. A little bit Of Mice and Men, a little bit M, it's a vividly atmospheric portrait of hapless obsession. Leopold Lindtberg's 1947 Swiss Madness Rules argues for more progressive treatment methods as a murder mystery is triggered by the mishandling of a sensitive, stuttering young man (Olaf Kubler) by his callous asylum physician and the hostile father who had him committed. It's an earnest, yakkety adaptation of an apparently more tricksome original novel.
The "maddest' film of the entire series, however, has to be Otakar Vavra's 1948 Czech Krakatit, adapted from a 1922 novel by famed social critic and literary lion Karel Capek—who a decade earlier had managed to elude death at the hands of the Nazi Gestapo only by contracting a fatal case of pneumonia first.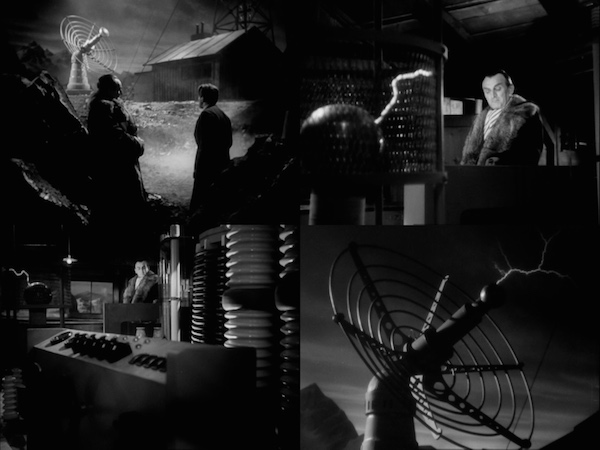 Made in the wake of Hiroshima and Nagasaki, yet faithful to Capek's prescient concept from a quarter-century earlier, it focuses on a chemist (Karel Hoger) trying to prevent his titular invention—a atomic explosive named after a volcano—from falling into the hands of various rival political forces hellbent on controlling the destructive discovery. As an opening title explains, "The action takes place in the fancy of a feverish dream." Not only is our hero hallucinating, exhausted, and possibly radiation-poisoned, but the filmmaking itself is a riot of fantastical effects and general delirium. Viewers seemed not quite to know what to make of it at the time, but Krakatit survives as a bold experiment more in line with silent German Expressionist cinema than the films of its era.
Also stylistically exceptional, if more conventional in gist, is Shochiku Studio crime drama Cash Calls Hell. Hideo Gosha's 1966 feature has a newly freed convict (still-active Tatsuya Nakadai, then en route to becoming one of Japan's biggest screen stars) reluctantly agreeing to his former cellmate's purported get-rich-quick scheme, only to discover he's leading assassins on a trail of corpses. The plot is simplicity itself—basically a series of straight-up murder setpieces—but the strikingly chosen locations, widescreen B&W imagery and chiaroscuro lighting will delight fans of classic American noir and Japanese gangster cinema alike.
Last, and admittedly least, are two other films here that superficially fit pretty well into the noir bin, with their fugitive protagonists involved in amours fou. Before he became a leader in Brazil's Cinema Novo movement of the next decade, Walter Hugo Khouri made the 1958 programmer Strange Encounter, in which a playboy's country retreat is raided by a beautiful, possibly unstable girl fleeing her husband, and whom her smitten host must hide from his own wife. Ultimately it's just an overblown romantic melodrama, slickly done on a low budget.
On the other hand, "overblown" becomes something of a compliment when applied to a tale as purple with passion as prolific Mexican director Miguel Morayta's 1951 Caino del Infierno aka Road of Hell. Here, a ruthless nightclub singer (Leticia Palma) is "tamed" by the man (Pedro Armendariz) she'd roped into a disastrous burglary plot. Redeemed by love, they travel the straight and narrow path happily together until a plot twist—one so outrageous I wouldn't dream of spoiling it here—forces them apart, onto separate paths of criminal doom. (This does not, somehow, slow the film's gratuitous incorporation of numerous songs.)
Armendariz would become one of the most internationally famous Mexican actors before his premature death in 1963 Los Angeles. The apparently very stormy Palma outlived him by nearly a half-century, yet her career was virtually over soon after this film was released: She got in such heated conflict with the National Association of Actors that she was expelled from the union, and banned from the entire industry. The circumstances behind that expulsion appear to have been bizarre and lurid enough that one hopes they might be turned into a noirish biopic melodrama some day.
"A Rare Noir is Good to Find 2" runs Fri/2-Mon/8 at Roxie Theater, SF. $10-12 (45 entire series pass), www.roxie.com