With her organization's 40th anniversary gala a few days away, Precita Eyes Muralists founder Susan Cervantes has little time to talk. Still, caught at the organization's 24th Street storefront by a reporter's phone call, she meticulously lists sites where one can see Precita Eyes' murals. 
The 57-year Mission District resident mentions the piece youth artists recently completed at 24th Street and Folsom, where a play of chance sprawls across a low brick wall topped by chainlink. Cervantes says the young muralists painted lotería cards of their own invention that express their feelings about life in the vastly changed neighborhood; El Lowrider, La Tristeza, La Mano, Por Vida.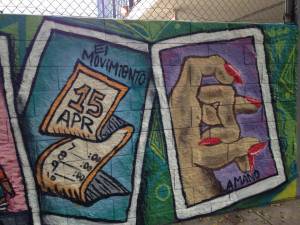 It's a sweet tribute, even if you don't know the back story, which many Bay Area news junkies do. People fought for this wall.
Earlier this summer, the building owner buffed a previous Precita Eyes youth arts mural on the site. What had once been a cautionary note to would-be gentrifiers — "Our culture can't be bought," in script curled around a calavera — had been erased and partially replaced with the most anodyne note possible, before the neighborhood had a chance to react. The would-be new text read, "Be a good person."
But neighbors will have to somehow remember to be a good person on their own. What happened next demonstrates the power of these murals for Missionites and beyond.
Precita Eyes explained the situation to the building's new owner, the fact that though this wall technically belonged to him, how it really belonged to the streets, and he agreed that they had better re-commandeer the mural space. 
To pay homage to the random rolls of destiny's dice that had brought them back to the site, Precita Eyes' youth artists painted the emotional lotería that you see today. "La Cultura Cura," ["Culture Heals"] they called it. Hopefully now the message is clear; their work is to stay until further notice.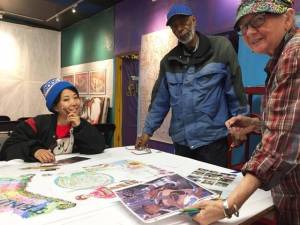 This is but one story of multitudes — between five and six hundred, by Cervantes' count of the total murals that Precita Eyes has completed around San Francisco, the Bay Area, and the world. The group has carried out projects in China, Russia, and Spain.
The Mission is the neighborhood where Precita Eyes' work is most evident. But in the last year the organization has coordinated a six story tribute to urban gardeners in the Tenderloin at Larkin and McAllister, a homage to local businesspeople in SF's Lakeview neighborhood, and a graceful tableau dedicated to Latino student pride all the way on the East Coast, at Boston's Northeastern University campus. 
With her partner Luis, Cervantes gave birth to the mural program in 1977 that continues to be a resource for property owners looking to cover their walls in art. Inspired by Patricia Rodriquez and Graciela Carillo's Mujures Muralistas project, Precita Eyes is an expression of the thriving Chicano muralismo movement that helped defined the Mission in its previous decades. 
In the early '80s Susan started a track for young artists when she noticed that San Francisco graffiti had evolved. Its aesthetic touch was no longer dominated by the cholo and gang tags of the Mission. Throw ups had appeared, bubble letters that betrayed the artistic capacity of their creators.
She made some inquiries and tracked down the taggers, wooed them to her idea, and convinced businesses to donate wall space so that the artists could create more permanent, legal wall art that would still assert their right to leave their mark on their streets.
Soon those youth were experimenting with the possibilities of muralismo, "taking it apart and putting it back together in their own style," as Cervantes says. The first Precita Eyes youth mural site sprawled across a wall at the since-closed Restoration Hardware on Harrison between 23rd and 24th Streets. Soon the young painters were working up designs on roll-down shop gates and laundromats. Their collaborative creations meshed brush work and aerosol, uniting influences from generations of people who have taken to the streets with their art to be seen. 
Josue Rojas was one of these young Mission artists. In 1994 he was 15 and reeling from the death of his father when he entered into the Precita Eyes youth arts program. Today he holds a BFA and MFA in painting and serves as the executive director of Acción Latina, a community arts program and publisher of the Mission's bilingual newspaper El Tecolote.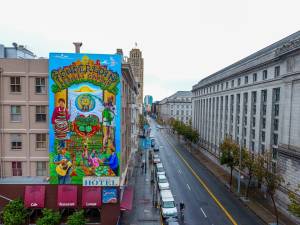 He credits all this to the murals.
"Precita Eyes changed the course of my life," Rojas tells 48 Hills in an email. "They trusted me with a wall at the back of a school playground, which was the most trust anyone had put in me. I painted that wall with all my heart. I was hooked and knew I wanted to be a painter for for the rest of my life." 
He is not the only youth artist that has been inspired to an enduring career. Cervantes says that much of Precita Eyes' staff got their start as a teenager in the youth arts program. Saturday's gala auction block will be full of the work of alums. 
After decades of work, this diaspora's efforts have helped define the landscape of the Mission District and the Bay Area. The youth-created murals are perhaps the most visible sign in the city of San Francisco's young people, whose families are plagued now more than ever by sky high rents and attendant threats of displacement.
Like its murals, Precita Eyes has had to fight to stay in the Mission. It took a sympathetic landlord and a well-timed commission to paint the 24th Street McDonald's to land their current space after being evicted from half of their workshop space near Precita Park. (Says Cervantes of their fast food dalliance: "I told the owner, 'I've never been in a McDonald's. My children don't go to McDonald's. Do you still want us to do a mural on your building?' And he said, 'Yeah, I think it's part of the culture. I'd like for it to be done anyway, even though you don't patronize us.' And I said, 'Fine, great.'")
When asked what the future holds for the organization, Cervantes is straightforward. "Life in the future? We're just going to continue what we've been doing really well for the past 40 years."
Rojas expounds. "Mural creation is a tradition and an integral piece of SF values. It's imperative that Precita Eyes is around doing mural tours, restoring and maintaining existing murals — but also (equally important) still developing local talent and teaching the next generation of muralists. SF will need skilled, home-grown Mission muralists. Maybe more than we now know."
PRECITA EYES MURALISTS 40TH ANNIVERSARY GALA Sat/30, Github SF. More info and tickets here