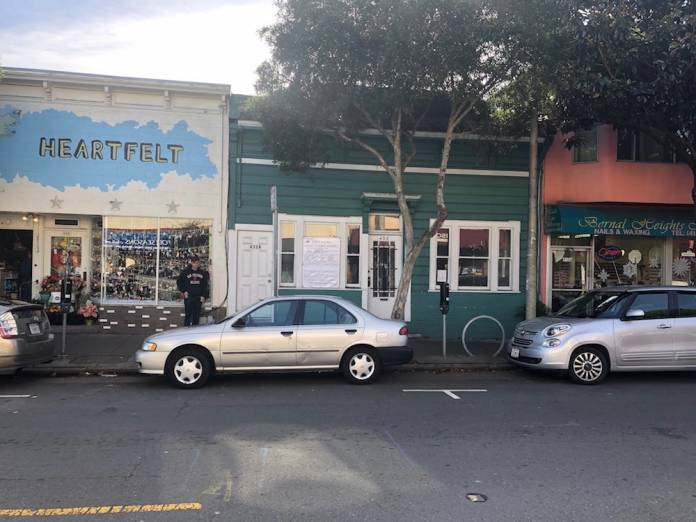 The Board of Supes will consider Tuesday/4 extending a rule that exempts many property owner on commercial strips in D4 and D11 from notification requirements when they change the type of business use in their storefronts. The district supes, Ahsha Safai and Katy Tang, like this, and it could make things easier on district merchants.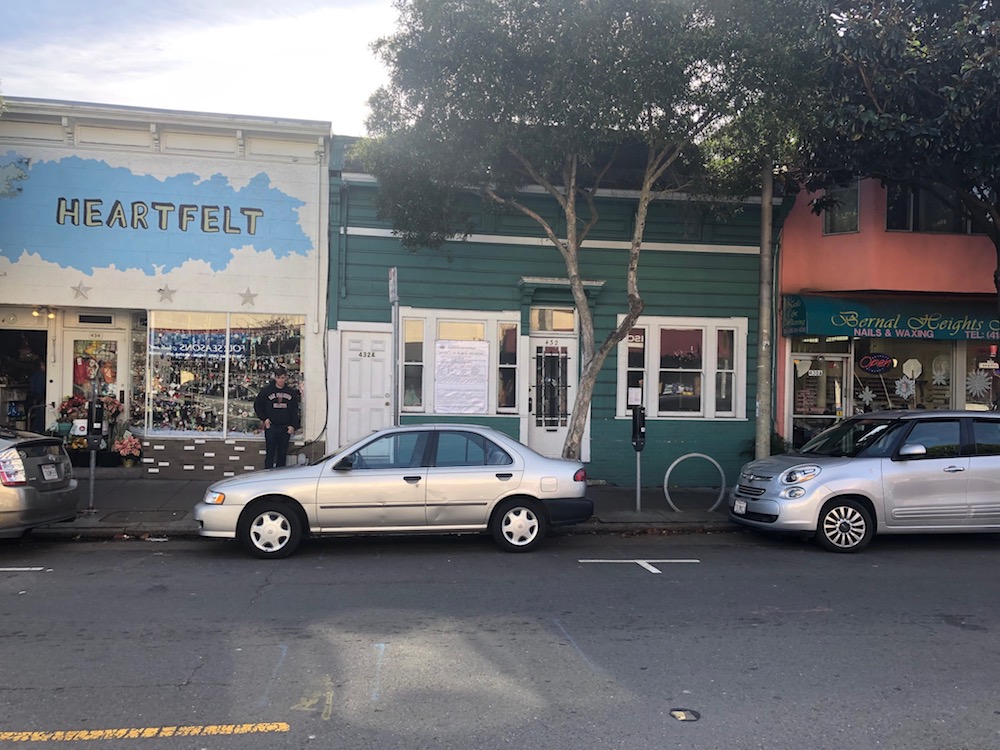 But there's a reason why neighbors – including neighborhood merchants – need to be notified about changes on their streets. Take the case of a proposal that just surfaced in Bernal Heights, where I live.
A public notice ad in the Examiner – and hardly anyone reads those ads – alerted land-use lawyer and neighbor Sue Hestor to a proposal to demolish a building at 432 Cortland that is currently two housing units and replace it with a three-unit building with ground-floor commercial.
Never mind that, if one of more of the units has been rented, it's under rent control – and the new housing would not be. That's a problem. Cortland is a mixed-used area with neighborhood commercial and housing; adding one more unit of housing is fine, although it won't be affordable housing.
But the demolition would have a huge impact on neighboring businesses, because the property in question is in the middle of the block, right next to a gift shop and a grocery store, and it extends right up to the sidewalk. There is no way that can be demolished without closing off the (busy) sidewalk for a significant period of time. It's a pre-1900s building so it's almost certainly full of lead paint and possibly asbestos.
Sup. Aaron Peskin has complained about how city construction (like the Central Subway) has damaged district merchants. This private demolition job and subsequent construction could damage Cortland Street merchants – and as of today, when I walked along the street and talked to people, nobody knew anything about it.
The Planning Department posted a notice on the property Friday. There has been no mailing to local merchants, no outreach by the developer (Allshums & Parners LLC, which state records show is owned by Jennifer Leung Chong Kan, who owns several residential properties on the Peninsula and in SF).
As Hestor notes:
From reviewing Planning files there appears to have been ZERO notice or consultation with businesses along Cortland.  
Despite fact that demolition will occur right next to two buildings/businesses.  

Adjacent building foundations (downward sloping lot) will have to be shored up.

Demolition will occur up against and debris passed over important sidewalk that connects the neighborhood.

Construction staging will probably be over same sidewalk.

Construction parking will interrupt curb spaces for months – at least.

Operations of electric bus 24-Divisidero will be affected

Demolition and construction will directly affect operations of Cortland merchants.

The merchants have no knowledge of this proposal, its demolition and construction.  
The Planning Commission hearing is set for Dec. 20 – right in the middle of the busiest time of the year for local merchants. It's hard to imagine how a small business owner during the Christmas rush could take an entire afternoon off to go to the commission meeting and protest.
And just so the Yimbys don't start up on me, my house is far enough away that this will have no impact on me one way or another. I have no problem with adding housing on Cortland. But in this case, we will apparently lose two units of existing housing and get a net gain of one (1) unit of high-end housing.
The developer bought it for $1.59 million in 2017. Sell three units and rent out the ground floor and she'll make a nice profit. Which, of course, it what this is all about.
The Board will also have to decide whether to approve Mayor London Breed's appointment to the Rent Board, a property manager named J.J. Panzer who was the embodiment of greed in the Mission when he tried to jack up the rent on Boogaloos restaurant to an unaffordable level, then backed off and worked with the place to set a reasonable price and help them get back in business after a fire.
But it turns out that the guy didn't do even the basic homework to apply for the job, and Breed's office didn't brief him on what he needed to know, and since he makes a living helping landlords screw tenants at the Rent Board, he might not be eligible. It takes a super-majority to reject his appointment.
The voters in 2016 approved a new tax to make City College free, and now Sup. Jane Kim wants to put in the City Charter a guarantee (also known as a set-aside) that the city will allocate at least $15 million a year for free tuition and stipends to pay for textbooks and other costs. There was a bit of drama at the Rules Committee on this; at first, Sup. Ahsha Safai tried to block the proposal, then changed his mind and allowed the measure to go to the full board. It's one of Sup. Jane Kim's final acts, and she wants to put it on the November, 2019 ballot. Now the full board will get a chance to vote on it before she is termed out.