SCREEN GRABS For many, the movie of 2017 was Get Out, the first directorial feature for Jordan Peele of the comedy duo Key & Peele. Surely the timing had a lot to do with the popular sensation it caused: Arriving early in the reign of Twitler, its tale of a young black man lured into a picture-perfect white community's insidious, slightly fantastical trap was the ideal pop-culture commentary for a moment when years of rising Black Lives Matter-related anger were suddenly buried by the "white is right" tidal wave of President Trump & co.
Had we really come half a century from the Civil Rights Movement just to experience widespread nostalgia for a "simpler" earlier time when racism a.) could be practiced freely but also b.) didn't officially exist? Apparently so. Get Out's juiced-up genre mix of horror, satire and black comedy seemed no less enjoyable for being so wildly, ingeniously relevant.
Peele's eagerly awaited second feature is here, and Us does not disappoint. In service of not spoiling anything (though everyone else will), I'll say only that it involves a little girl who experiences a mysterious trauma at the Santa Cruz Boardwalk in 1986, then grows up to be Lupita Nyong'o, who with husband Winston Duke has two children played by Shahadi Wright Joseph and Evan Alex. When they return to the scene of mom's formative fright, strange things rapidly start to happen…and do not stop, for most of a solid two hours. At risk of hyperbole, let's say that if Get Out was Peele's Psycho—a startling, subversive, macabrely amusing high concept—followup Us is sort-of his The Birds, in that it takes an outlandish, unexplained yet elemental fantasy premise and runs with it in a virtuoso demonstration of suspense direction. (Side note: Hitchcock's SF-set Vertigo plays midnights this weekend in a 4K restoration at the Clay.)
From the title down, Us can definitely be interpreted as sociopolitical metaphor, though it's much less obvious in that respect than Get Out—and it will be very interesting to see press and public parse its possible meanings in the coming weeks. (I'm particularly looking forward to hearing theories on a late twist that, for my money, does more to confuse than deepen whatever Peele is saying here.)
At the most basic level, however, the two films are alike in that they are well-crafted thrill rides that enjoy a bit of mindfuckery at your expense, though not enough to be punitive. (Some of the early action may vaguely recall Michael Haneke's cold, cruel Funny Games, but Peele is too much of an entertainer to consider deliberately giving the audience a genuinely hard time.) What does Us' uprising of a malevolent force that looks just like, well, us, say about America today? Enjoy, and please discuss.
Also opening at area theaters on Friday is The Hummingbird Project, an interesting drama with Jesse Eisenberg and Alexander Skarsgard as entrepreneurial cousins attempting to pull off a crazily ambitious cross-country fiber optic tunnel. Salma Hayek chews scenery entertainingly as the boss whose make they make this potentially-hugely-enriching deal behind, and whose subsequent campy rage knows no bounds. An odd parable about folly and striving in the e-commerce age, it's distinguished primarily by the lead performances. Skarsgard is showily cast against type as a code-writing dweeb, but it's Eisenberg who lends the film its emotional drive and eventual poignance.
Unpreviewed openings include The Aftermath, an intrigue set in just-post-WW2 Germany, with Skarsgard again and Keira Knightley; plus (at the 4 Star) Out of Blue, a cryptic mystery with Patricia Clarkson as a New Orleans cop on a crime trail. There's also (at the Roxie) documentary Genesis 2.0, which looks at both the hunters of ancient buried treasure (mammoth tusks) in modern Siberia, and  scientists who may be able to resurrect the woolly mammoth and other extinct species with rapidly-evolving technology (more on that here).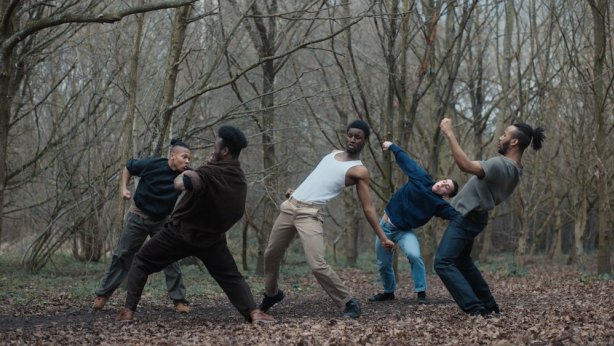 Other worthwhile events include the two-day weekend Roxie residence of the Tiny Dance Film Festival, which brings two separate programs of dance-centric shorts from around the world (more info here); a fascinating-sounding Cinematheque bill of Taiwanese experimental shorts from the 1960s next Thursday (more info here); and this Saturday, an Other Cinema animation showcase primarily dedicated to 'toonful women's work (more info here).
If you're in the mood to praise famous men, join the city-wide celebration of our legendary, still-kicking poet's birth centenary with the Roxie's Saturday screening of 2009 documentary portrait Ferlinghetti (more info here).
Some recommended additional Friday openings:
Transit
Christian Petzold is nearly sixty, but it's just recently that he entered that shrinking list of arthouse directors whose latest works are pretty much guaranteed wide dissemination—even theatrical release in the U.S., something that gets harder for foreign films every year. This latest, his first feature since 2014's Phoenix, is like it also a drama about mistaken (or assumed) identity in a time of extreme societal upheaval. Franz Rogowski plays a German refugee in France, who uses official papers to pass as a man who died as they were both fleeing persecution. Trying to escape Europe, he keeps running into a mystery woman (Paula Beer) who turns out to be the dead man's oblivious widow.
Transit is based on a 1942 novel by Anna Seghers that was explicitly about Jews and others desperately trying to escape the Nazis and their "final solution." In translating the story to a more-or-less "present day" in which xenophobia and fascism is again on the rise, Petzold has created a subtle but powerful commentary on our current climate of simmering white nationalism and hostility towards immigrants, one that has a sort of timeless, Camus-like flavor.
A more poignant (not to mention credible) work than Phoenix, it's a fine, serious-minded movie with a compelling leading man in the slightly off-kilter Rogowski. That Talking Heads song at the end is a bit of a mood-killer, though. Clay, Shattuck, Rafael Film Center. More info here. 
The Mustang
Another fine European actor, Matthias Schoenaerts, brings his particular gravity to another very good multinationally-produced drama. He plays Roman Coleman, a man in a Nevada prison for a violent crime. Just out of isolation, and admittedly "not good with people," he's assigned outdoor work duty that comes to include breaking wild mustangs for the facility's annual charity auction.
This stripped-down feature directorial debut from French actress Laure de Clermont-Tonnere resists the usual "inspirational" obviousness in a man-and-horse tale like this, even as walking cloud-of-anger Roman duly gets tamed himself by devotion to the animal he's tasked with domesticating. Though there are good supporting performances (notably by Bruce Dern, Jason Mitchell and Connie Britton), this is primarily a stark portrait of a loner, its aesthetics as spare as the protagonist's terse verbiage. If you liked last year's The Rider (and if you didn't, what's wrong with you?!?), you'll probably also be moved by this thematically different yet tonally similar equine drama of the modern West. Embarcadero. More info here.
The Juniper Tree
Most viewers assumed idiosyncratic pop star Bjork's memorable performance in Lars von Trier's 2000 Dancer in the Dark—a director and filmmaking experience she later denounced as abusive—was her acting debut. But in fact she'd appeared a decade earlier in this B&W feature made in her native Iceland, an austere English-language feminist parable by late American filmmaker Nietzchka Keene. It played the Sundance Film Festival in 1990 (some years after its financially-hobbled original production), but otherwise was little-seen or noticed in the U.S. before this restoration re-release.
Based on a Brothers Grimm tale, it's still less "fairy tale" in tenor than it is close to Ingmar Bergman's medieval morality dramas The Virgin Spring and The Seventh Seal, at once mystical and harshly realistic. Bjork (who was just 21 when it was shot) plays Margit, who with older sister Katia (Bryndis Petra Bragadóttir) flee home after their mother is killed as a witch. They're taken in by a farmer and his young son, but they too feel threatened by the magical powers the sisters have indeed inherited from her ma.
Its fantastical elements presented in very matter-of-fact terms, The Juniper Tree (named after a passage from a T.S. Eliot poem) is a slowly paced work of gentle faith in powers beyond the visible—it's a bit like Robert Eggers' rural period piece The Witch, albeit with the significant difference of there being no Devil's handicraft at work. Roxie. More info here.