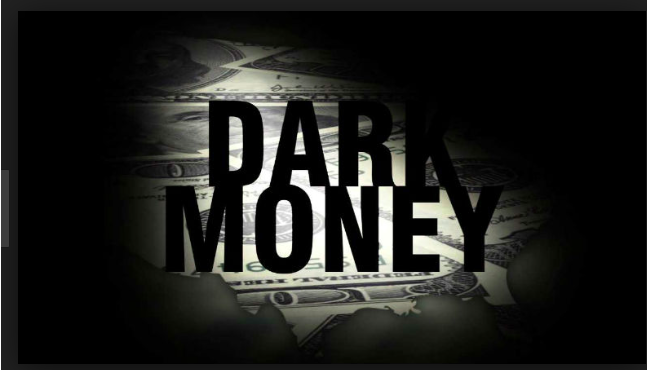 The Board of Supes Rules Committee heard today why the city needs to seriously upgrade its campaign-finance disclosure laws in an era when dark money increasingly controls politics.
The hearing was a pro-forma discussion on a ballot measure that's heading to the voters in November. But the information presented to the committee provides some context for why the city needs new rules on political donations.
As Sup. Hillary Ronen, who chairs the committee, pointed out, it's illegal for someone who is seeking a city contract to give money to the people who could approve that contract – but it's not illegal for a real-estate developer to give money to the officials who can make land-use decisions.
It's illegal for corporations to give money to the campaigns of local officials – but it's not illegal for the partners of real-estate development LLCs to give money.
Larry Bush, a long-time ethics advocate, said that 90 percent of the lobbying in San Francisco is in one way or another related to development.
Jon Golinger, who is one of the leaders in the initiative campaign, gave me this chart, which is stunning. Click on that link: It shows how executives with one outfit, TMG Partners, which is involved in a number of controversial local projects, have flooded the city with campaign money. This is only a small sample: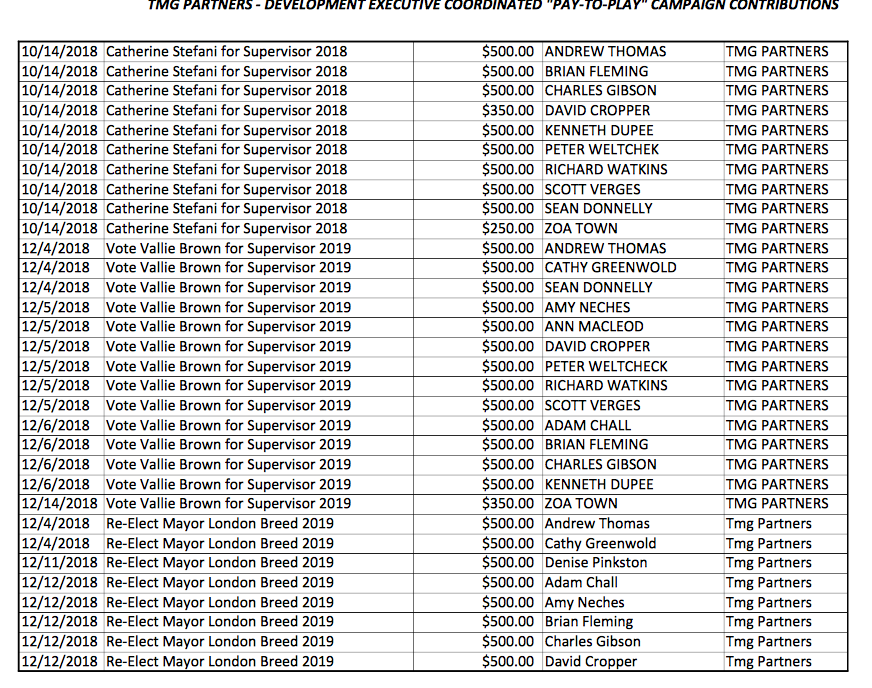 From Golinger:
Over the last dozen years, TMG executives gave 327 contributions to 32 candidates (and sitting city officials) for Supervisor, Mayor, and City Attorney totaling $148,399 in contributions.  Most of the time they came on or around the same date from the same group of a dozen or so TMG executives.  TMG can't give anything directly to these candidates because of the corporate contribution ban so this is the end run exploited by this and other developers that the Sunlight on Dark Money Initiative will close.
Remember: TMG, which has pending land-use decisions that my come to the board and the Planning Commission, appointed by the board and the mayor, can't legally give a dime. Any one individual can only give $500.
But when you bundle all the TMG money together, it's a flood of cash – and everyone who gets that money knows where it came from.
TMG gives money to a wide range of candidates, including in 2011 three competing candidates for mayor (that way, no matter who wins they have an in). It's noteworthy that many of the same partners who are giving and have given money to Mayor London Breed are also supporting Vallie Brown for supervisor in D5.
Former Supervisor and state Assemblymember Tom Ammiano talked about how corrupt the system has become. He said that a lobbyist for only local company ("I don't want to identify it so I will only use its initials, PG&E," he said to laughs) told him he could raise $25,000 for Ammiano – 50 times the legal individual contribution amount – if the supervisor would be friendly to the company's interests.
When he turned that money down, the lobbyist was stunned – the system is so deeply engrained that it's considered highly unusual for any elected official not to play by its tainted rules.
The measure would ban contributions from any individual with a stake in a land-use decision from contributing to any local official until 12 months after the city has completed its review of the project.
It would also ban the practice of secretive big-money donors bouncing money back and forth through independent-expenditure committees that are almost impossible to track until after Election Day.
All of the committee members, Ronen, Shamann Walton, and Gordon Mar, who is the major sponsor of the measure, made clear their support. It will be fascinating to see if the mayor's allies, who are the kings of dark money, will try to find a way to oppose it.