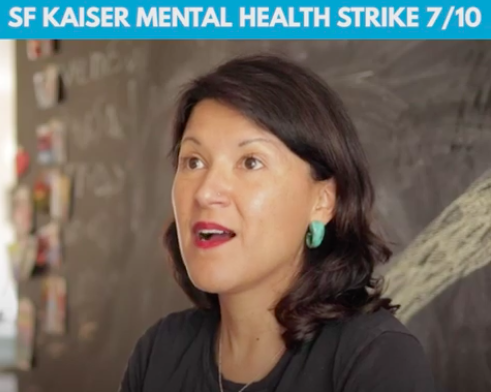 Mental-health workers at Kaiser's French Campus on Geary are launching a one-day strike Wednesday/10 to focus attention on the massive health-care operation's failure to provide adequate staffing for patient needs.
That that same day that 3,600 clinicians in the state will vote on a contract offer that so far is being "soundly rejected," Justin DeFreitas, communications director for the National Union of Healthcare Workers, told me in an email.
The issue isn't compensation – it's the amount of work that existing therapists have to do and the what the union calls dangerous understaffing. "Patients have to wait weeks, even months for appointment," DeFreitas said. State regulators have fined and repeatedly cited Kaiser for violating mental health parity laws."
One clinician describes group sessions that are so overcrowded families have to sit on the floor:
And here's what frustrates a lot of folks who follow this sort of issue. Kaiser isn't hurting for money. It's technically a nonprofit, but if you look at its IRS forms, it's got plenty of cash. Kaiser Foundation Health Plans of California (just part of the Kaiser empire) took in $54 billion in revenue in the most recent filing year, 2017, had an operating "profit" of $219 million and assets of $21 billion. Things are even better now: The union says that Kaiser reported net profits of $1 billion a month for the first quarter of 2019, and now has assets of $44 billion in cash and investments. Bernard Tyson, the CEO, takes home $15 million a year. Dozens of board members earn more than $200,000 a year for working about five hours a week or less.
Kaiser is spending about $2.2 million a year on lobbying in Washington, according to Open Secrets, and another $400,000 a year for Sacramento lobbyists, state records show.
There seems to be plenty of money for promotion of a system that critics say isn't providing members with the services they pay for. Kaiser just signed a $295 million deal with the Warriors to name the plaza in front of their new stadium.
It would cost, the union says, about $144 million a year to increase its mental health staffing by 33 percent. That's about 1.2 percent of its projected profits for the next year.
"Kaiser can well afford to fix the problem," DeFreitas said.
I have to ask: Why is a nonprofit making all this money in the first place? Aside from the high salaries, shouldn't any excess of revenue over expenses go to either cut costs for members or pay for more services?
The Planning Commission hears an information presentation Thursday/11on the latest updates to the Octavia-Market plan, also known as The Hub. It's a massive project involving a huge amount of upzoning to allow much taller buildings for market-rate housing in the area around Market and Van Ness.
It's already an area with a huge amount of development planned or under way. According to the presentation the planners will get, some 5,524 housing units are either approved, under construction, completed or proposed for the relatively dense area. If the new zoning the department is suggesting gets approved, that capacity would increase to 9,710 units, bringing a population of more than 20,000 new residents into what's known as "the Hub."
The area in question is less than a square mile, which would make it among the most densly-populated areas in the city.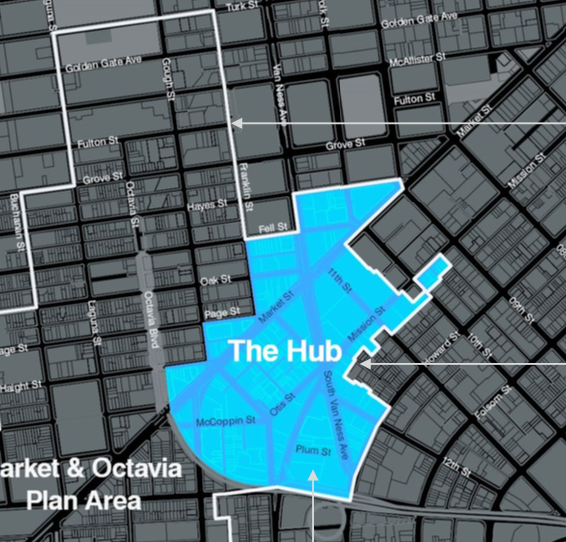 In essence, the department wants to upzone the entire Hub to downtown-level density, removing neighborhood commercial designation and creating a highrise housing zone.
Along the way, the plans call for 2,159 units of affordable housing, but not all of it will be onsite.
The Environmental Impact Report isn't out yet, and is expected this fall. But based on the project EIRs we have seen, there are all sorts of issues.
We don't know, for example, how much parking all of the new projects will seek, but we know that at One Oak, the developer said he can't make money unless he got one parking space for every two units. At that ratio, we are talking about another 4,500 cars in an area already choked by traffic – and every new car interferes with the large number of Muni buses that pass through the area.
But never mind the on-site parking, which the planners could limit. If 80 percent of the units are sold or rented to wealthy people, that will create a huge demand for Uber, Lyft, and delivery services. There is virtually no on-street parking in the area, so we're talking about thousands of vehicles double-parked and making traffic even worse.
That's one problem with creating housing in a transit-rich area, which – of course – sounds like a fine idea. If you build housing for people who are unlikely to use transit, all that happens is you make the transit system worse (which, of course, is what Uber wants to do, since people who are frustrated by Muni are likely to call an Uber instead.)
The city has no idea how to measure that demand – so in the One Oak EIR, it was simply ignored:
For starters, the city admits in Planning Dept. documents that it has no idea how many Uber and Lyft drivers are picking up and dropping off passengers — so the impact of those rides was ignored in the EIR.

We know there are at least 45,000 of these cars in the city, and they are picking up thousands of passengers. But the Planning Department completely ignores that huge traffic impact:

[From the EIR:] Thus, based on the information currently available it is currently difficult, if not impossible, to document how transportation network company operations quantitatively influence overall travel conditions in San Francisco or elsewhere. Thus, for the above reasons, the effects of for-hire vehicles as it relates to transportation network companies on VMT is not currently estimated.
This upzoning is on a fairly fast time frame – the department wants the new rules imposed by the end of this year or early next year.