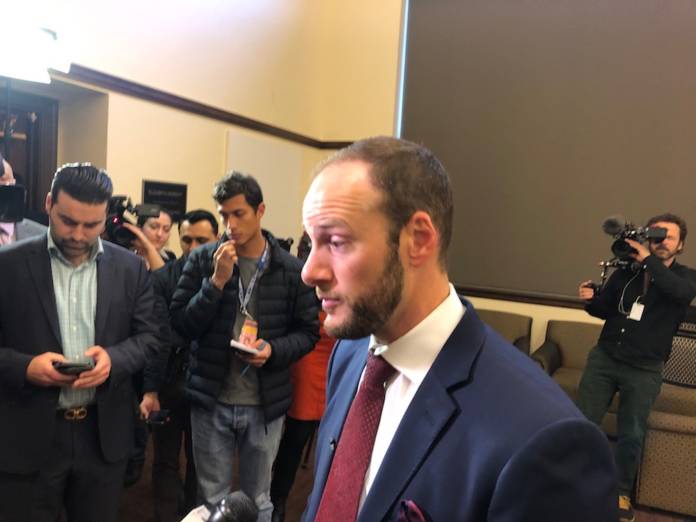 A reformer who has promised to shake up the broken criminal justice system was sworn into office Thursday, with a promise to end cash bail, end "three-strikes" sentencing, and create a restorative-justice program that starts with alternatives to incarceration.
Chesa Boudin took the oath of office in front of a wildly enthusiastic crowd that filled the Herbst Theater.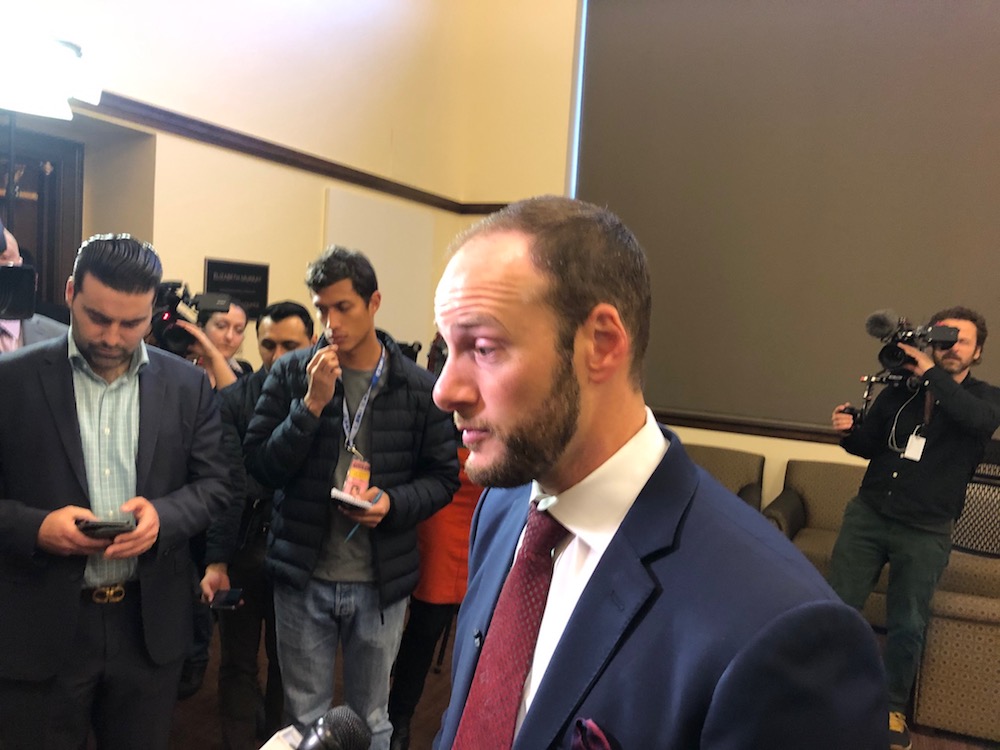 It was the culmination of an unlikely campaign that took the career public defender into the political realm for the first time – and showed that San Franciscans are sick of the criminal-justice crisis.
"We are about to inaugurate a DA who is like Bernie Sanders, Elizabeth Warren, AOC and the Squad," Sup. Hillary Ronen told the crowd. "He is a big thinker who will turn ideas into reality."
Ronen noted that a lot of people never thought Boudin could win – just as a lot of observers say Sanders and Warren aren't "electable."
"But let's never again bargain against ourselves," she said.
Emily Lee, director of the SF Rising Action Fund, talked about all of the people who were crime victims who felt ignored – or the people who, like Refugio Nieto, whose son was shot by SF cops and who felt that the police had never been held accountable for their actions – and who decided to vote for Boudin.
"We will not forget the promise we made to the people," she said.
In a stunning moment that silenced the capacity crowd, Supreme Court Justice Sonya Sotomayor congratulated Boudin with a video message.
In a remarkable move toward bringing the city together, Boudin asked Mayor London Breed to swear him in – and she agreed. She spoke briefly about the need for "balance between justice and fairness."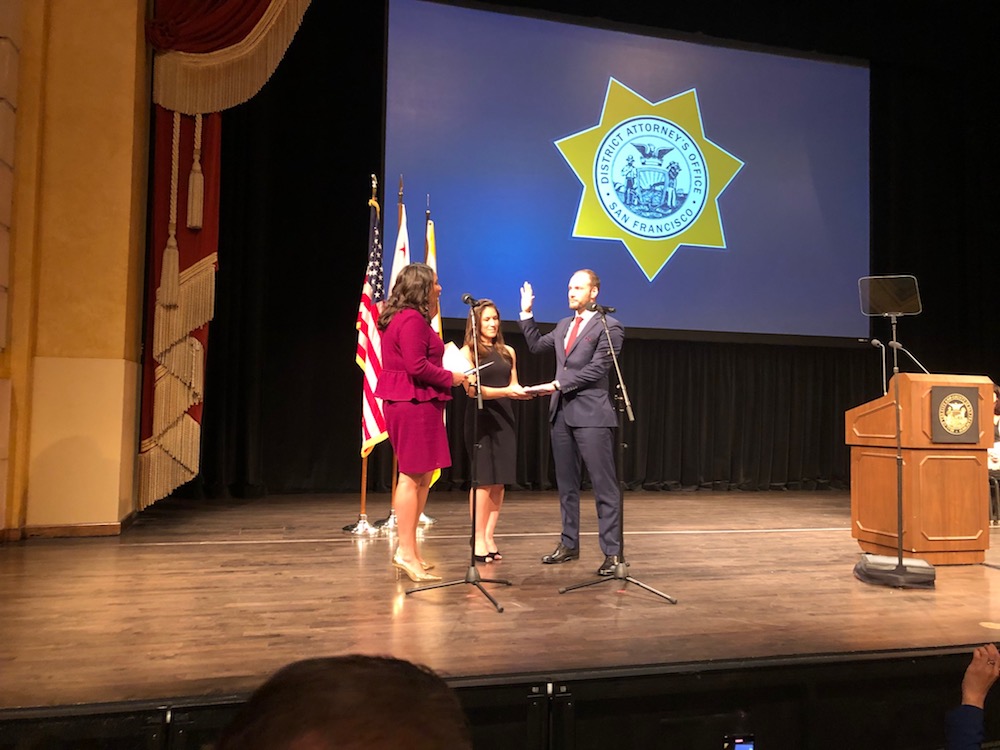 Then Boudin spoke.
His critique of the current system was profound: "Our criminal justice system is not keeping us safe," he said. "Join me in rejecting the notion that to be free we must cage others."
He spoke of how the word "radical" was often attached to his name in the news media, then said that "my friend Angela Davis" – he took a beat and said, "I repeat, my friend Angela Davis," who was in the audience – had explained the derivation of "radical" is simply "grasping things at the roots."
That is, the root causes of crime.
He vowed that crime victims would have a past to restitution, that he would end "racist sentencing enhancements," and that three-strikes prosecutions would end. He promised a new survivor-centered sexual-assault policy and a diversion program for single parent caregivers.
He also said he plans to start an immigration unit that will work with prosecutors to understand the immigration implications of cases.
"We will have the most comprehensive restorative justice program in the country," he vowed. "Restorative justice saves lives."
The crowd was thrilled. The mainstream news media, less so.
In fact, in her opening comments, Ronen warned that the path ahead will be difficult, that there will be many powerful forces attacking the reform agenda.
"We are used to hearing no," she said. "They will try to undermine your ideas, but they will only succeed if we let them. But we will not. We are the status quo's worst enemy."
I saw that myself, at the press availability before the inauguration.
The TV reporters shined their lights and cameras at Boudin, and in a way that I could have scripted in advance asked the same questions:
If we look for alternatives to incarceration, won't the "criminals be emboldened?" (Yes, that's what Channel 5 asked.) What about property crime? Aren't you being (again, these were exact words) "soft on crime?"
Boudin did a good job – at one point, he told the cameras that "poverty is not a crime, and we will not prosecute people for being poor."
He talked about better approaches to car thefts and his plan to do more outreach to crime victims.
But I know what the spin will be; I know what the attacks will be.
So far, the cops are being polite – although the POA viciously attacked Boudin, he has reached out to them, and Commander David Lazar is on his transition team. I asked Lazar if he is afraid the Boudin will be "soft on crime." Lazar was politic:
"We are optimistic, and I look forward to working with the new DA," he said. "He has a lot of good ideas."
The mayor? Well, all I can say is that Breed sat on stage while Boudin outlined a radical program for criminal-justice reform. He was interrupted repeatedly with applause.
Mayor Breed looked really uncomfortable and was the only one in the room who wasn't applauding.