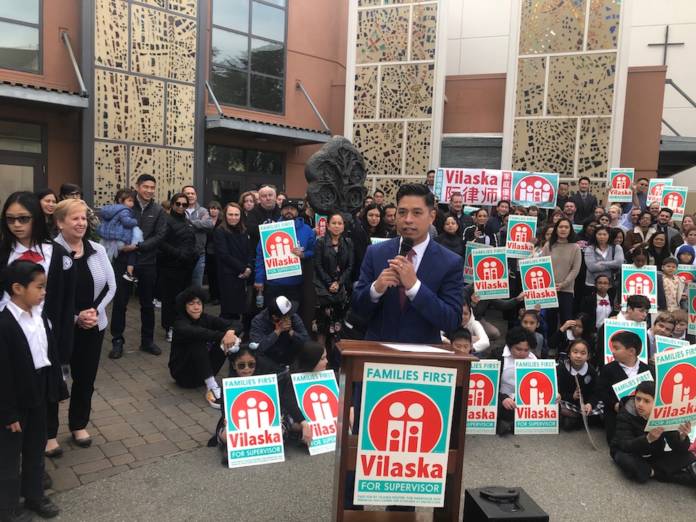 UPDATED:
A public defender who coaches girls' basketball at a Catholic school announced today that's he's running for supervisor.
[Update: Due to a reporting error, our original story said Nguyen has lived in the district for ten years. He moved in less than a year ago.]
With about 100 supporters lined up in front of St. Thomas More church and school, Vilaska Nguyen said he wants to put "families first."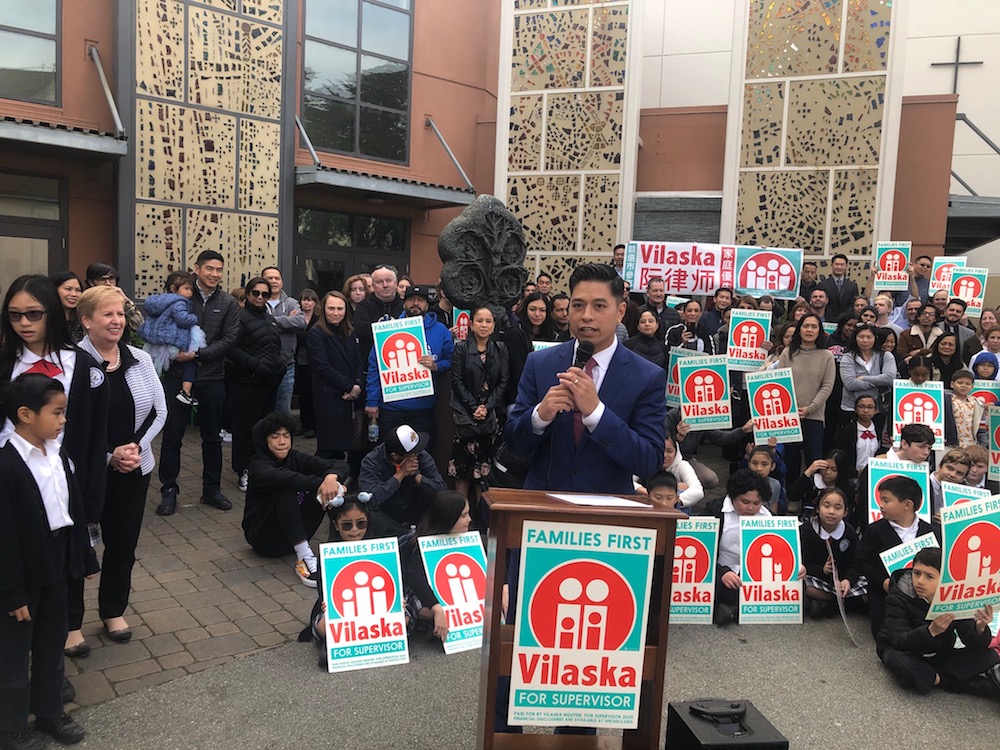 He told the crowd that when he came up with that slogan, "a lot of people said it sounded conservative. But that's because the far right has taken control of that language."
Nguyen, who has two kids, said that "families need protecting" and that this city has become "hostile to families, elders, children."
Nguyen, the son of Vietnamese immigrants, is running in one of the city's most conservative districts with the support of some of the most progressive members of the Board of Supes, including Hillary Ronen, Dean Preston, and Matt Haney.
"Every day I hear from families in our community about how our city is letting them down," Vilaska said at the kickoff. "We all hear it. The rents just keep rising, homelessness keeps getting worse, petty crime is on the rise, and now we're hearing about corruption scandals in City Hall from the very people who have failed to keep the streets clean. It feels like there's a lack of accountability, a lack of consequences, and worst of all a lack of common sense."
Nguyen told the crowd that "the rumors about me are true: I am a public defender." He said that "I am against crime," and that the justice system works best when the prosecution, the defense, and the judiciary all do their jobs to work for justice.
Sup. Norman Yee will leave office due to term limits, and the D7 seat will be a crucial battleground: Yee has often worked with the progressives, who now have a super-majority on the board.
But allies of the mayor clearly see this as a district they can shift.
Among the candidates in the crowded race are Joel Engardio, a journalist who owns a home with his husband at Park Merced and who is active in an anti-crime group and with SF Moderates and has the past support of the Yimbys; and Myrna Melgar, executive director of the Jamestown Community Center who was president of the Planning Commission but is stepping down to run for office.
Melgar has a long record of community activism. She was appointed to the commission by London Breed when Breed was Board of Supes president, and she oversaw, and recently applauded, the choice of Rich Hillis as planning director.
I asked Nguyen what he thought about Mayor Breed's new planning director, and he told me that the decision was "abhorrent. I don't think it reflects the values of D7."
He said that he would be independent of the mayor, and that the current direction of the Planning Department "is far from what our constituents need."
He told me that if the mayor wants to allow private developers to build 50,000 units of new housing that's mostly market-rate, it would be "unacceptable."
But he said he's not opposed to density in his neighborhood: if the new development is community-based affordable housing for "teachers, nurses, firefighters, the middle-class of San Francisco," he would welcome it in D7.
And that will be one framing issue in the election.