The Board of Supes Finance Committee approved today emergency legislation aimed at curbing the spread of COVID-19 in single-room occupancy hotels.
The measure by Sup. Aaron Peskin came in the wake of disturbing information about the spread of the deadly disease in the city's more than 500 SROs.
Gen Fujioka, a staffer at the Chinatown Community Development Center, said at the hearing that in just six weeks, the number of SRO buildings with COVID illnesses has increased from eight to 53. The number of residents sickened by the disease has gone from nine to 144 – an increase of more than 1,500 percent.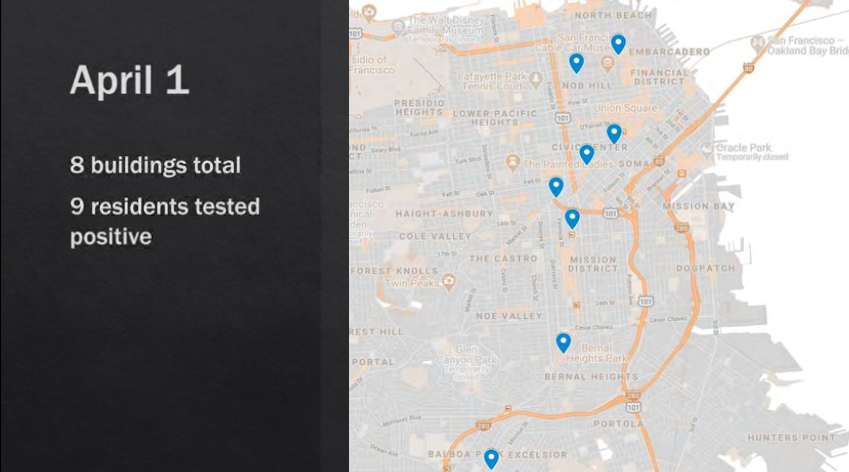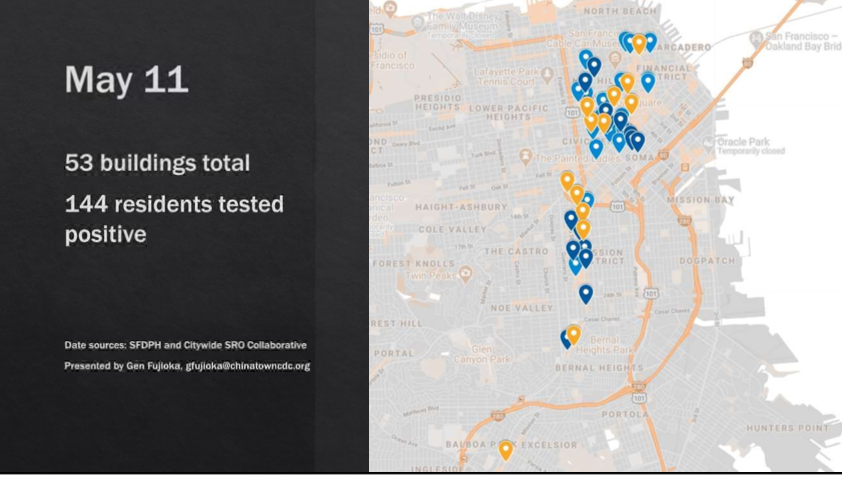 That's far, far greater than the city average.
And it's a clear public-health emergency.
Peskin's measure, which will go before the full board Tuesday/19:
Mandates protocols for the Department of Public Health on culturally competent SRO Contact Notification, Case Investigation, Community Education, Mass Testing and Isolation/Quarantine

Mandates Eviction Protections for SRO residents, including rent relief and a "right to return" to units after quarantining

Mandates accurate and transparent reporting on SRO data, including number of COVID-19 confirmed cases across buildings citywide, as well as numbers of quarantine units and fatalities.
The measure got unanimous support after public testimony from SRO residents and advocates who pointed out that the low-income people living in these buildings lack private bathrooms, often lack adequate ventilation, share kitchens and communal space, and are at high risk for infection.
It requires eight votes at the full board.
The committee also agreed to table a measure by Sup. Sandra Lee Fewer that would have mandated that the Recreation and Parks Department present a list of spaces that might be appropriate for some type of safe-sleeping sites or other facilities for homeless people.
Fewer reached a deal with Rec-Park to provide a list by early June.
The testimony was often nasty, and showed how badly misunderstood Fewer's proposal has been.
An example: US Senator Dianne Feinstein (whose record on homeless issues as mayor of SF was terrible) wrote a letter to the board on May 4 saying that
I write to express my concern regarding reports that the Board of Supervisors may act to compel the Recreation and Park Department to permit homeless encampments within Golden Gate Park, especially as there are available alternatives.
Fewer's proposal wouldn't have compelled encampments in the park.
More from Feinstein:
San Francisco has numerous options to deal with the critical shortage of safe shelter: continuingthe Mayor's hotel program, enforcing social distancing and healthy conduct ingroup housing and shelters, and expanding RV programs and temporary shelters. Thiscould include tents on unused parking lots and closed schoolyards, as well as public facilities such as the Cow Palace and Port property. These locations are available, have utilities, and can be more easily restored to original uses than can Park lands.
That's just wrong.
We heard some of this same stuff during the testimony today.
As Peskin pointed out, the mayor's hotel program has been a total failure: As of today, the city has secured only 2,056 hotel rooms, "and we expected by the administration's own projects that the number would be about three times that many" at this point.
The city is already looking at parking lots and school yards – and guess what? Some of those (as well as staging areas and other non-recreational facilities) are under the control of Rec-Park, which manages 15 percent of all of the land in San Francisco.
"Moments like this bring out the best and the worst of society," Peskin said.
Nobody at any point was asking to let homeless people camp at will in the parks, Fewer said. "This has been purposely misconstrued," Fewer said.
And the problem with the Cow Palace, and other places where you could have indoor, congregate shelters, is that the virus spreads much faster inside, in congregate settings. There is very little opportunity for "healthy conduct" in those places.
Fewer asked the people who opposed her plan to explain what their alternative was. As Peskin put it during the discussion on SROs, "we have tried to secure hotel rooms… we asked what the city would do and got no answers. I have been disappointed by the lack of urgency."
As are many others.