After a few edits and some graphics, Sameera Rajwade uploaded the first video to her TikTok account. Within a day, it had racked up hundreds of thousands of views and tens of thousands of likes.
Less than a minute long, the video presents Sameera's campaign for City Council in San Ramon to TikTok's millions of users.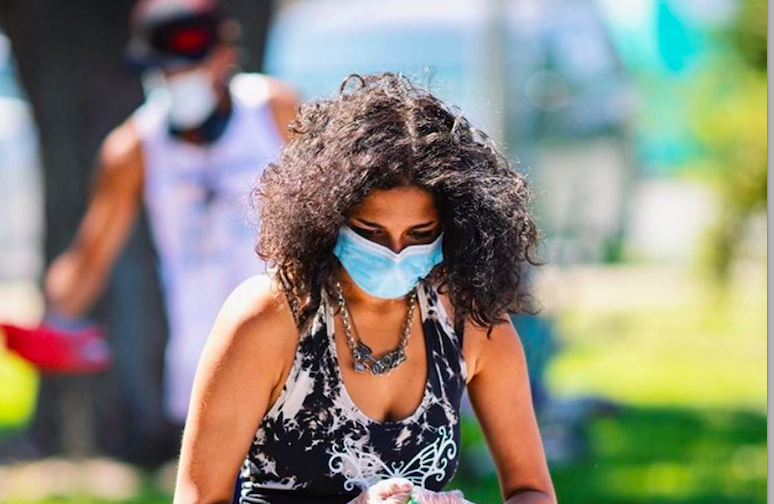 "So you thought that Black Lives Matter was just a protest for a short duration of time? Think again," says Rajwade in the video, uploaded last month. "I'm trying to defund the police. I'm 21 years old. I'm non-binary. I come from a family of immigrants and I'm running for City Council in my town."
As of publication, 145,200 accounts have seen the video, with 75,100 liking. That last number is roughly the same as the population of San Ramon. Her second TikTok upload gained even more attention.
"I'm going to be completely honest with you, I did not plan to go viral on TikTok" Rajwade explained in an interview with 48hills.
Once a video is publicly uploaded, anyone on TikTok can see it, similar to YouTube. Unlike YouTube, however, is the "For You Page"—an endless stream of videos. Every like, share, and comment you make feeds an algorithm that gets better and better at guessing what videos you would like to see.
@votesameera

LETS SEE IF TIK TOK REALLY ABOUT BLM! Support my campaign follow my Instagram @votesameera #FYP I'm 21 years old running for city council.
"I'm pretty familiar with how the algorithm works and how trends work," said Rajwade. Her campaign for San Ramon's Third District has caught the attention of young organizers across the country who share her goal to defund local police departments.
"Through TikTok, there are so many people within the younger demographic who are so passionate about politics," Rajwade explained. They see that video and they're like, 'Oh my gosh, if she can do it, I can do it as well.'"
While social media is no longer a new player in the electoral cycle, 2020 will mark the first time that TikTok, owned by Beijing-based ByteDance, served as a tool for candidates to engage with voters, especially those in the 20-29 age range, which make up about 30% of its 100 million monthly U.S. users.
It's a tool especially helpful for an election year without rallies, in-person canvassing, and in-person voting in California—in short, without the bread and butter of traditional campaigning.
These possible benefits apparently are not enough to dissuade President Donald Trump from potentially banning TikTok in the United States, citing possible breaches to national security. Thanks to an executive order signed by Trump on August 6, ByteDance has 45 days to find an American buyer for its US operations or potentially have the app banned in the US.
In the midst of this uncertainty, Rajwade acted quickly. "Right when I saw [Trump's executive order], I downloaded a VPN and changed my location to Canada," she said.
TikTok is not the only app with greater strategic value during these unusual elections. As fewer millennial Gen Z voters use and trust Facebook, Instagram and Twitter have become even more relevant as sites for organizing in the wake of the Black Lives Matter protests.
Take the July 8 hearing with the Budget and Finance Committee of the Board of Supervisors in San Francisco, for example. The public comment period went on for more than five hours, as hundreds called in demanding that SFPD be defunded.
Days before the hearing, the San Francisco chapters of the Afrosocialist Caucus and Democratic Socialists of America had already distributed virtual flyers and a Google Doc with instructions of how to call in throughout Twitter and Instagram. Using hashtags like #nojusticenopeace that became widely used since the initial protests in May, the information quickly went viral.
"Social media has become my news source because I most often don't trust what I see on television and certain media outlets," said Elisha Crader, candidate for City Council in Hayward.
For this first-time candidate, Instagram and Twitter provide story-telling tools to make policy debates accessible to those unfamiliar with these conversations. "People are sharing their stories about Hayward directly to social media because we really don't have anyone reporting on what organizing efforts are happening in Hayward," she explained.
Crader is running with Lacei Amodei, a fellow housing activist, through a slate campaign in the East Bay city. Because Hayward still follows at-large elections, the top four vote-getters will be sworn in. So both candidates campaign together throughout the city, while sharing the same platform that centers the rights of tenants and essential workers.
It's been on social media where these candidates get to define themselves in a political landscape with little mainstream coverage and limits on canvassing.
"This has forced us to rely on an entirely digital campaign," Amodei pointed out. "This includes upping our social media presence in a more creative way to directly communicate with people. To replace door knocking, we have to do entire virtual events where we do phone banks, texting, or volunteer meetings over Zoom," she said.
Social distancing prevents meet-and-greets? No problem, run an Instagram Live to discuss housing policy, for example.
Amodei and Crader have run multiple Instagram Lives, where the two candidates talk to each other and followers join in. "We have to speak casually," Amodei said, "almost as if we are speaking to a friend or a family member and that forces us to make ourselves and our campaign very accessible."
Running an Instagram Live, like uploading a TikTok video, is completely free. Compare that to the $6,000 fee Hayward candidates have to pay to get their candidate statement on the ballot.
"It's really hard to say with confidence that 'yes, that $6,000 was worth every penny spent,'" Amodei said with a laugh. "But you have to jump through certain hoops just to be able to be a contender."
But some of these obstacles may end up being opportunities to engage with the bloc of voters that don't engage with Instagram or TikTok as much. Candidate statements are mailed to every single registered voter.
For Crader, any digital strategy that targets younger and social media-savvy voters will have to be paired with another plan to target those offline.
"This shift has pulled in a lot of people who were already on Twitter and Instagram but has left a lot more older folks needing to rely on younger people to assist them or sometimes they don't make it at all," she said.
In Alameda County, 70% of registered voters during the 2018 elections were over 35 while in Contra Costa County, where San Ramón is located, that number was around 75%
Ensuring that information on policy and voting procedures is accessible regardless of age or access to social media will be the next challenge for these first-time candidates.
"Get Out the Vote has to start even earlier," Amodei explained. She expects to start making phone calls with reminders to vote more than a month earlier than usual. The stakes are too high in an election as unprecedented as this one, even at the local level.
"We have to make sure every voter knows how to mail in their ballot or isn't left out in any way," she said.
To brainstorm more strategies, Crader and Amodei are building a network through social media of insurgent progressive candidates for local races throughout the Bay Area. They've already connected with Rajwade in San Ramon.
"We are just finding each other. It hasn't fully manifested yet what this could mean as far as making movement-led candidates more of a force in politics," Amodei explained. "But it's going to be fascinating how that all plays out."