At the DSA Defund SFPD Now protest on Sept. 9th, something very different happened. The police stood down.
Instead of cops, the medics and mutual aid organization called Queers United In Community Care came to the aid of the protestors.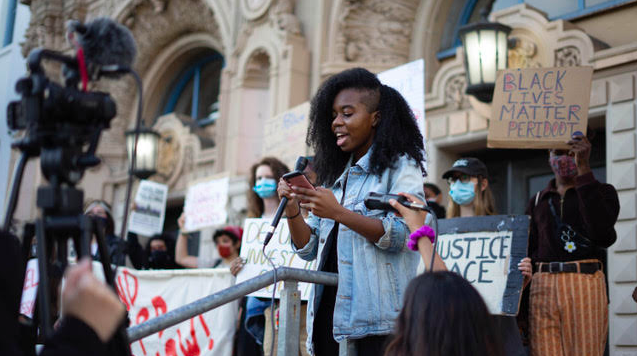 A person fainted and hit their head, and medics from QUICC handled the situation. A San Francisco police told the Defund SFPD Now organizer serving as a police liaison that the force was calling an ambulance.
"That won't be necessary," she responded. They said they had to, but later cancelled the order. The police actually let a community group handle the problem.
Imagine if that moment marks the beginning of the end of calling cops when we need help. Organizations like QUICC and other medic collectives are popping up everywhere to offer aid "that centers oppressed lives and voices."
QUICC stands in partnership with Black Lives Matter and their stated goal is "to create a more fair, loving world." They are based in Oakland and have helped people tear-gassed and shot by police, and went to Portland to help the protesters there. You can learn more here.
The well-organized and exuberant march organized by AfroSocialists and DSA Justice, started at Mission High School. The March was conceived as a nod to the action that was organized by No Justice, No Peace high-schoolers, which drew a crowd of more than 10,000 people back in June.
Organizers also made sure there was no need for traffic cops either, as the people's own motorcyclists blocked off the streets and directed traffic so the marchers could follow their designated route without police interference. This Motorcycle Protest Support Unit literally ran circles around the police.
As the marchers moved through the neighborhood carrying signs and chanting "Whose Streets? Our Streets!" and "DEFUND SFPD NOW," they definitely caught Supervisor Rafael Mandelman by surprise as he was dining on Valencia Street. (He didn't get up and join the march. Supervisors Hillary Ronen, Shamann Walton, Matt Haney, and Dean Preston were sighted at the June actions.)
The only service government officials need to offer right now is to aid in a peaceful transition from a militarized police state into autonomous, compassionate communities that pool their money and resources to create great housing, education, meaningful and well-paid work, and healthcare, especially for mental health and addiction. When communities have these systems in place, then we eliminate the causes of crime and suffering and antisocial behavior.
If you want to know what it looks like to have no police, just take a drive to Pacific Heights, a well-funded community that knows cops will only come when called—they don't have cops prowling the streets looking for people to harass, unlike the residents of other neighborhoods like the Bayview.
We are done with living in a constant state of intimidation to keep working people, immigrants, women, Black and indigenous people of color, queer people, poor and unhoused people under the thumb of a heartless system so that the rich get richer. We are beginning to see what San Francisco can look like without the SFPD.