On Monday, a coalition of roughly 30 teachers, nurses, and parents gathered outside of the Bank of America building at 555 California Street – a building owned in part by Donald Trump — to support Prop 15.
The ballot measure would amend the California state constitution to tax commercial and industrial properties, except those zoned as commercial agriculture and residential properties, based on their market value rather than their purchase price. Residential properties would keep the 2 percent annual property tax increase threshold for residential properties established in 1978 by Prop 13.
The owners of the Bank of America building, Vornado Realty Trust and Trump, currently pay $11.7 million a year less in local property taxes than they would if the building's property tax was calculated based on its market value, a recent 48hills investigation shows.
"This here building steals $11 million a year from our schools and communities," said Frank Lara, a bilingual fifth-grade teacher at Buena Vista Horace Mann K-8 Community School, a dual-language Spanish immersion elementary school in the Mission. "We're struggling year after year to have enough staff, and that's being short just $60,000, can you imagine if we had $11 million for our school?"
Teachers and students alike expressed the pains of underfunded public schools. Addressing the crowd, Nevin Chin, formerly a youth leader at the Chinese Progressive Association's Youth MOJO program until graduating from Lick-Wilmerdling High School in May, recalled the dire lack of school supplies and over-encumbered teachers during his time at Roosevelt Middle School, a public school in the Richmond.
"When I was a student, there were often classes of 40 kids, sharing desks and books that were decades old and falling apart. Sometimes teachers would have to go next door and borrow chairs because there just weren't enough," said Chin. "It doesn't have to be that way. They tell us that we don't have enough money. It's right here," said Chin, pointing to the Bank of America building behind them. "We have to move that money from 555 California to 555 Franklin [the SFUSD headquarters]."
The pains of under-funding extend beyond schools and into other public services as well, according to Jennifer Esteen, a registered nurse at Zuckerberg San Francisco General Hospital who has practiced nursing for more than a decade.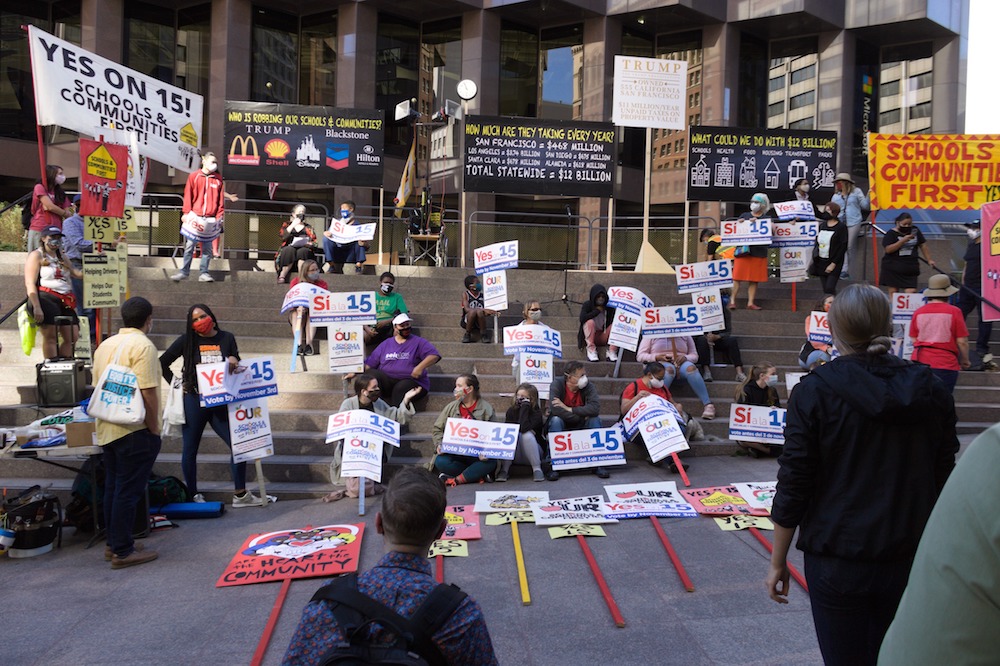 "We are hella short on staffing," Esteen said, describing how SF General has had 20 percent fewer nurses than it should for the last five years. "We have a $13 billion budget, and Breed was saying to city workers that we couldn't have the pay raises in our contracts because it would break the budget." Esteen said that with the $11.7 million that Trump and Vornado are not paying, the Department of Public Health could hire either 55 nurses, or 100 school nurses, which would be enought to have one nurse at each public school in San Francisco.
The No on 15 campaign claims that Prop 15 is the first step towards ending property tax protections for homeowners established by Prop 13 in 1978, and that Prop 15's supporters have been working towards this end since the late 1970s.
"Since the passage of Prop 13 in 1978, groups like the CTA (California Teachers' Association) and the League of Women Voters have consistently advocated to overturn Prop 13 and its protections for all property owners…There's 40 years of stated intention by the people that oppose Prop 13," said Matt Klink, a spokesperson for the No on 15. "They are the same people that are putting millions of dollars behind Prop 15, and their ultimate goal is to overturn Prop 13 in its entirety. That means for business properties and ultimately, residential properties," said Klink.
But when I spoke to the vice president of the CTA, David Goldberg, he told me that the CTA fully intends to keep property tax protections for homeowners established by Prop 13.
"There is no movement we have about undoing Prop 13 for residential property. This is about tax fairness, strengthening what we thought was the real intent before we were suckered into voting in for these corporate tax loopholes," said Goldberg during a phone interview. "They know this is about billionaires and multinational corporations not paying their fair share. They know that 92 percent of this [funding] comes from just ten percent of the richest corporations in the world… When we voted for Prop 13, we were voting for little old ladies to stay in their houses, not for these corporate loopholes."
The No on 15 campaign has also says that higher property taxes will lead to higher rents, including for residential properties, but according to a Beacon Economics study commissioned by the Silicon Valley Community Foundation, no correlation was found between higher residential property taxes and higher residential rent prices using a database of 12,325 properties in 12 California counties assembled for the study.
As of Monday, the Yes on 15 campaign has raised $64,015,881.32, and the No on 15 campaign has raised $51,997,515.84.