I am no one to talk about bias in reporting, since pretty much everything I write has a point of view. But the thing is: You know that up front when your read 48hills.
The more troubling bias in journalism is the hidden cues, the subtle language, emphasis, placement and headlines that skews what is supposed to be a balanced, objective story.
And while I'm used that behavior from the Chron, I have to say some of the stories on the new Lowell High admissions process and the potential renaming of public schools have been astonishing.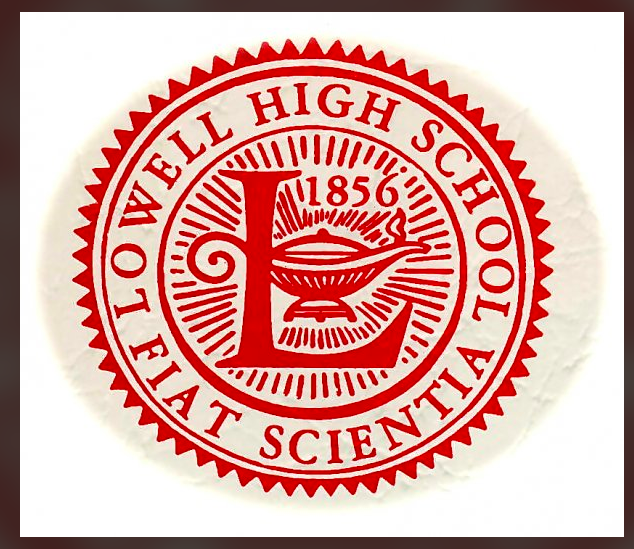 The public hearings as the School Board have been astonishing too, with people who want to keep Lowell and elite school with merit-based admissions interrupting and talking over student representatives.
Lowell is widely described as one of the best high schools in the country, with all sorts of famous alums. (The Chron's first story on the controversy mentioned only white alums: "Lowell dates back to the mid-1800s, with a host of distinguished alumni, including actress Carol Channing, GAP founder Donald Fisher, primatologist Dian Fossey and children's author Daniel Handler, aka Lemony Snicket.")
A lot of parents see a Lowell degree as a ticket to an elite college.
For decades, admission has based primarily on grades and a standardized test. And for decades, Black and Latino students have been radically underrepresented at Lowell.
Now, with COVID, the district can't do the normal testing (with everyone is a big room filling out those test forms) and nobody has grades from last Spring, since the district went to only Pass-Fail during the shutdown.
So the superintendent suggested that – just for this one year – Lowell admission should be based on the same type of lottery that the district uses for all its other schools.
Oh, the outrage – duly reflected in the Chron.
But a lot of the back story hasn't received anywhere near as much attention as one group of parents who want to keep the test-based system.
For starters, Lowell is a public high school, a comprehensive public school that has no special programs beyond what the all of the district's comprehensive high schools offer. (Ruth Asawa School for the Arts is different, offering a different program with admissions based on auditions and portfolios.)
The tests alone are a big problem. Board member Alison Collins, who has a master's in education, told me that "there is no scientific justification for using standardized tests as a metric for performance." More than 1,000 US colleges have stopped requiring standardized tests for admission, and most experts agree the tests reflect a racial and class bias.
It's not even clear that the district has the legal right to limit admission to a comprehensive public high school on the basis of tests and grades. "If we were ever challenged on it, we would probably lose," Mark Sanchez, the board president, told me.
Sanchez has been talking about ending the test-based admissions at Lowell since he was first on the board back in 2001. "I'm at the point now where I don't think we should have any kind of special requirements" for Lowell admissions, he said.
Sanchez and Collins both told me that ending the "racial isolation" at Lowell is a critical, long-term challenge. But both say they don't think this one-year change will have much of any immediate impact on the demographics of the school, based on where it's situated and the fact that a lot of students chose not to go there.
"Having a lottery or not having a lottery isn't going have that big an impact," Collins said.
Still, the Chron's coverage was filled with parents acting as if this was the end of the educational world. The proposal "shocked and outraged many families," an Oct. 13 story said. The story was headlined: "'Doesn't feel fair': Proposed lottery admissions for S.F.'s elite Lowell High School met with frustration and anger."
The only board member quoted in that story was Rachel Norton, who said that "under normal circumstances" the board wouldn't be making a change like this.
Norton, who was part of the unanimous board vote on the issue, is also the only board member who is white. None of the board members of color made it into the Chron's coverage.
Nor did the Black members of the Lowell Alumni Association. Bivette Bracket, who graduated from Lowell in 1995, told me that "merit-based admission is a lie." She said some students are tracked to go to Lowell, and Black students are isolated at the school, and "our alumni are trying to brush this under the table."
The Chron did report on, and quote from, a petition put together by Families for San Francisco, which at this point has collected more than 8,000 names against the change.
Not reported: Families for San Francisco is the sponsor of Parents PAC, a committee the endorses candidates. This year, its primary funders, Ethics Commission records show, are the California Apartment Association, the San Francisco Apartment Association, and California Yimby victory fund.
Why the landlords and the Yimbys are against greater diversity at Lowell is one of the weird elements of this story. (SF Yimby endorsed Brackett when she ran for Democratic County Central Committee in March 2020.)
UPDATE: I got this message from Families for San Francisco:
Families for San Francisco is a 501(c)4 organization. The organization isfunded byits co-founders and members. We have not taken any money from other political organizations.
Families for San Francisco took over and started sponsoring SF Parents PAC on August 17, 2020. During this transition, no money was transferred and we
changed the name of the PAC to "San Francisco Parent PAC, Sponsored by
Families for San Francisco" on September 3rd. During that process, we
welcomed families that were previously served by the SF Parents PAC into Families for San Francisco. We believe all families should have a voice in the political process.
Any previous donations taken by SF Parents PAC prior to August 17, 2020 reflects decisions by people other than those of us who run Families for San Francisco.
I have reached out to the Chron reporter on the story, and if she contacts me I will update.
The whole thing has become an issue beyond the School Board. Joel Engardio, the leading conservative candidate for the D7 Board of Supes seat, is using it as an issue, even though the supervisors have nothing to do with overseeing the schools.
And it has spurred some horribly racist online messaging. The attacks on Collins and Board member Gabriella Lopez are indescribably bad. I am nervous about even using the images, but Lopez put them out on Facebook to show what's going on in this city.
This kind of behavior is the TIP of the iceberg when it comes to the veiled threats, misogyny, and harassment that is particularly aimed at the two women of color on the Board of Ed," she said. "I understand many of my decisions may be ones people disagree with, but there has been a consistent pattern of racist and sexist undertones that we need to highlight and call out."
Here's what she and Collins are facing: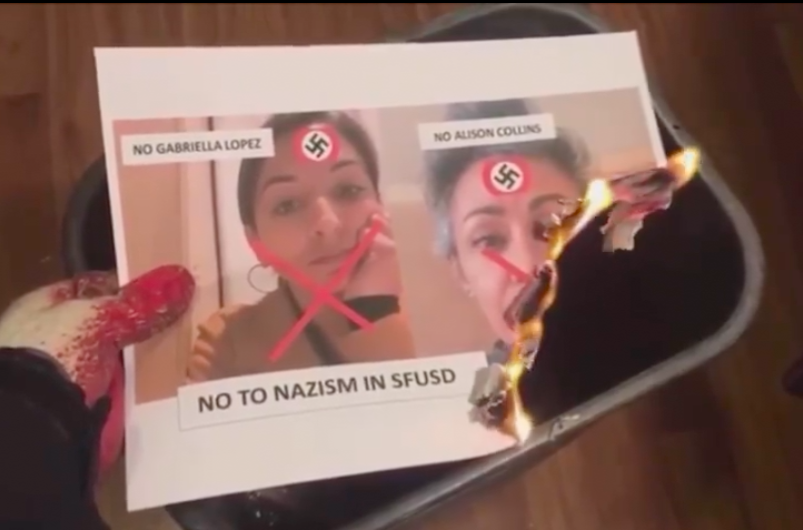 Then there's the name change issue.
From the Chron, under the headline "S.F. might change 44 school names, renouncing Washington, Lincoln and even Dianne Feinstein:"
Parents and principals at 44 sites were forced to scramble this week to brainstorm new school names while also juggling the demands of distance learning in a pandemic.
The mayor is outraged, saying that the board should be focused on getting kids back in the classroom and not wasting resources on "an expensive endeavor."
Let me add a bit of perspective.
Since last December, a volunteer group of SFUSD stakeholders has been talking about the names of local schools. This is part of a national conversation, one that we need to have, about the nation's history of racism and colonialism.
San Francisco ought to be at the front of that discussion – not playing into Fox-News-Style narratives about how silly it is to criticize Washington and Lincoln – or "even Dianne Feinstein."
(Don't get me started. When Feinstein was mayor of San Francisco, she vetoed one of the nation's first bills that would have given domestic partnership rights to gay couples. She boycotted every Pride Parade during her time in Room 200.)
But here's the key fa