Under the Stars is a quasi-weekly column that presents new music releases and a number of other adjacent items. Let's keep it going!
TY SEGALL AT THE CHAPEL (DECEMBER 27-31)
Two weeks ago, Ty Segall—a University of San Francisco grad and indie-rock superhuman on the SF scene since the aughts—plopped down Harmonizer, his first new album since 2019, out of the ether. The work takes his sludgy guitar ethos and matches it up with synthesist textures cooked to a frizzle-fry. Loaded up with anomalous-punk-meets-metal song structures, the album (now available digitally, but out on vinyl in October) somehow retains pop sensibilities.
There is a 2012 clip of Segall talking about records for the Amoeba's "What's In My Bag" series in which he is explains some of his fave vinyl finds, from Frank Zappa's Hot Rats to West Coast Experimental Band (his buddy and Thee Oh Sees bandmate John Dwyer turned him on to that last one.) The selection points square at his curiosity. Segall can let the guitar rip for weeks if he chooses—he's built his iron-clad rep on that. But there is a constant pushing for something different, weird, unconventional that hasn't bee found or created as of yet. For that reason, I've always dug his drive, and thrilled to his nearly-incalculable number of releases. (he exact same goes for John Dwyer. Both artists could coast on that talent, but where is the oozy guitar fun in that?
Harmonizer, co-produced by Cooper Crain, is the first recording to be released from Ty's recently-unleashed Harmonizer Studios. The record is a trippy funhouse of abnormal raggedness that still presents keen songwriting, from one of the Bay's supreme multi-instrumentalists. Despite the fact that he's moved on to LA, along with Dwyer, we still claim them both. So while you watch Ty and Denée Segall's "Feel Good" video, remember he was just booked to play The Chapel during NYE week, Dec 27-31.
Purchase tickets beginning Fri/20 at 10 a.m. here.
BRIJEAN — FEELINGS EP (Ghostly International)
The Oakland-based duo of Brijean Murphy and Doug Stuart pull their creative influence from the energy of refined movement. Murphy spent wide stretches of time touring as a percussionist for Toro Y Moi and Poolside, so of course her own project would involve fresh takes on rhythm itself. Feelings, Brijean's debut February release on the "transcending" Ghostly International label, presented a luxurious mood with sure-footed presence.
But with the Feelings Remixes EP, featuring reworks by Sam Gendel, Buscabulla, DRAMA, and Detroit underground deep house legend Rick Wade, Brijean presents a work that sounds like them but deeper, in the abstract.
Jazz, pop, electronic, and Latin syncopation influences are still highly present, but at times they are tweaked, filtered, and stretched into deep 4/4 territory. That Rick Wade remix is the biz, exactly what you would expect from a luminary of house music.
"I definitely had fun creating this remix," says Rick Wade in a press release. "The vocals lent themselves perfectly for my brand of Deep House." Brijean adds, "So honored that the Detroit legend Rick Wade has remixed our song 'Day Dreaming'! We are massive fans. Prepare for a longform cardio dance floor moment!"
Yet, it's the remaining three tracks that capture the quirky, aquatic nature of the band, without being everyday pedestrian. It's Sam Grendel's "Ocean" rework that catches the ear with its erratic samba stop-and-go motion, and downtempo atmosphere. This Feelings EP is a well-researched, supplemental course in the young Brijean canon.
Purchase the EP here.
HELADO NEGRO—"GEMINI AND LEO (LIVE AT SEAR SOUND)"
When I caught Roberto Carlos Lange a.k.a. Helado Negro at Noise Pop last year, I went on a suggestion from a friend who for all intents and purposes we shall call DJ Hot Lunch. I knew about Lange, but wasn't really a fan—until he took the stage. The energy he brings to performance is of the healing type. No seriously, Helado Negro, live in the flesh, will enhance your karma. This is music that moves around and through you like the gusts of an effective heating vent or good whiskey … your mileage may vary.
Sounds hippy, right? Well it's kind of some good hippy juju, and we could all use a dose.
His new album Far In drops in October, but this live version of his lead single "Gemini and Leo" (a love letter to his wife, visual artist Kristi Sword) is the type of energy this world needs right now. Part swoon, but at the same time, so deep in the pocket.
FAKE FRUIT—"I AM THE CAR" + UPCOMING LIVE GIGS
Let's not mince words. It's the "do you believe the onions on this motherfucker?" tone of Hannah D'Amato and the post-punk melodic fuzz of this tight-as-nails outfit that has warranted Fake Fruit, the dynamic Oakland-based band, many well-earned national accolades. That's right, we're talking Pitchfork, Bandcamp Daily, Brooklyn Vegan. No biggie.
With single "I Am The Car," D' Amato has crafted the anthemic heartbreaker of a rager, real loud and seering, that it captures all the feels of being unseen by a romantic partner. Listen, we knew the band was good. But this solidifies it; we're witnessing a group emerging, blossoming at an advanced rate. Catch Fake Fruit at Rickshaw Stop September 30th and Bottom of The Hill October 8th, before they get scooped up to open for a large act.
Oh trust, it's coming. The band is THAT good.
Purchase the single here.
NOISE POP 20TH STREET BLOCK PARTY (OCTOBER 16)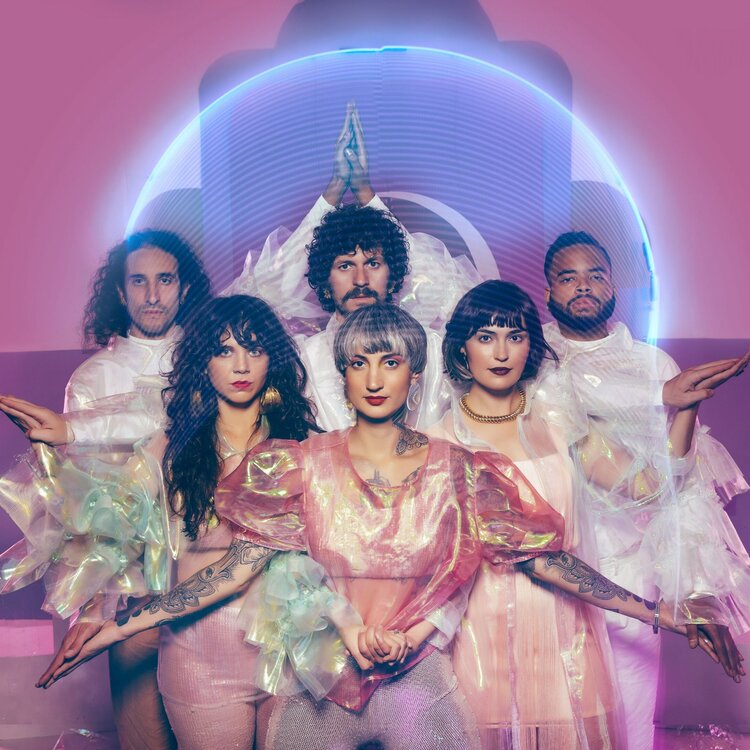 After a one year hiatus, Noise Pop has returned with a full line-up for its 2021 20th Street Block Party. The corridor between Harrison and Bryant Streets will once again be transformed into a day-long, admission-free, all-ages party in the heart of San Francisco's historic Mission District on Saturday, October 16. Taking a brief gaze at the assemblage of talent, it's safe to say, not one misstep at all. It's back on, people:
Y La Bamba, Con Brio, L.A. Witch, French Cassettes, Same Girls, King Isis, LOUDA Y Los Bad Hombres, Strange Cities!
Taking place in October (bumping up close to Outside Lands), the event will employ mandatory pandemic precautions that you can read about here. A portion of proceeds from this year's event will benefit two non-profit organizations based in the Mission District; 826 Valencia, which is dedicated to supporting under-resourced students and teachers; and La Cocina, which supports low-income food entrepreneurs across the Bay Area.
Donations are being accepted at the door upon entry—or online, where you can RSVP to reserve your spot.