OK, there's so many parties and to-dos this year that I wanted to yell Cálmense! while putting this together, my 25th guide to the queer empyrean. But after a couple years in the stable, our unicorns are itching for a hoofing, and—whether you are going to participate or not, whichever is fine as long as you're fine—the city is lighting up like a pink Christmas tree with cha-cha heels beneath it. Just stay safe, support Black and trans people, thank your elders, and have as gay ol' a time as you feel comfortable with. ❤️
PS: Got an event for consideration? Send it to me: marke@48hills
PPS: If you read this in time, kick off the week with some fabulous "Say Gay!" happy hour karaoke at Oasis, Tue/21, hosted by Miss Rahni and bartender to the stars Bernie.
ONGOING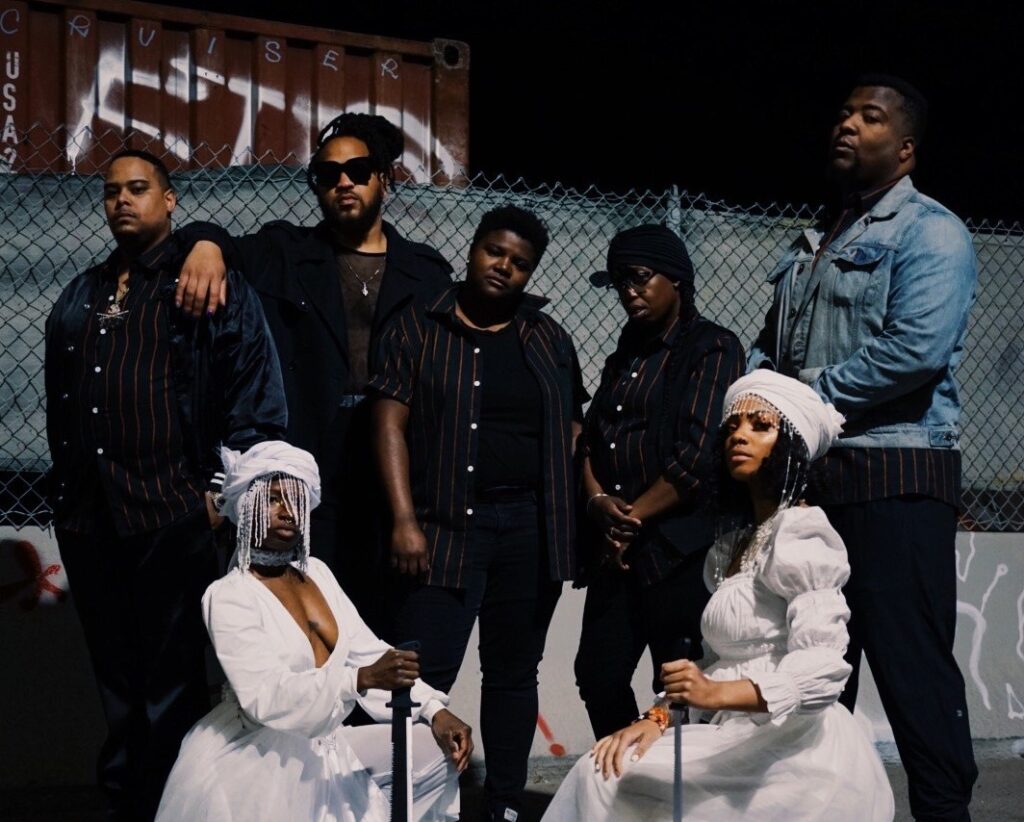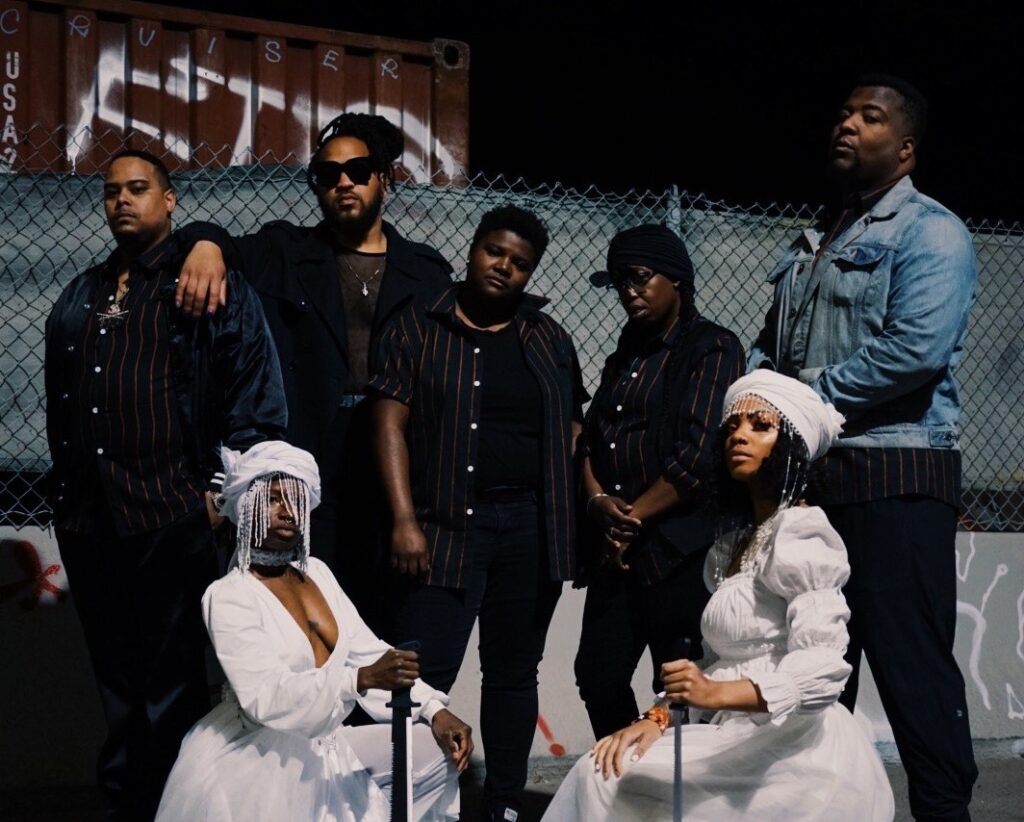 NATIONAL QUEER ARTS FESTIVAL Hit the tail end of this month-long bonanza celebration of local queer arts, with Vibemuzik's Ghetto Gospel on Tue/21 and Queer Prom: Our Legacy! on Wed/22. More info here.
FRAMELINE46 The world's largest LGBTQ+ film festival is in full swing with queer movies and programs from all over the globe, streaming and in-person. Check out our guide here. Through June 26. More info here.
FRESH MEAT FESTIVAL Through June 26, stream some of the most remarkable art by trans/queer artists being produced in the Bay Area—dance, music, theater, performance, and JOY. Here's an interview with founder Sean Dorsey about what to expect. More info here.
RENEGADE Very cute new Castro gallery Schlomer Haus is showing photographs by Chloe Sherman of the wild '90s SF queer scene, when gender-bending ruled and bold identities were forged. "This was a time when wayward youth, outcasts, and artists could show up, join forces, make new rules, work little, and live free." Through July 23. More info here.
WEDNESDAY, JUNE 22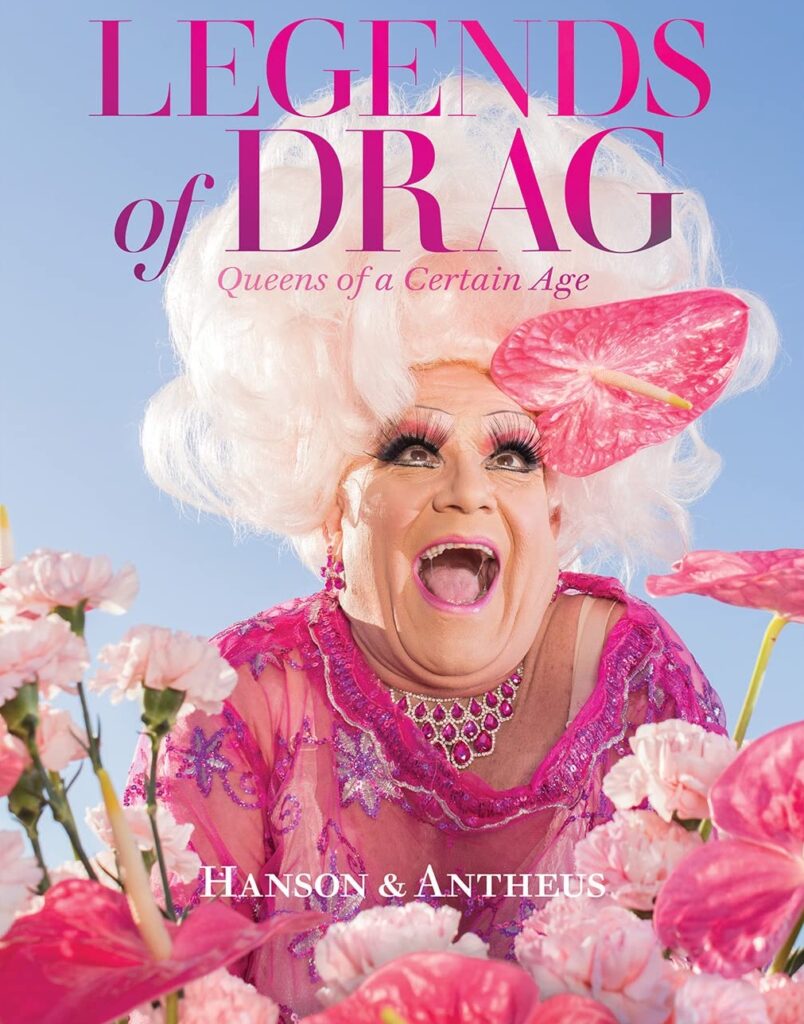 WED/22: LEGENDS OF DRAG A glittering night celebrating the release of photography book "Legends of Drag: Queens of a Certain Age" featuring grandes dames Donna Personna, Carla Gay, Olivia Hart, Collette LeGrande, and more. Sister Roma is the mistress of ceremonies. 7pm, Oasis, SF. More info here.
WED/22: SLEAZE A queer rock 'n roll party (yay!) from some my favorite people, DJs Jerry Lee and C'est Jille and performers Yves St. Croissant and Travis D. 5pm-10pm, Junior Bar, SF. More info here.
WED/22: CYGNET PRIDE EDITION It's time to swan about in lovely style—at newish bar Mothership—for this adorable party as DJs Carrie on Disco and Giacometti serve up dreamy, nostalgic sets of disco, synth-pop, and house classics on the patio. 5pm-10pm, Mothership, SF. More info here.
WED/22: THE STATE OF THE GAY BAR: BOOK TALK WITH AUTHOR JEREMY ATHERTON LIN Join author Jeremy Atherton Lin for a discussion that builds off of his poetic book "Gay Bar," exploring the state of the gay bar, the importance of queer spaces, and imagining where the LGBTQIA+ community may come together in the future. 6pm, Manny's, SF. More info here.
THURSDAY, JUNE 23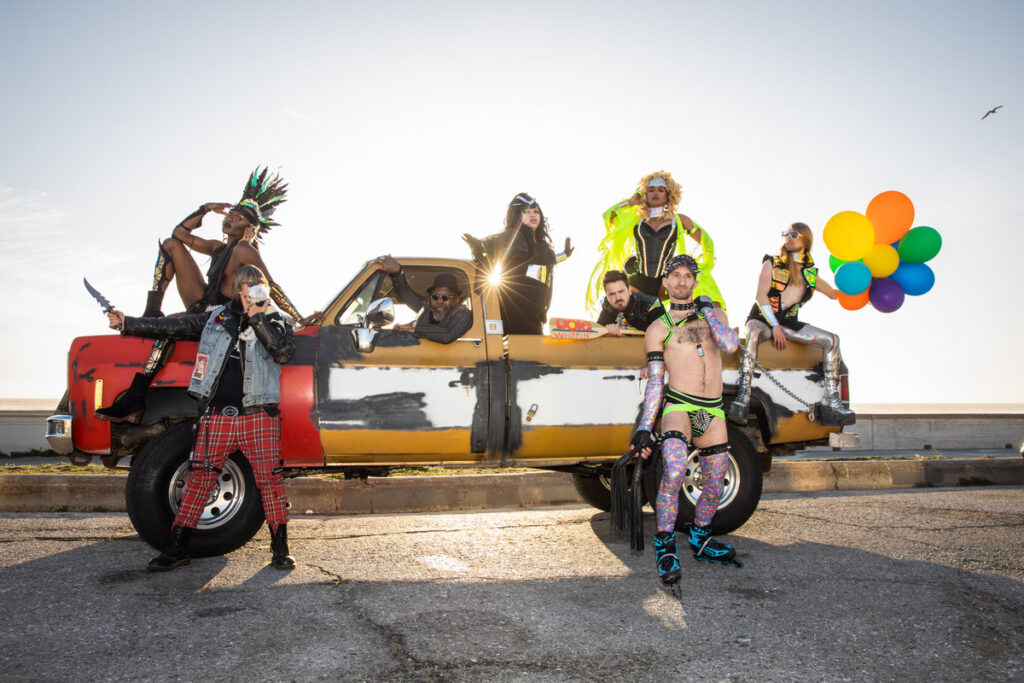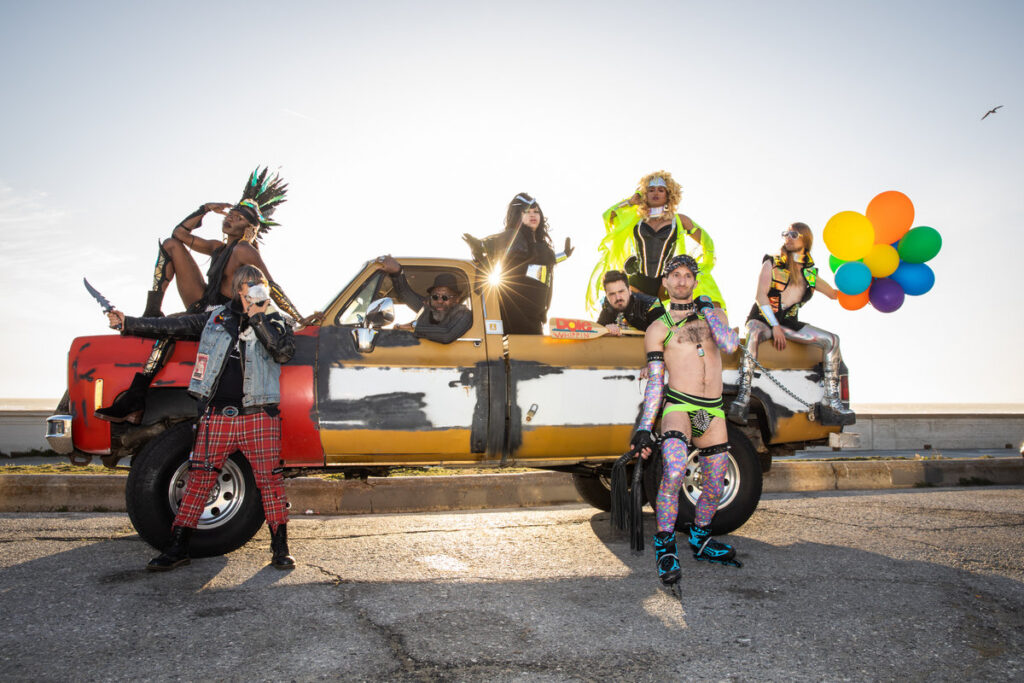 THU/23: COMMANDO I love this so much: an all-start local nü metal band featuring drag queens, transgender warriors, and queer punk and hip-hop legends! They are going to fill The Independent with queer noise, joining Man on Man (ft. Roddy Bottum), Plack Blague, and Vivvyanne ForeverMORE for wild rock and/or roll shenanigans. 7:30pm, the Independent, SF. More info here.
THU/23: THE TUBESTEAK CONNECTION PRIDE WEEKEND KICK-OFF! DJ Bus Station John reboots his fantastic Thursday cruisey bacchanal as a monthly party, with old school tunes aplenty, bathhouse and backroom vibes, and plenty of cuties to eye-spy. 9pm-2am, Aunt Charlie's Lounge, SF. More info here.
THU/23: FREAKSTYLE Finally, a freestyle music Pride party for freestyle freaks"! The patio at El Rio will be popping to some of my favorite '80s Latin dance hits from DJs Brown Amy, Digital KitKat, Guerrilla Pump, and more. 7pm-midnight, El Rio, SF. More info here.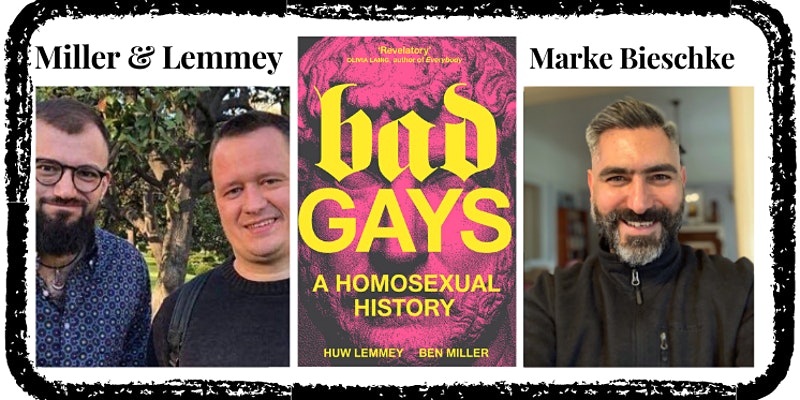 THU/23: BAD GAYS Oh look it's moi—with author Ben Miller talking about his great new book Bad Gays on zoom for this special KPFA event. We'll be limning queer villainy from Roman Emperor Hadrian through today's annoying gay fascists. Check it out! 6pm-7:30pm, online. More info here.
THU/23: PRIDE NIGHTLIFE Nightlife is the weekly after-hours educational party at the Cal Academy of Sciences, and the one before Pride is always tremendous fun. All-Black drag show Reparations takes over the garden, while DJ La Frida holds down the aquarium and exhibits inside. Plus a collection of short films from Queer Women of Color Media Arts Project, a collaboration with 500 Queer Scientists and Dahlia Gallin Ramirez, author of Sex and the Single Panda: The Revolting Pursuit of Love in the Animal Kingdom, the Planetarium, and much more. 6pm-10pm, Cal Academy, SF. More info here.
THU/23: THE LOVERS BALL It's time to give a little Pride face. Vogue like you mean it at this ball, with categories like Virgin Runway, Sex Siren, and Tag Team Realness. 8pm-2am, Public Works, SF. More info here.
FRIDAY, JUNE 24
FRI/24: TRANSMARCH 2022 If ever a year we needed to stand up for our trans family, this is it! Come support at the incredible trans march and gathering, with inspiration and entertainment, plus valuable resources. The whole thing kicks off with the Señora Felicia Flames Intergenerational TGNCI Brunch. 10:30-8pm (march at 6), Dolores Park, SF. More info here.
FRI/24: MY, OH MY! Get ready for a different kind of Pride party, here to revive the age of "dance floor escapism, bad ideas, good excuses, and unforgettable antics." I absolutely believe this pitch, because DJ MPHD is the mastermind, and Icecreams, Watts, Sappho (yay!), and e'Lish are at the decks. 9pm-2am, Monarch, SF. More info here.
FRI/24: BEARRACUDA PRIDE 2022 Big boys (and boys-identified) party harder—filling the dance floor with jiggly chub love and musty muscle-bear muscle hugs. DJs David Harness, Ryan Jones, and Paul Goodyear rub it all together. 9pm-3am, Public Works, SF. More info here.
FRI/24 FAKE AND GAY PRIDE! Hyperpop sensation Namasenda performing live + electronic shoe-melter SONIKKU + Campa of The Cataracs (yes, he wrote "Like a G6) + DJs Adam Kraft and twinset will rock all the qool kids' day-glo socks off at Rickshaw Stop. 9pm-2am, Rickshaw Stop, SF. More info here.
FRI/24: AMBIENT GRACE: A DAY WITHOUT YOUR LOVE It's time to go to church—the gorgeous Grace Cathedral, that is, for a performance that sounds amazing. "Through a set collaboration intertwining ambient music and poetry, Brown Amy and Flavia Elisa Mora tell the story of a queer love through its swooning, love making, heart-breaking and messy stages. 'A Day Without Your Love' debuting on Pride month will represent the colorful array love has to offer through a combination of eclectic ambient sounds that mirror the energy and emotion of each poetic segment. The sound is a combination of track selection, mixing and sound production by Brown Amy and Flor y Canto poetry and vocals by Flavia Elisa Mora. 7pm, Grace Cathedral, SF. More info here.
FRI/24 BIG BOY Another one for the plus-sized! DJs Boyshapedbox and Chaka Quan fill the Lone Star bear bar full of sweet tunes for throwing back brewskis and shaking some tail-feather. 9pm-2am, Lone Star, SF. More info here.
FRI/24: ELECTROLUXX PRIDE 2022 This youthful party prides itself on artistic aesthetics as well as dance floor mayhem, and with special guest legend CeCe Peniston performing, it really can't get any gayer. 9pm-4am, Midway, SF. More info here.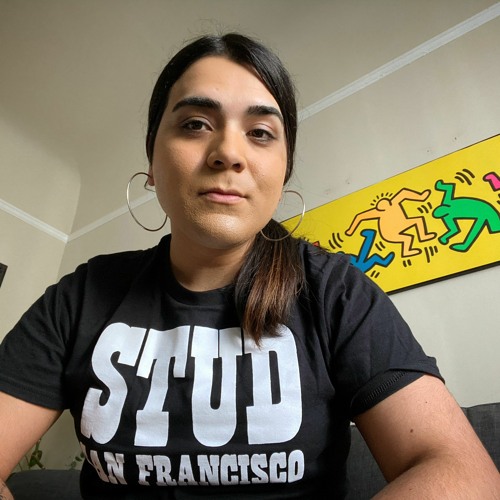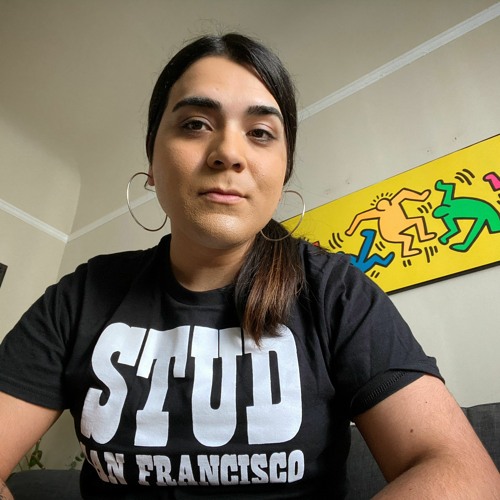 FRI/24: BUSTIN' OUT—THE OFFICIAL TRANS MARCH AFTER PARTY Who's ready to party against the prison-industrial complex? This essential fundraiser for the Transgender, Gender-variant, and Intersex Justice Project (TGIJP) is also a total hoot. Pearl Teese hosts, with DJs La Frida, Rapture and more plus a slew of slaying performances. 6pm-2am, El Rio, SF. More info here.
FRI/24: BOOTIE MASHUP: LGBOOTIE PRIDE Now in its 18th year, infamous mashup music party Bootie hosts its annual Pride extravaganza, bringing every type of music fan together to mix it up on the dance floor amid go-go dancers and video projections. 10pm, Oasis, SF. More info here.
FRI/24: BLAC GOLD—FULL SPECTRUM, A PRIDE CELEBRATION Looking to escape the endless pop soundtrack of Pride and dance to a different drummer? You can find alternative tunes at F8, where eclectic techno vibes, dirty drum and bass, and filthy electro drops rule the tracklist for a dozen or so DJs. 9pm, F8, SF. More info here.
FRI/24: SO STOKED FOR PRIDE Grab those glow-in-the-dark rainbow bracelets and head to the Pride rave at DNA Lounge—you'll get your fill of EDM, drum and bass, and more to whip you into a celebratory frenzy. 7pm-2:30am, DNA Lounge, SF. More info here.
FRI/24 + SAT/25: HELLAGAY—SF'S PRIDE COMEDY FESTIVAL Put some rib-tickling ho-ho-ho in your rainbow, with TikTok's Arjun Banerjee, Portland's Max Eddy, and more comedians with a "q" at Neck of the Woods club. 7pm and 8:45pm, Neck of the Woods, SF. More info here.
SATURDAY, JUNE 25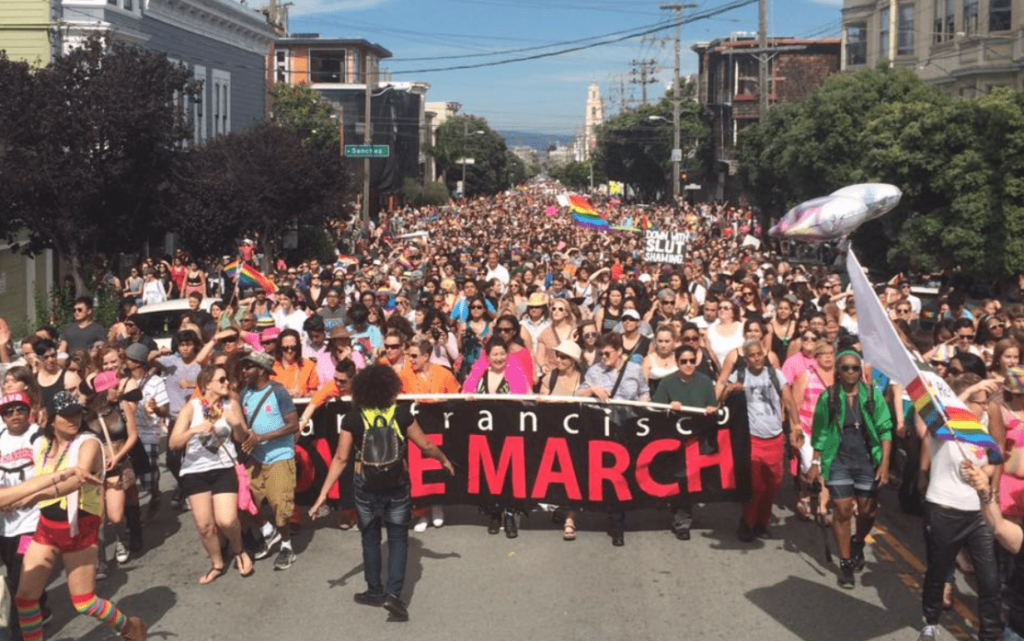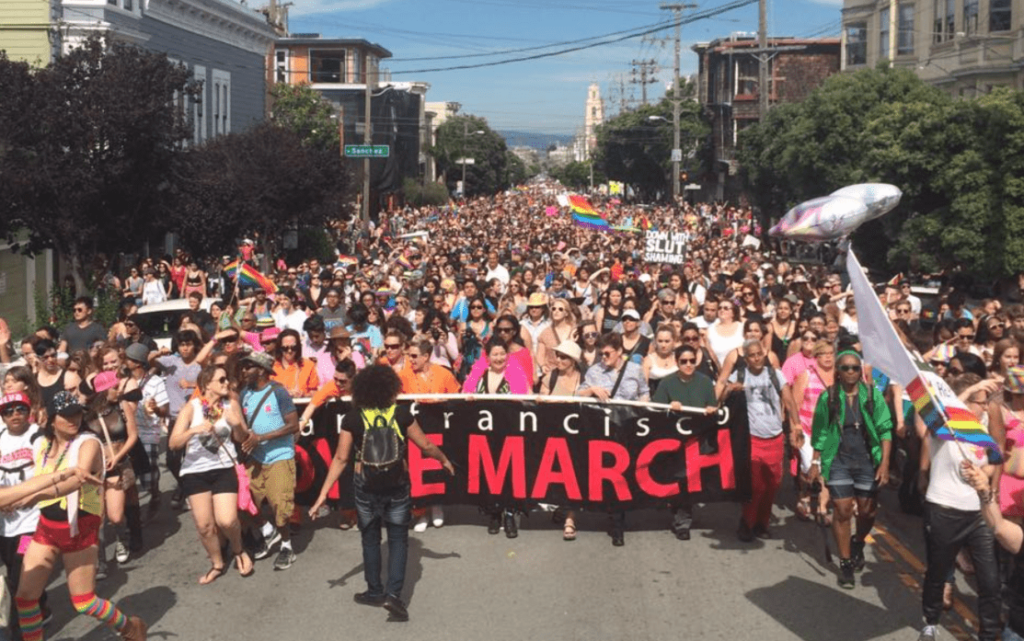 SAT/25: SAN FRANCISCO DYKE MARCH 2022 This has always been my favorite, politically charged part of Pride (especially so if the Supreme Court overturns Roe this week). Plus, the Saturday gathering before the march that will mob Dolores Park is a prime spot to meet a cutie. 5pm march, Dolores Park, SF. More info here.
SAT/25: LEGENDS OF DRAG II If you missed Wednesday's celebration of new photo book "Legends of Drag: Queens of a Certain Age," featuring many of our local grandes dames, or just want to experience more elder love, adorable downtown bookstore/outdoor art space 34 Trinity is hosting authors Hanson and Antheus, plus special guests Joan Jett Blakk and Glamamore. 5pm, 34 Trinity, SF.
SAT/25 + SUN/26: MIGHTY REAL WEEKENDER Two full days of deliciously deep house on a fabulous patio from incredible old school house DJ legends—Derrick Carter, David Morales, DJ Heather, Tedd Patterson—plus a live set by by Robin S., to celebrate Pride's return. Noon-7pm, Phoenix Hotel, SF. More info here.
SAT/25: DAD VIBES Carlos Souffront is one of our most slept-on genius DJs—and I don't mean that like a mattress! He'll be heading up this afternoon party (with patio) at the Lone Star Saloon, with omnibot opening up. 3pm-9pm, Lone Star, SF. More info here.
SAT/25: HARD FRENCH ▽ LOS HOMOS—PRIDE DAY DANCE The annual Hard French Pride party takes over the patio at El Rio to celebrate the city's fabulous diversity and its awesome music, from '50s soul to contemporary techno. Ouissam (Savage, Hanoi), my baby Bouffant Bouffant (Gimme a Reason, NOLA), and Brown Amy give it to you. 1pm-7pm, El Rio, SF. More info here.
SAT/25: KOUSA—A QTGNB SWANA DANCE PARTY An awesome-sounding Oakland party for the queer, trans, fem, and nonbinary SWANA (Southwest Asian and North African) community in its special "mahshi-stuffed with Pride" edition. DJ Labne and DJ Ari.b—playing sounds from Marrakesh to Tehran and more, plus drag performances by Drag performances by Shadybee and Val Shapero. 8:30pm-1:30pm, 7th West, Oakland. More info here.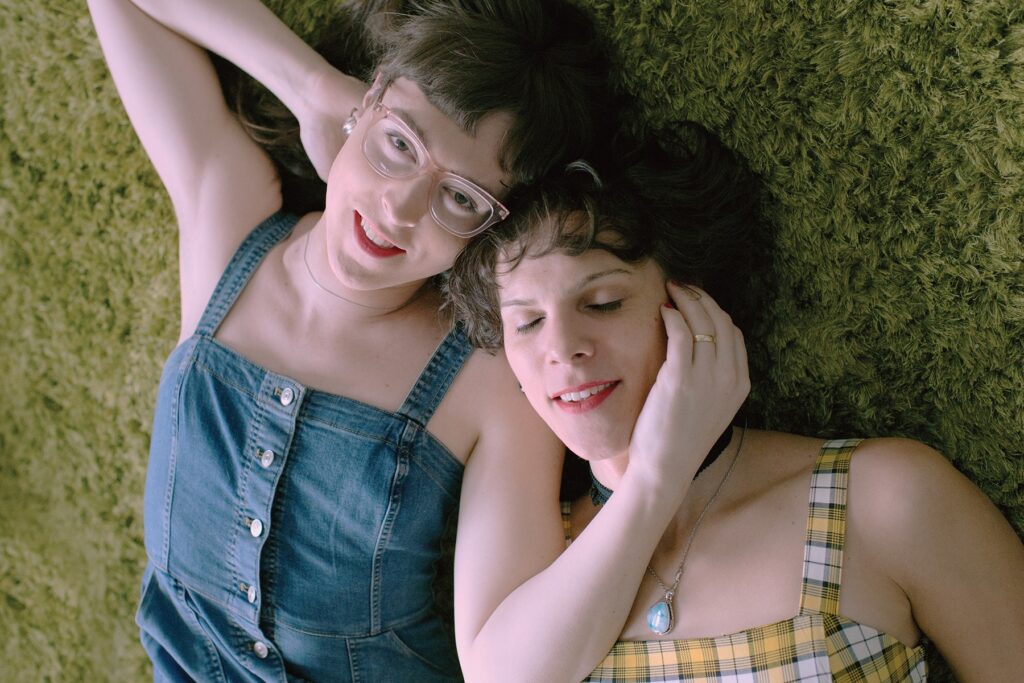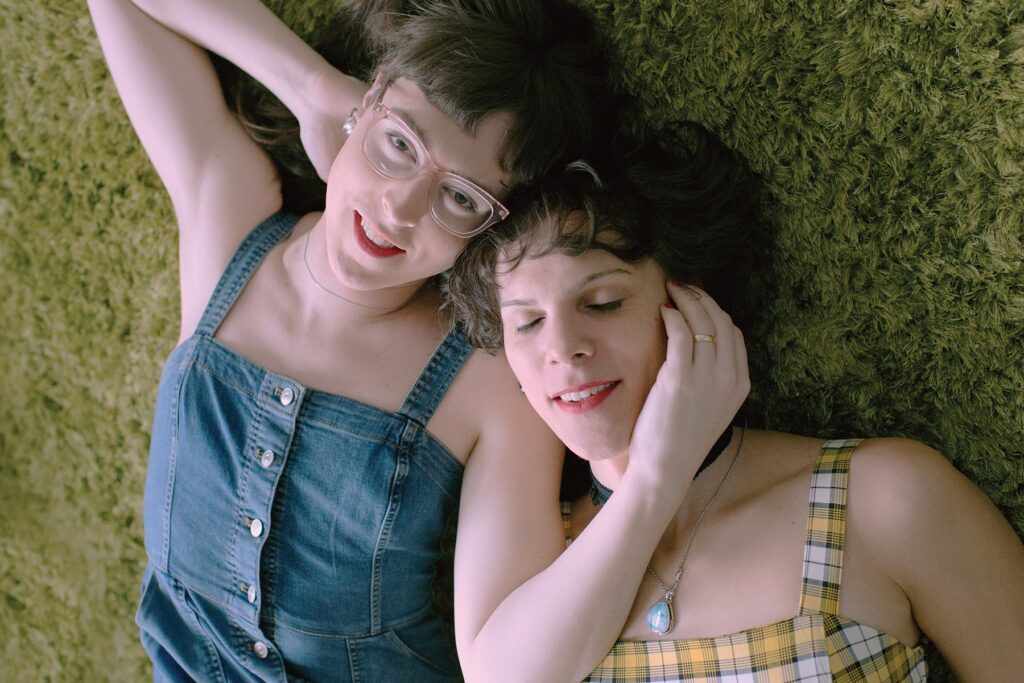 SAT/25: POLYGLAMOROUS PINK BLOCK Party-starters Polyglamorous team up with The Great Northern for a big —real big —Pride block party, featuring five stages packed with DJs and live acts. The great DJ Harvey and Eris Drew + Octo Octa headline. Come for music and dancing, then stick around for the art, food trucks, and late-night mingling. Noon-3am, Great Northern, SF. More info here.
SAT/25: QUEERBAIT Amazing DJ Alice Glass will bang you right into Pride Sunday, with Technopagan, EXTEENG, Adam Kraft, Nonsuit, and emilyinamillion supporting at this party by the Fake and Gay x Squish crews that is the moment. 9pm-4am, F8, SF. More info here.
SAT/25: THERE'S A CHICKEN IN THE PIT! A TRANS- AND QUEERCORE EGGSTRAVAGANZA Rock out with your rooster out! The Homobiles, Middle Aged Queers, and more punk rock bands provide the cathartic soundtrack, while attendees thrash out angst and find positivity in the mosh pit at this music mini-festival on an urban farm. 1pm-8pm, The New Farm, SF. More info here.
SAT/25: EAGLE PRIDE ON THE PLAZA A block party and beer bust from the Eagle bar benefitting Tenderloin Tessie, with lovely DJs Prince Wolf, Houseplant Paradise, and Solar. Followed by Bar Kode (A Hankie Party) with DJ Tony Moran inside the Eagle bar itself. 3pm-7pm, Eagle Plaza, SF. More info here.
SAT/25 3RD ANNUAL MUSIC, MENTAL HEALTH, & PRIDE SUMMIT There's a lot going on at this all-day gathering at SFJAZZ, including keynote speaker Shaun King and lots of musical perform dances, and its purview stretches far beyond Pride—it's put on by When the Music Stops, an organization dedicated to people struggling with depression, anxiety, burnout, and suicidal, and includes a LGBTQ panel. 11am-5:30pm, SFJAZZ Center, SF. More info here.
SAT/25: AFTERGLOW 2022: BLACKLIGHT DISCOTHEQUE Radical faeries, wild creatures of the night, and smiling lovelies gather for a late-night blacklight dance party with DJs, circus performers, a cuddle tent, and a performance by "RuPaul's Drag Race" winner Raja Gemini. 10pm-6am, Space 550, SF. More info here.
SAT/25: PRINCESS PRIDE: PINK SATURDAY WITH SAN CHA Fabulous performer San Cha launched from SF but has gone on to become a world-renowned Latin music sensation. She'll be part of the pre-Pride Princess party dragstravaganza not to be missed. 10pm, Oasis, SF. More info here.
SAT/25: LIP-SYNC FOR YOUR ETERNAL LIFE Those essential Sisters of Perpetual Indulgence are celebrating Pride at Hotel Zeppelin, hosted by Sister Maddie Bout You, with "drag performances, lip-sync battle, drinks and fun!" 6pm-9pm, Hotel Zeppelin, SF. More info here.
SUNDAY, JUNE 26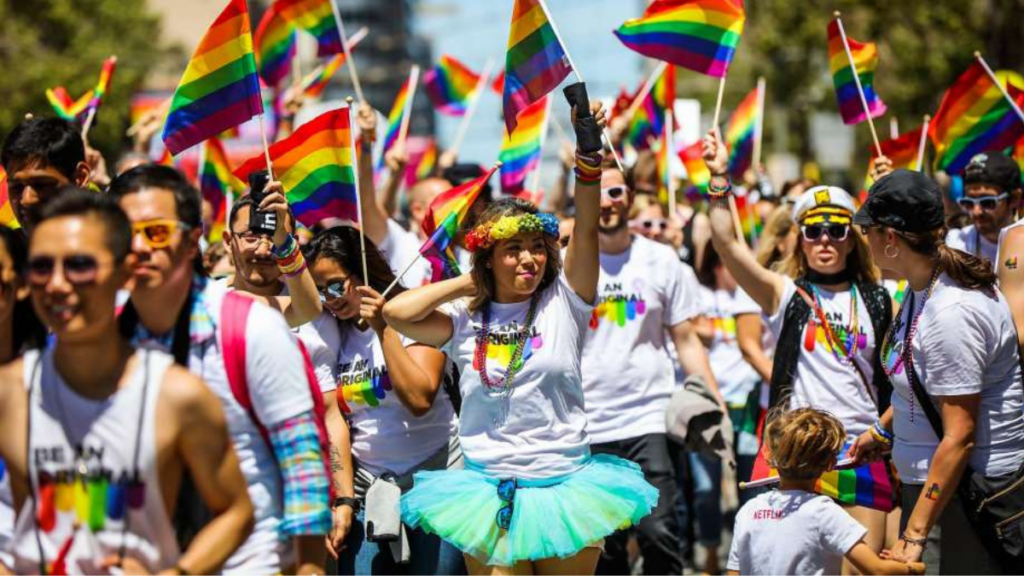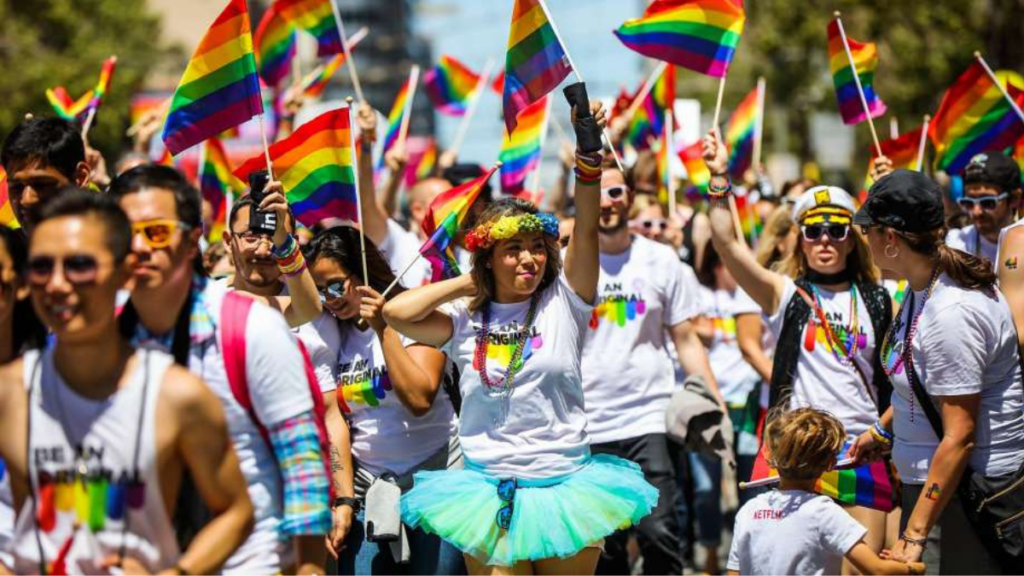 SUN/26 (AND SAT/25): 52ND ANNUAL SAN FRANCISCO PRIDE PARADE AND CELEBRATION The party starts in the Civic Center on Saturday, with vendors and entertainment, then the big parade happens Sunday morning at 10:30am, followed by a gonzo celebration that spills into many streets with multiple stages and every queer thing imaginable. "Love will keep us together" is the theme, and the headliners are "Jeopardy" champion Amy Schneider and the wonderful Martha Wash, who sill sing you to the gods, honey. More info here.
SUN/26: PEOPLE'S MARCH AND RALLY 2022 While Pride was on online hiatus the past couple years, another march sprang up during the George Floyd uprising attempting to reclaim the protest roots of Pride—even reclaiming Pride's original Gay Liberation Day route through the once-gay Polk neighborhood, and led by an all-Black, Brown, and Indigenous committees of Trans and Queer activists, community leaders, artists, and performers. "We stand in protest of transgender and racial injustice, police violence, killings, unjust healthcare, and un-relentless gun control, and let's not ever forget the reparations to Black People. We demand changes!" 10:30pm-1pm, starts at 1800 Polk, SF. More info here.
SUN/26: JUANITA MORE! PRIDE 2022 The hostess with the mostest throws her see-and-be-seen Pride must, with dazzling music and performances. (I do long for the days when she brought in a high school marching band to cause a riot.) The awesome Vickie Powell of Atlanta and SF's beloved DJ Black fill the Jones patio with house energy, plus ballet, burlesque, and drag kings. Noon-7pm, Jones, SF. More info here.
SUN/26: ENVY A PRIDE PARTY WITH NICKI JIZZ AND VIVVY Nicki Jizz, of groundbreaking all-Black drag show "Reparations," teams up with VivvyAnne ForeverMore to present two back-to-back drag shows on the El Rio patio, accompanied by DJs, dancing, cruising, and LGBTQIA+ love. 2pm-10pm, El Rio, SF. More info here.
SUN/26: QUICHE PRIDE After you've paraded your heart out—and whatever else—at Pride, it's time to kiki at Quiche, a fantastic outdoor party at SOMArts with local DJs Five (I love him so much), Deezy, and Nick Moss on the decks. Very good stuff! 7pm-2am, SOMArts, SF. More info here.
SUN/26: C.U.M. PRIDE RAVE Close out Pride with a bang at this late-night party at Public Works, featuring music from wild New York techno DJs Bearcat and Jasmine Infiniti, as well as Los Angeles selector Bae Bae. 9pm-2am, Public Works, SF. More info here.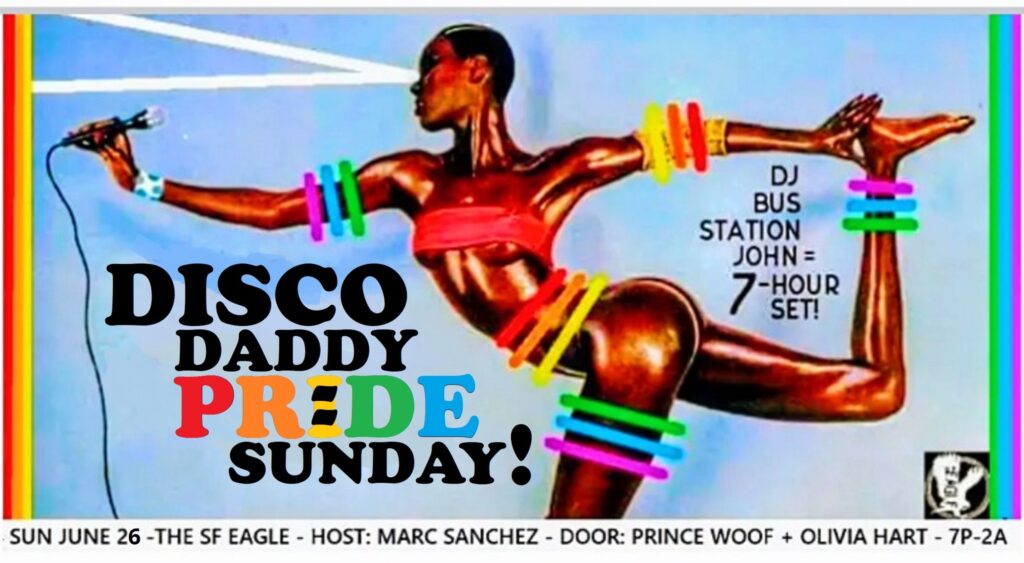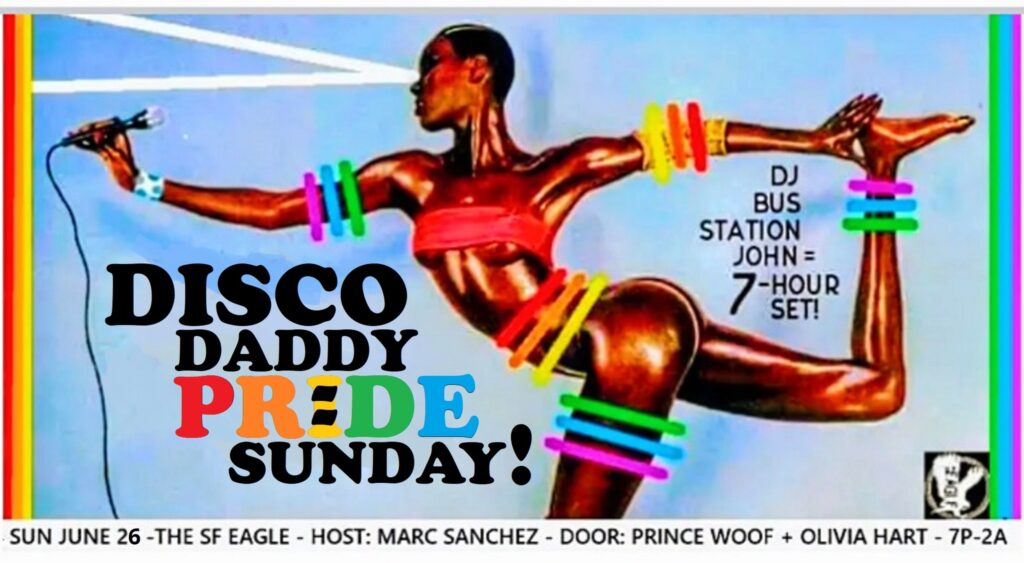 SUN/26: DISCO DADDY PRIDE Seven whole hours of wanton disco and sweaty mens at the Eagle? Whip out the tambourine and jangle your love spurs, DJ Bus Station John is here to save the night—literally, since it's only $10 bucks for all this action. 7pm-2am, Eagle, SF. More info here.
SUN/26: PRINCESS X OASIS: PRIDE SUNDAY W/ RAJA + KEVIN AVIANCE The city's brightest drag party, Princess, brings in some heavy hitters for its Pride Sunday bash, including "RuPaul's Drag Race" alum Raja and noted DJ Kevin Aviance, who famous slayed on New York dance floors in the '90s. 9pm, Oasis, SF. More info here.
SUN/26: WERD WITH ONE A Even more Aviance! Weekly techno party Werd hosts DJ One A, aka Gehno Aviance, one of our longtime dance music players with a fantastic ear. He's appearing with ABAYOMI and the Werd resident DJs to cap off your Sunday. 9pm, Monarch, SF. More info here.
SUN/26: BLACK MASQ: THE MASQUEERADE GALA Hosted by Oakland Black Pride and headlined by the brilliant serpentwithfeet, Black Masq combines sophisticated dress, mysterious masks, and striking performances, allowing attendees to embrace unique self-expressions of identity while taking in DJs, live performances, and more. 9pm-1am, California Ballroom, Oakland. More info here.
SUN/26: ROLLIN' WITH THE HOMOS Grab those rollerskates and wigs, Oakland: "Too lazy to cross the Bay Bridge for Pride Sunday? Us too! Come be gay and enjoy some death-defying drag on wheels!!!" 4pm-8pm, Township Commons Park, Oakland. More info here.