Actual Nazis showing up to children's book readings. Attacks at schools over LGBTQ+ education. Trans rights and trans people threatened throughout the country. SF's biggest drag queen found passed away. Er, let's just say 2023 is not a good look so far.
We need a hot pink shot of Pride in community to re-energize and re-gather. Dancing helps, marching helps, action helps, laughing helps, showing up (or staying home if you feel like and watching it all on TV) helps. And paying attention to your mental health helps. As drag goddess Juanita More, hosting the People's March and Rally and two banging Pride Sunday day and night parties—donating funds to LGBTQ mental health service Queer LifeSpace—told me: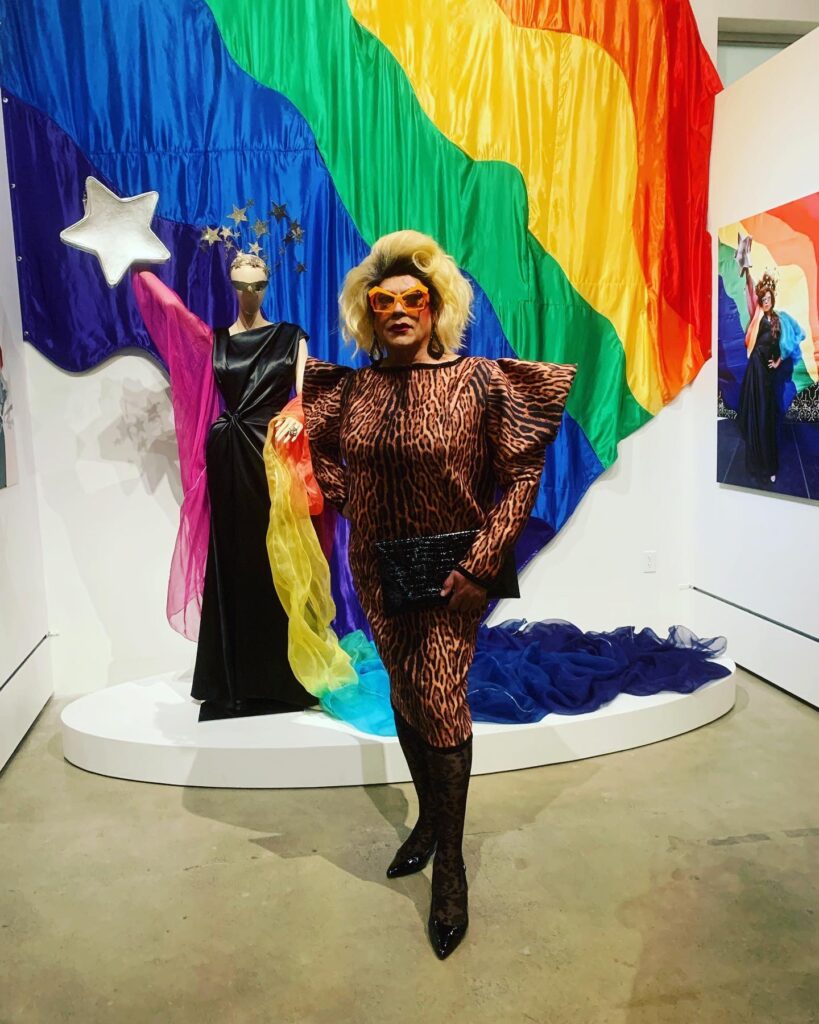 "It"s more important now than ever to support mental health organizations like Queer Life Space. What's happening across our country makes me sick, depressed, and anxious over all the hate and bigotry toward our community. Queer LifeSpace has invested in keeping our community healthy with effective, affordable mental health and substance abuse services.

I've always given people a safe space to come together and celebrate our beautiful queer family. Spending all day with me on Pride Sunday will be both an act of protest and gaiety, starting with The People's March and Rally demanding much need for change to keep our community safe and the 19th Annual JM! Pride Party at Jones benefiting Queer LifeSpace. Finally, by request for a place to continue the festivities, we will wrap up the Day Party and head to the Night Party at Halcyon starting at 6pm and going late."
Spending Sunday enfolded in Juanita's voluminous glow is just one of the very many things you can do on this action-packed weekend. Below are some of my favorites this year. Remember to drink lots of water, always bring a costume change, and feel the love!
PRIDE AFFAIRS OF NOTE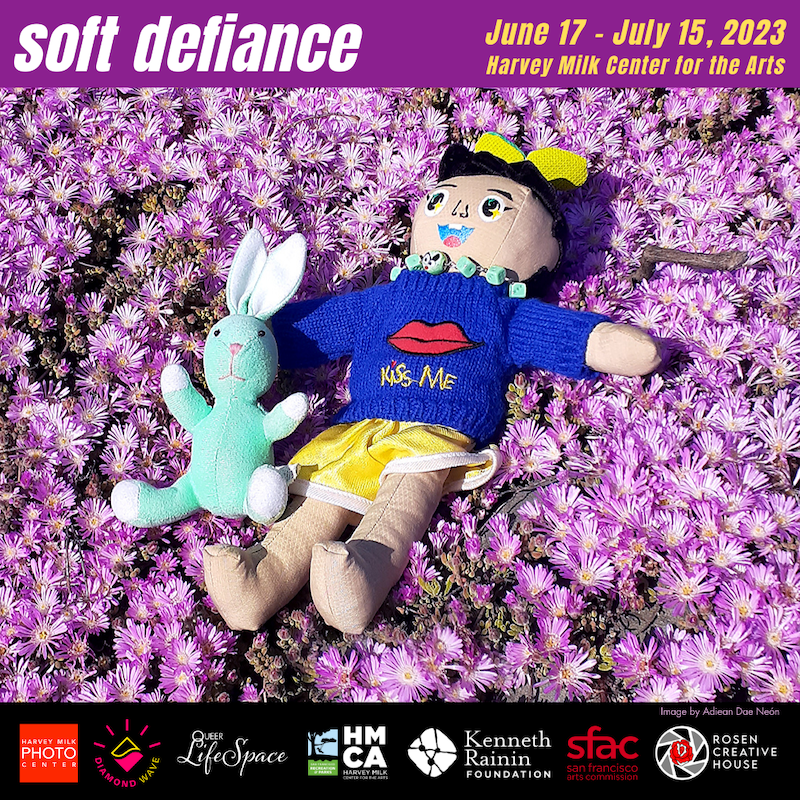 ONGOING
SOFT DEFIANCE A collaboratively-curated visual arts exhibition with a big mission at Harvey Milk Center for the Arts: "Resisting negativity and hatred is a constant uphill battle for many historically marginalized queer and trans communities that requires a firm commitment to centering one's own mental health and wellness. soft defiance is a celebration of this commitment to our sustained emotional and spiritual well-being." Through July 15, Harvey Milk Center for the Arts, SF. More info here.
NATIONAL QUEER ARTS FESTIVAL Hit the tail end of this month-long bonanza celebration of local queer arts, with music, dancing, a salute to Octavia Butler, remembering Club Q, and tons more. More info here.
FRAMELINE47 The world's largest LGBTQ+ film festival is in full swing with queer movies and programs from all over the globe, streaming and in-person. Check out our guide here. Through June 26. More info here.
PINK TRIANGLE Lift your eyes! To Twin Peaks! See this lovely reminder oof how far we've come—and the need to "stay vigilant," in founder Patrick Carney's words. Through June, hovering over us all.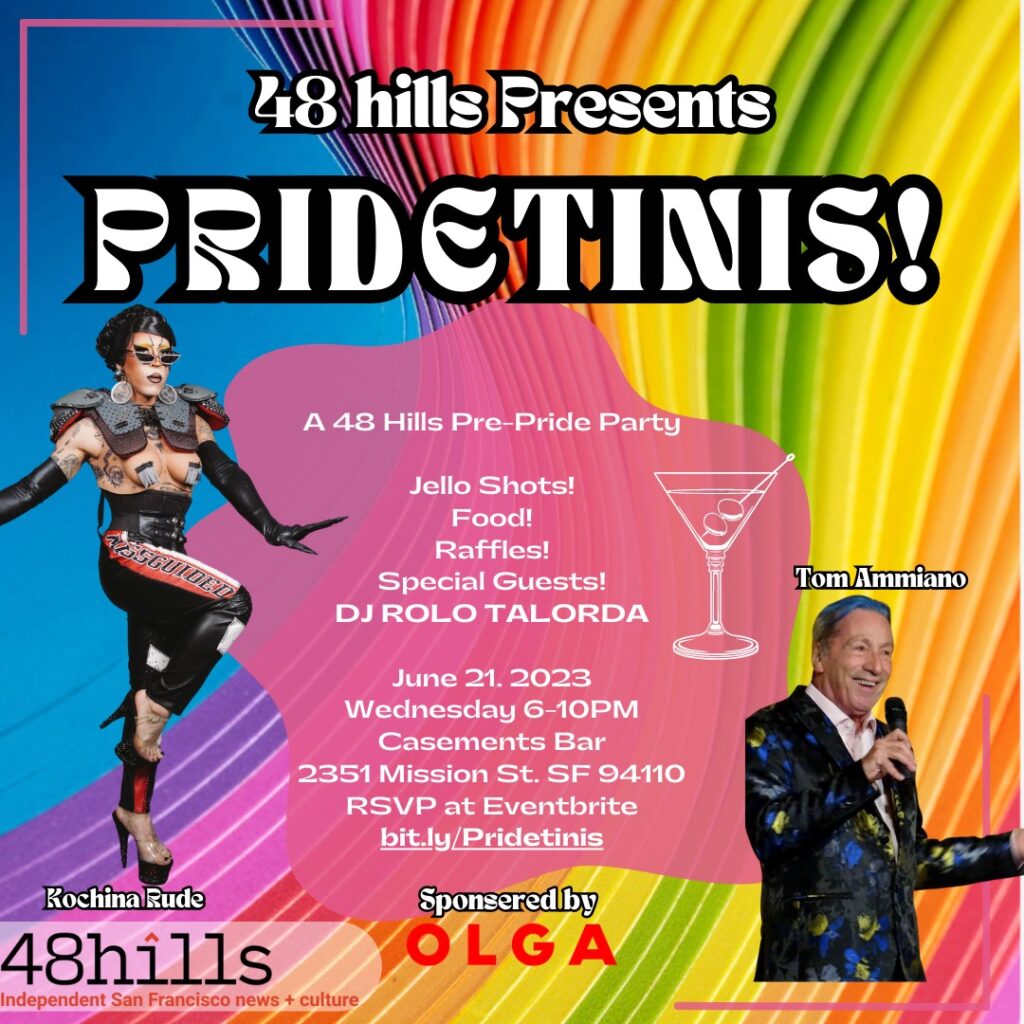 WEDNESDAY, JUNE 21
WED/21: PRIDETINIS! You simply must attend our FREE Pride fundraiser on the Casements bar patio in the Mission, and indulge in the glorious presence of drag goddess and harm reduction advocate Kochina Rude, plus the always fun and funny Tom Ammiano, special guest DJ Siobhan Aluvalot, a raffle with awesome prizes (Giants tix!), Jell-O shots, drink specials from Olga Vodka, food, and great company. 6pm-10pm, Casements, SF. RSVP here (or just show up!).
WED/21: A NIGHT WITH VERONICA KLAUS Enchanting audiences for more than three decades as the first openly transgender jazz singer, Veronica Klaus (and her smoky, enveloping voice) returns to San Francisco after a move to New York, reuniting with her original backing band, the Tammy Hall Trio. 6pm-8pm, St. Joseph's Arts Foundation, SF. More info here.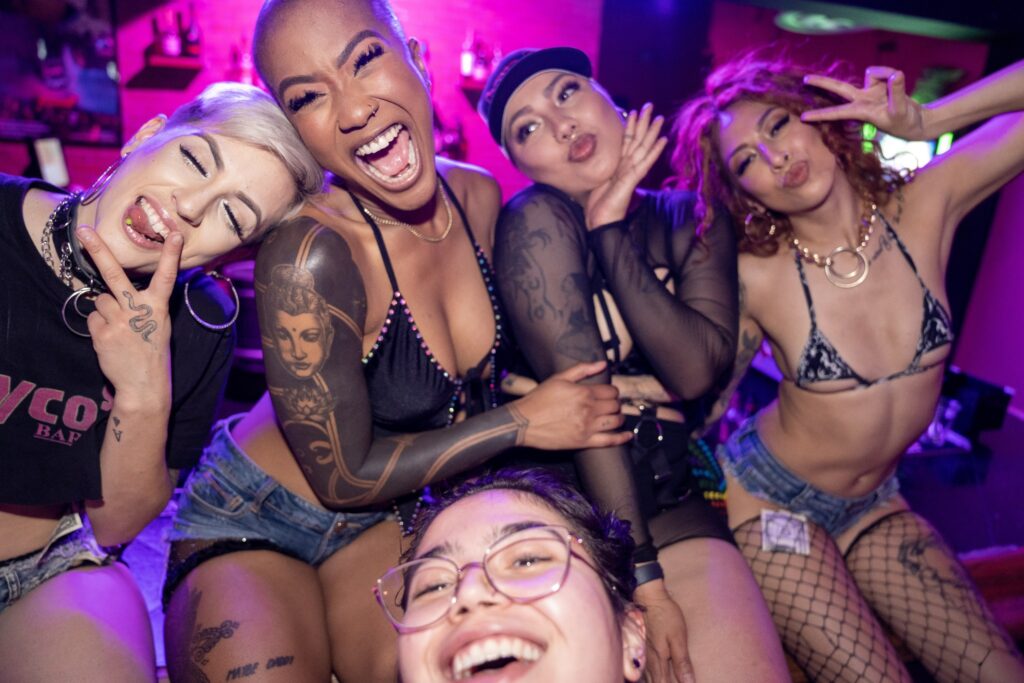 THURSDAY, JUNE 22
THU/22-SUN/25: UHAUL PRIDE Don't sleep on the lesbian Pride party scene: This infamous party goes hard with a series of five events during Pride weekend, from a late-night bash at Jolene's nightclub to a daytime gathering at the Womxn's Pride Stage.
THU/22-SUN/24: SANDRA BERNHARD: A SPRING AFFAIR "I'm the essential gay performer and the person who's been the link between the straight world and the gay world since I started performing. So it's important to support the people who worked so hard for so many years, myself included," the sassy, beloved performer told us this week. So there! Feinsteins, SF. More info here.
THU/22: PRIDE COMEDY NIGHT Look, I always crack up at just the sight of Sister Roma, let alone when she's shooting zingers from a stage. She'll be hosting this free night of gay laughter at the Chase Center's Thrive City with guests Scott Capurro, Irene Tu, and Sureni Weerasekera, plus a performance by the gorgeous ladies of AsiaSF. 5:30pm, Chase Center Thrive City, SF. More info here.
THU/22: THE LOVERS REVENGE BALL Can't have Pride without a little battle on the catwalk. Join host ICON Gorgeous Jack Gucci, special guest judges ICON Meeka Alpha-Omega and LEGENDARY Twiggy Garçon, DJ Spiider Ebony, and a scrumptious gaggle of voguers who will work it out in categories like Virgin Runway, Sex Siren, Face, Realness, and Best Dressed. 8pm-2am, Public Works, SF. More info here.
THU/22: PRIDE NIGHT AT THE OPERA I'm already dying to see the new Frida and Diego opera (El ultimo sueño de Frida y Diego) so why not with a wave of gays? At the pre-show party, you get to "bring ofrendas (photos, letters, mementos, etc.) to honor LGBTQ+ ancestors at the community altar built in partnership with the Marigold Project and enjoy performances by Mexican LGBTQ+ folklore dance group Ensamble Folclórico Colibrí and Mexican food (all under $10)." 5:30pm, War Memorial Opera House, SF. More info here.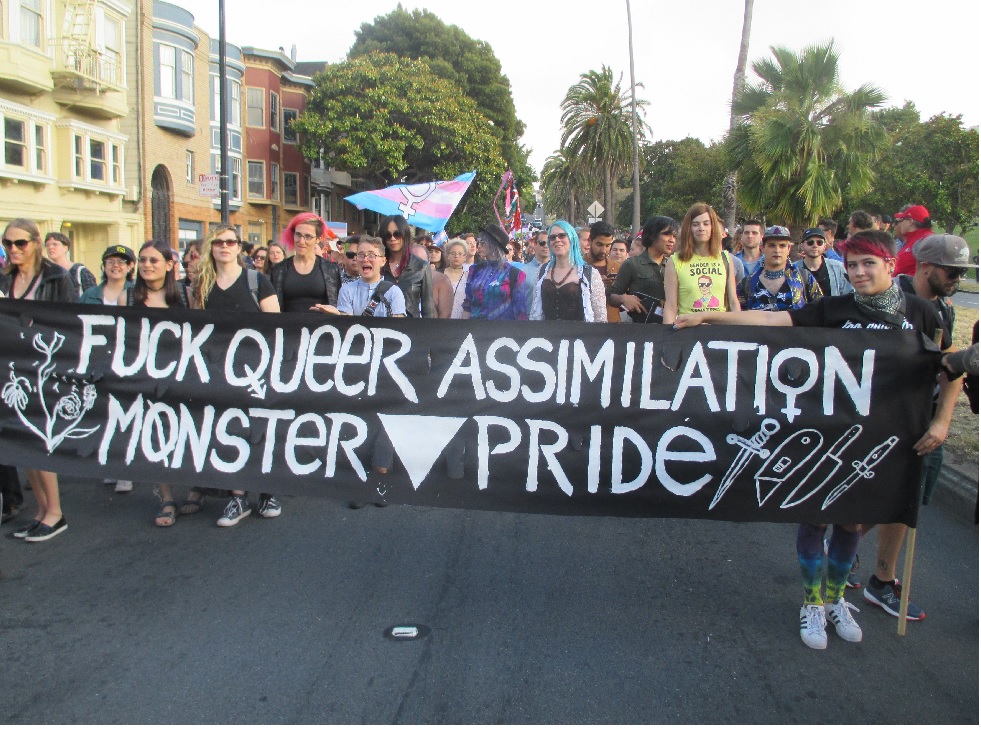 FRIDAY, JUNE 23
FRI/23: TRANSMARCH 2023 If ever a year we needed to stand up for our trans family, this is it! Come support at the incredible trans march and gathering, with inspiration and entertainment, plus valuable resources. It all kicks off with the Señora Felicia FlamesIntergenerational TGI Brunch. 10:30-8pm (march at 6pm), Dolores Park, SF. More info here.
FRI/23: BUSTIN' OUT This official Trans March after "party against the prison industrial complex" has been going strong for more than a decade, bringing attention and funds to the crisis of trans incarceration, and benefitting the awesome TGI Justice Project. An amazing group of DJs bring hip-hop, house, and soul. 7pm-2am, El Rio, SF. More info here.
FRI/23: JUST US: BRIGHT & BEAUTIFUL, GAY AS FUCK The rad women-led Club A.B.L.U.N.T hosts this late-nighter at CounterPulse,with Suzi Analogue headlining, bringing her hardware-driven sounds to the dancefloor. DJs Brown Amy, Black, De Alma, Finishher, and many more keep the 'Pulse racing. 10pm-4am, CounterPulse, SF. More info here.
FRI/23: HOT PANTS PRIDE I love this long-running women-centric party so much! The looks and energy are to die for, and host Chelsea Starr with DJs Siobhan Alovalot, Your Mother, Nico, Sucia, and Campbell will bring the gorgeous heat. 9pm-3am, Cat Club, SF. More info here.
FRI/23 ELECTROLUXX PRIDE PARTY 2023 The difference between Electroluxx and other dance parties is the emphasis on art—and cuddles. Dozens of local creators come together to fill five dance floors at the huge Midway club during this giant celebration. 9:30pm-4am, Midway, SF. More info here.
FRI/23: SWAGGER LIKE US The fiercest queer hip-hop party come together with musical powerhouse LadyRyan for a hometown throwdown with guest Zebra Katz, who will read you. 10pm-late, 1015 Folsom, SF. More info here.
FRI/23: BEARRACUDA PRIDE It's always big boy season at hirsute dance club Bearracuda, and thos Pride party tips the scales with celebrated local DJs David Harness and Paul Goodyear—plus decor and photos by renowned artist Dusti Cunningham. 9pm-3am, Public Works, SF. More info here.
FRI/23: TRANSTRENDR TRANS PRIDE RAVE This banger especially tickles my interest, because it features ace Ugandan DJ Authentically Plastic, who I profiled for DJ Mag this year as an artist to watch. Naija Couture, Bored Lord, and a host of local talent bring the backup. 10pm-5am, more info here.
SATURDAY, JUNE 24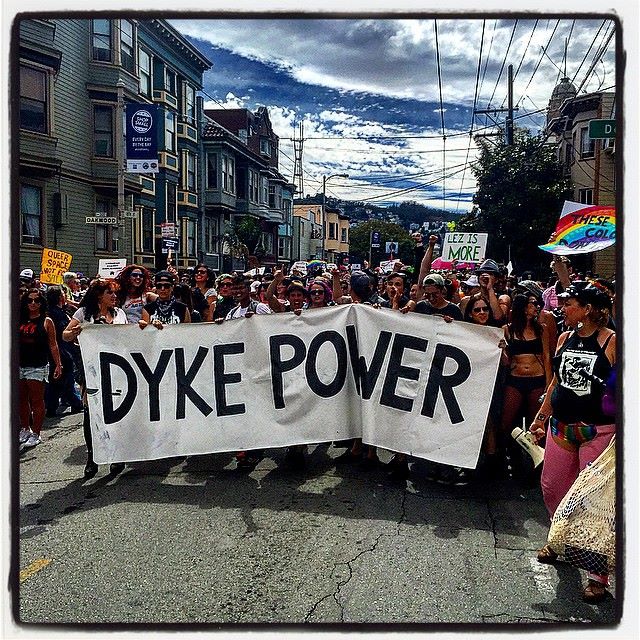 SAT/24: SAN FRANCISCO DYKE MARCH 2023 This has always been my favorite, politically charged part of Pride. Plus, the Saturday gathering before the march that will mob Dolores Park is a prime spot to meet a cutie. 5pm march, Dolores Park, SF. More info here.
SAT/24 PRIDE IN STYLE: PINK SATURDAY SIP & SHOP LOOKS Perennial Best of the Bay shopping winner Sui Generis helps you glide into Pride with just the right fit. Plus champagne! 11am, Sui Generis, SF. More info here.
SAT/24: HARD FRENCH 🔻LOS HOMOS Bringing in two of the sweetest, most in-demand house DJ couple from Berlin, Tama Sumo and Lakuti, this essential patio party showers the weekend with extra sparkles. 1pm-7pm, El Rio, SF. More info here.
SAT/24: POLYGLAMOROUS PINK BLOCK Party-starters Polyglamorous team up with The Great Northern for a big —real big —Pride block party, featuring five stages packed with DJs and live acts. The amazing Big Freedia and Horsemeat Disco DJs + dozens more will light it all up. Come for music and dancing, then stick around for the art, food trucks, and late-night mingling. Noon-3am, Great Northern, SF. More info here.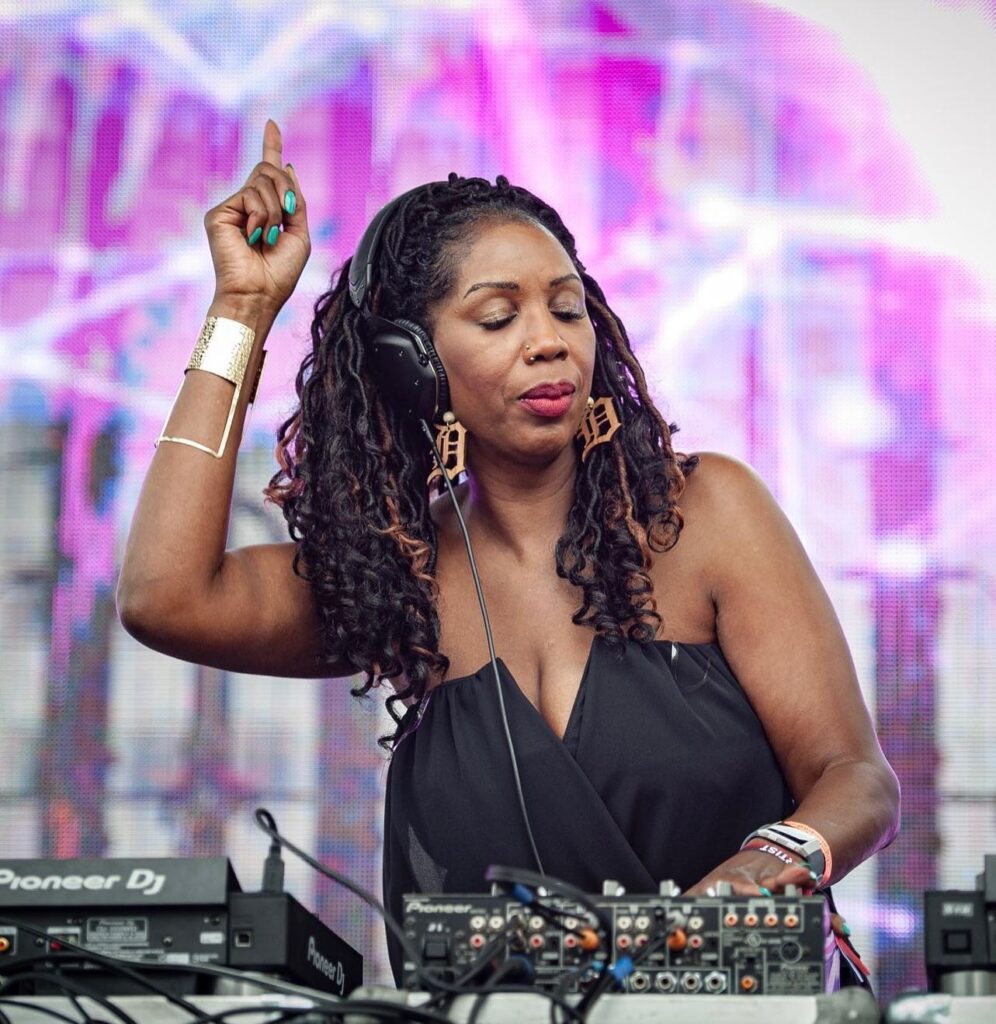 SAT/24 + SUN/25: MIGHTY REAL PRIDE WEEKENDER Show up to The Phoenix Hotel for back-to-back Pride weekend day parties, with DJ Minx, Jason Kendig, and Mousse T spinning on Saturday (June 24) and DJ Holographic And Tedd Patterson behind the decks on Sunday (June 25). 1pm-7pm, Phoenix Hotel, SF. More info here.
SAT/24: DADDY DAYCARE: FATHER OF THE PRIDE Spend Pride Saturday on the patio of the Eagle with those disco-loving dudes of party patrimony, DAD. DJs include Mondo Nexus, Kelly Naughton, Jesse Frank, Jumpr, and Booty Juice. 2pm-8pm, SF Eagle. More info here.
SAT/24: TENDERLOVE Love, love, love that this daytime party is revving up the Tenderloin's Transgender Cultural District, with Cakes Da Killer, Jasmine Infiniti, Uffie(!), Bae Bae, and more. 3pm-10pm, Record Bar, SF. More info here.
SAT/24: PRIDE OF COLOR DJ Fawks of the Fawkstales parties has been doing tremendous things by elevating Black techno DJs from far and wide to a local platform—and the music and vibe have been immaculate. He teams up with the Born to Rave crew to make "an intentional space curated by QTPOC for QTPOC and our loved ones" at Pride. 10pm-3am, Monument, SF. More info here.
SAT/24: FAKE + GAY PRIDE The Fake + Gay parties are cool, and they've got Dorian Electra, Club Eat, and Only Fire headlining a night of energetic cross-genre bliss. 9pm-4am, F8, SF. More info here.
SAT/24: VAGUE TERRAIN If you are looking for a deep musical experience on Pride, the two DJ's DJs featured this month at this regular party—SF/Detroit head Carlos Souffront and Dutch wonder DJ Marcelle will fill you up with unpredictable left-field delight, on three turntables. 9pm-2am, UndergroundSF. More info here.
SAT/24: POWERSWITCH This party collective focuses on making space on the dance floor for femme and nonbinary representation—we absolutely love that. Come twirl at "a night of club heavy hitters, breaks, ukg, house, and more," brought to us by the Switch and Supervixen crews. 9pm-2am, Monarch, SF. More info here.
SAT/24: PRINCESS PRIDE Oodles of drag performances as this weekly showcase and dance party blows its wig off for Pride. Special guest: Freddie! Hosted by Kochina Rude and Lisa Frankenstein, with LA DJ Rubella Spreads. 10pm-late, Oasis, SF. More info here.
SAT/24: AFTERGLOW PRIDE 2023 A neon, faerie-filled wonderland awaits all who enter the otherwordly Afterglow parties, holding space for queer liberation, wild dance floor joy, and the spectrum of identity expression that makes the community unique. 10pm-late, Space 550, SF. More info here.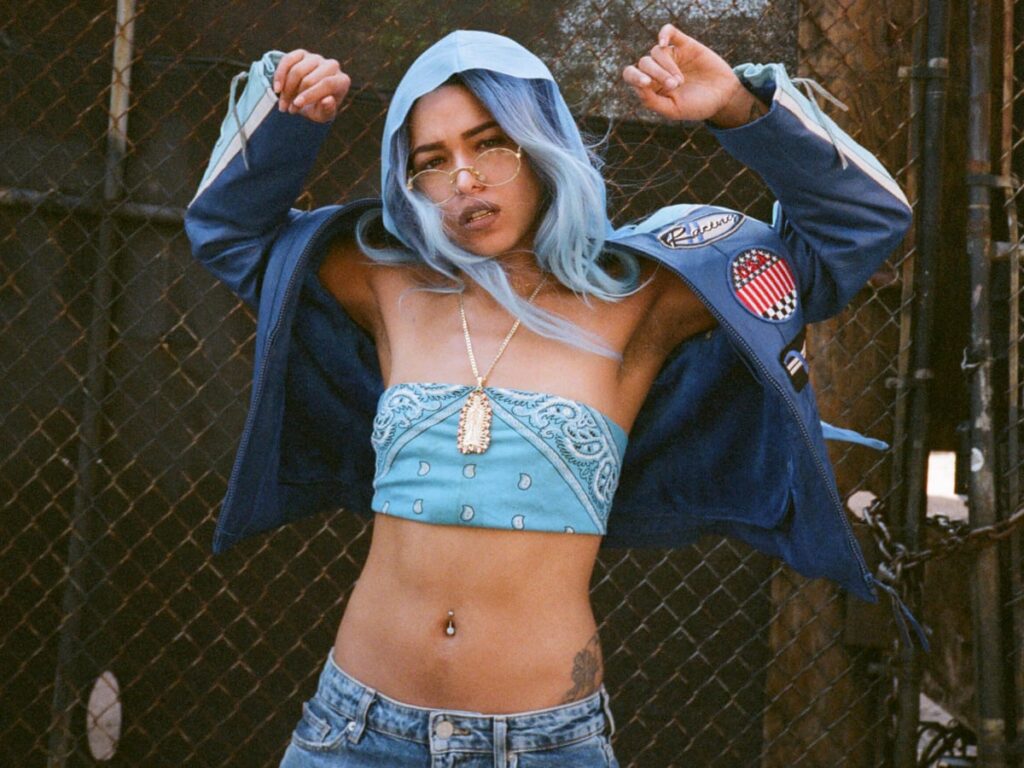 SUNDAY, JUNE 25
SUN/25 (AND SAT/24): 52ND ANNUAL SAN FRANCISCO PRIDE PARADE AND CELEBRATION The party starts in the Civic Center on Saturday, with vendors and entertainment, then the big parade happens Sunday morning at 10:30am, followed by a gonzo celebration that spills into many streets with multiple stages and every queer thing imaginable. "Looking Back, Moving Forward" is the theme, and the headliners are Princess Nokia and Haley Kiyoko, who will bring out all the indie-pop darlings. More info here.
SUN/25: PEOPLE'S MARCH AND RALLY 2023 While Pride was on online hiatus during peak COVID, another march sprang up during the George Floyd uprising attempting to reclaim the protest roots of Pride—even reclaiming Pride's original Gay Liberation Day route through the once-gay Polk neighborhood, and led by an all-Black, Brown, and Indigenous committees of Trans and Queer activists, community leaders, artists, and performers. "We stand in protest of transgender and racial injustice, police violence, killings, unjust healthcare, and un-relentless gun control, and let's not ever forget the reparations to Black People. We demand changes!" The People's March gathers at 10am at Polk and Washington Streets. More info here.
SUN/25: JUANITA MORE! PRIDE DAY 2023 + JUANITA MORE PRIDE NIGHT 2023 She"s going big! Have a ball (but worth it) squeezing into drag goddess Juanita More's patio scene at her legendary daytime affair, with DJs from around the queer universe. Then catch a breath and dive into her new Pride Night party and dance till your sequins fall off. Day Pride: Noon-7pm, Jones, SF. More info here. Night Pride: 6pm-late, Halcyon, SF. More info here.
SUN/25: A BLOCK CALLED RHONDA LA's deliriously fun pansexual A Club Called Rhonda party takes it outside for this bonanza with Sofi Tukker, Hercules and Love Affair, Violet Chachki, and some lovely local must-sees. 1pm-9:30pm, Great Northern, SF. More info here.
SUN/25: ENVY A PRIDE PARTY WITH NICKI JIZZ AND VIVVY Don't be jealous! Two of SF's favorite drag queens — Nicki Jizz and VivvyAnne ForeverMore — host this annual gathering on the patio of El Rio bar, with two full drag shows and several DJs to wet your Pride whistle. 3pm-10pm, El Rio, SF. More info here.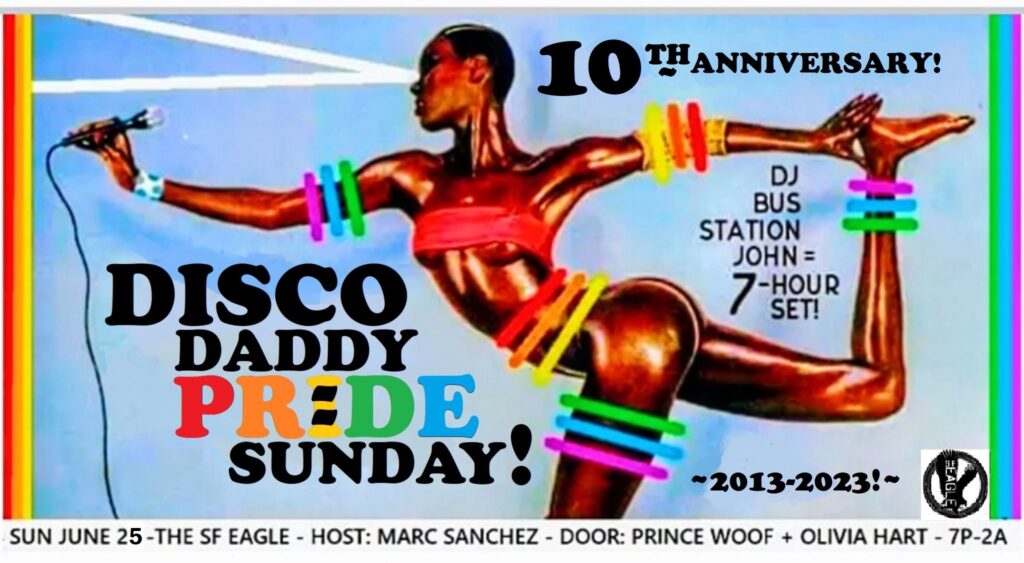 SUN/25: DISCO DADDY PRIDE Seven whole hours of wanton disco and sweaty mens at the Eagle? Whip out the tambourine and jangle your love spurs, DJ Bus Station John is here to save the night—literally, since it's only $10-$15 bucks for all this action. 7pm-2am, Eagle, SF. More info here.
SUN/25: QUEERLY BELOVED This annual lovefest from Courtney Trouble & co takes it to another level this year with a live performance from Peaches(!) and three floors of queer debauchery at a huge new venue. 9pm-3am, 1015 Folsom, SF. More info here.
SUN/25: YOUNG HEARTS PRIDE Public Works club will fill up with LGBTQIA+ love, as NYC Beats in Space radio DJ Tim Sweeny and LA's Heidi Lawden get behind the decks, with an array of colorful dancers and hosts (like cutie Nark) in the wings. 9pm-2am, Public Works, SF. More info here.
SUN/25: QUEERBAIT Only the Squish and Fake + Gay crews could pull off bringing in Chelsea Manning to DJ for the second year in a row—what's more playing with sound architect Doss, Cookiee Kawaii, and Crystallmess. 9pm-3am, Great Northern, SF. More info here.
SUN/25: MIGHTY REAL PRIDE AFTERS Can't get enough of the classic house vibe? Check into the Foundry, as DJs David Harness and Tedd Patterson prove they are legends, and get you up and off the wall. 7:30pm-midnight, Foundry, SF. More info here.
SUN/25: QUICHE PRIDE Who doesn't want to end their Pride marathon with a little slice o' quiche? DJ Fafi Abdel Nour headlines this lovely outdoor house and techno party in SOMArts big backyard, full of Kiki Lorraines. Hand me a fork. 7pm-2am, SOMArts, SF. More info here.
SUN/25: WERD PRIDE An adorable local techno party that's built up a true family feeling, Werd brings in Los Angeles-based DJ _mr_ jenifer to help cap off your celebration with some deep love. 9pm-2am, Monarch, SF. More info here.