For Alleluia Panis, artistic director of KULARTS, art-making and healing go hand in hand. Her work is both contemporary performance and ancient ritual, deeply personal and the embodiment of community, history, and culture. She is a master of balance and collision—and her latest work, Nursing These Wounds (Fri/22-Sun/24), brings voice to a population that is simultaneously unseen and over-represented.
"It is part of my immigration story, " she says. "I knew a lot of people that migrated as nurses. It's one of the more respected professions, everyone pushes their kids to be nurses." But since she didn't know a lot of the background and history of Americanized nurse training developed specifically to recruit Filipina women to the US, she immersed herself to gain a better understanding of these people and why they decided to migrate by becoming nurses.  
One reason people migrate is because of labor and the aspiration to improve their lives and that of their families through financial opportunities. Particularly during the nearly 50-year occupation of the Philippines by the US (1898-1946), nursing education provided a chance for Filipina women to immigrate here, but it also perpetuated discrimination against women who were seeking upward mobility and financial freedom for themselves and their families. 
Westernized medical education and the subsequent migrations laid the groundwork for the continuing global export of Pilipinx labor. That labor continues to shape the United States medical field, and according to Panis has created a fissure between traditional forms of knowledge and the community's conceptions of well-being. 
"I wanted to break open stories about folks that we take for granted," Panis explains. "A lot of times when we work with professionals, we only see them as work, their labor. We don't see their families or cultures.  I wanted to bring that out."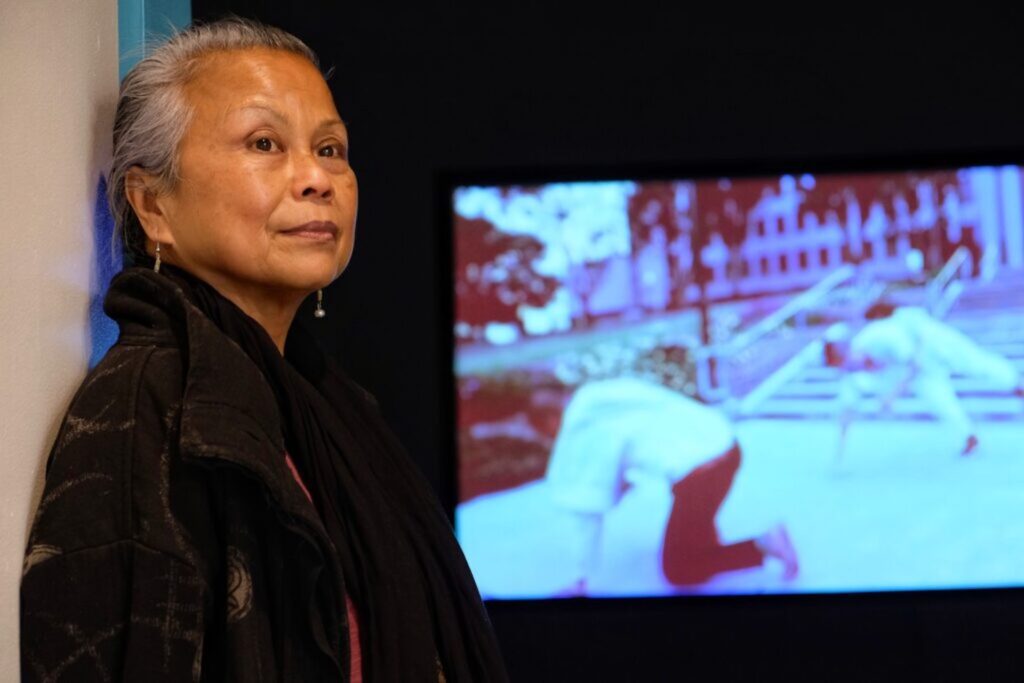 Discrimination against Pilipinx nurses is hardly a thing of the past. According to National Nurses United, the country's largest nursing union, people from the Philippines make up 4% of registered nurses in the United States, but to date they also represent 26.4% of nurses who died from COVID and related complications in the United States.   
Combining film, song, dance, history and ritual, Nursing These Wounds brings visibility to the disproportionate suffering of these caregivers due to COVID—and attempts to reveal the often hidden lives of immigrant nurses, the fragility of their "American dream," and the need for camaraderie and spiritual faith to cope with the ever-present dangers of hospital work.
Panis says she is asked all the time if she is a nurse. "Since nursing is such a big export of the Philippines, it happens all over the world that people assume I'm a nurse," she says. In fact, all of the artists collaborating on Nursing These Wounds are of Pilipinx descent and they all draw from their own connections to nurses in their own families. Panis' sister-in-law is a working nurse in San Diego, and her cousin is recently retired from a hospital in the Boston area, while several of the dancers have nurses in their families, including siblings, mothers, fathers and grandmothers.
Through surveys, interviews and facilitated gatherings, Panis and the creative team have engaged Pilipinx nurses in workshops and story circles where they have shared their own unique stories, including the different generational understandings of the profession, what they do for enjoyment, their immigration experiences, and the perceptions of their communities at home and abroad. A composite of these stories is central to the work's soundscape. "Nursing These Wounds features a narrative based on the larger community gatherings, chosen because they're not unique to one person, but because the stories are relatable to a lot of people," says Panis. 
Panis draws inspiration and guidance for her art practice from Ipat, a pre-islamic ritual ceremony from the Philippines centered on the belief that human existence is governed by elemental spirits. She explains that Ipat healing ceremonies are community rituals conducted for the purposes of balancing cosmic and natural spirits. "The ceremony happens when you need it," she says. "Anybody can, with the help of the shamans, be a part of the ceremony."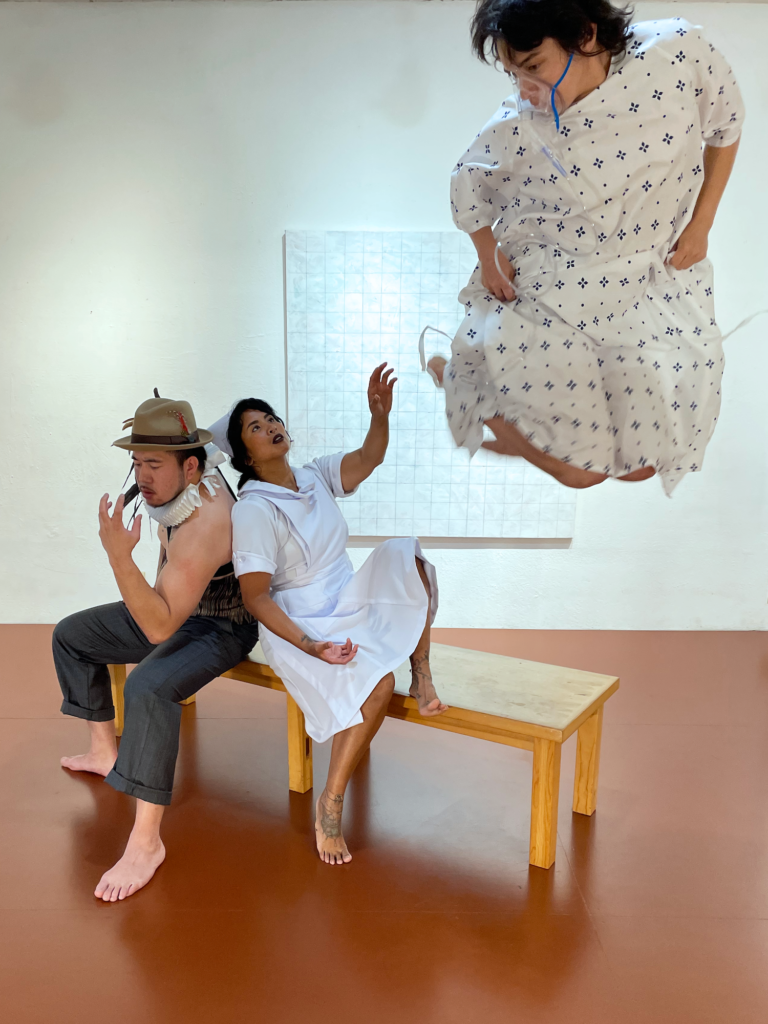 For Panis, the extravagance of Ipat ceremonies has been a revelation. "The flags, colors, tower offerings, sculptures, music, dancers, singing—it's so artistic!" she says. "Even the scent and the colors, all the preparation is part of getting you to transcend the world. The thinking is you're honoring the deities by offering the best of yourself, so you better do it right.  When I first went to the place where the ritual was going to happen, I was overwhelmed by how it felt like an artistic event. I thought, 'Oh my gosh, this is why we have art and artists: we get to touch the sacred.'" 
She says that with Ipat as her guide, she refers to the five elements—earth, air, fire, water and, the fifth, which she describes as "a dark space, teeming with energy"—before creating her work. "When I create my characters, I ask, Is this one a water character or a fire character? These are elements of the world, but nothing is bad or good. For example, when we look at water it demonstrates certain qualities from which we can choose, depending on what we need at the moment. Like fossil fuels, for example, they're bad because how we use them is harming the planet, but they're also good because they make it possible for us to travel long distances quickly. This pull puts the world out of balance."
Panis' work is a masterful interplay with balance, often delicate and sometimes unresolved, and always very rich and for which she has long been revered. Among her many accolades, she was recognized with the first ever SF Artist Legacy award from the San Francisco Arts Commission in 2017.
"Healing for this work is a metaphor for our own healing as a culture, as a people who had been colonized for over 400 years," Panis explains. "By creating this work I hope that I have uplifted the voices of nurses and how they have contributed to society, and that uplifts our own understanding and value of us and our stories, our human experience,"  
Panis' next project, Anting-Anting (the Filipino word for "amulet" or "charm") is no less complex. Scheduled to premiere in January 2024, Anting-Anting is a commission from the Asian Art Museum with which Panis will explore the provenance of and figure out what to do with some of the objects in their permanent collection.  Engaging in a community0-building process similar to that of Nursing These Wounds, Anting-Anting also will likely involve bringing master artists here from the Philippines as well as Panis consulting with a museum in there about their collection.
NURSING THESE WOUNDS runs Fri/22-Sun/24 at ODC, SF. More info here.