A particular type of person reads Nick Hornby's 1995 novel High Fidelity and says out loud to themselves, "That's me. Fuck." 
It's a tale about an annoying music know-it-all (ahem) who runs his own record shop, and when his girlfriend leaves him, hilarity and pitfalls ensue on a grand level while his world goes to shite. 
Fun fact: An ex-girlfriend of mine gave me this book to read six months before she broke up with me. Just saying.
When the film came out in 2000, there were many discussions going on amid all the annoying music windbags in record stores throughout San Francisco. From grunge clowns, EDM Hooter attendants, drum and bass dark heads, hip-hop enthusiasts (G-Funkers vs boom-bap keep it real cats) to bookend millennials and thrift store-clad indie-jangle fog pop scenesters: This piece of Americana cinema was note for note illuminating. It caught 'em all in their feels. 
I also stanned for the one-season Hulu show, that got canceled, of the same name that starred Zoë Kravitz in the leading role. Dammit Hulu, you had just one job. 
Well, BroadwaySF and Noise Pop have teamed up to bring "the ultimate High Fidelity evening" to the Curran Theatre. "Unscripted: an evening with John Cusack screening High Fidelity" on Saturday, November 18 will be followed by an engaging post-show conversation with the star himself, where he will share insights, take audience questions, and just be John Cusack.
So ring the alarm….Record nerds unite. Sell that exceptionally rare copy of Miles Davis' Turnaround for the well-needed additional cash and go forth swiftly, your evening awaits! 
We are advancing this two months in ahead of time because we LOVE records, John Cusack is a cultural icon (to some), and this event will sell out quickly. So grab tickets here.
But just in case you forgot… It's Under The Stars, babe. A quasi-weekly column that presents new music releases, upcoming shows, opinions, and a number of other adjacent items. We keep moving with the changes, thinking outside the margins.
Let's camel walk (subtle James Brown reference…)
TORO Y MOI, SANDHILLS EP
As Chaz Bear, born Chazwick Bradley Bundick, progresses in his career, the Oakland-based artist strikes me as not just an indie performer, but a limitless euphonic ecosystem.
Dude, done did it all: Slippery R&B, chirpy funk, 4/4 house adjacent arrangements, soft-rock machinations, and digitally glossed-up pop with an uppercase P.
But he still keeps pushing further into himself.
I learned very young from my parent's vinyl collection that music is music, regardless of genre or artist. If it moves you, it has a purpose.
Toro y Moi has released a new EP called Sandhills, it's a polaroid-type snapshot look back at his hometown of Columbia, South Carolina. Accompanied by a short film directed by Steve Daniels, this surprise release, akin to a Roald Dahl short tale, features musing with southern inflections and soft rock cushionings, similar to his 2015 release What For?, which I consider a modern classic. The lyrics tell stories of growing up in a small town, playing high school football but thinking "bout my six-string" and such. 
No matter the encasing, excuse me, the beat, tempo, or drawl of these songs, the EP conveys an American story with precision using a short shrift economy of words shot through a vivid, active prism.
Sandhills may be one for the Toro y Moi heads, but Chaz Bear pulls it off like a poncho.
Buy it here when it refreshes or hit your local record store. Tell 'em Chaz sent you.
THE BREATHING ROOM, LOVE LOST 
Toss your phones in the glove box. Give that automated driverless car the finger as you travel on the 101 for simpler times, sharing the friendship of community as you seek out a beach, a body of water to dip your toes in, and something really cold to drink.
The Berkeley collective that goes by the name The Breathing Room (great title for these pressurized times) makes lasting impressions with their blend of "psychedelia, jazz, and classic songwriting to heartfelt soul"—you catch a wave of that soft-rock melodicism, just taking its time getting to the heart. 
Unfortunately, I missed the record release at Rickshaw on Friday, August 25 (my bad), but I look forward to other opportunities because this outfit has the stuff of dreamcatchers and moonbeams, baby.
Pick up the record here.
MELLOW MUSIC GROUP, OMAKASE
If you are curious about where hip-hop will be in five to 10 years, look no further than Mello Music Group and their talented roster of artists who infuse the genre with tracks inspired by jazz, soul, R&B, and funk.
The Japanese phrase "Omakase" is often used in fine sushi restaurants, meaning to trust the chef's hand. This compilation, which borrows the term as its title, features heavyweight spitters, top talent, and great up-and-comers.
According to the press release, the Mello compilation series originated as a platform for label chief Mello to collaborate directly with artists, exploring new sounds, collaborations, and musical movements.
With Chris Keys, YungMorpheus, Apollo Brown, Kamaal Williams, L'Orange, Raheem DeVaughnn, and Magna Carda bringing mellow vibes reminiscent of Bahamadia, hip-hop has another solid 50 years on the books for sure.
Pick it up here.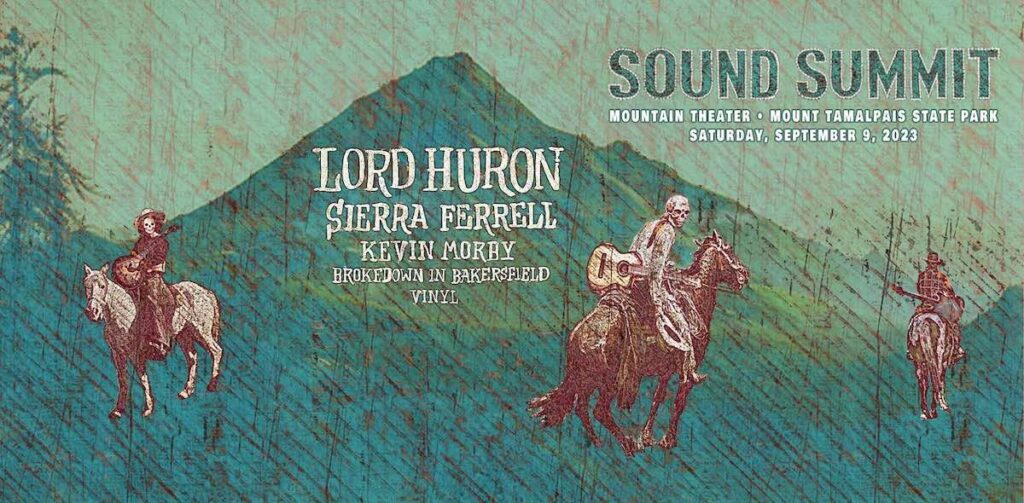 SOUND SUMMIT, SAT/9 AT MOUNTAIN THEATER, MT. TAMALPAIS STATE PARK
As described by festival organizers Roots & Branches Conservancy—a San Francisco Bay Area-based non-profit organization dedicated to the conservation of natural resources both physical and cultural—Sound Summit is a one-day festival that promises quality music high above San Francisco Bay, and is a scenic way to greet the oncoming autumn.
The festival features performances from folk-rock storytellers Lord Huron, Americana vocalist Sierra Ferrell, modern-day troubadour Kevin Morby, a special reunion of Bay Area music collective Brokedown in Bakersfield (Nicki Bluhm, Tim Bluhm, Dan Lebowitz, Steve Adams, Scott Law, Dave Brogan), and Marin County's own beloved groove-commanders Vinyl. It's a day made for enjoying views and other things that blow in the air.
KNBR radio personalities Murph & Mac (aka Brian Murphy and Paul McCaffrey) serve as the day's Masters of Ceremonies along with KPFA's "Dead to the World" radio host Tim Lynch. Andy Cabic of Vetiver keeps the aesthetic tuned to "keep it moving" by spinning records between sets. While tickets are not super cheap at $120 for adults and $60 for youth 12 and under, it's worth the price.
Gates open at 10am, music from 11am-7pm, grab those tickets here.