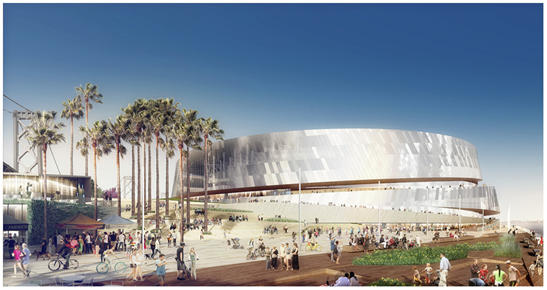 Whoops – not happening

By Tim Redmond

APRIL 22, 2014 — The proponents of Prop. B, which would mandate a vote of the people for any height increases on the waterfront, are (properly) celebrating the Warriors' decision to abandon the notion of a waterfront arena for a site on dry land. Between the defeat of 8 Washington and the huge lead Prop. B has in the polls, the team's owners apparently got the message: San Franciscans don't want big, tall, hulking, development projects on the waterfront.
That, by the way, has been the case for decades. One of the pivotal moments in the birth of the urban environmental movement in San Francisco was the fight against a US Steel highrise on the waterfront. Generations have looked at the Fontana Towers and said: Miami Beach, yes. San Francisco, no.
But while the mayor laments the loss of his spaceship on the Bay, the reality is that the Warriors were looking at untold hundreds of millions of dollars in costs for building on a site that is (a) on a crumbling pier that will have to be replaced; (b) on the edge of the Bay, where there are all sort of regulators involved; (c) in a place that could be underwater in a decade; and (d) already hugely congested.
Dry land looks kinda nice by comparison.
(Not that Mission Bay is really dry land. It's fill. Old, bad, fill. But the construction costs on the new site are at least somewhat predictable.)
And now that the major opponents of the project have said they are fine with the new site, the team won't have to spend even more millions hiring every political consultant in town to fight every progressive in town over a bad project.
I have to say, though, that we still haven't seen what the Warriors are actually proposing to build. An arena that is totally and completely privately financed is appealing (and ten years from now, it will still be Ed Lee's legacy, and nobody will remember the waterfront fiasco). But an arena mixed with luxury condos and who-knows-what-else?
Let's hold the champagne until we see the blueprints.
By the way: You have to feel a bit sorry for Assemblymember Phil Ting, who pissed off Save the Bay and the Sierra Club by carrying the mayor's legislation to make the waterfront arena possible – and now the team has bailed. Leaving Ting with some angry enviros and nothing to show for it.
My opinions about housing in San Francisco are no secret. I've argued for many years that people who live here, and have lived here, and are part of the community, have a right to stay and not be displaced by richer newcomers. Chron columnist Debra Saunders disagrees.
And the mayor? I think maybe he might be on my side, but his answer to her question about the issue is pretty confusing. (To be fair: many people have trouble dealing with this in a soundbite. Direct, taped quotes are often not pretty. But seriously …)
"I don't know about a legal right, but they certainly I think, I think what we want is to try to put some stability in the market for everybody and to allow those that have been here for a long time to continue being here. I've got to try to match, and this is kind of a difficult challenge for me and for anybody who's sitting on a successful city, is how do you try to keep those that have earned there way here – and, you know, yes they are lucky to be in rent-controlled units. Do we have that debate again? Or do we try to say these are good affordable housing stock? I think people who have lived here a long time do deserve our support to try to stay in being here. I think it's newcomers, we can work with them, but it's got be about helping us build some housing as well, and maybe even better housing…"
Right. Got it.
Sup. David Chiu's legislation to regulate airbnb is running into so significant neighborhood opposition. Some of it is just bad drafting language; I can't believe Chiu really wanted to allow SROs to be rented out as tourist units. That can be fixed.
It's even possible that he could be convinced to make the company pay back taxes, although I'm not counting on it.
But the entire notion of legalizing the use of apartments and houses as hotels in residential areas is coming under fire. Doug Engmann, former president of the City Planning Commission and a longtime neighborhood advocate, is now circulating a letter urging people to oppose the Chiu bill. Among his arguments:
 The Chiu legislation allows most of the 300,000 plus apartments and houses in the City to potentially become hotel units or rooms. He does this simply by redefining a "residential use" in the Planning and Administrative Codes to include renting out the unit as a hotel room, in essence rezoning every one of our neighborhoods to allow hotel uses in a residential unit as a matter of right.

I don't need to explain to you what the potential impact of this legislation, nor the unchecked growth of these illegal tourist rentals, which erode the integrity and safety of our residential neighborhoods. But there are other important negative impacts to our City as well, such as the undermining of rent control and pushing up apartment rental and condo prices at a time when affordable housing is of concern to all San Francisco residents.
I get what Chiu is trying to do. I get that it's cool that a couple of guys figured out they could make a few extra bucks renting out space in their apartment to people who couldn't get a hotel room for a tech convention. On a limited basis, every now and then, nobody would care.
But no: these guys had to turn it into a big business, with Ron Conway and others putting in large sums of venture capital, and suddenly every real-estate hustler and greedy landlord is looking for a way to turn it into big profits. Despite the fact that the entire business model was based on violating the laws of San Francisco and other cities.
Now the business plan, and all the VC money, could collapse unless cities change their laws. But no matter how you do that, you wind up with a change of use and with apartments being turned into hotels.
I'm not sure there's a way out of this that both allows airbnb's investors to get their profits when the company goes public (which depends on constant growth, more and more apartments turning into hotel room) and doesn't infuriate every neighborhood group in the city. A lot of people (even Chuck Nevius) are fine with a little airbnb; most San Franciscans don't want it to grow into a monster.
But that's tech in a hyper-capitalist world: It has to be a monster, or Conway won't make any money off his investment.
That's the problem with "disruptive" businesses that think the rules don't apply to them. It will be a fascinating debate.