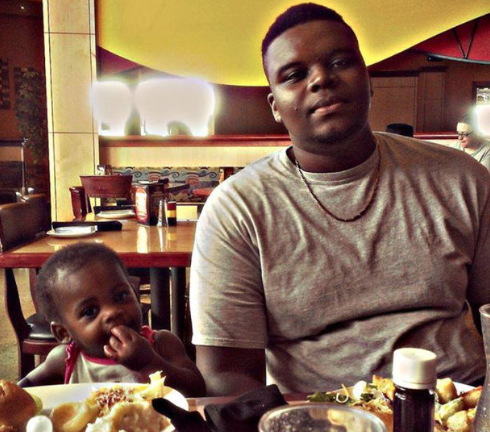 By Julia Carrie Wong
There is a deep and disturbing dissonance between the Ferguson Police Department's demands that protestors "Just go home," and the reality of Black life in America.
Ferguson is the suburb of St Louis, Missouri where Michael Brown, an 18-year-old Black man, was shot and killed by a police officer on Saturday afternoon. He was on his way home to his grandmother's house.
Trayvon Martin was on his way home too, after getting a snack. Renisha McBride was trying to find her way home after getting in a car crash. Oscar Grant was on his way home from a New Year's Eve party, taking public transportation. Amadou Diallou was unlocking the door of his own apartment building.
None of them made it home.
The cruel irony of a militarized police force demanding Black youths to return home while blocking their way and menacing them with tear gas, "less-lethal" weaponry, and tanks has been repeated over and over in American history. From the kidnapping of African peoples, to chattel slavery, to the failure of Reconstruction, to sharecropping, to redlining, to urban renewal, to the War on Drugs, to sub-prime mortgages: Our country's history is one of uprooting Black people, of forcibly denying them a home, and then of punishing them for being without one.
Over and over again, Black people in America have uprooted themselves, have moved north or east or south or west, between neighborhoods or cities or states or countries, seeking a better situation where they can live lives of dignity, free from racist terror. Over and over again, they've been met with rioting white people, some wearing hoods, some wearing police uniforms, some wearing no special uniform at all.
Help us save local journalism!
Every tax-deductible donation helps us grow to cover the issues that mean the most to our community. Become a 48 Hills Hero and support the only daily progressive news source in the Bay Area.
Donald Harry, a resident of Ferguson, was speaking to the Washington Post's Wesley Lowery outside his house on Monday evening when police threw a tear gas canister into his yard. "I've got my family in here," he told Lowery.
Later, the reporter came across a 23-year old Black man crying: "He said he was walking home when officers approached him and sprayed tear gas in his face and peppered him with rubber bullets."
A reporter from the St Louis Riverfront Times witnessed Rich West, a 24-year old Ferguson resident, standing in his own yard with his hands up in the air: "'This my property! This my property!' he shouted, prompting police to fire a tear gas canister directly at his face. He moved at the last second."
I had originally planned to write this column about a new app, SketchFactor, that has gained considerable press attention for its ill-advised launch as a crowd-sourced mapping tool for users to report and share incidents of "sketchiness" in cities. The app is supposed to provide walking directions for users to find a safe route home.
Co-founder Allison McGuire tried to pre-empt criticism that her app was designed to validate and reinforce white fear of people of color in an interview with Crain's New York:
"We understand that people will see this issue," Ms. McGuire said. "And even though Dan and I are admittedly both young, white people, the app is not built for us as young, white people. As far as we're concerned, racial profiling is 'sketchy' and we are trying to empower users to report incidents of racism against them and define their own experience of the streets."
She failed. SketchFactor's website was later updated with a complaint (since removed) that reporters had failed to contact the company for interviews prior to criticizing it. I requested an interview and was told by McGuire "Thanks for your interest in SketchFactor, but unfortunately we're not accepting any new press at this time."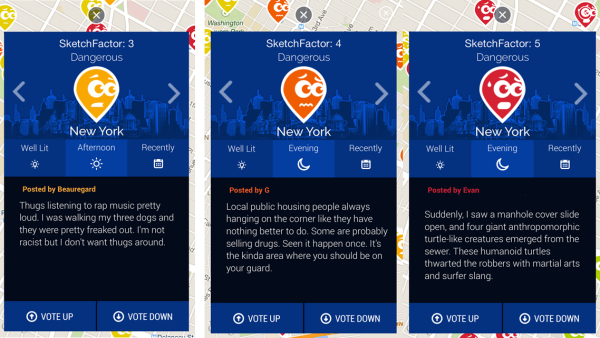 SketchFactor is not a new idea and it's not a good app. Like many crowd-sourced databases, it falls victim to the rule, "Garbage in, garbage out." Most of the reports I've read on the app are either racist or trolling garbage.
There's much to be said about the way this kind of map-based application can become a tool, not for white people to avoid certain neighborhoods, but for white people to more easily gentrify those neighborhoods – a process that inevitably leads to the displacement of people of color from the communities they've established. The mapping of white discomfort and fear can become a tool for real estate interests to collude with law enforcement to "clean up" communities of color.
We've seen this happen in San Francisco, where the people of color who hang out at 16th and Mission are being driven out by increased police presence, drummed up by the "Clean up the Plaza" campaign undertaken by people with ties to the real estate developers interested in remaking the neighborhood with luxury apartments. 16th and Mission is the quintessential "sketchy" area. For SRO residents, it's an open air living room. For the white gentrifiers, it's "dangerous."
This is the same dynamic that led to the death of Alejandro Nieto, a 28-year old Latino man who was shot and killed by San Francisco police while eating his dinner in Bernal Heights Park on March 21, 2014. Numerous calls to 911 were made that evening by people who apparently found the presence of a brown-skinned man eating a burrito in the neighborhood he grew up in threatening. After arriving on the scene, police shot at Nieto more than a dozen times. One of those bullets killed him.
SketchFactor is not an app for Black people. If it were, it would help Blacks and other people of color avoid, not each other, but the armed forces in every city in America that shoot and kill with impunity. Instead, it's another source of data for an increasingly militarized police force bent on terrorizing Black people and other people of color, and for the corporate interests that profit from their displacement.
But SketchFactor is just one minor example in an entire system of white supremacy. It will probably go away soon, and we'll still be left with a country where young men like Michael Brown can be gunned down trying to find their way home.
This afternoon, people will gather in parks and plazas across the country at 4:00pm Pacific to hold a National Moment of Silence in honor of the victims of police brutality. In San Francisco the event will be at Civic Center; in Oakland at Frank Ogawa Plaza.
(h/t @ShrillCosby for the link to the Schomburg Center for Research in Black Culture's African American Migration Experience)