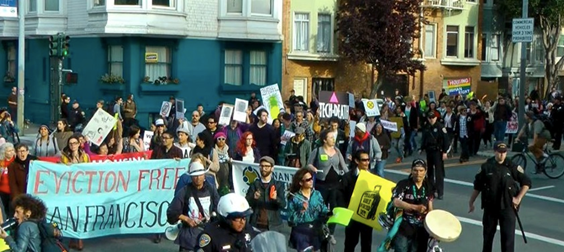 By Gen Fujioka
Part one of a two-part series
JANUARY 5, 2014 — As San Francisco's tenants and their progressive allies take stock and develop their agenda for this new year, it's worth considering a significant achievement in 2014:  a multifaceted effort pushed back a wave of Ellis Act evictions.
Given where we started at the close of 2013, this is a very big deal.
This chart shows the annualized rate of Ellis evictions initiated each month from 2010 through December 2013: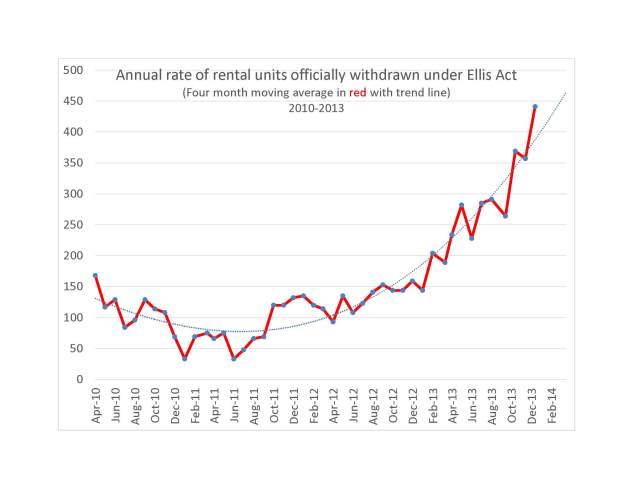 Between 2010 and 2011 the city averaged on about 100 housing units a year withdrawn under the Ellis Act.  Then, in 2012, Ellis related evictions began to surge across the city.
Fred Sherburn-Zimmer, organizer with the Housing Rights Committee, recalled, "by mid 2013 we were being deluged with calls from tenants who had received a notice or a threat of an Ellis. People were terrified and there was a sense of helplessness."
Tenant organizations held a series of protests and rallies throughout the summer of 2013. In September, 2013, hundreds of supporters from across the city blocked the sheriff from evicting the Lee family.
Despite the protests, the number of Ellis evictions continued to grow. In December, 2013, landlords filed to withdraw 60 units of housing in a single month. The rate approached 450 units a year during the final quarter of 2013.
Then something remarkable occurred: Beginning in January, 2014, the number of new Ellis evictions initiated by landlords began to subside.   At first the trend was erratic but it became consistent by the middle of the year.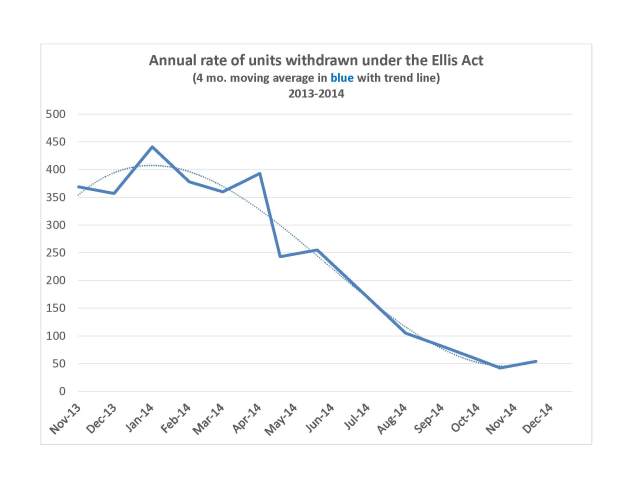 What happened?
Housing market conditions didn't change. Rising rents and a strong TIC market continued to favor the Ellis-eviction industry. But political and legal efforts to resist and constrain Ellis evictions disrupted speculator and landlord plans to invoke the Ellis Act.
Given the chronology of events and the eviction trend data, no one single factor was probably responsible for restraining speculators and landlords. Some of the most significant initiatives discouraging new Ellis cases included:
With growing community support, more tenants chose to stay and fight their evictions. Accounts of a dozen of those successful tenant struggles were recently published by the Anti-Eviction Mapping Project. With expanded city funding, the Tenderloin Housing Clinic eviction defense team played an essential role in a number of those victories.
Senator Mark Leno and Assemblyman Tom Ammiano both introduced legislation in Sacramento to curtail Ellis evictions.  The Leno legislation, endorsed by Mayor Ed Lee, would have stopped speculator-driven Ellis evictions already on file. After winning approval in the Senate it was defeated in the Assembly in June –but in the meantime it increased speculator concerns.
Working with tenant advocates, Supervisors David Campos, John Avalos, and Eric Mar each introduced legislation designed to curtail Ellis evictions and displacement. The Campos relocation assistance ordinance was passed in April, and would shift more of the costs of displacement to landlords. A federal court judge struck the ordinance down in October and that decision is on appeal.
Proposition G proposed to impose a tax on real estate speculation.  While it was narrowly defeated in November by an onslaught of a $2 million realtor campaign, the threat of its passage cast a cloud over those seeking to make quick profits from new Ellis evictions.  Its strong showing leaves a pathway for another anti-speculation ballot measure in the future.
Through these multiple initiatives, tenants and their allies have created barriers and hazards for Ellis evictors. In combination it's apparent that Ellis evictions became a more risky investment strategy, resulting in the sustained decline in new Ellis filings and in some investors abandoning previously filed cases.  At least for 2014, tenant organizing and policy reform efforts resulted in keeping hundreds of families and seniors in their homes.
Equally important, although harder to quantify, organizers have noted a change in tenant attitudes last year.  "Organizing buildings has really changed," said Sherburn-Zimmer. "Only a year ago, when tenants got Ellis eviction notices there was a general feeling that nothing could be done. Now I find most tenants ready to fight. They want to know what they can do. They are more interested in organizing together and challenging the owners."
Erin McElroy, a founder of Eviction Free SF, agreed. "In 2014 we built a coalition to shift the public discourse and the popular understanding about speculation," she said. We did not fully stop gentrification but we challenged it, disrupting the ability for speculators to flip buildings. We need to keep up the fight and even step things up."
Tomorrow, part two: challenging an expanding range of eviction threats in 2015.