Suddenly, a neighborhood parking area becomes a tech bus stop — with no notice or input. Where will this happen next?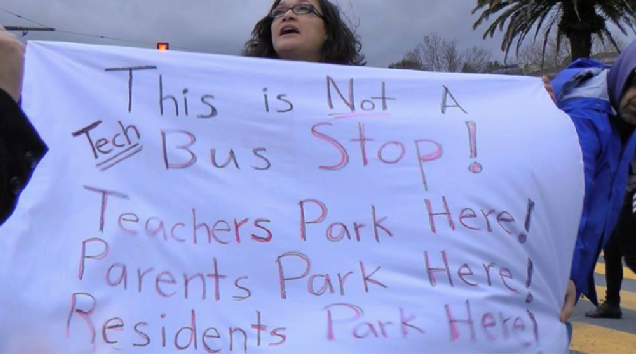 By Erin McElroy and Tim Redmond
FEBRUARY 12, 2015 — Everyone in San Francisco politics likes to talk about supporting teachers. The mayor's even going to do a housing ballot measure aimed in part at keeping teachers in San Francisco.
But when the needs of teachers clash with the needs of the tech industry, guess who wins?
Last Friday, at 8am, teachers at San Francisco's bilingual public Fairmount Elementary School joined with anti-eviction activists to block three private tech buses on San Jose Avenue at Dolores Street. Buses from Google and Facebook were blocked as activists protested the takeover of what had been four parking spots for teachers at the school and neighboring residents by a newly implemented tech bus stop.
It's remarkable what happened, and could be a precedent for other areas of the city: The MTA took an open, un-metered curb section and painted it white, creating a no-parking zone. Then the agency allocated that white zone exclusively to tech shuttles for four hours in the morning.
The shuttles are only allowed to stop in Muni stops – and in white zones. And while it's hard to create a new Muni stop, it's pretty easy to make a new white zone: Just send a crew out to paint the curb, and suddenly community parking is the private purview of tech buses. Here's a list of all the existing Google bus stops; note that a bunch of them are now white zones.
Teachers and residents had not been consulted before their parking stops were privatized this past month. After a packed public meeting at the Upper Noe Valley Rec Center on Wednesday night where the focus was more on opposing the expansion of residential parking than the co-option of existing parking, teachers decided to take action themselves.
We're only talking about four parking spaces here, and it's rare for the left in this town to show up to support more parking. But in this case, there was a larger point: The parking wasn't taken away to make room for more bike lanes or public parklets. It was to allow private luxury shuttles to stop right next to a bilingual public school.
There are other parking metered spots in the city, such as on 16th between Capp and South Van Ness, and a new one behind the nearby Safeway, that now have restricted public parking so that only private tech buses can use them at rush hour. As far as we understand, this was snuck into the SFMTA pilot program that began in August 2014 that now requires registered tech companies to pay $3.55 for every public bus stop that they use. Since the program began, we are witnessing an increasing number of spaces other than bus stops become tech-bus loading zones.
A video of the action by Peter Menchini can be seen here.
Claudia Tirado, the third-grade teacher who led the demonstration, is not only being ousted from her parking spot through collusions of high tech and "secret handshakes" with the SFMTA, but she is also being evicted from her home by Google's head of e-Discovery, Jack Halprin.
As Tirado implored, "Please come and stand up for parking and less congestion in the area….. We need our school to be safe for us and for our children. We need parking for the people that serve these children."
A recently created map by the Anti-Eviction Mapping Project shows the loss of youth in San Francisco over the last 30 years: http://www.antievictionmappingproject.net/youth.html. Indeed, as Tirado alluded to, we are increasingly seeing tech corporations and their employees privileged over youth, poor and working class families, teachers, and existent city infrastructure.
In this city, gentrification does not only mean being displaced from one's home, but also from public spaces and city infrastructure. From playgrounds to BART plazas to public bus stops, we are seeing public spaces increasing privatized. In a city in which people are being kicked out of their homes and crowded into small rooms just to pay rent, public spaces are increasingly valuable. In this case, we are seeing tech bus zones privileged over what had been public parking used by teachers. And once again, those impacted most were not consulted in the conception of the rezoning plan.
The Chron mentioned the event briefly, in a story that suggests that the "anti-tech" movement is dying. Actually, there was never much of an "anti-tech" movement in the city; the movement has from the beginning been critical of intersections of venture capital, tech corporations, displacement, real estate speculation, development, and money in politics. The Anti-Eviction Mapping Project and 48hills both use technology to chronicle abuses of power.
There have been demonstrations against tech companies that don't pay their taxes, and against business leaders with an agenda that promotes the private interest over the public interest. But mostly, the anti-gentrification movement in this city has been fighting against displacement – against the idea that richer people can come into San Francisco and drive out longtime residents who don't have as much money.
That's why the teachers were out protesting last week: They don't get private shuttles to take them to work, and they don't see why the giant companies that pay for those private coaches should get priority, for a pittance, over people who live in the neighborhood and teach at a local school.
And that kind of political action isn't obsolete, or pointless; it's our only hope.