Only the choicest nightlife and dance floor affairs, April 16-19.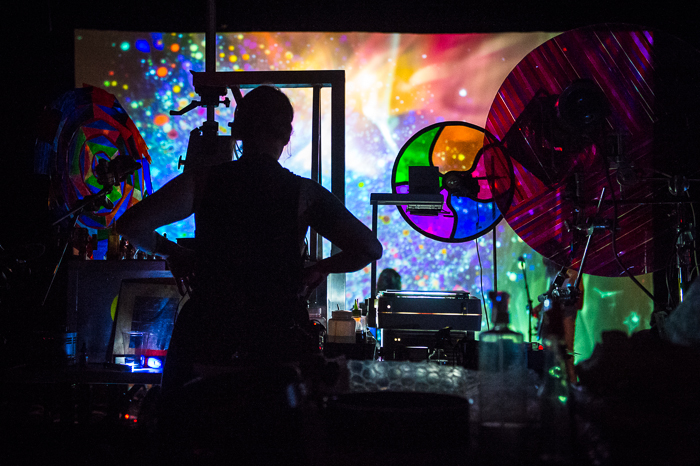 By Marke B. 
When the Exploratorium sends one a heads-up about a big event it's throwing featuring the original lighting wizards of the Fillmore, one definitely sits up, takes notice, and prepares to be dazzled:
The Joshua Light Show was established in 1967  – when they were the house light show at the Fillmore East – and reimagined in the early aughts to incorporate analog and digital elements, as well as an intergenerational group of artists.
The Light Show will create an immersive environment of light in our theater to accompany a collaborative set from Linda Perhacs and Julia Holter, Sat/18 and Sun/19
Light shows have a huge and wonderful history in Bay Area clubs, from Michael Maletta's disco-era Creative Power Foundation and underground DIY wizard Donovan on through to our current special effects leader, Future Weapons, which just got tapped to do the Youtube Music Awards.
I can't wait to see what psychedelic sorcery Joshua Light Show has in store. (And it doesn't hurt that the singer-songwriters on tap are great. Sat/18 and Sun/19, 8pm, $15-$20. Exploratorium, SF. Tickets and more info here for Saturday and for Sunday. 
>>THURSDAY<<
>>I LOVE COCHINA TONGA'S: FRESH REUNION Once upon a time there was a little drag girl who loved her Auntie Cochina Tonga so much that she threw a giant Mexican drag-themed party to honor her every month. Then Ambrosia moved to LA. Look out she's baaaaaack. With DJs Stanley Frank and Taco Tuesday.  Thu/16, 9pm, $5. Lookout, SF. More info here. 
>>LOCO DICE The muscular German power-panther of techno drops his hypnotic boom on the   Monarch club. Not to be missed for people who like it smart, loud, and underground. With Rooz, Bo, Bardia, and more. Thu/16, 9:30pm, $25-$30. Monarch, SF. Tickets and more info. 
>>FRIDAY<<
>>DETROIT LOVE What do you get when you combine three classic second-wave Detroit techno DJs (Carl Craig, Stacy Pullen, Kenny Larkin) into one powerhouse evening, on the best sound system in the city? Me and you in a puddle of Motor City love on the dance floor.  Fri/17, 9pm-4am, $20-$30. Mighty, SF. Tickets and more info here. 
 >> MOTOWN ON MONDAYS SIXTH ANNIVERSARY I love the MOM DJs so much. Timoteo Gigante and his crew have brought some fantastic soul boogie to Madrone on Divisadero for the past six years's worth of Mondays, now their having huge bash at the Independent to celebrate. All-star lineup: Gordo Cabeza, Timoteo Gigante, The Captain Hat, Bluz, Alarm, Malachi Padrone, Platurn, C Minus, Shea Butter, Quantum, Epik, Billy Lane and special guest The Gaff. Craziness! Fri/17, doors 8:30pm (show at 9pm), $15-$20. Tickets and more info here.  
>>DR. ZEBROVSKI'S PUBLIC PROPHESY  "A brand new surrealist cabaret exploring commercialism and the occult — filled with drag, music, magic and dance!" I adore hilarious performance artist Dr. Zebrovsky, who always brings a zebra-striped beauty to everything he touches. This night is full of awesome performances that channel the kooky seance days of yore … Fri/17, Doors 6:30pm, show 7pm, $14.99. Oasis, SF. More info here.
>>TIGER & WOODS These two once-mysterious UK blokes were kinds of the disco re-edit scene in the late 2000s, so glad to have them back lighting up Public Works for the As You Like It party. With co-headliners Morgan Geist and Hunee. Fri/17,  9pm-4:30, $20 advance. Public Works, SF. Tickets and more info here. 
>>SATURDAY<<
>>SATURDAY NIGHT SOUL PARTY A weekly Mission staple. Wear a skinny tie, a shark-skin suit, or something slinky and silky and bop til you drop to the sweet sounds of  60s soul 45s, with DJs Lucky, Paul paul, and Phengren Oswald. Sat/18, 10pm, $10 ($5 in semi-formal attire). Elbo Room, SF. More info here.
>>JD SAMSON outspoken queer hero, member of bands Le Tigre and MEN, and phenomenal NYC party presence bring a fantastically danceable, slightly oddball collection of tunes to the Make It Funky party. Expect a fun, colorful crowd. Sat/19, 10pm-3am, $10-$15. F8, SF. Tickets and more info here. 
>>DEADBEAT Looking for something deep, delicious, and groovy? Longtime proponent of dub techno Deadbeat, from Montreal,  has what you need. Time to get a bit out of your head while up on your feet. At the Direct to Earth party.  Sat/18, 10pm, $15-$20. Tickets and more info here. 
>>GOAT FESTIVAL It's a thing! Sat/18, 10am-1pm, free. More info here. 
>>SUNDAY<<
>>DISCO DADDY Our very own underground disco vinyl hero, DJ Bus Station John, gets the Eagle hot and sweaty with authentic bathhouse vibes and hot gents. Sun/19, 7pm-2am,  $5. SF Eagle. More info here. 
>>GAY OF THRONES Not to be confused with the hilarious Vimeo series but still just as absurd. The monthly Daytime Realness patio dance party/drag hullabaloo at El Rio invites you to get Medieval (or whenever the hell all that drama takes place) and dance. Heklina, DJ Carnitas and Stanley Frank put the "drag" in dragon. Sun/19, 2pm-8pm, $6-$8. El Rio, SF. More info here.