A vocal (and huge) trans march, a huge marriage rally … and it stayed warm pretty late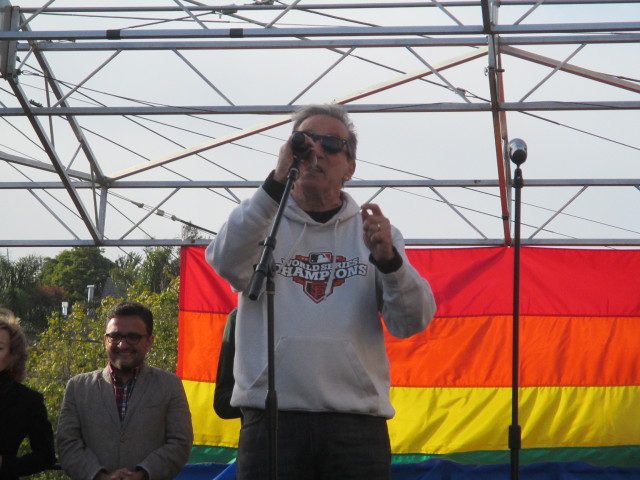 By Tim Redmond
JUNE 26, 2015 – The weather stayed warm long enough, and the Trans March was big and loud and visible, and the party on Castro was a giant celebration … and the first day of Pride Weekend was about as upbeat as it could be.
Some moments:
Tom Ammiano, the former teacher School Board member, supervisor, and state Assembly member, drew huge cheers at the marriage celebration on Castro and Market. He had a few things to say ….
"Clarence Thomas has a rim chair. All of his commentary is tongue in check."
"What do Ted Cruz and the confederate flag have in common? Neither one is hung!"
He also made the serious point: "I'm very proud that LGBT people in media interviews have referred to Charleston, because those are dots that are connected."
And as for the archbishop of San Francisco? "He thinks gay rights is like a chess game, and I say to him: Queen to Bishop. Check."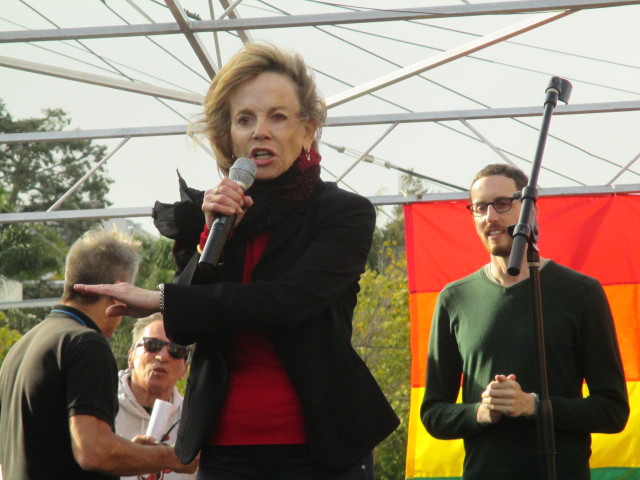 Former State Sen. Carole Migden reminded the crowd that it was generation of activism and visibility that made today's decision happen.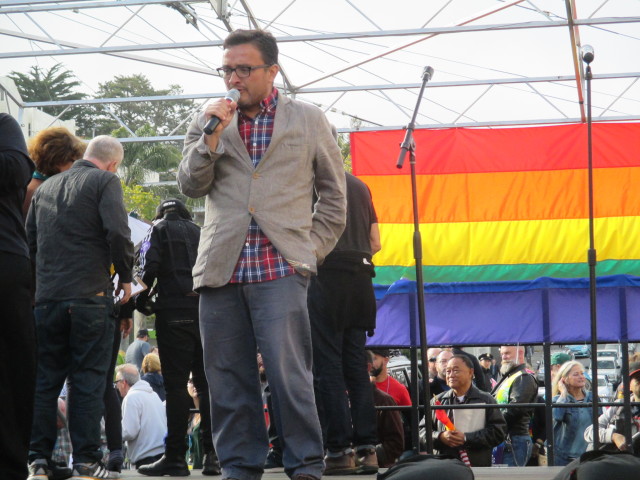 Sup. David Campos said he never thought, as a young man, that he would see the day when queer people had the same legal rights as everyone else. "We all know some people who didn't live to see this day," he said. "Harvey Milk gave his life for us." He asked for a moment of silence, the only somber note in the festivities.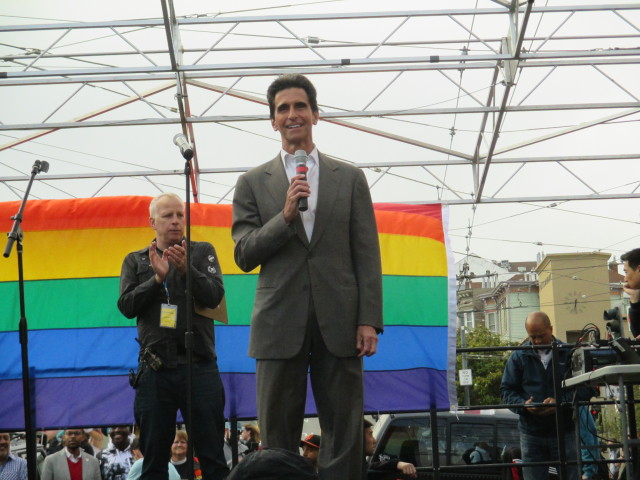 State Sen. Mark Leno recalled how he twice got a marriage-equality bill through the state Legislature — and twice former Gov. Arnold Schwarzenegger vetoed it (although "we later learned that he didn't seem to understand his own marriage vows"). He reminded the crowd that "in more than  30 states, you can still be fired for putting a picture of your spouse on your desk."
A few blocks away, the Trans March was concluding with speakers and music and a packed Dolores Park. I caught City College Board President Rafael Mandelman and State Assemblymember David Chiu on stage together: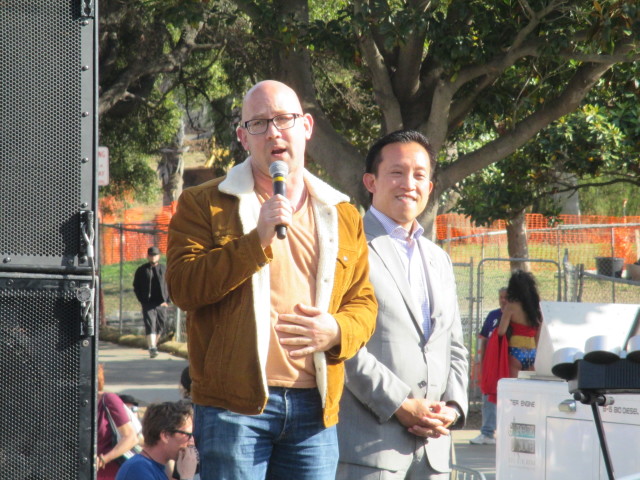 Chiu was, as usual, pretty mild, but Mandelman talked of the need to recognize that, for all the excitement about the Supreme Court decision, there are a lot of huge issues that still need to be addressed.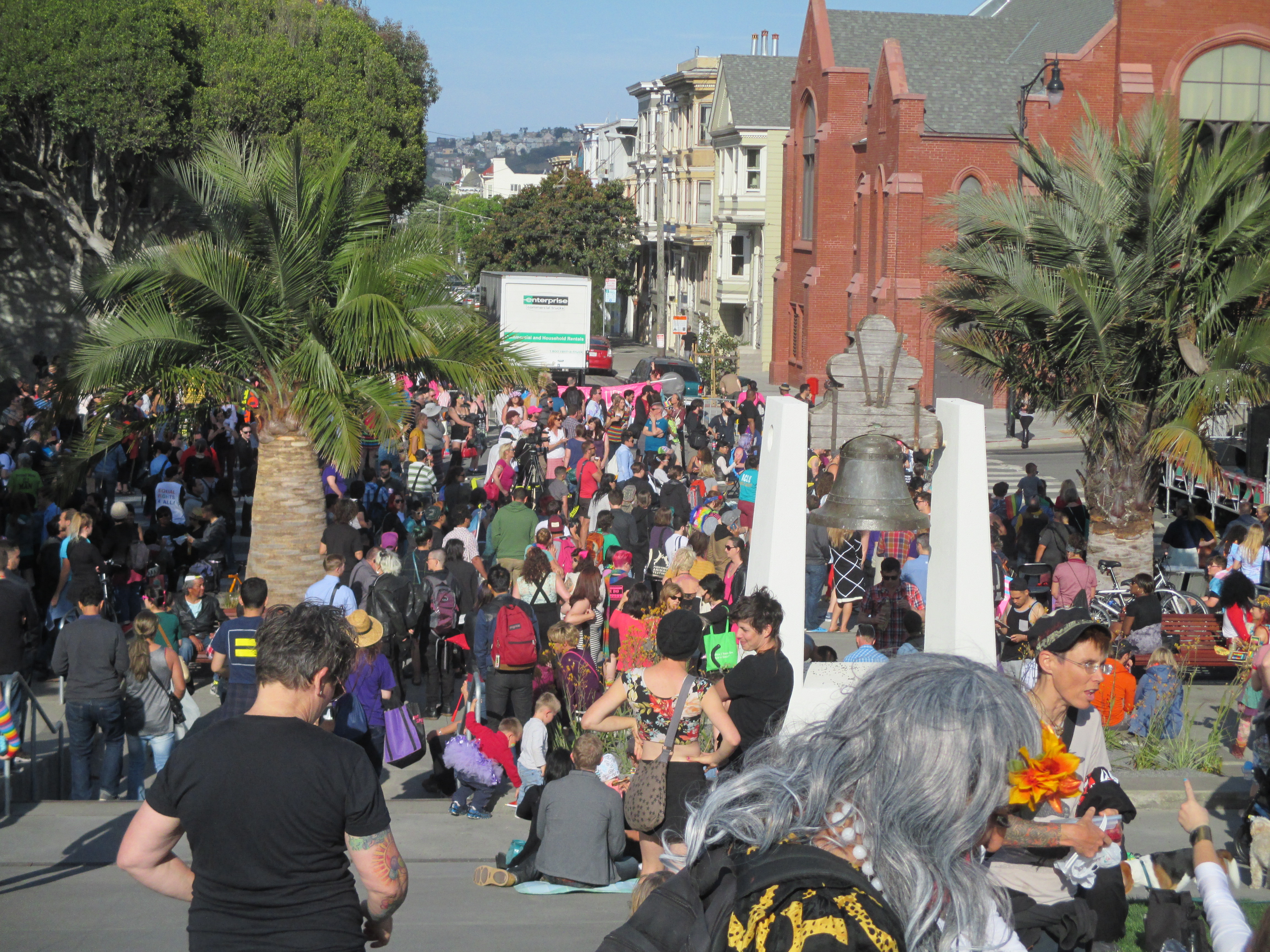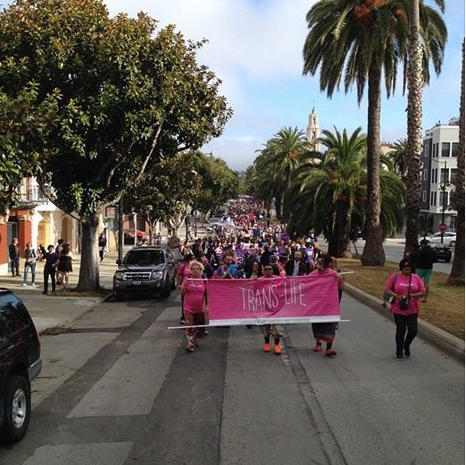 So a great day of Pride, but also a day to remember: Many others over the generations worked for years to make this happen. And we are still a long ways away from a society where LBGT people — particularly Trans people — have anything resembling equal rights, equal protection under the law in all states, and economic equality.
So much to celebrate, so much more to do.