Planning Commission sets terrible precedent, allows tech office space to displace artists in the Mission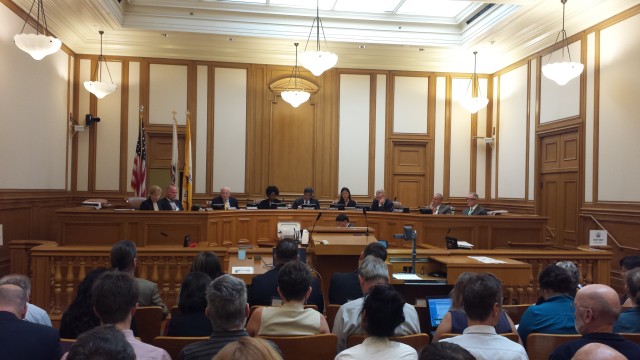 By Tim Redmond
SEPTEMBER 3, 2015 – There was a lot of discussion and obfuscation around a plan to retrofit and restructure the space of a large building at 17th and Mission, but the bottom line was clear:
The owners of the building, where Thrift Town occupies the lower floor and artist studios dominate the upper stories, want to replace art space with tech offices.
It would be the first time that the city allowed tech offices to move into space in the Mission where that type of office use has always been illegal. And it would dbusiness space and an influx of high-rent office space that would radically transform the business mix in that part of town.
The same issues are coming up in Chinatown, and if the city decides that tech offices, which typically pay much higher rent than many other traditional uses, can move into neighborhood commercial districts, no part of the city will be safe.
As one person put it, "what happens if you fill the building with people who make more than $100,000 a year? You will be dropping a gentrification bomb. People in the neighborhood are scared as hell."
John Elberling, a land-use expert and director of TODCO, noted that if the project is approved, "you are issuing a hunting license to buy a building, let the Production, Distribution, and Repair and artist leases expire, and then they come to you and ask for office space.  If you let it happen, it will metastasize and spread."
The lawyer representing the building owner, Steven Vettel, argued that the owner can't possibly pay to do the necessary seismic upgrades and repairs without the increased rent that tech offices can pay. Vettel said some space will still be leased to artists, and that Thrift Town will remain, but that low-rent tenants have to be replaced with companies that can underwrite the cost of the work.
Among other things, the building's foundation is a mess and needs extensive work.
Commissioner Dennis Richards asked Rick Holman the central question: Didn't you know when you bought the place that it had all these problems, that it needed seismic work?
Holman said that he didn't know all the problems. He said that if he had known how problematic the place was, he wouldn't have bought it. But he said he's not going to sue the owner who sold it to him "for what happened before."
Still: The guy bought the building, and presumably walked through, or should have walked through, and done a comprehensive inspection. Now he's saying that he can't afford to fix it without changing a significant part of the use to tech offices.
He may have overpaid at $15.6 million. But that's not the city's problem; that's not a reason to change long-established zoning laws.
So here's the game: The Planning Department is defining "administrative services" to include what anywhere else would be called "tech office." Administrative service is allowed in neighborhood commercial areas, but in that past, that's meant things like a copy shop or an accountant – an office use that directly served local businesses.
None of the tech tenants fit that description. Yes, they offer business-to-business services; so does Salesforce. But nobody is arguing that Salesforce should open shop in the Mission. It's a huge stretch to say they are the same as, say, a copy or print shop.
The big difference, of course, is money. The old accountant offices and print shops paid about the same rent as the artists and the retail tenants. The tech industry is so well funded that tech tenants can afford vastly higher rents, which drive out other types of use.
If the city decides that tech offices are okay along the Mission St. corridor, it will be the end of the existing (community serving) business structure.
"For me, the issue is the office," said Commissioner Cindy Wu. "There are other uses, professional services for one, that might work here."
There was a lot of talk at the hearing about how much space should be arts space, and how much should be trade-show space, and how much of the arts space should be rented at what the owner thinks is below-market space.
Some commissioners suggested that the third and fourth floor of the building, where there are high ceilings and natural light, could be more arts space. But a Holman insisted that if he can't get tech-office level rent for that space, he will evict everyone, vacate the building, and sell it.
Why the building would have to be vacated to be sold was never discussed.
Commissioner Michael Antonini said that tech offices have "as much right to be in the Mission as anyone else." That's a radical statement, similar to saying that a rendering factory or a toxic-waste incinerator has the right to operate next to Antonini's house.
There are reasons why the city has zoning. That zoning has always kept this sort office space out of neighborhood commercial districts.
There has never been any discussion in at the City Planning Commission about rezoning the Mission, or Chinatown, or Noe Valley, or the Inner Richmond, or any other neighborhood to allow the sort of office space that is now limited to downtown and a few other areas. If we want to have that discussion, fine.
"We would like a long-term blueprint policy," Mission Economic Development Agency PolicyDirector Gabriel Medina said. "We don't want spot zoning for every project."
Commissioner Kathrin Moore said that "this is one of the most difficult things we've ever done. It may be the best compromise, but it's not policy."
But no: Spot zoning is the way of the day.  The deal passed 5-2, with only Moore and Cindy Wu voting no.
It's pretty amazing that the commission would allow a building owner who has illegally created tech office space to retroactively, without any penalty, legalize that space in a neighborhood commercial district.
This was a terrible, terrible precedent. The message to every landlord in every neighborhood in town: Get rid of your PDR, your dentists and chiropractors, your residential tenants, and rent your space out to high-paying tech companies. Forget the zoning laws; just follow the model of Uber and Airbnb. Break the law with impunity, and go to City Hall afterward and ask for forgiveness – and a permit.
And you'll get away with it.