Hitchcock revisited, Laurie Anderson's dog, Neo-Nazi horror, Charlie Kaufman's stop-motion animation… and a nightmarish new E.T.? (Read part 2 here.)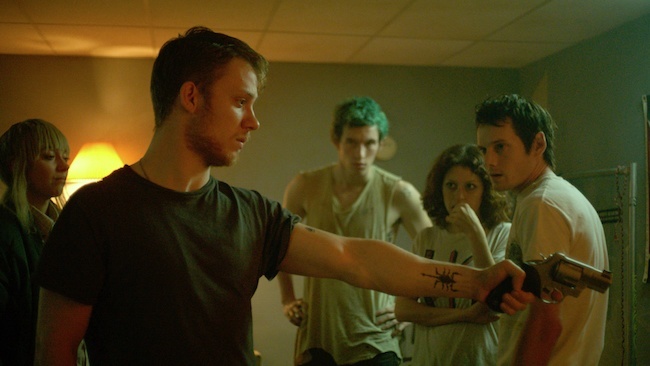 SCREEN GRABS This year's Toronto International Film Festival celebrated its 40th anniversary with a lineup that should have made even the youngest movie fan quiver. Opening night started for me with Kent Jones' enjoyable documentary Hitchcock/Truffaut that chronicles the reasoning behind a young Frenchman's interest in proving to the world how important an overlooked Hollywood genre filmmaker was to the history of cinema. The film's star-studded interviews include eloquent observations by Martin Scorsese, David Fincher, James Gray and Olivier Assayas. Spending more than half of its 80 minutes deconstructing Vertigo (1958) and Psycho (1960), the whole affair is the perfect entry point for a new generation interested in dipping their toes into what are now considered the greatest films ever made. Some may be left longing for a sequel that could pave new ground on Hitch's more under appreciated films like Marnie (1964), Torn Curtain (1966), Topaz (1968), Frenzy (1972) and Family Plot (1975), but that's another story.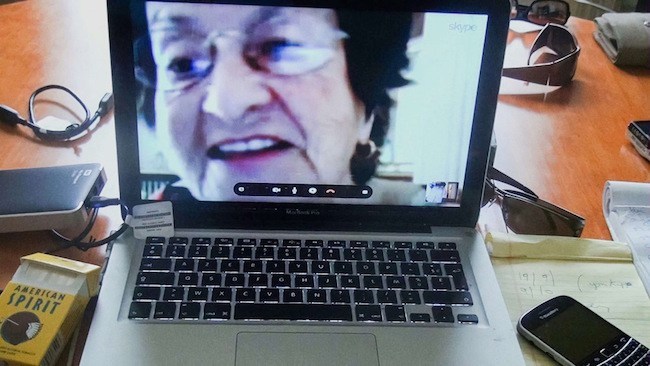 Much like those of John Cassavetes, cinephiles seem to love the idea of Chantal Akerman's rigorously methodical films — but to actually endure each singular pilgrimage is a genuinely difficult task. More than 50 audience members walked out of Akerman's most personal film to date No Home Movie, a 115-minute intimate account of her affectionate relationship with her aging mother. This 100-percent observational documentary is so true to Akerman's visionary style, dating back to her 1975 magnus opus Jeanne Dielman, 23 Quai du Commerce, 1080 Bruxelles and this time utilizing hand held video, a larger issue needs to be addressed to those unwilling to sit still and pay attention to one of the greatest living filmmakers: If you're unable to unearth Akerman's profoundly quiet moments in a movie, you are probably overlooking them in your own damned life.
https://www.youtube.com/watch?v=5Ly_3i-jyes
Oddly enough, 1980s performance artist and synth musician Laurie Anderson delivered a similar experience to Akerman's documentary with her feature debut Heart of the Dog. This surprisingly emotional visual essay feels like the first American film directly inspired by the later work of Jean-Luc Godard, as it fluctuates between some truly prophetic protestations and some even more poignant paradoxes. Anderson's everlasting love for Lou Reed, her electric-keyboard playing doggie Lolabelle and her mythical mother are all poetically pondered to such a powerful degree, that when she suddenly stopped talking (a joke she herself made on stage before the screening) there wasn't a dry eye in the theater. Outside of deserving to end up on many people's "Best of 2015" lists, Heart of the Dog might prompt new (and old) fans to track down Anderson's 2010 album Homeland, easily one of the best and most underrated albums of the decade.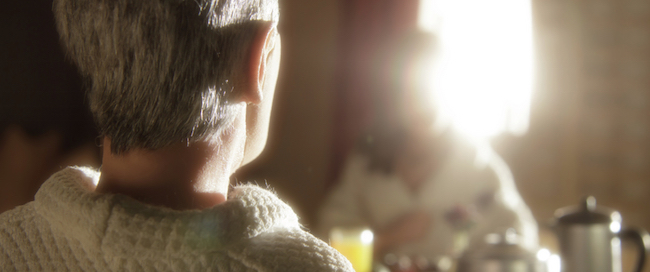 Charlie Kaufman's Anomalisa was the winner of Grand Prize at the Venice Film Festival last week and with every fiber in my being I must emphasize, it rightfully deserved it. Showcasing glorious stop animated puppetry — subtly referencing Kaufman's puppeteer in Being John Malkovich (1999) — this low-key existential tale about a conference speaker and his difficulties with overcoming the mundanity of life, never slips from absolute grace during its entire 90 minutes. DO NOT READ ANY SPOILERS! Anomalisa is the film that you will want to see on its opening New Years Day release, alone, as you wrestle with your hopes and fears about this next year hopefully being better than the last.

While the comparison's to Steven Spielberg's E.T. (1982) will be inevitable, Achim Bornhak aka AKIZ's Der Nachtmahr feels much more like a tribute to the NY underground exploitation cinema of Frank Hennenlotter by way of Chris Carter's X-Files. While peeing behind some bushes at a pulse-pounding pool party, Tina (Carolyn Genzkow) happens upon a little goblin-like creature. Meanwhile, Tina's recurring fits of madness at school and home have everyone worried about her. Is she crazy or has she stumbled across something much more sinister in her small town? Visual Artist AKIZ has been making short films for close to 20 years, celebrated by David Lynch, Kim Gordon, and Banksy, who have all included him in their exhibits. While his feature debut may not deliver the hyperactive insanity that the jaw-dropping trailer hinted at, Der Nachtmahr (a direct reference to Henrich Füssli's 1781 painting) works wonderfully as an allegory for depressive, coming of age high schoolers.
Jeremy Saulnier's third feature Green Room is yet another rowdy romp of gratifying gore and carefully crafted characters that proves his 2013 genre gem Blue Ruin was no fluke. Set backstage at a Northwestern punk rock music festival, an unsuspecting band consisting of Anton Yelchin, Alia Shawkat, and Imogen Poots go full-tilt revenge on a Neo-Nazi clan commandingly led by Patrick Stewart. The non-stop horror unfolds methodically, much in the style of John Carpenter's Assault on Precinct 13 (1976) and is an absolute crowd screamer that must be experienced in a movie theater filled with like-minded maniacs.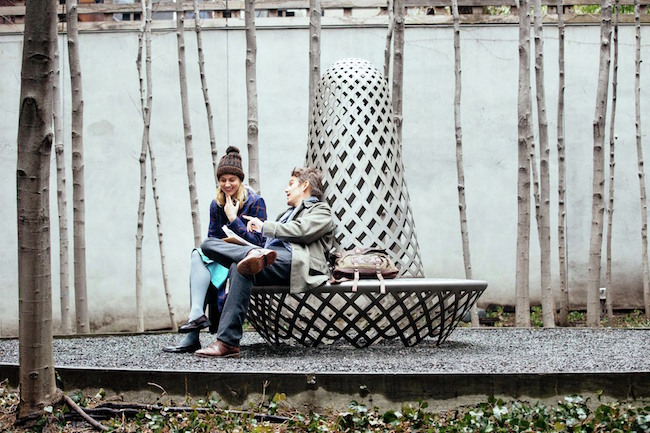 The Surrealist Screwball Comedy is back and who would have guessed that Rebecca Miller (Angela, Personal Velocity) would get in on the action. Greta Gerwig plays the title role in Maggie's Plan as the magical mistress we all know and are polarized by. Gerwig is given a chance to express her emotional undertones in this consistently hilarious adaptation of Karen Rinaldi's story, about a woman who has decided to make a baby all by herself. Ethan Hawke seems to be exploring one of his own private life's choices as John, a confused wannabe novelist who is married to a brilliant ice-cold intellectual (Julianne Moore, whose spot-on Danish accent is one for the history books), but falls for Maggie (Gerwig), a borderline dingbat who believes magic exists. Feeling like a direct sequel to Noah Baumbach's Mistress America, in which Gerwig embodies an extremely similar hyperactive birdbrain, both films greatly capture the attractive confusion between modern generational gaps.
Even more comparisons can be explored with Baumbach's spectacular earlier release this year While We're Young, which pits a progressive forty-something couple: Josh (Ben Stiller) and Cornelia (Naomi Watts) against an enlightened twenty-something hipster twosome: Jamie (Adam Driver) and Darby (Amanda Seyfried). These modern mousetraps are meshed so thoroughly into this new wave movement of Surrealist Screwball Comedies, it could catch audiences off guard or rub them the wrong the way — which is how I completely misunderstood Baumbach's masterful goal on my first viewing of While We're Young. Even director Rebecca Miller seemed a little hesitant at her World Premiere introduction when she said, "This movie was made for you to enjoy." Recognizing that for many filmgoers, the word "enjoy" sounds like the most negative critique possible.