Click your heels three times, trust in the magic of the free market, and  you get a lot less affordable housing that the city needs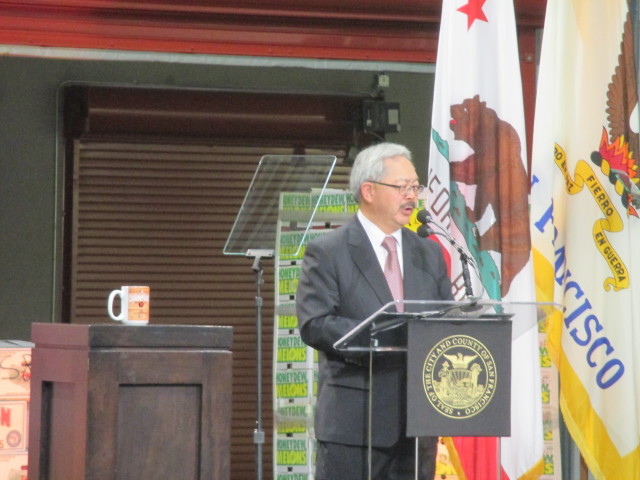 By Calvin Welch
SEPTEMBER 11, 2015 — On September 8, Mayor Lee, embracing the "magic of the market place" one more time, announced a plan that he claims will "meet" ("or exceed," he seems unclear) "10,000 permanently affordable homes" by 2020.  This is second time Mayor Lee has committed to a specific number of affordable housing units to be built by 2020. The first was in his 2014 State of the City speech in January, 2014. While the final number of units has remained consistent — some 10,000 affordable units of 30,000 to be built — the income levels to which they are affordable has shifted upwards.
The first point that must be made is that both of Lee's statements commit to fewer affordable housing units than the city, officially, says it needs in its 2014 Housing Element.  That document says that between 2015 and 2022,  some 16,000 units affordable to households earning between 20% and 120% of Area Median Income need to be built. So off the bat Lee promises to meet only about 60% of the affordable housing his own Planning Commission and the Board of Supervisors officially say are needed.
In the State of the City speech, he said that the 10,000 would be affordable to "low and moderate income families," which is an insiders phrase that means 20%  to 120% of Area Median Income — or from $16,000 to $85,000 for the average two- person San Francisco household.
The September 8 speech included a new category — "special middle income" — which was not defined. Some 5,000 of the mayor's 10,000 units were to be in this new category. Assuming that this is a price point above 120% of median, his announcement was actually a 20% REDUCTION in the affordable housing goal set in his 2014 State of the City speech, a fine point missed by press reports. 
Moreover, those can be built only with city money — neither the state nor the federal government will financially assist housing above 120% AMI — making them the most expensive subsidized housing in the city's inventory.
The reason for this rather remarkable reduction of the affordability of Ed Lees "affordable housing program" is the Mayor's faith-based belief that we can build our way out of an affordable housing crisis by having the market produce two market-rate units for each affordable one.  Odd math.  Even odder policy. But good politics if no one notices as market-rate developers and their allies willingly contribute to the campaigns of the mayor and his allies.
Newly constructed housing makes up only about one third of the total number of residential properties sold a year in San Francisco.  The other two thirds are existing homes.  Believing you can affect price with only one third of the market is why this naive (or cynical) belief is not rational.  About 14 square miles of San Francisco is zoned for residential development, and it's all been developed.  New construction often means either demolition and/or  displacement of existing residents.
These two essential facts are simply ignored by Lee and his allies. All the rest of us, literally, pay the price in high housing costs that are the objective results of the San Francisco housing equivalent of denying the science of global warming.
A more rational basis upon which to rest a truly effective affordable housing policy takes them both into account.  It is not based on the trickle-down-magic-market-place nonsense of granting a "density bonus" to developers to build housing that is two-thirds market-rate and one-third "special middle income." Instead, a rational approach is based on policies that actually seek, through local ordinances, to preserve existing housing and developable sites, at current San Francisco densities (this is the second-most dense city in the United States).
Three measures on the November ballot seek to do exactly that: Proposition I, the Mission moratorium and affordable housing plan; Proposition F, the affordable-housing preservation regulation of short term rentals conversions, and Proposition K, the requirement that city-owned land be earmarked for 50% affordable housing if declared surplus and sold for housing development.
As the Chronicle pointed out in it coverage of the mayor's "affordable" housing announcement, something is missing in the picture Lee is trying to draw: New construction alone has not increased the availability of affordable housing at the level needed to meet the current demand.
Under the administration of Lee and his predecessor, Gavin Newsom, according to a recent Planning Department report, some 6,600 new affordable units were built. But during the same period some 5,500 price-protected units were converted to market rate. This does not include the estimated 10,000 units in San Francisco, thousands of which are also price protected (rent controlled), that have been allowed to be used as Airbnb type short-term rentals.
What is missing is how we stop the hemorrhaging of the loss of existing affordable housing and sites for future affordable development in this close embrace of new construction of high density market rate housing.
While Lee supports Prop. K, he is opposed to Props. F and I because they are "not needed." Clearly his policy of pouring millions of public dollars into building new, not-so-affordable housing, while ignoring the near-unlimited conversion of existing affordable housing to market- rate uses and the opening of every neighborhood to high-density, high-priced market-rate development, thus increasing the cost of sites for affordable housing development, is what is "not needed."
The "magic" in Lee's embrace of market-rate housing development is how it produces political contributions to him and his allies.  For the rest of us, it's evictions and displacement.  It's the way the new San Francisco rolls.