The sidewalk near Division and Bryant streets has quickly turned into a tent city for homeless people in San Francisco. It's a shabby street under a bridge, unusually cold this afternoon, and small parachute tents line up both end of the streets, along with camper vans stationed here and there along the sidewalks.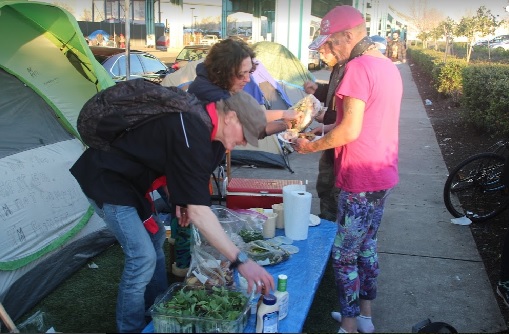 When the Chron's C.W. Nevius went there the other day, he found a young man who described himself as a heroin addict, someone who didn't want to leave the streets – a part of one of the most enduring, and inaccurate, myths about homelessness in San Francisco.
Out visit left us with a very different story.
Heather Brown, 32, has been on the streets most of her life "off and on" but her grandfather's death pushed her onto the streets for good. The house was sold and she had to move out, and with no money she had no option but to stay on the streets.
"We are just trying to start over" she says, while cradling her pet dog Bella. Her issue with shelters is that they will not allow her to live with her companion or fiance. Brown is four months pregnant and shares the tent with Travis Perolt, 34, who's been on the streets for the past 16 months. They were both originally from Redwood city.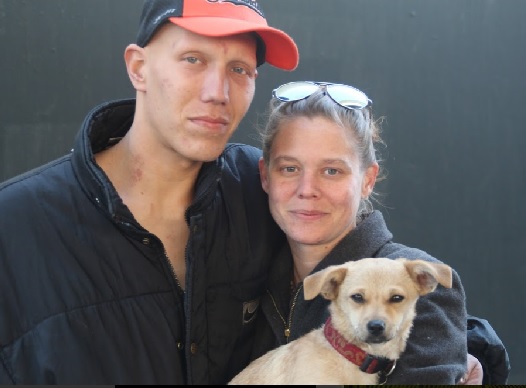 "It's hard to start over, it's hard to find a job when you are on the streets. You want to look presentable, wake up early morning and put in a job application. Still we do it all the time, we keep applying for jobs," she says.
Brown is a college graduate with a degree, child psychology being one of her majors. Even if she gets a job, finding an affordable apartment in this city is nearly impossible.
You can barely hear her over the deafening noise of the cars overhead. "This is a constant you know, some people, they get psychosis because that is what we hear day in, day out," she says, but quickly starts to explain that "people are really kind you know, the other day someone left peanuts, I walked down the street and shared it with everyone around. They also drop by warm clothes. You won't believe but the dog is better cared for than us" she laughs.
It's a small community that watches out for each other: They can quickly lose their tents and all their belongings if they are not present at the scene and are not able to quickly pack up all their belongings in under 20 minutes.
Heather and her partner clean out the area they live in; there's no garbage in sight. "We were living right across the street for some time and used to help local businesses by cleaning up the trash in front of the stores," Perot says. They moved here after they were told by the police.
"The cops told us specifically to go to Bryant and Division. This is where we are invisible under the bridge so that people who are here for the Super Bowl won't see us from the highway." When asked what they thought of the perception that most homeless people are drug addicts and therefore do not want to go to shelters, Brown laughed and nodded her head "I am drug free, sure there are young kids who have these issues but they need help too. They need help to get out of here and start a decent life. I am homeless and I am not an addict."
A few tents down, an African American man in his 40s is still trying to figure out setting up his tent. Most people here find tents that have been abandoned by others or are cheap, making do with torn edges. [Local activist Shaun Osburn is running a program to buy new tents for homeless people; check it out here.] "I am too embarrassed to give my name or my story, because my family will see this," he says.
Cathy, 51-year-old trans woman, is not reluctant to share. She's been on the street since last fall after being kicked out of three different shelters. "I came out of an abusive relationship, with a boyfriend who was meth addict. I was beaten and abused. Domestic violence put me on the street, not drugs" she says.  "I'm not a drug addict, the only thing I'm addicted to is nicotine."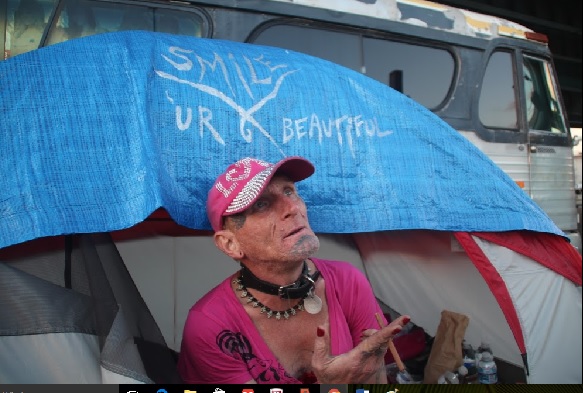 Cathy moved from Oregon three years ago, in hopes to be in a city that would be more accepting of her as she transitioned. "I came to this city because it made promises to me, it promised to accept me, to embrace who I am, this city told me I could come here and be safe. I came to a promised city, and these authorities, they should have expected it."
Her eyes well up as she opens up about the abuse she faced at shelters that claimed to be transgender friendly. One after the other, she was asked to leave until she finally gave up and is now on the street. She knew to come to this area because a homeless friend told her this was the only safe place during Super Bowl.
Cathy struggles with Post Traumatic Stress Disorder and sees a therapist regularly. Taking hormones has made her more emotional, she says: "I learned to hold back my tears for 49 years as a man, but now I can no longer do that. May be it is the hormones, may be it is the fact that I have been running, running my whole life. Forced on the streets at the age of 16 for being queer, I have never known what a home is like. I am tired, tired of being out here in the open, fearing for my life. Hearing people walk down the streets, I am terrified — is this person going to come in and hurt me?"
What does she think of Mayor Ed Lee's proposal for more shelters for the homeless "Cut the bullshit, stop tearing down homes, stop building new fancy condos, the dot comers are going to come and go. Build affordable housing."
Oscar McKinney came to San Francisco in 1976. He has been effectively homeless since. "I don't drink alcohol, I don't take drugs," he says. He's got a job – he drives a hearse for a living. "Society don't know what to do with us and are afraid they'll become us." He walks over to ask Cathy to ask if she would like some food, and we quickly walk down to his tent.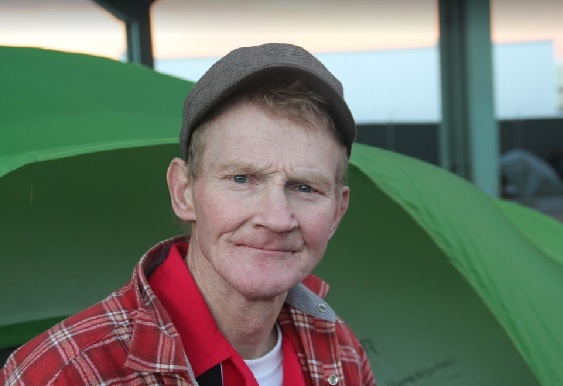 "I've suffered under five mayors," he says. "The mayor is complaining about homeless people pissing in the streets. It wasn't a problem when the baths were open." McKinney says.
"I love this city. I'm gay. I came to this city to be with my people. I was a child when I came from Iowa and was claimed by night ministers. I grew up on the streets and don't have HIV."
While we spoke, Oscar and his friend Donna had assembled a table full of food and were handing it out to their assembled neighbors. "It's enough food to last us a week, but when we get a leg up we look out for our neighbors."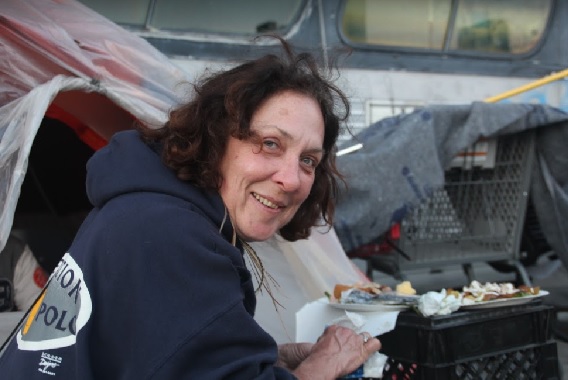 Donna Sears is originally from Florida and has been in San Francisco for three years now. She tells me she has worked as college professor and has two degrees. "I smoke some pot," she says, "but that doesn't make me a junkie." Donna has been on the street since her husband left her. "He was on drugs and we lost our place. I'm blind as a bat and am getting eye surgery on Friday." I asked her what would she like from the city.
"It'd be great if they brought us some garbage cans and picked them up. The people with homes get garbage cans and garbage trucks come around to collect them. They don't come around here to collect our trash like they do for them. And the city says we're dirty."
Walking away from the tents is almost like bidding farewell to a small community, one made up of people who help and share survival tips and their dreams of one day returning to the safety of a home they can call their own. Their struggles are as much human as they are incomprehensible.
Cathy says that in the the promised city, she hasn't been able to get her surgery so she could transition. "I came here to finally be myself and this city pushed me on to the roads and crushed my dreams. Now you're telling me that I am homeless because I am a drug addict?"