I went to Super Bowl City, and now you don't need to. There's nothing there.
Nothing, that is, unless you like to pay $8 for a Bud Light and $20 for a small lobster roll. Or you want to see a lot, lot, lot of police officers, many in full military gear with assault rifles. Or line up to have your picture taken with a headless statue of a quarterback. Or line up even longer for a zip line that runs about 30 feet over a fake Golden Gate Bridge in the enormous CBS Sports complex.
That's about it. Seriously. For a tourist attraction sponsored by a $10 billion operation, it's really, really worthless. It has no relationship to San Francisco at all; it's entirely a corporate theme park that would be much more at home in some Mall of America than at the foot of Market Street in one of the world's great cities.
If it's supposed to be attracting a million people, the Host Committee needs to be doing a bit more work. When I was there around 4pm Monday, it was pretty empty.
Here are some of my photos and reflections:
Security is high, as you might expect. Metal detectors at the entrances, all bags are searched, and there's at least a few cops on pretty much every corner of Market from Civic Center down to Embarcadero.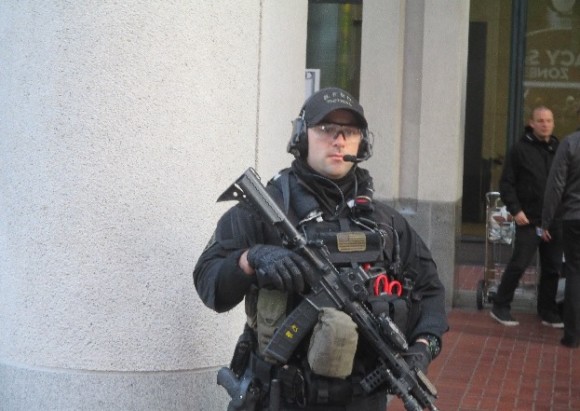 Some of the cops are dressed to fight a full-scale invasion. There are police dogs sniffing everywhere, and a dog (and cops) guarding the entrance to the Federal Reserve Bank, because no matter what else happens, we have to protect the Federal Reserve.
I saw cops riding around in what look like armored golf carts. I met a federal agent who was send in, with his dog, from Cheyenne Wyoming. There were cops from Berkeley (and who's paying for that? The officer told me that Berkeley was supposed to be reimbursed, but at the last minute that changed.)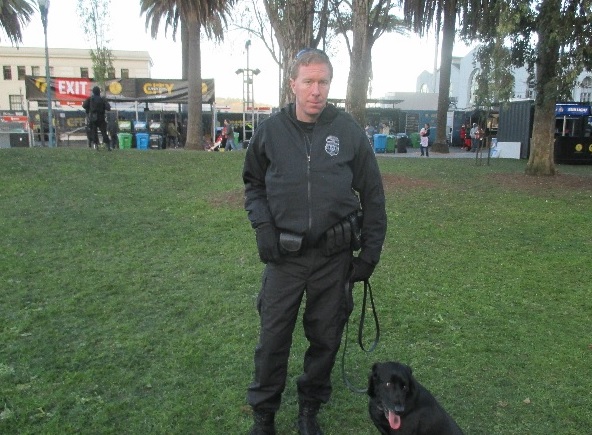 The good news is that the MTA has human beings directing traffic, so cars and buses were moving, a little. Maybe someone got the message.
Inside the "city," there's really nothing except corporate booths promoting corporate products and really overpriced food and drinks. Bud Light rules the roost – there are stands and signs everywhere, and even a very special place where they built a wall and a very strange and slightly disturbing sculpture out of Bud Light cans. "More than 1,200 cans," the woman in the booth told me. She didn't know if anyone actually drank those beers or if the cans were produced empty. Nothing against Bud Light (and as my friends know, I have nothing against Bud Light), but … $8 a pop? At the foot of Market Street? Where you can walk about five minutes and get a whole sixpack for that? It's $8 at the Giants game, too, but at least you get a Giants game.
The City Attorney's Office cracked down on Verizon trying to use the Embarcadero Center for an illegal billboard. But the NFL and Visa are doing the same thing, and since that's all part of Super Bowl City, it's apparently legal.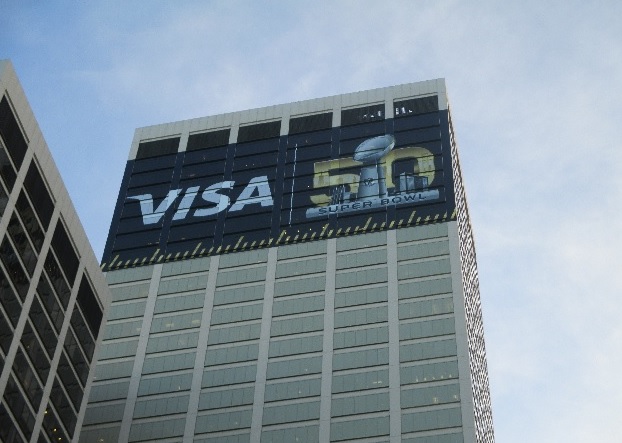 A huge amount of acreage is controlled by CBS Sports, which spent a small fortune creating a high-tech booth, a fake football field, a fake Golden Gate Bridge, and a really short, kinda stupid zip line that goes above the fake field, where the On Air Talent (men in suits) was playing with footballs and trying to pretend that there might actually be news to talk about.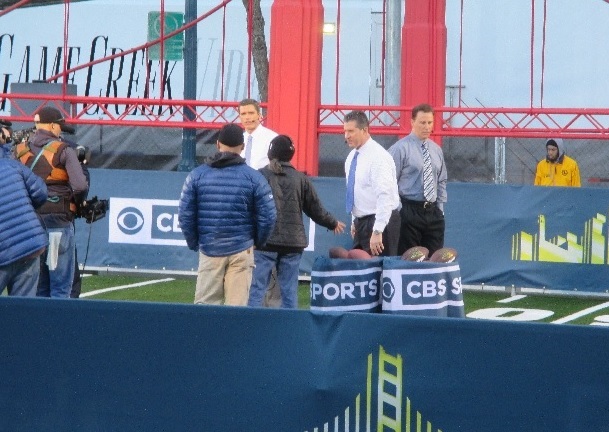 Oh, and a chance to bond with headless quarterbacks.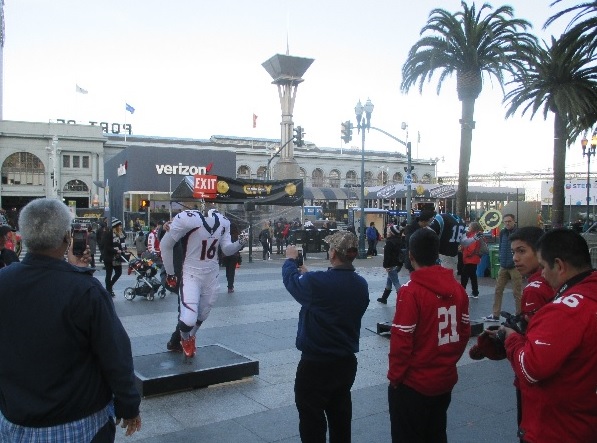 I get tourist tacky. I get Fisherman's Wharf. When my kids were little, they liked to ride the F-Line out there to look at the sea lions and the boats and have those amazing fresh greasy sugary mini-donuts. At least it made an attempt to be part of San Francisco. But this effort isn't even tacky. It's just …. embarrassing.
The city is paying $5 million to support Super Bowl City. It's a total waste. There's a nice stage, and maybe some good performances, but other than that, I don't even think the tourists are going to get all that excited about getting ripped off for nothing.
And what's going to happen tomorrow when a few thousand people show up in solidarity with the homeless population? At least then the people who come to Super Bowl City will get a taste of San Francisco.