This post is part of our special coverage on the #hungerforjusticesf. Five San Francisco residents are on hunger strike outside Mission Police Station, demanding that Mayor Ed Lee fire San Francisco Police Chief Gregory P. Suhr. Over the past three years the SFPD has shot and killed four men of color; the protestors feel that the hunger strike is the only remaining option to demand an end to police impunity. Read our full coverage here.
On an emotionally charged afternoon, a crowd of more than 100 assembled outside the Mission police station to hear from the 'Frisco Five' on Day 10 of their hunger strike as they announced a rally at City Hall on Tuesday, May 3rd.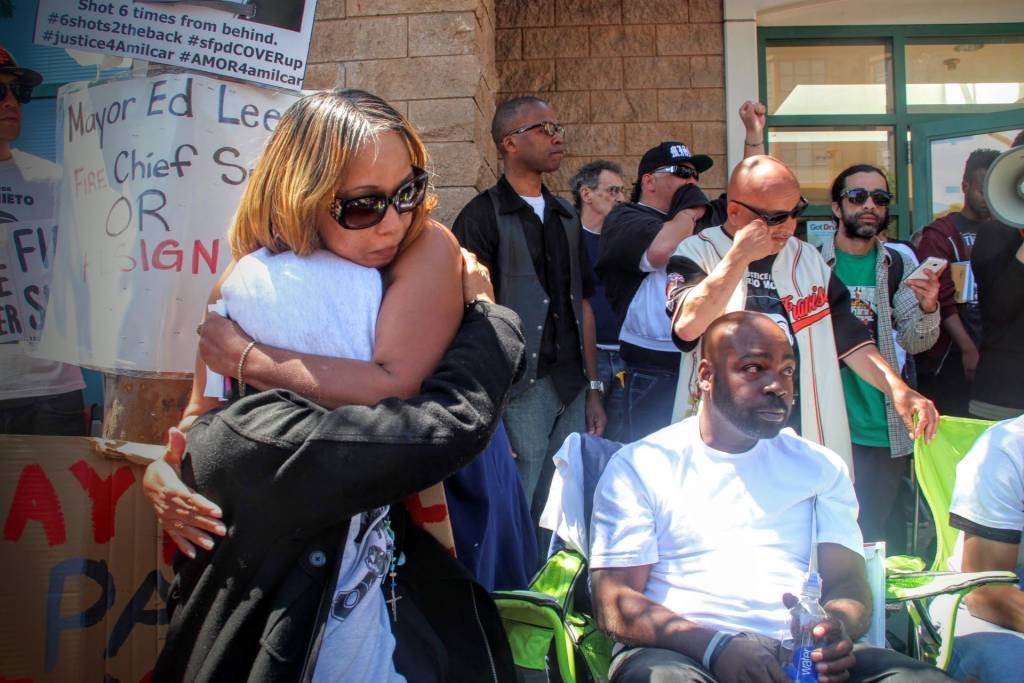 Gwen Woods, mother of Mario, the young black man who was shot by police in Bayview in December 2015, made an impassioned speech that saw some of the Frisco five including Sellassie Blackwell, Ike Pinkston and Ilych Sato (known as 'Equipto') break down in tears. Directing her anger at the police, she said: "you are shooting us down like dogs, and you got the audacity to go to work."
Woods continued: "You go home and sleep with this on your conscience and chief of police this is your crew, your gang. Like business as usual, I'm appalled insulted and I can't even grieve my child." She closed her remarks "You hear me brothers, keep your hands up, keep your hands up, keep your hands up" and hugged each of the five hunger strikers individually.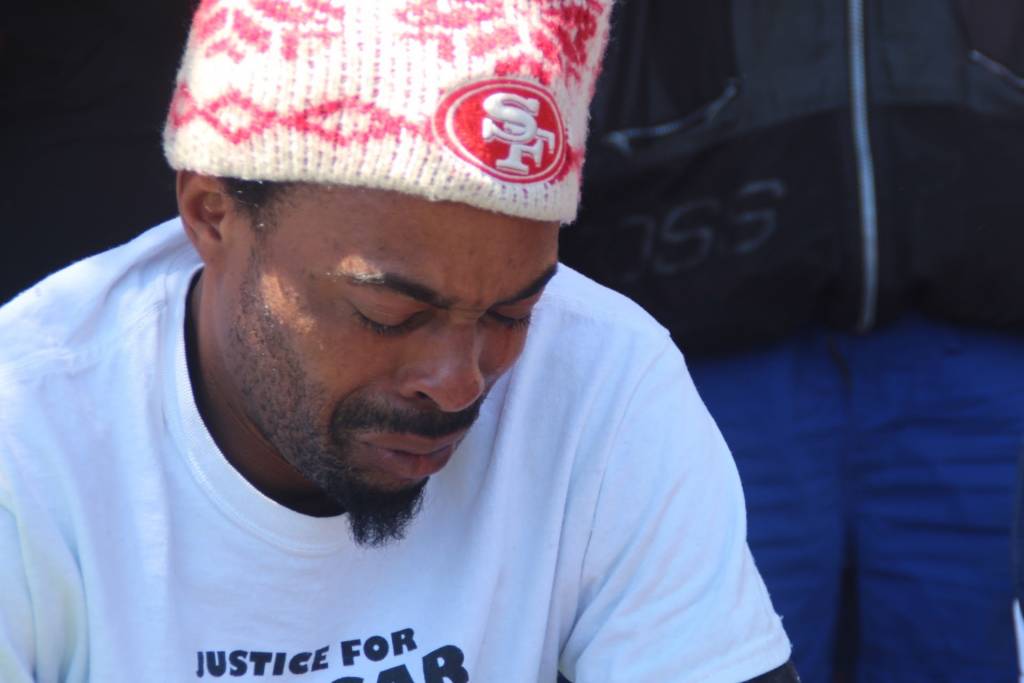 Davey D a nationally recognized journalist, KPFA "Hard Knock Radio" host, adjunct professor, and Hip Hop historian, spoke up on gentrification: "(those who) Show up here in the city of San Francisco who don't live here but hate us. Who want to eat our food and enjoy our music but don't want to support and change the conditions that we're dealing with." He stressed the seriousness of what the hunger strikers are doing: "Let's be very clear, this is not a form of entertainment. This is not a sideshow for us to record, to put up on YouTube, this isn't something to brag about."
He spoke of black and brown communities joining together: "When you talk about black and brown communities today, in 2016, forming together in a marriage, that is fearful for a lot of people looking around and they're asking themselves, how the hell can we break this up? Who can we pay off? What seeds of dissent can be placed around here to make that not happen? Look around you, this is the fear."

He explained why political leaders won't discuss incidents like the shooting of Mario Woods by police officers "With that fear comes some people who have hedged their bets. There's a reason why we just had a debate with the people running for Senate, like Kamala Harris, and they didn't talk about Mario Woods. There's a reason you didn't hear about Alex Nieto. There's a reason you didn't hear about that, because these folks are counting on us not to be unified, not to be organized." He continued: "A complicit press will demonize these folks. Did he go to jail? Did he get kicked out of school? Did she not pay a parking ticket? They'll put those type of qualifiers before talking about what they're doing." he said.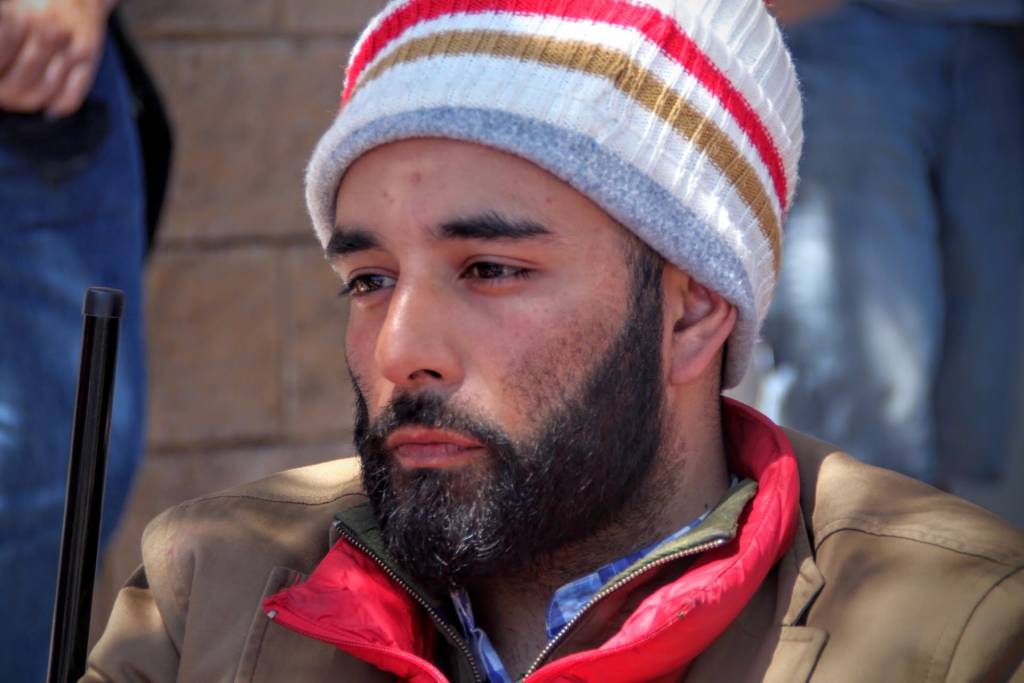 Despite being weak, the hunger strikers addressed the rally. Edwin Lindo, who is on day 11 of his hunger strike, noted: "We're not playing politics, politicians have been playing politics with our lives. Next week I beg you, if you can be here on Tuesday, please take off work, I would never tell anyone to take off work, but please come because we are marching to Ed Lee's office and demanding he fire Chief Suhr. The most recent text messages are so disgusting, these are the police officers supposed to protect us," he said, before concluding "We are writing the history right now. Please join us on Tuesday. We love you so much." (video here) The crowd broke in applause and cheers. 
Maria Cristina Gutierrez, the 66-year-old hunger striker who is emerging as the leader of the four men, said: "We need to unite, everybody wants to talk about us (people of color), that's not right. We need to talk for ourselves. If I die here, I'm telling you this, keep on going for that unity, because they have to hear from us what we want, what we need, what we deserve." Earlier in the day, it was announced that she may be suffering from pneumonia picked up by sleeping on the streets for the past ten nights. But after a medical check up a lung scan cleared her of pneumonia for now.
After the rally, the 'Frisco Five' spoke with both Jane Kim, a Democrat and member of the San Francisco Board of Supervisors who is running for State Senate, and the current Senator, Mark Leno.
The day drew to an upbeat close. Fifteen pedicab drivers made their way up from Fisherman's Wharf to thank the hunger strikers for standing up for justice in the city. A light moment before what's expected to be an even more tense standoff with city officials this week.