The very good news is that the man who created a four-hour standoff with police in the Tenderloin this afternoon is not dead.
That, even the chief of police appears to acknowledge, is the result of more than a year of active, vocal protests that led to the dismissal of former Chief Greg Suhr.
In this case, an African American man who by all accounts had mental-illness issues and was armed with a handgun was hit with beanbags, flash-ban grenades, and sound weapons but not with gunfire.
A year ago, I'm sorry to say, it's almost certain he would have been shot and killed in moments. That's happened repeatedly in this city to people who had no guns; the idea that an armed man might actually not instantly draw lethal fire is a signal of the pressure that is on the chief not to face the fate of his predecessor.
Chief Toney Chaplin told reporters after the four-hour standoff that "the sanctity of human life is the top priority" and that he had ordered officers to do what they are supposed to do in these situations: Create time and distance, don't fire your weapon, wait until trained negotiators arrive.
"Time is our friend," he said.
The fact that the cops were able to do this with an armed man is a direct indictment of the killings of Mario Woods, Alex Nieto, Amilcar Perez Lopez, Luis Gongora, and Jessica Williams, none of whom were carrying guns.
Why, in none of those cases, was a time-and-distance strategy used? Why are five people dead who should still be alive?
That's part of the message of today's event.
It was wild, and one could certainly argue that there was overkill: Dozens and dozens of officers. Two tactical trucks. At least four officers with bean-bag shooters. I counted at least 15 bean-bag rounds and half a dozen flash-bangs.
Another whole group of officers were deployed to keep a crowd of angry people, who clearly still don't trust the police, from crossing lines.
All of that for one person who, according to eyewitnesses I talked to, was for much of the time down on the ground, with his hands underneath him.
At one point, the SFPD public affairs team tweeted that bean bags and flash bangs had been deployed "to prevent escape," which was just silly: With the entire area blocked off, and police everywhere, the guy wasn't going anywhere.
From what we've been able to piece together at this point, the suspect, wearing no shirt, was out in front of the Hibernia Bank on Jones. Police officers on bicycles confronted him, and told him to take his hands of out his pockets.
Chief Chaplin told reporters that the man said he had a gun, brandished it at least once, and said he wanted to die rather than go to prison. One report had it that he was recently released from county jail in Reno.
None of the witnesses we talked to saw the man pull a gun; in fact, one witness, Scott Hatfield, told me that the man seemed unstable, but at no point pulled or showed a weapon. "His hands were in his pockets," Hatfield, who was on the scene before police cleared the area, said.
Others said that for much of the standoff, the suspect was on the ground, with his hands beneath him.
I asked Chaplin about that, and he said he didn't have the details yet, but insisted that the man had told officers he had a gun and had shown them a gun.
The cops – intentionally or not – parked the big, bulky, Tac Squad trucks in a position that kept the reporters on the scene from seeing what was happening.
Eventually, we saw the man removed in a stretcher, with what Chaplin said were injuries, but not life-threatening injuries.
This time-and-distance training is nothing new; what's new is that the community is not tolerating police killings and has forced some changes not just in policy but in practice.
So now we will see if the officers who failed to follow those policies in the past shootings will be held to account.
Here's our coverage timeline:
All public transport is blocked off on market street as SFPD officers negotiate with suspect possibly armed with a gun, on Market and Jones.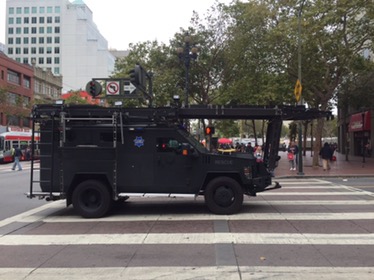 Videos from the scene earlier show an African American male standing against the fence as multiple police officers point their guns at him, video taken from across the street doesn't show whether the suspect has a gun in his hand.
In recent years, the SFPD has been heavily criticized for not descalating the situation and resorting to the use of lethal force when confronted with possible suspect, especially when dealing with people of color.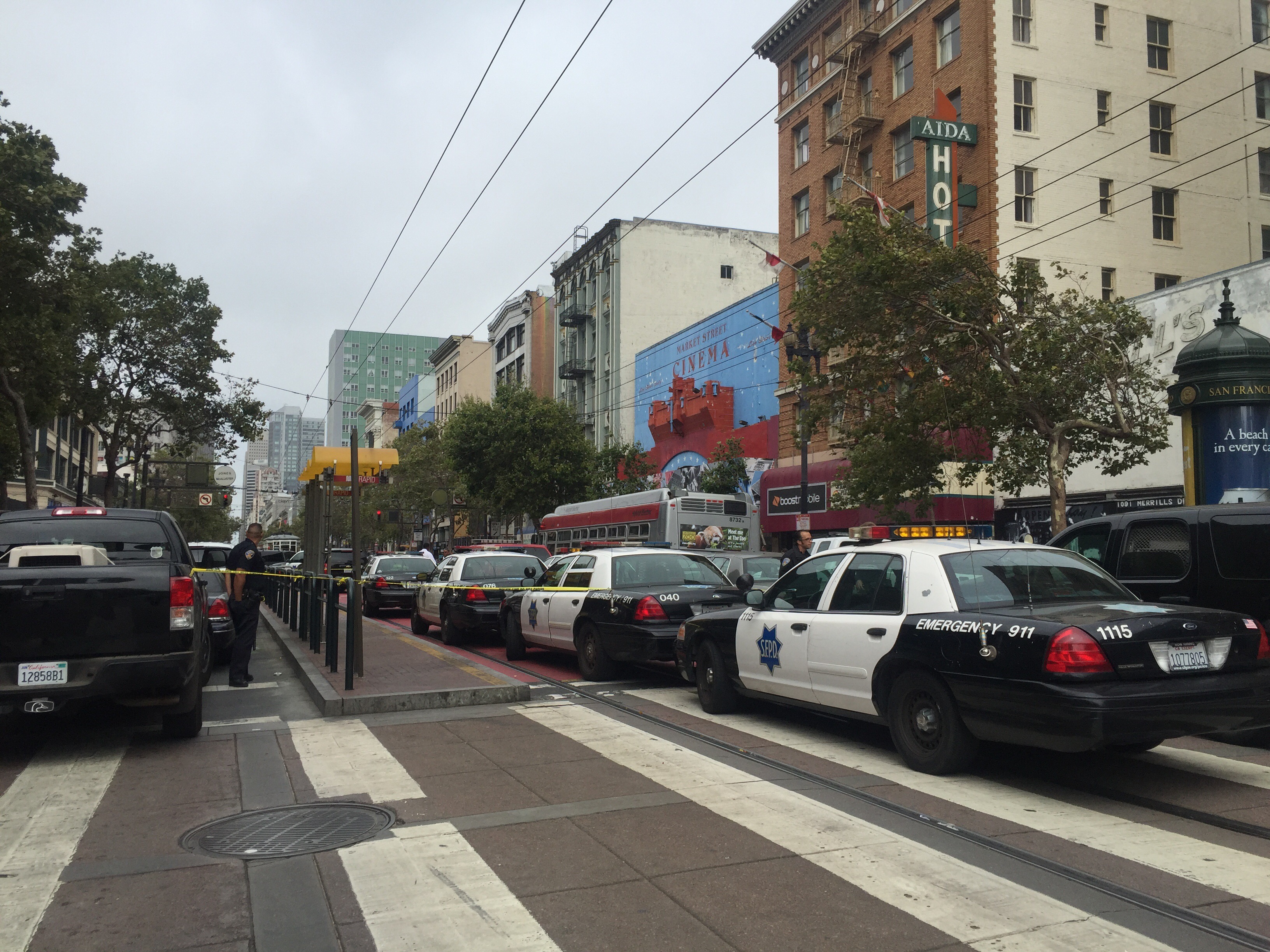 Police officers on top of a tank can be seen aiming their guns at the suspect, who was last reported to be in a prone position. SFPD van currently blocking view of the standoff.
Another Instagram video shows a group of people heckling police officers on the scene reflecting the anger and frustration palpable on the streets of San Francisco against SFPD.
UPDATE: 4:04 PM
SFPD PIO Grace Gatpandan says a hostage negotiation team is on the scene, "So officers responded to this location regarding a suspect who is armed with a weapon, he was refusing to comply with officers' orders to show us his hands. At this point, we have a hostage negotiation team on the scene actively talking with him in order to take him successfully into custody without using any force"
UPDATE: 4:15 – from our reporter on the scene Shajia Abidi
SFPD officer  Sgt. Holder "The guy has a gun in his pocket and he is refusing to take his hands out,"  Holder said he wasn't certain whether the suspect has a gun, "The suspect says he has a gun and won't take his hands out of his pocket," he said.
According to witnesses on the scene the suspect has mental health issues, his family is on the scene speaking to him but he's reportedly refusing to listen to them.
Update 5:00 PM: 
SFPD now says deployed bean bags and flash bangs to "avoid escape." However, escapse seems an unlikely concern with all the police presence
Update 5:47 PM: 
The standoff now appears to be over, guns withdrawn and stretcher being brought to the scene. Suspect's condition is unclear.
Update 5:53 PM: 
SFPD announces that the suspect is alive & that they recovered a gun. Witness in lockdown in building at 7th and jones sent this pic of police taking suspect into custody.
This is developing story