It was all doom and gloom at the Board of Supes Budget Committee March 9, with the mayor's budget director and the controller warning of potentially severe budget deficits – but also putting on the veneer of "don't worry, be happy."
Budget Director Melissa Whitehouse told the committee that the projected budget deficit is $350 million, but "I'm not feeling like layoffs or service cuts are coming."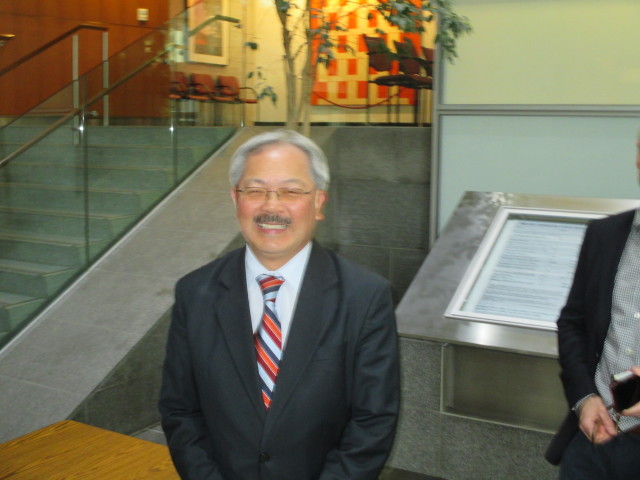 She did admit to a bit of "uncertainly" about what the feds would do, which seems like a bit of an understatement: One out of every five dollars that San Francisco spends comes from the feds or the state, and the state is looking at huge federal budget cuts, so there's the potential for a fiscal catastrophe.
She then talked about how the mayor's sales tax, already baked into the budget, went down at the polls, so his office shifted transfer tax money (which was supposed to go to free City College) to homelessness and street trees.
(I'm for funding efforts at ending homelessness and I'm all for street trees, but I also think when you promise the voters that money will go to make City College free, you should spend it on that.)
Controller Ben Rosenfield warned that the economy has been growing for a long time, and that the nation is due for a recession. He also noted that, while most tax revenues are still going up, the hotel tax is declining a bit. That may be mostly because the Moscone Center renovations are slowing convention business, he said.
When Sup. Malia Cohen, the committee chair, asked about the role of short-term rentals, Rosenfield only said "that's not something we've looked at" and that the amount of tax we collect from the likes of Airbnb is fairly small. He never addressed the question of whether the 8,000 Airbnb units in San Francisco are damaging the hotel industry – and Cohen just let it go and never followed up.
The usual neo-liberal politician's villain – pension costs – was part of the discussion, and Rosenfield said that after the city's public-sector unions and the mayor cut a deal a few years ago, pension costs were supposed to decline. Instead, they've gone up. Although he said that pensioners are living longer (imagine that!) the real problem is that the city's investment portfolio has done so poorly the last couple of years.
Sup. Jeff Sheehy asked how things were going right now, and Rosenfield said that as of today, earnings were back around the 7.5 percent level that has been a consistent average for more than 30 years.
So what are we going to do? Rosenfield: "Continue to grow our economy and look for new revenue."
This idea that we can grow our way out of these problems (like the idea that we can grow our way out of the housing crisis) is more than a bit looney.  
The reality (and I am all about reality these days) is that the city is going to be looking for new ways to raise money – large amounts of money – in the next year or two. There isn't really a choice.
I've put out a lot of suggestions over the past few months, and more are floating around. One of the most interesting, and potentially dramatic, will come before the Board of Supes this week as a modest resolution with potentially profound implications. Sup. Aaron Peskin wants to endorse a state bill by Assemblymember Phil Ting that would allow California cities to impose an income tax on individuals and corporations.
Income taxes are by and large the fairest way for government entities to raise revenue. The classic income tax is progressive, and those who earn higher incomes pay a higher percentage. State law won't allow cities to levy those taxes, either on individuals or corporations.
So we do things like sales taxes, which are about the worst way to raise money, and payroll or gross receipts taxes on businesses, which make no distinction between struggling small operations and massively profitable behemoths.
Former state Sen. Mark Leno tried this years ago, and go nowhere. But the sentiment could be mounting: The Trump Administration is going to cut taxes on the rich, and almost everyone in Sacramento is against Trump's policies – and here's a way to fight back, seriously, at the local level.
We're talking big money coming entirely from the very rich.
A tax of one half of one percent on incomes of more than $1 million would bring San Francisco $80 million a year. That's a tiny tax on mega-wealth (oh, and by the way, those big earners can deduct it from their federal and state taxes, meaning a good chunk of the money would come back from Washington).
And that's not even looking at a corporate income tax.
San Francisco could give all of its small businesses (facing high rents and chain competition and some of the edge of survival) a nice tax cut by imposing a profits tax on the big guys. And the city would still wind up with more money.
This is not an easy fight, and it won't be quick. If Ting can actually get any traction, it may not be this year, and there may be all sorts of limits and compromises.
But if I were Mayor Lee, I would be calling every one of my counterparts in every major and minor city in the state and organizing support for the idea.
Because I'm not sure how he is going to balance the budget without hundreds of millions in new revenue – and the voters have already said that they don't want regressive sales taxes.