SCREEN GRABS There's never been an un-interesting moment for the SF Jewish Film Festival (July 20 to August 6) to be going on, in political terms, since its inception 37 years ago. But let's face it, this year provides a spectacular political backdrop: The most-loathed POTUS in modern history nonetheless features as one of his few plusses (to some folks at least) being "staunchly pro-Israel"…even though at the same time, he's particularly popular amongst anti-Semites and Holocaust deniers. Wee-hee! Exciting times. Try not to let your head explode.
No doubt those contradictions will fuel many a between-films discussion at what has long been one of the most politically engaged amongst the Bay Area's many annual film festivals. And at risk of seriously belaboring an already-bad joke, it need be said that the 2017 JFF does have one thing in common with our Commander-in-Grief: It's yuge.
The 18 days overall encompass programming in San Francisco (at the Castro), Albany (East Bay Albany Twin, plus one show at the Parkway), Palo Alto (Cinearts) and San Rafael (Rafael Film Center). Featured guests at various events will include Al Gore, veteran activist Heather Booth, leading US documentarian Joe Berlinger, and "golden era" Hollywood screen siren Hedy Lamarr's son.
The Castro kickoff on the 20th is Rachel Israel and Karlovy Vary's prize-winning debut feature, Keep the Change, about two Manhattanites on the autism spectrum whose romance gets launched at a JCC support group meeting. (On a related note, this year's Centerpiece Documentary Dina offers a non-fictive look at another couple whose relationship has likewise triumphed over individual "developmental differences.") The East Bay opener on July 25 is Haitian I Am Not Your Negro director Raoul Peck's new The Young Karl Marx, a primarily German-language biographical drama about guess-who. The South Bay opening night selection (July 22) is Fanny's Journey, Lola Doillon's factually-inspired tale about Jewish children fleeing Nazi-occupied France.
Special programming sections of varying size will be devoted to women's directorial debuts; a "next wave" of contemporary stories set around the globe; remembrance of the Six Day War half a century ago; "Exodus: A Sidebar on the Refugee Experience," with five features devoted to that theme; and "Take Action Day" (July 24), whose activist documentaries will include Bonni Cohen and Jon Shenk's locally produced An Inconvenient Sequel: Truth to Power. The climate-change followup will indeed occasion an appearance both onscreen and off from former Vice President Gore.
>> Need a car to get there? Rent one in your neighborhood on Getaround. Sign up today, and enjoy $50 off your first trip: http://get.co/48h. [Sponsored] 
With more than 50 features and numerous shorts from around the world playing in overlapping schedules that embrace the East, North and South Bay as well as SF, SFJFF37 has a lot to offer—no matter what your ethnic, cultural or religious identification. Here's just a few highlights:
BOMBSHELL: THE HEDY LAMARR STORY
San Francisco's JFF closing night this year will present Alexandra Dean's appreciation of a famous beauty: Hedvig Kiesler, a Viennese Jewess who became notorious for early nudity (in the 1933 Czech art film Ecstasy), then something of an empty-glamazon joke as carefully re-packaged by Hollywood studio MGM. That no one cared she had a lot more to offer (including a pioneering knack for technological invention) constitutes the primary refrain of this entertaining documentary. It case-pleads a bit simplistically, while nonetheless limning the many contradictions of the vain, restless, sometimes self-destructive personality beneath that ravishing face.
1945
The festival's "Centerpiece Narrative" selection (playing at all four of its main venues, as does Bombshell and several other titles) is an absorbingly spare yet fraught narrative that takes place over the course of a single day in a rural Hungarian hamlet. World War II has finally ended, but the unexpected arrival of two mysterious Jewish men sends ripples of panic through the local population—have they come to reclaim land and other things stolen from them by villagers who helped send their like to the concentration camps? If you want a latter-day, non-fiction companion piece to Ferenc Torok's period drama, take a look at the recent Keep Quiet, which (though not in the JFF) chronicles the political downfall and questionable rehabilitation of a high-ranking young Hungarian leader of the anti-Semitic extreme right who found out a few years ago that his own family is, in fact, Jewish.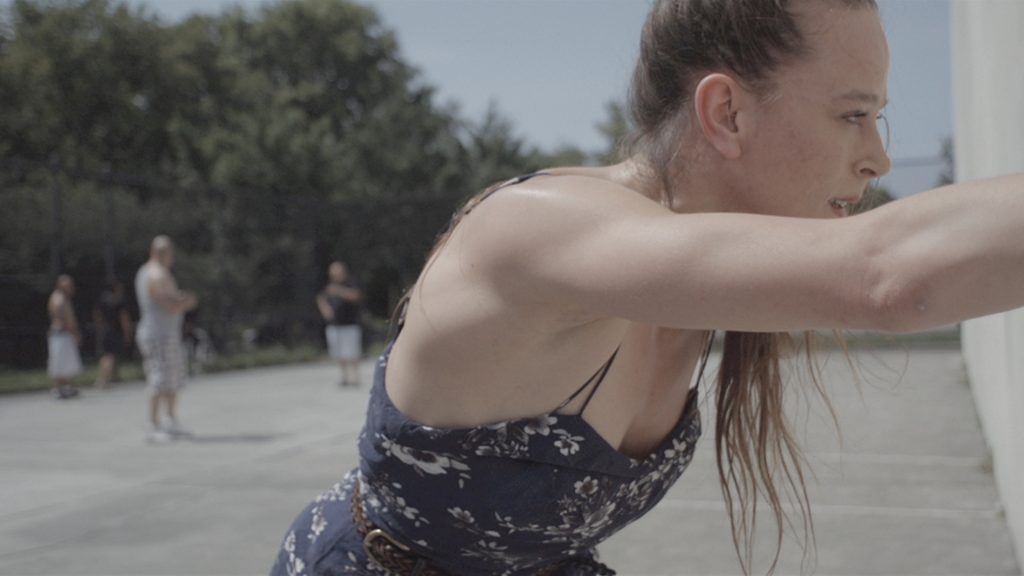 BOBBI JENE
If you're a fan of Israeli choreographer Ohad Naharin, saw the excellent recent documentary about him Mr. Gaga, and/or attended a performance by his Batsheva Dance Company at YBCA not long ago, you'll want to check out this separate study of one of his star dancers. A cornfed Midwesterner picked to join the multinational Batsheva troupe at age 21, Bobbi Jene Smith decides to leave Tel Aviv, her boyfriend, and her career to date at 30. Elvira Lind's feature follows her fledgling first steps at carving out a new path as choreographer and teacher. Smith will perform live at SF's ODC/theater on August. For another, considerably more tormented nonfiction view of women's commingled artistic and personal journey, check out Hope Litoff's 32 Pills: My Sister's Suicide, in which probing her late photographer sibling's tragic death nearly drives the filmmaker itself over the brink.
JOE BERLINGER
The festival's Freedom of Expression award goes to one of the world's most prominent documentarians. First coming to the fore with two indelible true-crime investigations in the 1990s (Brother's Keeper, Paradise Lost), Berlinger has since cast his keen eye on everything from musicians (The Rolling Stones, Metallica) to Nazi medical experiments (Grey Matter), corporate environmental malfeasance (Crude), mobsters (Whitey), our prison and justice systems, and even Tony Robbins (I Am Not Your Guru). He'll appear for an onstage interview at the Castro July 27, on a program that will also feature his new Intent to Destroy, about the Turkish government's continuing denial of the Armenian Genocide which claimed approximately 1.5 million lives a century ago.
PARADISE
One of the most striking films in this year's JFF is, like 1945, a B&W drama set in Europe around the close of World War II. It's one of the strongest films yet over the nearly six-decade career of Russian/international director Andrei Konchalovsky (Runaway Train), who's now 79. A mix of straightforward narrative and first-person "interviews" (which lead to a major twist) depict the circumstances that bring several characters together—most notably Russian aristocrat turned French Resistance member Olga (Yuliya Vysotskaya) and SS officer Helmut (Christian Clauss). Acquaintances in happier times, they meet again when she's a prisoner in his concentration camp. At once straightforward and ingeniously tricky, this narrative leaves a startling impression that gauges the extremes of human behavior and morality. It won Konchalovsky a Silver Lion at the Venice Festival last year. San Francisco Jewish Film Festival runs July 20-Aug. 6 at various locations throughout the Bay Area. For program, location, and ticket info, visit www.sfjff.org
>> Need a car to get there? Rent one in your neighborhood on Getaround. Sign up today, and enjoy $50 off your first trip: http://get.co/48h. [Sponsored]