Valerie Morco, a retired nurse, has been living in a studio apartment at 285 Turk Street for 17 years, since she and her late husband moved from the Philippines. For Morco, now 76, the 49-unit building in the heart of the Tenderloin has been a good place to live, with a strong sense of community, especially among the many Filipino residents.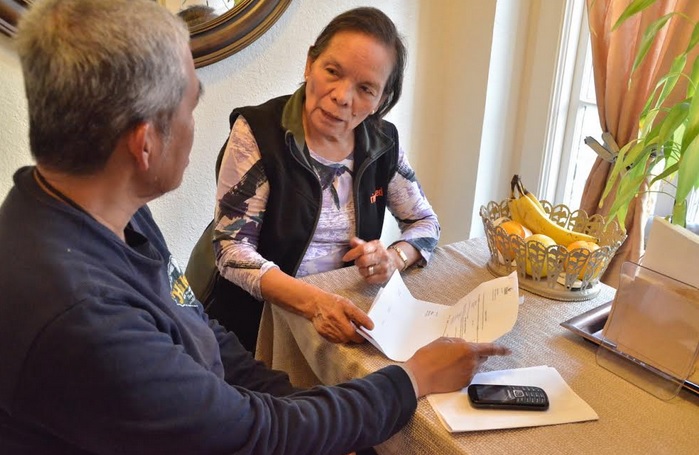 Morco was back in the Philippines on a visit last January, when tenants came home to find a piece of paper taped to their apartment doors with an ominous headline: "Change of terms." The document, from Mosser Companies, the building's owner, announced increases of up to 70% on their monthly rent.
Morco learned about the rent increase by telephone but her neighbor, Mauro Tumbocon, 64, personally discovered the notice. It pushed his monthly rent from $1100 to $1895.
"Am I reading right?" thought Tumbocon, ahead of a sleepless night. "I thought it must be an error."
It wasn't, although the tenants, with help from allies in the neighborhood and at City Hall, were able to get the owner to temporarily withdraw the rent hikes. On July 14, the tenants received new rent increases, this time ranging from 10 to 30 percent. The building is exempt from rent control because of major repair work done in the aftermath of the 1989 earthquake.
The rent increases at 285 Turk Street may be extreme, but a new report from Zillow, the Seattle-based housing data company, documents the strong connection between rent increases, especially at the low end of the housing market, and the explosion of homelessness that has made outdoor encampments a disturbingly common feature of urban American life.
Zillow created a statistical model that adjusts presumed undercounts of homeless people and uses historical data linking rent increases and homelessness. Based on this model, the company predicts that local rent hikes of 5% would boost the number of homeless people by 3,000 in New York, 2,000 in Los Angeles and 260 in Seattle.
In San Francisco, median rents have increased from $2,972 in 2012 to $4,544 in 2016, according to Zillow. In that time, the company's research shows, the official number of counted homeless people has gone from 5,885 to 6,996. Zillow's data suggests that those numbers miss about a quarter of homeless people and that the true number of homeless people in 2016 was 8,752.
"We've seen so much pressure on rental housing markets in the last few years that it has generated a rental affordability crisis," said Skylar Olsen, a senior economist at Zillow and contributor to the new report. "Once you get down to lower levels of income, it has spilled over into a homelessness crisis."
While federal housing guidelines have long recommended that people pay no more than 30% of their income for rent, that standard has become obsolete for huge numbers of renters. A report released in June by Harvard University's Joint Center on Housing Studies found that 11.1 million households – nearly one in four — spend more than half their income on rent. The recommended 30% threshold is exceeded by almost half — 48% — of renters.
Spending that much on housing puts families in a tenuous position, leaving them vulnerable to becoming homeless in the event of a job loss, medical emergency or other crisis, Olsen said.
"Once rent burdens exceed 35% of income, close to 65% of families save nothing," she said. "Nothing for emergencies, nothing for retirement and nothing for vacations."
That's not a theoretical problem for the tenants of 285 Turk. Tumbocon's revised rent increase of 25 percent – if it sticks — will force him to spend 55 percent of his $2,500 a month take-home pay on rent, up from the current 44 percent.
"You're paying what you earn for housing, food and health care, and for utilities," he says. "There's nothing left."
For low-wage workers, rising rents make it almost impossible to afford housing without crowding into small apartments or sharing with other people or families, according to a report released this year by the National Low Income Housing Coalition.
In California, the report found, a single person would need to work 92 hours a week at the state's minimum wage of $10.50 an hour to pay the $1,261 market rate for a one-bedroom apartment without paying more than 30% of their income. To afford a two-bedroom apartment renting for $1,608, it would take 2.9 people working full time.
In San Francisco, the most expensive rental market in the country, someone working a standard 40-hour week needs to earn $58.04 an hour to afford a two-bedroom apartment.
The explosive rise in rents and homelessness in high-rent urban areas, especially in the west, is, in part, a legacy of decades of federal disinvestment in low-cost housing that began with the election of Ronald Reagan in 1980 and is now being echoed in the budget proposals of the Trump administration.
Reagan quickly reversed the federal goal, made with the passage of the Housing Act of 1968, to produce 2.6 million units of housing a year, with 600,000 for low-income families. He gutted the low-income housing budget of the Department of Housing and Urban Development, based on a report which found "no need for a nationwide direct subsidy program to stimulate the production of rental housing."
HUD's budget dropped from $83 billion to about $18 billion (in 2004 constant dollars), according to the Western Regional Advocacy Project, a 12-year-old group that works to address the "root causes" of homelessness and poverty. And from 1995 to 2011, 650,000 HUD-supported units of public or subsidized housing were demolished or converted to market-rate housing, according to WRAP's research.
The Zillow report linking rents and homelessness clashes with the popular perception that people are homeless primarily because of character failings or pathology, said Megan Hustings, director of the National Coalition for the Homeless.
"The stereotypes are still very strong," Hustings said. "If they run across someone who is homeless, many people think it's because they're mentally ill, they drink, they don't want a job, they don't want shelter, they chose to be homeless. That's not true for the large majority of homeless people."
Olsen and her colleagues at Zillow say the official counts of homeless people released every other year by the federal government significantly underrepresent their actual numbers. Those counts, performed every two years, are based on volunteers counting people on the street and by shelters submitting their census tallies.
Zillow uses statistical modeling to create its own projections of the number of homeless people in each city based on a 2005 study that estimated that only 59% of unsheltered homeless people – those living on the streets as opposed to inside shelters – are actually tallied during the yearly homeless counts. The report makes the conservative assumption that cities do accurately count people living in shelters.
One huge federal housing subsidy that has not been cut is the tax deduction that homeowners receive for the interest they pay on their mortgages. The deduction costs the federal government about $70 billion, and 75 percent of the benefit goes to the top 20% of earners, according to a new report from the National Low Income Housing Coalition.
Looking at all the money spent by the federal government on housing — either from revenue lost to tax deductions of funds spent on housing assistance – the Housing Coalition's report found the vast majority goes to the wealthiest Americans, with $30.1 billion going to households earning $20,000 or less and $85.3 billion going to households earning more than $100,000.
"Do we subsidize housing in this country?" asked Zillow's Skylar Olsen. "Sure we do, we just tend to subsidize affluent households more than those that are truly in need. It's an inequity that has been baked in for a long time."
>> Rent a car in your neighborhood on Getaround. Sign up today, and enjoy $50 off your first trip: http://get.co/48h. [Sponsored]