Scott Wiener's bill to strip cities of local zoning and allow more housing density is becoming an issue in the SF mayoral campaign.
Sup. Jane Kim held a rally this morning in West Portal, with neighborhood leaders denouncing SB 827.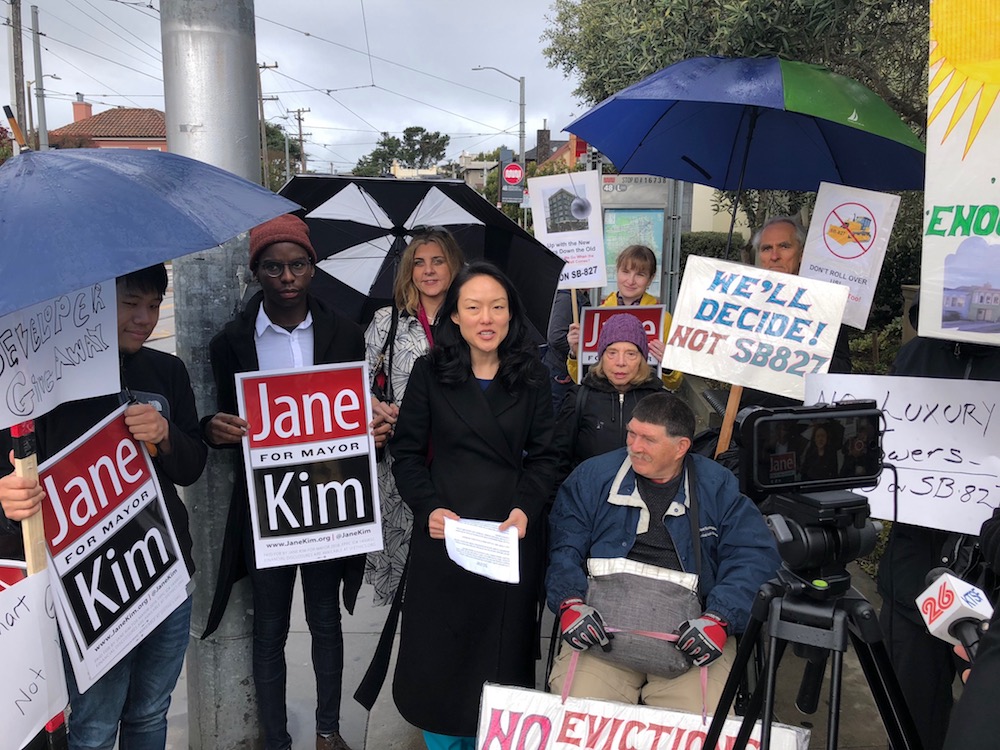 Her move comes after Supervisor Aaron Peskin put forward a resolution urging significant amendments that may lead to a statement of formal opposition.
The Planning Commission heard a presentation on the bill this afternoon.
Wiener appeared on KQED's Forum this morning, saying that his bill is about "un-banning apartment buildings" near transit stations.
But it's really about a lot more than that.
Kim, joined by George Wooding, president of the Coalition of San Francisco Neighborhoods, and land-use lawyer Christine Linnenbach, said that the Wiener bill is a "one-size fits all" solution that would unfairly impact San Francisco.
"I am a supervisor who has approved more housing than any other legislator on the city in the past seven years," Kim said. "But SB 827 is the wrong way to go."
This could be a powerful issue on the west side of town, where Kim in the past has not had strong support. The west side, for both good and bad reasons, hates SB 827, which would pretty much end single-family density in San Francisco.
Kim posted a piece on Medium today headlined "We don't need to destroy the Sunset to save San Francisco." She argues that the bill
upzones our entire City without increasing developer contribution to transit, parks, schools or other services critical to sustaining our neighborhoods. This is not how we build housing or grow livable cities.

Meanwhile, the cities who refuse to invest in public transit aren't required to build any new housing.In fact, SB 827 rewards bad actors who refuse to build public transit or housing — sorely needed throughout the region.
Kim – like a lot of us – is not a big supporter of maintaining single-family zoning in 70 percent of the city. San Francisco absolutely needs increased density on the west side of town. And the idea of building along transit corridors makes perfect sense – as long as you don't stop to read the Wiener bill.
Planning Commissioner Dennis Richards pointed out some of the issues during the hearing. He noted that the measure would allow developers to add tens of thousands of new units on transit corridors that are already crowded (Geary may be a "quality transit" area, but those buses are already packed most of the time) – without any new money to improve the infrastructure.
In fact, Richards said, even if the city eventually collected enough property tax to start to catch up with transit needs, the bill would create a "dystopian future" for a least ten years.
Wiener also assumes that people who move into housing, including luxury housing (which is what developers will build in San Francisco) along transit corridors won't use cars. The new buildings he envisions would not have parking, which is good – but the wealthy residents aren't all going to take overcrowded, inadequate transit. They'll buy cars, use Uber and Lyft, and generally increase traffic problems.
Wiener keeps talking about amending the bill, but unless he changes it pretty radically – to allow, for example, cities to capture the increased value that property owners will get from increased density to pay for transit – it's going to be hard to get local support.
Kim told me today that she can't envision any amendments that would make the measure acceptable.
So far, only a few of the groups talking about endorsements in the race have made this a major point of focus. But I think that's going to change as the voters learn more about this issue.
So far, London Breed is a full supporter of SB 827.
Mark Leno says he can't support the measure as it's currently written, but is open to amendments:
As I've said from the start, I understand the concept behind the bill and I have great regard for the author. The concept being that we incentivize and in some cases mandate greater height and greater density along transit.

I took an opposed position until amended, and I have not digested all of the recent amendments. If we can protect lower income areas that would be up zoned [thus making] the properties more valuable and giving incentive for them to be displaced, [that protection] is a good thing.

I will say, Scott is trying to address many parts of the state that are building no housing at all, like the Mayor of Brisbane saying he's going to construct a commercial park with 3,000 new jobs and leave the housing to SF. But there should be allowances for SF, which is building more housing per capita than any city. 

Renouncing all local planning control is a very serious issue. One size fits all zoning can have enormous unintended consequences. It's a work in progress, it will continue to be amended, and the process will continue.
The supes will vote on the Peskin measure soon. The Los Angeles County Democratic Party voted unanimously to oppose it. This one isn't going away.