LIT Bay Area author Leticia Del Toro is not a household name… yet. Her work has appeared in Huizache, Zyzzyva, Cipactli and Mutha Magazine. Her short stories are some of the best out here dealing with migration, gender and working-class realities. One of them, "Café Colima," received the prestigious Short Fiction Award from Kore Press and is now available as a chapbook.
Leticia Del Toro spoke with 48 Hills ahead of her reading (with Norma Liliana Valdez)
at the Green Arcade Books, Wed/27, 7pm. All proceeds from the sales of "Café Colima" will benefit the ACLU.
48 HILLS You have been writing since your teens, growing up in working-class
Crockett during the 1980s. To what extent did growing up in the Reagan
years shape your writing?
LETICIA DEL TORO Living in fear of nukes was part of my childhood. I can remember doing the lockdown drills in my elementary school, but I wouldn't say that specific fear made its way into my fiction writing. I do, however, remember as a third grader, writing to my grandmother on her ranch in Jalisco, and telling her I was afraid the world would end either from an earthquake or a bomb. She wrote back via my aunt who was the letter writer and told me not to worry about the problems of the world, to be happy that my parents would take care of me.
There existed a fear that permeated my childhood experience, but there were other hostile elements I experienced as a young person living in a small refinery town. Even though I was from a family who was known and liked, I was sometimes called a Hindu or Iranian, and called "Ayatollah" at school. I didn't truly know what was going on politically or racially until later. It begs the question: how were elementary school kids taught to hate so early? The media had so much to do with feeding anti-immigrant sentiment. I have a story called "Peaches" in which the protagonist, Tila, is eleven and she is assaulted on the playground and called "Ayatollah." That's very real. It made me feel an early connection to other communities of color. I remember thinking, I could just as easily be identified in the world as Indian or Middle Eastern. It made me reflect on what it's like to walk in other people's shoes and hopefully, it gave me a little more empathy.
The other Reagan-era policies that inherently make their way into my work and truly, impacted the lives of folks across the country, were the cuts to mental health care from the federal budget. My father was a machinist, who held the same job for over forty-five years. He had also experienced violence along the border when he came over as a fourteen-year old. I think those early years of his immigration really scarred him and he battled addictions and depression all his life, until his death in 2010. Many working-class folks of his generation truly needed mental health care. I remember being in grade school, hearing about suicides and violent acts that occurred along the Carquinez Bridge and near the bay. There were also folks that had serious chemical dependencies and ended up dying in the street or incarcerated. When I moved to Berkeley as an undergrad, I saw suffering up close in the streets. Here we were these privileged kids studying lofty ideas on campus and then you'd walk past Sather Gate and mingle among all the homeless people. I soon learned there was a direct correlation between vulnerable populations living in the streets and the cuts to mental health care.
When I look at my stories now, I see most of my main characters are dealing with the impact of addiction in their lives or fleeing from the law in some way. In "Café Colima," the protagonist is living with the aftermath of having both lost her sister and her parents to different types of violence. In some ways, my writing bears witness to those circumstances.
48H "Cafe Colima" explores grief and loss of a sibling. Is moving on from this kind of tragedy also a form of loss?
LDT Sure, one can cling to tragedy and trauma and use it to create meaning in your life, whether we're talking about real life or in Arcelia's case as the protagonist in "Café Colima." She uses her trauma as an excuse not to take risks. She uses her grief as a sort of barricade between herself and the world. The loss can be a way of defining yourself. It's just a shaping force in your life if you've lost someone you've shared a very close bond with.
There's also a certain intensity to the early process of grieving, in which you want to scrape together every memory you have of that person, every photo, every note they've ever written to you. It all becomes this kind of sacred quest to enshrine your memory of the person. It's no secret that much of this story is derived from the grief I felt in losing my own brother when I was 25. Unlike the two sisters in the story who were very close in age, we had a seven year difference between us. For years, I was in this mode of piecing together my memories of life with him. It's only in the last four or five years that I have started to write about him in essays and in a more layered way, in fiction.
I do know that a part of my life, my early adulthood, has been defined by that loss. Growing away from its intensity, actually growing older and giving myself permission to move on has been daunting. I was terrified of having children and yet I took on that challenge of becoming a parent. I knew how deeply it hurt to lose my brother and I was actually afraid to have a child, to move on to parenting because I was afraid to love that deeply, and I'd ask myself wow, what would the loss of a child feel like? Grieving and feeling that pain can be something to hold on to, but if you hold on to it too much it can paralyze you, too.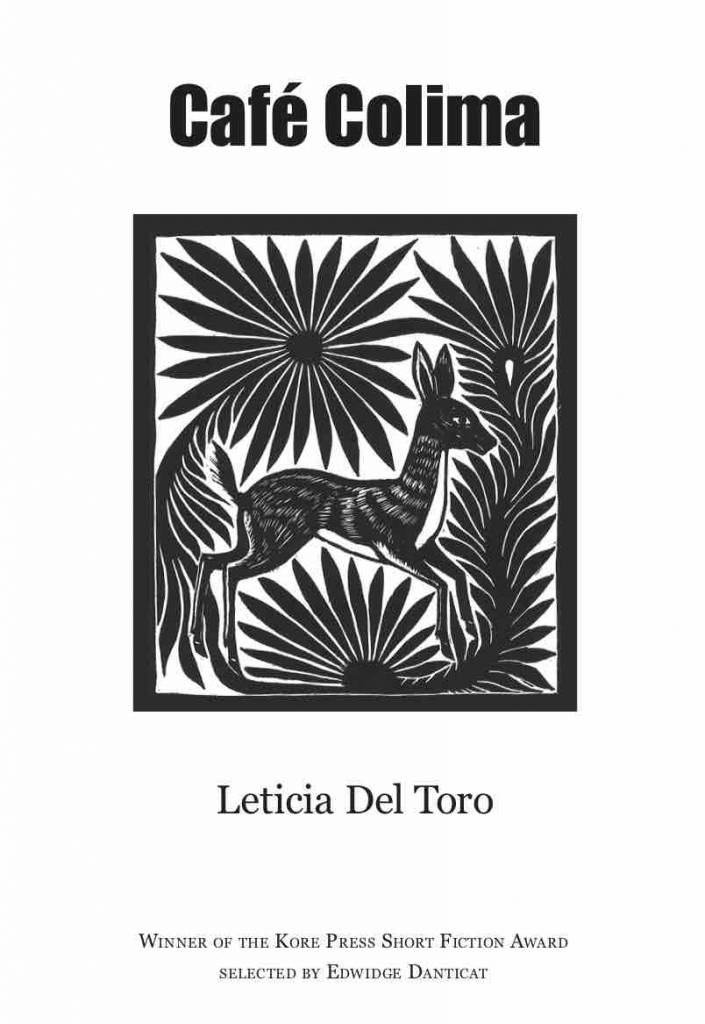 48H What was the purpose of making the Café itself a sort of character?
LDT It's interesting how that turned out. I didn't actually plan to make the Café a character, but it does kind of have a life of its own. I know I wanted Arcelia and Selene's every day surroundings to have their own physicality. That everyday quality of having to work, having to show up and prep radishes or fill pastry boxes, those necessary images just presented themselves while I was writing. The representation of the café probably showed up so vividly because it stems from a time when I was around nine or ten and I went to my mother's work after school. It was a Mexican deli in Richmond, go figure, and I hung out in the pantry and listened to these Mexican women, my mom and her coworkers talk and work, and take orders and cook, and get through the evening. There were actually two delis that my mother worked at and she alternated between them, La Palma and La Palmita.
I also knew I wanted to write about an everyday, average Latina, someone you might run into waiting for the bus, or getting lunch, or someone you might see at a café and not think twice about. I know that these every day characters often appear ordinary, but often are very humble about their own heroic qualities. I've talked to plenty of editors who want to see a Latina in exotic, international locales making an impact in the world, rising above her humble beginnings. Fine, that's one kind of story, but I think reflecting a neighborhood and the specificity of one character's suffering and changing is equally interesting. I had also read a good amount of work about Chicanas set in Los Angeles, Chicago and Texas and at some point I started generating actual scenes about this East Bay character whose life was grounded in her grandmother's café.
48H Does your mission as a writer change as the external world becomes more reactionary and conservative?
LDT It becomes more intense and necessary. One of the reasons I write is because it helps me make sense of the world. It also gives me pleasure. When I'm on a writing streak and I've been at it for hours, I actually feel physical pleasure and gratification. Discussing writing and being in an intellectual environment is also a happy place for me, but then you get to a point where writing is just necessary. Some of my poetry and essay writing has surged from that place, where thoughts are just swirling in my head and I have to get them out.
The first essay I wrote for Mutha Magazine was in response to police brutality and the initial stages of the Black Lives Matter movement. I also wrote a poem called "Alive at Lampedusa" that referenced one of the ships of African refugees that arrived in Italy, but it linked ideas about immigration in the Southwest, as well. I wrote those pieces because they felt very essential, poems of witness, but they are also pieces that stake a claim and express my beliefs.
Luis Alberto Urrea was a faculty member in the audience when I first read "Alive at Lampedusa" in Ripton, Vermont, and he came up to me afterwards and hugged me. That was a big moment. I felt I'd hit a nerve and people really listened. With fiction, I think I'm just trying to filter through what it was like to be a young woman in the 90s, a young woman born into a very traditional, macho-led family which did not encourage me to take risks or to aspire to become anything other than a wife or mother, not what I wanted to do at age eighteen! I needed to see literature which spoke to my experience. I have been writing towards that void. At the same time, I know I have an urgent responsibility to write about injustice and how I feel connected to other people in the world, to highlight my experience when we're living through this era of isolationism, othering, and the dehumanization of Latin American families.
48H One of the great things about the moment we live in is the attention given to the exclusion, and alternatively tokenization, of writers of color. What do you think needs to happen to for the publishing industry to finally move forward in terms of race?
LDT We need a lot more people of color in publishing and we need a whole plethora of writers of color published. We need to multipy the titles written by people from different racial, cultural and socio-economic perspectives, When I have had work that has been rejected, one of the comments is invariably, "it didn't speak to me," or "I couldn't get into the story." It's all a matter of taste, right? So editors and publishers want stories that they can relate to, but honestly how is an editor going to relate to my linguistically specific and regionally specific story about working-class issues or misogyny if they have no life experience to bring to that reading?
There is the rare editor who is going to appreciate a new point of view and a new voice and appreciates a glimpse into a world unfamiliar to them, but those editors are few and far between. In order to get more people of color into publishing we need more mentorship programs, more opportunities for paid internships and more formal initiatives that promote diverse writing. That bit about getting paid is serious, too, because let's face it if you come from a non-traditional background and your parents are not able to support you for a summer or two, you are going to pick an industry that pays you over a seasonal nonpaid internship in publishing. It's economic survival.
Oscar Villalon wrote a very pointed essay about this a while back on LitHub, called "Diversity in Publishing: What Happens Now?" We Need Diverse Books is also a great organization that is making changes to diversity children's and Young Adult literature. Other publishers need to take the lead like Graywolf Press. They offer a fellowship called the Citizen Literary Fellowship that encourages candidates that would not otherwise have access to careers in publishing to explore the field. More fellowships like the Emerging Writers Fellowship from PEN America would also help people like me gain access to the industry.
48H What's next for you?
LDT I've been invited to do another reading in San Antonio, Texas on July 30th at The Twig, after attending the Macondo Conference. I'm especially thrilled to join theMacondo Conference, since so many amazing writers have sung its praises over the years. It's rumored that Sandra Cisneros will be attending this year, so I'm excited to share time and community with her. Kore Press is also organizing a joint reading in Arizona, in a few months which will feature me along with poet, Natalia Treviño, who also has a forthcoming chapbook called, VirginX (Finishing Line Press). In between readings, I'll be switching gears a bit and working on a novel. I'm moving away froms short stories to work on my novel, Return to Azucena. I'm also going to Mexico towards the end of the summer for research and reconnection with family.
LETICIA DEL TORO 
Wed/27, 7pm
Green Arcade Books
More info here.