The big-screen experience for movies is on the cultural endangered list, between venues going under (or having their leases revoked by landlords eager to jump on the development train) and streaming services like Netflix that deliberately keep films out of theatrical release. So an annual blowout like SFFILM, aka the San Francisco International Film Festival, increasingly represents one's only chance to see many films projected in a communal setting—not just the usual types of "festival movies" that are unlikely to get commercial distribution, but many bigger titles that these days might bypass theaters entirely.
Its 62nd edition unfolding April 10-23 at various SF and East Bay venues, SFFILM 2019 offers the usual feast for cineastes, though not everything is a "movie": In fact the opening night attraction is Armistead Maupin's Tales of the City, the latest continuance of that beloved SF-set serial, which will next surface on (where else but) Netflix after the Castro premiere of its first new episode. Expect Maupin, director Alan Poul, and returning star Laura Linney to appear before the show, and at the Regency complex party afterward.
Linney is one of several talents getting her own stand-alone tribute this year, along with fellow blonde thespian Laura Dern (whom she's joked she's often mistaken for) and a third versatile veteran performer, John C. Reilly. Directors similarly being feted are the French Claire Denis (presenting her latest High Life, a rare odyssey into both sci-fi and English language cinema), and pioneering African-American documentarian Madeline Anderson, whose work will be represented by films from fifty and sixty years ago.
Other spotlit personalities will include Hollywood child actor turned early SF Film Society chief Claude Jarman Jr., second-generation musical talent Jakob Dylan (starring in concert documentary Echo in the Canyon, which pays tribute to his father's singer-songwriter generation), Oakland's own multimedia maestro Boots Riley (offering a State of the Cinema address in the wake of his hit directorial debut Sorry To Bother You), and Kalil Joseph, whose work in various forms (including Beyonce's epic "music video" Lemonade) has straddled the realms of commercial and experimental.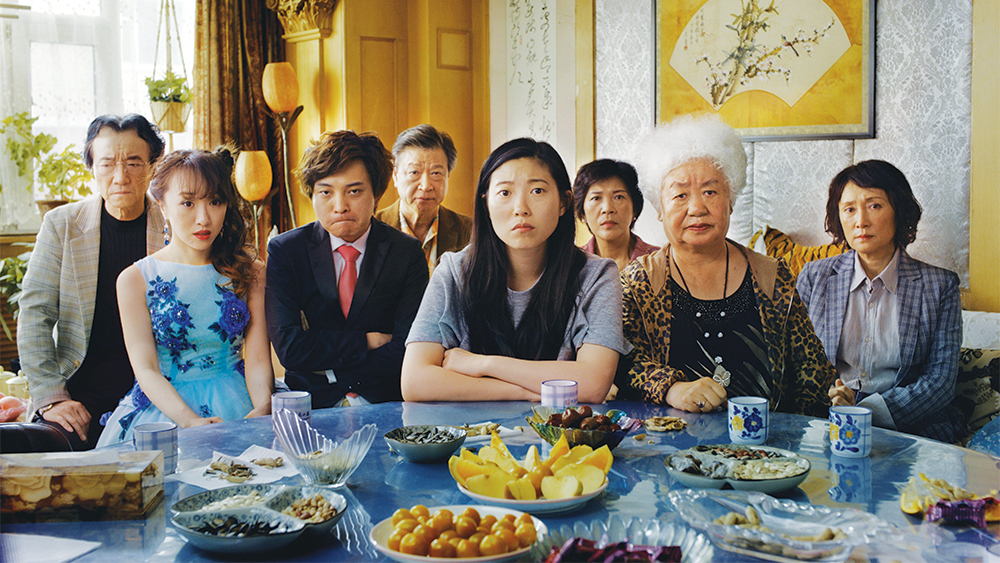 Additional highlighted events include "Centerpiece" film The Farewell, Lulu Wang's US/China co-production with Crazy Rich Asians' Awkwafina in a globetrotting dysfunctional family comedy; all-female rock quartet Warpaint performing a live score to accompany films by the great celluloid avant-gardist Maya Deren; a salute to the superb, long-running U.K. television cultural showcase BBC Arena; and official closing-nighter Official Secrets, with Keira Knightley as a real-life whistleblower working for British intelligence.
There will also be documentaries about Dr. Ruth, Ai Weiwei, migrating elephants, Satanists, the "American Dream," Alexandria Ocasio-Cortez, prison basketball, fashion designer Halston, China's "one child" policy, Molly Ivins, Toni Morrison, Christo, Miles Davis, Mikhail Gorbachev, a refugee camp in a defunct Berlin airport, Brazilian politics, Mexican cuisine, teenage modeling, SF rock photog Jim Marshall, competitive dog grooming, a Creationist "museum," lost Afghani film, and…well, there's a lot.
If you're more in the mood for fiction narratives, on tap are new movies from up-and-comers like actress turned acclaimed firsttime feature director Olivia Wilde (Booksmart) and rapper turned ditto Fab 5 Freddy (Grass Is Greener), plus established favorites including Stanley Kwan, Werner Herzog and Paolo Sorrentino. As ever, the festival's program spans the globe, with fifty-two countries and thirty-six languages represented. Among the dozen world premiere titles are Zachary Cotler and Magdalena Zyzak's When I'm a Moth, a fact-inspired fiction about a young Hillary Rodham (Addison Timlin) mulling her future options while working at an Alaska cannery in 1969. All this plus shorts programs, the experimental "Vanguard" section, culty "Dark Wave" selections, educational programs, lectures and more.
Since being spurned by its longtime exhibition homebase the Kabuki a few years back (its new owners no longer wanted to host local festivals), SFFILM has diversified its venues, spanning from the Mission to downtown, plus the Pacific Film Archive in Berkeley and Grand Lake in Oakland. This year's program even has a handy chart to gauge your likeliest walking times and transit routes between locations.
2019 SFFILM FESTIVAL, Wed/10-Tues/23, various SF and East Bay venues. For the full schedule, individual descriptions, ticket info, et al, go to www.sffilm.org