Plagued by site issues, limited construction time, a surplus of attendees, heavy traffic delays, inclement weather conditions, a scarcity of food and medical supplies, and an all-out sanitation crisis, the Woodstock music festival could have very easily devolved into violence or been shut down by health officials in the summer of '69.
Heightened conflicts between hippies and law enforcement over sexual politics, civil rights, and the Vietnam War, earlier that year, had already made a mess of similar festivals in Miami, Denver, and Los Angeles.
So Woodstock's producers felt that in order to keep the three-day music and art fair—which from August 15 to August 18, 1969, saw such legendary rock acts as Santana, Grateful Dead, Creedence Clearwater Revival, Janis Joplin, Sly & The Family Stone, The Who, Jefferson Airplane, Jimi Hendrix, and Crosby, Stills, Nash & Young—peaceful, they'd need to try something different.
To handle security, they'd bring in one of the crowd's own, entertainer-activist Hugh Nanton Romney (better known today as Wavy Gravy) and members of his Hog Farm commune, who already demonstrated an ability to handle large crowds at their own shows across the country.
Dubbed the "Please Force," they took a very different approach to crowd control than traditional law enforcement. Instead of barking, "Hey you, do this," they'd ask offenders, "Would you please do this?" They'd also set up freakout tents, where attendees experiencing bad acid, mushroom, or mescaline trips could chill out, till the drugs wore off.
Wavy Gravy reminisces about the three historic days of peace and music at Max Yasgur's Farm in award-winning director Barak Goodman's new documentary "Woodstock: Three Days That Defined a Generation," which features never-before-seen footage and interviews with organizers, performers, and attendees.
I spoke to Wavy Gravy, who today divides his time between his home in Berkeley, where he continues to support his Seva Foundation in its fight to treat reversible blindness around the world, and Laytonville, where he runs his Camp Winnarainbow, an all-ages circus and performing arts camp, about keeping the peace, love, and understanding at Woodstock.
48 HILLS When you think back on Woodstock, what are the first thoughts that come to mind?
WAVY GRAVY Max Yasgur's farm was a beautiful bowl. We had been looking and looking and saw this place and it was wham, that's it, absolutely positively it, and that it was able to accommodate half a million people.
I remember walking the property and there were probably 20 to 30,000 people come in and sat down and we got the word that they wanted us to clear the infield to start taking tickets. And I immediately said to them, "Tell them, 'Do they want a good movie or a bad movie?'" because I knew that they had just sold the movie rights to Warner Bros. for six figures. To their credit, they came back almost immediately and said, "You're right. We'll make it a free concert."
48 HILLS We always hear that there was no violence at Woodstock. Is that true?
WAVY GRAVY Well, there was a couple of cowboys that started punching each other, but half a million people went, "Peace," and they just about shit in their pants and then shook hands and then everybody cheered. And that was the one violence that I recall.
48 HILLS How was your Please Force able to keep almost half a million people peaceful for three days?
WAVY GRAVY When we were putting things together, and we had decided to use these red armbands with a stencil of a flying pig in white on the armband, the promoters said, "Well, how many armbands do you need?" Ken Babbs from the Merry Pranksters asked, "How many people are you expecting?" and he said that it could be over 100,000. Babbs said, "That'll be sufficient," and they just about shit a brick.
We settled on 500 and made a thing with a potato to stamp the pig on the different arms. We just kept turning them out.
We'd throw a pile into our pocket and go out into the crowd. Every time we saw someone act responsibly, we'd give them 10 armbands, until, by the end of the concert, a lot of people were wearing those armbands. God knows how many we unleashed.
But here's the deal. People had come from all over the free world, from little villages and towns and cities, thinking they were the weird thing. Suddenly, there was a half-million weird things against the war and wanting to surf the music and the good vibes — what Abbie Hoffman called the "Woodstock Nation," and it truly was.
48 HILLS As part of the Please Force, you helped attendees going through bad drug trips in freakout tents at a pop-up Hog Farm.
WAVY GRAVY I went to where people were having trouble with their chemistry and there was this guy just laying on the ground, just screaming, "1944, Joyce, Joyce, Miami Beach." This 300-pound Australian doctor is laying on top of the poor guy, saying, "Body contact. You need body contact." The guy is going, "Miami Beach," and this psychiatrist leans in and says, "Just think of your third eye, man."
And I was thinking it's time for me to make my move, so I said, "Excuse me, let me try a little something." They backed up, thinking, "What's this little hippie gonna do?" And I leaned in and said, "What's your name, man?" He said, "Miami Beach, Joyce," and I said, "No, what's your name?" And he said, "Bob." I said, "Your name is Bob." He really liked that and you could see him calm down. I said, "Your name is Bob. Guess what, Bob, you've taken a little acid and it's gonna wear off," and he said, "Thank you."
And then, when he was near normal and ready to rock 'n' roll, I said, "You see that sister coming through the door with her toes in her nose? That was you four hours ago and now you're the doctor, so take over."
In the same way with the free kitchen, we just woke up and saw all these volunteers. We were passed out in the bushes exhausted and other people came in and did it. It was amazing.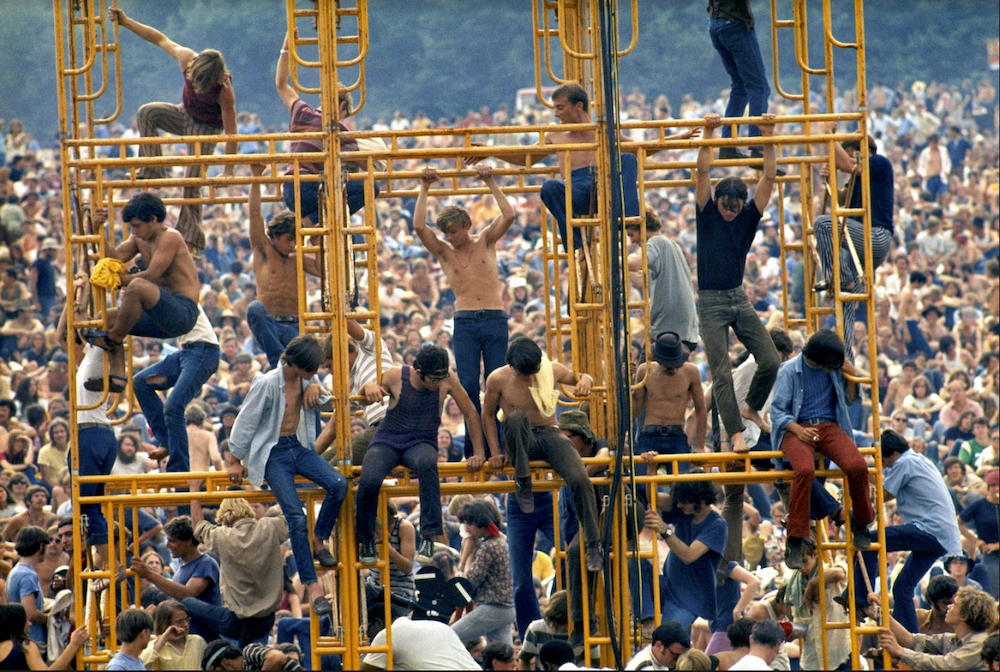 48 HILLS Speaking of the free kitchen, your "What we have in mind is breakfast in bed for 400,000″ announcement from the stage is legendary.
WAVY GRAVY That was picked up by "Entertainment Weekly" as one of the top entertainment lines of the 20th century.
48 HILLS Could you have imagined that we'd be talking about that line 50 years later?
WAVY GRAVY Fuck no. I was just trying to get information out, that we were about to bring granola in dixie cups to people that were enmeshed in mud.
48 HILLS Seeing how you helped create this functional mini-utopia that supported almost half a million people, in the film, is inspirational.
WAVY GRAVY It was a miracle, and this is something I think the universe wanted to do, to create this amazement. And there was an energy there that if you surrendered to it, you could be miraculous. The minute you thought you were Joe Cool doing shit, you could fall on your ass in the mud. But when you surrendered to this energy, you could flow with it and be amazing. That's what I discovered.
48 HILLS Which Woodstock performers impressed you the most?
WAVY GRAVY I didn't get a chance to witness that much. I brought my wife who was running the free kitchen along with Peter Whiterabbit and Lisa Law, and I was able to take her onstage to see The Incredible String Band that we adore.
I guess my great moment was at the end of the concert when I was wading through debris, and Jimi Hendrix played "The Star-Spangled Banner." I was like 50 feet from the stage and it was gate, gate, beyond, beyond.
48 HILLS What is Woodstock's legacy?
WAVY GRAVY Half a million weirdos who were anti-war and for rock 'n' roll all coming together solidified that they were not alone, and it empowered everybody.
WOODSTOCK: THREE DAYS THAT DEFINED A GENERATION
Opens Fri/31
Various Bay Area theaters
Tickets and more info here.