The San Francisco Planning Commission will hear a presentation Thursday/ 17 on the department's Community Stabilization Policy– supposedly an interagency effort to fight the disaster of displacement that has plagued San Francisco for the past decade or more.
There are a few bright spots in the proposal – it calls for more money for acquiring small buildings that could be bought by speculators, and it actually mentions pressuring Sacramento to repeal the Ellis Act and Costa Hawkins to allow the city to protect existing tenants.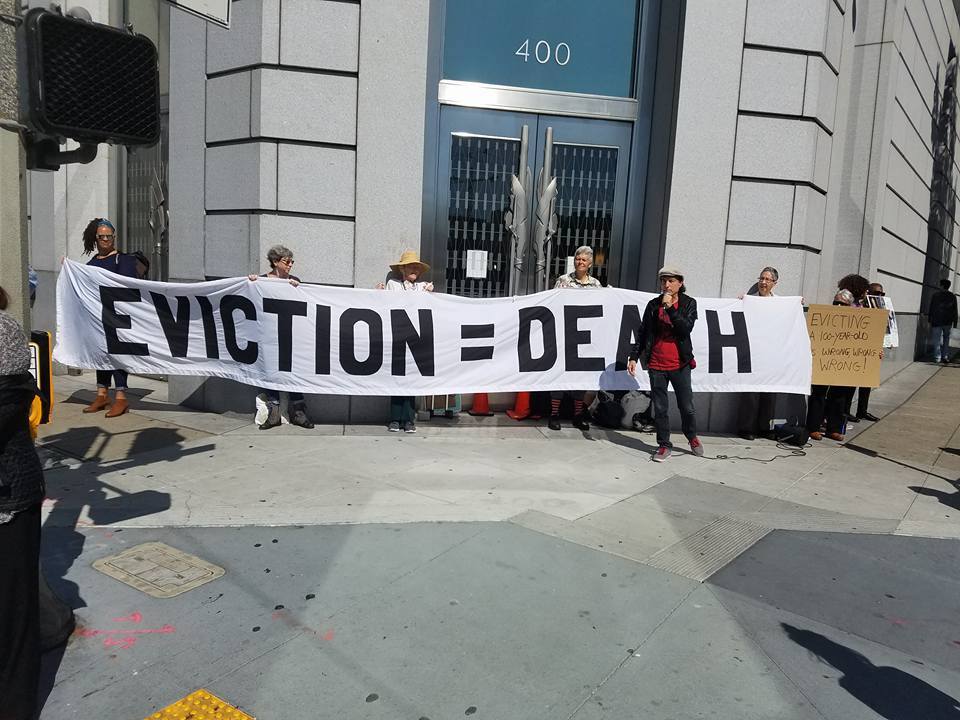 But for the most part, it's a reflection of longstanding policies that ignore the role office development and the tech boom has played in creating the housing crisis and does nothing to address income inequality or make sure that growth pays for growth.
It's a classic SF Planning document, one that's consistent with what former Mayor Ed Lee set as policy and what incumbent Mayor London Breed is continuing.
The document doesn't even mention the idea that office developers ought to pay the actual costs of the housing demand they create. It doesn't even mention the idea that new office space ought to be limited until there's enough affordable housing for the new workers. It just assumes that more growth is good, and that the city ought to do a few little things to scramble to protect vulnerable communities – without even a passing mention of the reasons for the crisis.
It's stunning.
Of course, Mayor Breed opposes the idea of office developers paying their fair share for housing. It's going to take a ballot measure to link new office space to affordable housing.
And the planners have decided to limit, radically, the tools that they could use to prevent more catastrophic displacement.
make matters worse, Breed has nominated for a vacant commission seat a land-use lawyer who has spent her career helping big, private developers get projects approved by the SF Planning Commission.
I don't think, in the more than 35 years that I've been covering city planning, that a big-time developer lawyer has ever been nominated to or sat on the Planning Commission.
Susan Diamond's resume says she spent much of her career "managing the permitting process for some of the largest and most complex real-estate projects in San Francisco." That includes "high-tech and biotech campuses, alternative energy, downtown office buildings, industrial projects, gas wells, assisted living, mixed-use."
(Um, gas wells?)
Dennis Antenore, a retired lawyer who served on the Planning Commission, said the conflict issue "seems obvious to me." I don't know the rules on when and how often she might have to recuse herself (particularly if former clients appear before the commission), but the idea that someone who has spent a career helping the same developers who have put San Francisco in this mess is the mayor's first choice for the Planning Commission is, at best, a bit dubious.
The Board of Supes needs to approve her nomination; that should come before the Rules Committee Monday/21.
The Government Audit and Oversight Committee Thursday/17will hold a hearing and consider a series of measures to stop the Department of Public Health from removing 41 beds at SF General dedicated to mentally ill patients who can't care for themselves.
It's been a huge issue over the past few months, as DPH officials and the mayor scramble to explain why desperately needed beds have been vacant and why existing patients could be displaced.
Ronen and Sup. Matt Haney have shown no patience whatsoever with DPH. The hearing will force the Breed Administration to give some answers.