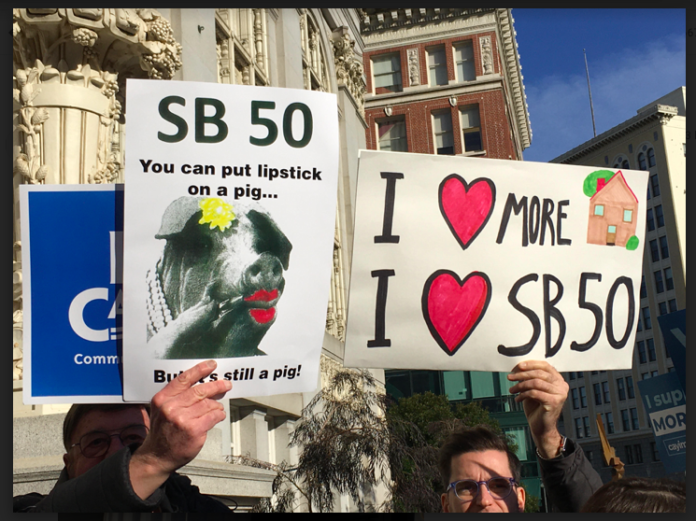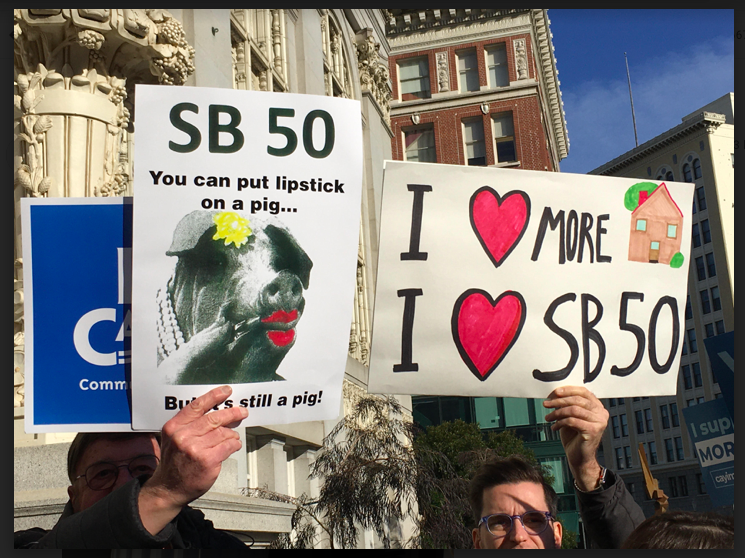 A group of homeless mothers and their supporters shut down California State Senator Scott Wiener's press conference announcing the reintroduction of the contentious housing bill SB 50 this morning in Oakland. Protestors were led by Moms 4 Housing, a housing justice group that recently took over a vacant investment property in West Oakland.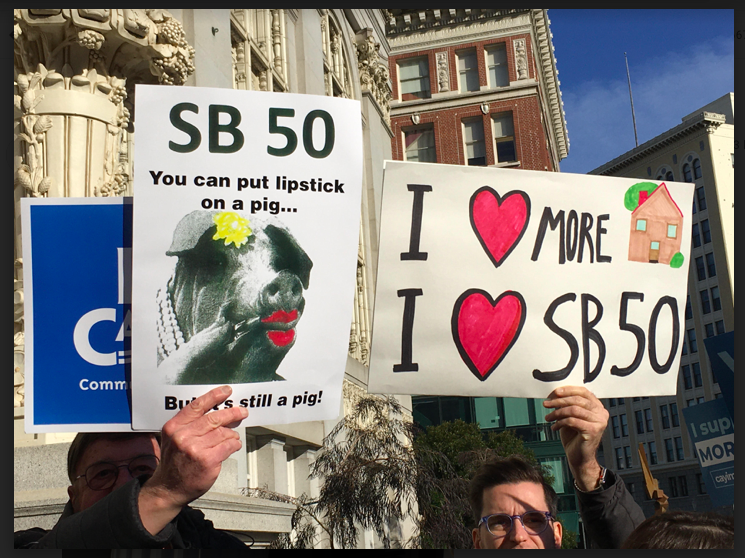 Chants of "Housing is a human right!" and "Housing for people, not for profit!" drowned out the 30-minute press conference, where state senators Scott Wiener and Nancy Skinner, Oakland Mayor Libby Schaaf, and Jennifer Branchini of the California Association of Realtors attempted to speak.
Moms 4 Housing voiced concerns that SB 50 would be used by speculators and the real estate industry to build luxury housing, rather than affordable housing, and further increase displacement, particularly in cities that have already been hard hit by gentrification. Said Misty Cross, one of the two homeless mothers who took over the vacant West Oakland building with her children: "If we don't stand up right now, who will?"
This is Wiener's third year trying to pass SB 50, a bill that has faced opposition from community activists, tenant organizations, and elected officials. While the bill has garnered the support of Mayor London Breed, 10 of the 11 San Francisco supervisors supported a resolution to oppose the bill.
SB 50 would change zoning laws to allow for mid-rise apartment buildings to be built near public transportation and for single family homes to be converted into duplexes, triplexes or fourplexes in the hopes of increasing housing stock. It also targets "jobs-rich" areas. For a transit-rich (and jobs-rich) city like San Francisco, this means that nearly all of the city could be upzoned. Opponents say that the bill does a poor job of addressing the housing crisis, calling it a "real estate bill" and argue that the crisis is not due to a lack of supply but a lack of affordability.
In response to some of those critiques, Wiener has made some amendments, including an option for cities to opt out by creating a local plan to increase density that might be able to exempt key neighborhoods from implementation, and a two year delay until January 1, 2023 until the bill would go into effect.
The bill also mandates up to a 25 percent set aside for low-income housing within new developments, with preference given to those living half a mile from the project.
Aside from arguments that the set aside is too small, there may also be some keys snags to what that affordability really means: First, "low-income" has yet to be defined, leaving uncertainty as to who exactly will be able to access affordable housing. Second, the affordability isn't permanent; after a period of 55 years, the mandate is lifted and rents can return to market rate.
Third, the requirement only applies to developments with 21 or more units, and for projects with fewer than 10 units, there is no affordability requirement at all.
Fierce opposition from today's protest — from those who are currently bearing the consequences of the state's housing crisis — reflect that housing activists think changes in the legislation are not nearly enough.
Sarah Sherburn-Zimmer, Executive Director of the Housing Rights Committee of San Francisco, said in a statement early today that "Wiener's legislation would function as a bulldozer of low-income communities not only in SF but across the state, driving up prices to build luxury housing while forcing low-wage workers away from public transit and the communities that are their homes."
Deepa Varma, executive director of the San Francisco Tenants Union, told us: "This bill is still a top down approach that gentrifies sensitive areas, raises land prices, still reduces the power of local communities to fight for more affordable housing and transit investment. It will still cause displacement and whether or not it builds any affordable housing in return is guesswork at best."
SB 50 has until the end of this month to be passed out of the Senate and into the Assembly.